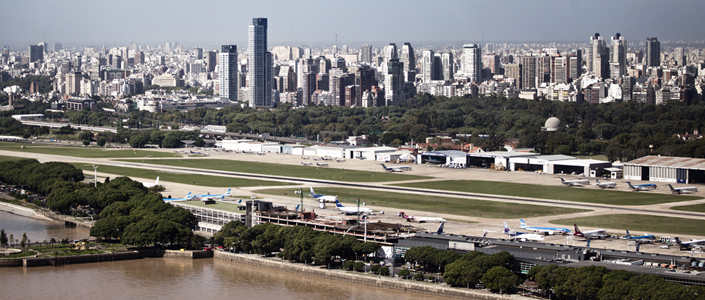 AW | 2017 03 31 20:34 | AIR TRAFFIC
Temor de aerolíneas ante paro total de transportes del 6 de abril
El paro de la CGT de alto acatamiento previsto para el próximo 6 de abril ya genera dudas y complicaciones de antemano, motivo por el que Aerolíneas Argentinas y Latam emitieron comunicados al respecto.
Las compañías habilitan a cambiar fechas entre el 1 y 11 de abril, reembolsos convencionales, (mientras no fueran pasajes por canje de millas) o tramitación de reintegro o cambio de fecha mediante el mismo canal de adquisición del billete, incluso ya se están gestionando esas modificaciones. En el caso de Latam, se cobraría diferencia si el pasaje se traslada a la semana siguiente que coincide con feriados.
La medida afectará fuerte al interior de la compañía de bandera, que ya anunció que además de pérdidas por 12 millones de pesos, generará inconvenientes a los 20.000 pasajeros que tenían billetes para ese día, además del sector en general.
"Algunas ya avisaron que reubicarán pasajeros pero creemos será un día complicado porque genera una cadena de inconvenientes que afecta no sólo al pasajero en el transporte aéreo sino en pérdidas de conexiones y reservas hoteleras que no suelen hacerse cargo ante estas eventualidades", dijo un agente de viajes de la pcia. de Buenos Aires.
"Van a estar afectados AR y Latam por los gremios nacionales y las internacionales de algún modo también se verán implicados por falta del servicio de handing de rampa. Va a ser una traba, en nada favorece a este tipo de paros a todo lo que se viene haciendo para fomentar el turismo receptivo y lo mismo a nivel nacional porque la gente se está cansando de no poder ser dueña de sus horarios" aseguró el titular de uno consolidador de gran trayectoria en Argentina.
En el mismo sentido, otras fuentes del sector consideran que de cara al mundo una huelga de estas características, que paralice el transporte aerocomercial, pone freno a las potenciales y crecientes firmas internacionales interesadas en operar en el país. 
Total transport strike in Argentina






Fear of airlines before the total shutdown of transports of the 6 of April




The CGT strike of high compliance scheduled for April 6 already generates doubts and complications beforehand, which is why Aerolíneas Argentinas and Latam issued communiqués.
Companies are able to change dates between April 1 and 11, conventional refunds, (while they are not tickets for miles exchange) or processing of refund or change of date through the same channel of acquisition of the ticket, even if they are being managed those modifications. In the case of Latam, it would charge a difference if the ticket is transferred to the following week that coincides with holidays.
The measure will affect the inside of the flagship company, which announced that in addition to losses of 12 million pesos, will generate inconveniences to the 20,000 passengers who had tickets for that day, in addition to the sector in general.
«Some have warned that they will relocate passengers but we believe it will be a complicated day because it creates a chain of inconveniences that affects not only the passenger in the air transport but also losses of connections and hotel reservations that do not usually take care of these eventualities,» said an agent Of travel of the pcia. from Buenos Aires.
«AR* and Latam will be affected by national and international guilds will somehow also be involved for lack of ramp handing service. It's going to be a stumbling block, it does not favor this kind of stoppage to everything that has been done to encourage receptive tourism and the same at the national level because people are getting tired of not being able to own their schedules» said the holder of a long-established consolidator in Argentina.
In the same sense, other sources in the sector consider that in the face of the world a strike of these characteristics, which paralyzes the commercial air transport, puts a brake on potential and growing international companies interested in operating in the country. A\W
(*) AR: Aerolíneas Argentinas code
Ξ A I R G W A Y S Ξ
SOURCE: Reportur.com
DBk: Buenosaires.gob.ar
AW-POST: 201703312034AR
A\W   A I R G W A Y S ®