AW | 2017 06 21 20:28 | AIR SHOW
PARIS AIR SHOW LE BOURGET 2017 / WESNESDAY, 21 2017
El Salón Aeronáutico de París 2017 es un punto cero para la industria aeroespacial, un espectáculo cuyos asombrosos vuelos de demostración de aviones son eclipsados por los miles de millones de dólares anunciados en los nuevos acuerdos y las negociaciones entre bastidores que conducen a futuros proyectos.
Este año no fue diferente. Boeing y Airbus, rivales mundiales que tienen una presencia importante anunciaron órdenes masivas de aviones. Boeing, en particular, utilizó el espectáculo aéreo como plataforma para anunciar más de 30.000 millones de dólares en nuevos pedidos.
Además, hay muchas conexiones de Alabama en exhibición en el evento de comercio de la industria, lo que refleja la creciente estatura del estado en el negocio aeroespacial global.
AIRBUS
WOW air se convierte en el primer operador del A321NEO en Europa
La aerolínea de bajo costo de Islandia, WOW air, recibió su primer Airbus A321neo en una ceremonia durante la edición 52 del Paris Air Show-Le Bourget. El equipo fue entregado oficialmente al director general de la aerolínea Skúli Mogensen.
La aeronave alquilada por Air Lease Corporation se unirá a la flota WOW air que actualmente está conformada por 15 aviones de la familia Airbus A320. El avión, será impulsado con motores LEAP-1A de CFM, y cuenta con una configuración de 218 asientos. El nuevo A321neo tendrá su base en el Aeropuerto Internacional de Keflavík (BIKF), Islandia, y estará operando vuelos comerciales entre Europa y América del Norte.
La familia de aviones A320neo incorpora motores de nueva generación y Sharklets, que en su conjunto proporcionan al menos 15% de ahorro de combustible. Hasta el momento, el consorcio europeo a registrado más de 5,000 ordenes de 92 clientes desde su lanzamiento en el año 2010, captando alrededor del 60% de la cuota en el mercado.
Wizz Air encarga A321CEO
Wizz Air Holdings y su filial Wizz Air han formalizado un pedido a Airbus de 10 aviones A321CEO, propulsado por motores V2500 de IAE International Aero Engine.
Estas nuevas aeronaves se unirán a la flota de Wizz Air entre 2018 y 2019 y apoyarán significativamente a los planes de crecimiento de la aerolínea en respuesta a la creciente gran demanda de viajes aéreos dentro de Europa Central y Oriental. Cabe mencionar que Wizz Air es la mayor aerolínea de bajo coste en Europa Central y del Este.
La transacción comercial se eleva a U$D1.160 millones de dólares, a precio de catálogo, aunque Airbus ha realizado importantes descuentos a Wizz Air sobre sus precios oficiales. La empresa mantendrá flexibilidad a la hora de determinar el método más favorable de financiación de estos aviones.
Hi Fly compra A330-200
Airbus anunció hoy la venta firme de dos A330-200 a la compañía portuguesa Hi Fly, especializada en el flete de sus aeronaves a aerolíneas.
Estas dos aeronaves, configuradas en dos clases (256 asientos en turista y 18 en preferente) se integrarán en una flota de Hi Fly que se compone exclusivamente en la actualidad de Airbus, destacó el constructor en un comunicado.
Este pedido contribuye a la estrategia de la compañía portuguesa de reemplazar los aviones de larga distancia que propone a sus clientes (aerolíneas, tour-operadores, Gobiernos, empresas o particulares). En la actualidad cuenta con 14 aeronaves de gran capacidad. Airbus no precisó el monto de este contrato. El precio de catálogo del A330-200 es de 233,8 millones de dólares cada uno (209,7 millones de euros).
BOEING
Los valores de Boeing se duplican a los Airbus en el Air Show de París
Con el Salón del Aire de París 2017 entrando en el tramo de viviendas, Boeing  ha acumulado más del doble de valor que el rival Airbus para la primera victoria de la compañía estadounidense en el evento en cinco años.
Las órdenes de Boeing y las expresiones de interés para ~ 370 aviones por valor de hasta $ 52B encaminaron a Airbus, que registró 229 aviones valorados en ~ $ 25B, pero el planemaker europeo descarta el retroceso, diciendo que se centra en cumplir los objetivos de entrega para compensar la producción En vez de buscar nuevos compradores.
Incluso con el impulso del MAX 10, el CEO de Boeing, Dennis Muilenburg, no espera que el flujo de pedidos sobrepase las entregas este año, ya que la demanda subió en los últimos años debido a los altos precios de los combustibles alentaron a las aerolíneas a buscar aviones más eficientes.
Copa Airlines convierte 15 Boeing 737NG a MAX 10s
Copa Airlines, con sede en Panamá, convertirá 15 aeronaves Boeing 737NG previamente ordenadas en la nueva versión MAX 10, anunció la compañía en el Air Show de París el 21 de junio. Copa se convertirá en la primera aerolínea en operar el 737 MAX 10 en Latinoamérica.
Air Lease Corporation han anunciado una carta de intenciones para la compra de 12 aviones 737 MAX. El acuerdo incluye, concretamente, 5 aviones Boeing 737-7 MAX y 7 Boeiong 737-8 MAX.
AerCap ha anunciado el arrendamiento por parte de AerCap de 2 aviones 737 MAX a la compañía italiana Neos. Con sede en el aeropuerto de Milán Malpensa, Neos se convertirá en el primer operador del 737 MAX en el país cuando reciba el avión en 2019.
Mauritania Airlines ha anunciado el pedido de 1 avión Boeing 737-8 MAX, valorado en 112,4 millones de dólares a precios de catálogo.
EL AL Israel Airlines ha formalizado un pedido de 3 aviones Boeing 787, confirmando compromisos adicionales originalmente anunciados en 2015. Con un valor de más de 729 millones de dólares a precios de actuales de catálogo, el pedido incluye 2 aviones 787-8 y 1 avión 787-9.
Donghai Airlines ha anunciado la decisión de la aerolínea de convertir 10 aviones 737NG en 737-10 MAX. El pedido está valorado en 1,200 millones de dólares a precios de catálogo actuales.
Malaysia Airlines ha anunciado un pedido de 10 aviones 737-10 MAX, por un valor de 1,250 millones de dólares a precios de catálogo. Con ello, 10 de los actuales aviones 737 MAX de la aerolínea se convierten en un pedido del nuevo modelo de la familia 737 MAX.
Xiamen Airlines ha anunciado la firma de una carta de intenciones por la compra de 10 aviones 737-10 MAX, valorados en 1,200 millones de dólares a precios de catálogo.
Boeing prevé el fin de aeronaves grandes
El pronóstico actual de mercado de Boeing ha percibido según el vicepresidente de marketing de Boeing Commercial Airplanes, Randy Tinseth, afirmando que la compañía está convencida de que el segmento de VLA declinaría tanto que ya no merecía ser una categoría aparte en el portafolio de la compañía.
"Al mirar el 747-8, vemos su futuro como un carguero o avión VIP o Boeing Business Jet", dijo. Refiriéndose al Airbus A380, dijo que el mercado estaba disminuyendo de forma tan significativa que "no creemos que Airbus entregue el resto de sus pedidos pedientes".
A pesar del amplio paquete de mejoras propuestas, anunciadas esta semana por el fabricante aeronáutico europeo para mejorar el rendimiento aerodinámico y económico del A380, dijo: "Poner nuevos winglets en el avión no lo hacen más pequeño". Observó que el próximo 777X de Boeing sería el avión más grande que tendrá éxito en el mercado.
Boeing ha revisado sus previsiones y ha estimado que se necesitarán 41.030 nuevas aeronaves en los próximos 20 años, valoradas en 6.100 millones de dólares. De ese total, el 40% se destinaría a Asia, un 20% tanto para Europa como América del Norte y el otro 20% al resto del mundo.
"El tráfico de pasajeros ha registrado un fuerte crecimiento hasta ahora este año y calculamos un incremento anual del 4,7% durante las próximas dos décadas. En cuanto a pasajeros, hemos visto que el tráfico crece por encima de la tendencia a largo plazo. La demanda ha crecido más rápido que la capacidad, por lo que los factores de carga han subido y los rendimientos han sido fuertes".
Hizo referencia a las ganancias mundiales de las aerolíneas en 2016 de 35.000 millones de dólares y la mejora de previsiones para este año, realizada por la Asociación del Transporte Aéreo Internacional (IATA), a 31.000 millones de dólares.
Boeing prevé que el número de pasajeros crecerá entre un 6 y un 7%, aún teniendo en cuenta los actuales contratiempos económicos y políticos, como la volatilidad de la moneda y el terrorismo,
Boeing espera entregar 760-765 aviones este año, lo que debería darle una ventaja sobre Airbus, según aseguró.
GKN y Boeing completarán 737 BBJ para el gobierno holandés
El negocio Fokker de GKN y Boeing Business Jets han firmado hoy un contrato para el diseño y la terminación del interior de un nuevo Boeing Business Jet (BBJ) para el gobierno holandés.
La aeronave será utilizada para transportar a funcionarios gubernamentales ya la familia real holandesa. El 737BBJ es el sucesor del Fokker 70 PH-KBX del gobierno holandés que ha estado en servicio por más de 20 años.
En virtud del contrato, que fue firmado en el Salón del Aire de París, Fokker Techniek en Woensdrecht diseñará y completará el interior de la aeronave. El 737 Boeing Business Jet estará configurado para 24 pasajeros, dividido en dos cabinas (12 VIP, 12 empleados) e incluye un área de descanso de tripulación y baño. El interior incluirá las últimas tecnologías de SatCom. Boeing y Fokker Techniek han colaborado estrechamente en la oferta para la entrega del nuevo avión del Gobierno.
Ambas compañías han trabajado juntas antes en proyectos de conversión y terminación para Boeing Business Jets. Las actividades de diseño interior comenzarán de inmediato y el avión terminado será entregado al gobierno holandés en 2019.
BOMBARDIER
Bombardier firma una carta de intención con CemAir para dos aviones Q400
Bombardier anunció hoy en el Salón Internacional del Aire de París que ha firmado una carta de intención (LOI) con CemAir (Pty) Ltd. (CemAir) de Sudáfrica para dos aviones Q400. Basado en el precio de lista del turbohélice Q400, una orden firme sería valuada en aproximadamente US $ 65 millones.
"Estamos orgullosos del éxito continuo de los turbopropulsores de la Serie Q en África. Nuestros operadores aprecian su extraordinaria economía y rendimiento, y estamos encantados de que CemAir tenga la intención de añadir nuevos aviones Q400 a su actual flota de aviones Bombardier ", dijo Jean-Paul Boutibou, Vicepresidente de Ventas, Oriente Medio y África. "Con sus capacidades incomparables, el Q400 es especialmente adecuado para la región y estamos encantados con este reconocimiento adicional para nuestro turbopropulsor moderno y versátil".
"Con su impresionante desempeño en la pista corta y la flexibilidad que trae a nuestras operaciones, los turbopropulsores de la Serie Q nos han permitido construir nuestra red y volar pasajeros desde más aeropuertos", dijo Miles van der Molen, Director Ejecutivo de CemAir. "Estamos ansiosos por la adición de estos nuevos aviones Q400 que nos ayudarán a apoyar nuestro crecimiento y aumentar la conectividad en Sudáfrica".
Con estos aviones Q400, CemAir aumentaría su flota actual de aviones Bombardier a 17 – incluyendo cinco turbopropulsores de la serie Q y 12 aviones de la serie CRJ.
Bombardier Commercial Aircraft ya tiene un punto de apoyo sólido en el continente africano con más de 190 turbostopas de la Serie Q – incluyendo más de 35 operadores de la Serie Q – y los chorros regionales CRJ en operación o bajo pedido de los clientes. En las próximas dos décadas, África espera recibir entregas de 550 aviones nuevos, y con la familia de aviones de Bombardier, la compañía está bien posicionada para servir a este creciente mercado.
EMBRAER
Embraer cierra la venta de 51 aviones por 3.000 millones de dólares y refuerza su posición en el mercado
La compañía brasileña Embraer anunció esta semana que cerró acuerdos para la venta de 51 aeronaves en negociaciones que alcanzarán un total de 3.000 millones de dólares. Las negociaciones se cerraron durante el 52º Salón Internacional de Aeronáutica y Espacio París Air Show, evento del mercado aeronáutico en Francia.
Embraer expuso en la feria algunas novedades de la compañía, como el nuevo E195-E2, la mayor aeronave de la segunda generación de la familia de jets comerciales de la compañía. Embraer, ya que mantiene la capacidad de la empresa en seguir produciendo de 80 a 100 aeronaves por año, aún más en un mercado bastante competitivo.
El negocio cerrado por Embraer en París fue con la aerolínea bielorrusa Belavia, que encargó dos jets un E175 y un E195, a ser entregados en 2018. El acuerdo se cerró en USS 99,1 millones. La misma compañía ya tiene cuatro aviones de Embraer.
SUKHOI
Aumento de la producción del SSJ-100
La empresa rusa, United Aircraft Corporation (UAC), planea producir de 35 a 40 aeronaves del modelo Sukhoi SuperJet 100 (SSJ100) al año, con un total de 38 aviones en 2017, dijo el presidente de UAC, Yuri Slyusar.
El SSJ100 es un avión bimotor fabricado por la empresa rusa Sukhoi Civil Aircraft Company. Puede transportar hasta 98 pasajeros a una distancia de hasta 4350 kilómetros, y cuesta cerca de 36 millones de dólares en su configuración básica. El jet efectuó su primer vuelo en mayo de 2008.
El modelo es considerado uno de los competidores de Embraer que, a pesar de haber entregado 18 aeronaves comerciales sólo en el primer trimestre, probablemente tendrá una producción menor, si se compara con el año pasado, cuando entregó 108 aeronaves para el mercado de aviación comercial y 117 para el mercado Mercado de aviación ejecutiva.  
PARIS AIR SHOW 2017
PARIS AIR SHOW LE BOURGET 2017 / WESNESDAY, 21 2017
The 2017 Paris Air Show is ground zero for the aerospace industry, a spectacle whose amazing aircraft demonstration flights are eclipsed by the billions of dollars in new deals announced and the behind-the-scenes negotiations that lead to future projects.
This year was no different. Boeing and Airbus, global rivals that both have a major presence announced massive aircraft orders. Boeing, in particular, used the air show as a platform to announce more than $30 billion in new orders.
In addition, there are plenty of Alabama connections on display at the industry trade event, reflecting the state's growing stature in the global aerospace business.
AIRBUS
WOW air becomes the first operator of the A321NEO in Europe
Iceland's low-cost airline WOW air received its first Airbus A321NEO at a ceremony during the 52nd edition of the Paris Air Show-Le Bourget. The team was officially handed over to the general director of the airline Skúli Mogensen.
The aircraft leased by Air Lease Corporation will join the WOW air fleet which is currently made up of 15 Airbus A320 family aircraft. The aircraft will be powered by CFM LEAP-1A engines and has a 218-seat configuration. The new A321NEO will be based at Keflavík International Airport (BIKF), Iceland, and will be operating commercial flights between Europe and North America.
The family of A320NEO aircraft incorporates new generation engines and Sharklets, which together provide at least 15% of fuel savings. So far, the European consortium has registered over 5,000 orders from 92 customers since its launch in 2010, capturing about 60% of the market share.
Wizz Air orders A321CEO
Wizz Air Holdings and its subsidiary Wizz Air have formalized an order to Airbus of 10 airplanes A321CEO, propelled by motors V2500 of IAE International Aero Engine
These new aircraft will join the Wizz Air fleet between 2018 and 2019 and will significantly support the airline's growth plans in response to the growing demand for air travel within Central and Eastern Europe. Wizz Air is the largest low-cost airline in Central and Eastern Europe.
The commercial transaction amounts to U $ D1.16 billion, at catalog price, although Airbus has made significant discounts to Wizz Air on its official prices. The company will maintain flexibility in determining the most favorable method of financing these aircraft.
Hi Fly buy A330-200
Airbus announced today the firm sale of two A330-200s to the Portuguese company Hi Fly, specialized in the freight of its aircraft to airlines.
These two aircraft, configured in two classes (256 seats in tourist and 18 in preferential) will be integrated in a fleet of Hi Fly that is composed exclusively of Airbus, the builder said in a statement.
This order contributes to the Portuguese company's strategy of replacing the long-haul aircraft it proposes to its customers (airlines, tour operators, governments, companies or individuals). At present it has 14 aircraft of great capacity. Airbus did not specify the amount of this contract. The list price of the A330-200 is 233.8 million dollars each (209.7 million euros).
BOEING
Boeing deal values double Airbus at Paris Air Show
With the Paris Air Show 2017 entering the homes stretch, Boeing (BA) has racked up more than twice as much in order value as rival Airbus for the U.S. company's first win at the showcase event in five years.
Boeing's orders and expressions of interest for ~370 planes worth as much as $52B routed Airbus, which tallied 229 airliners valued at ~$25B, but the European planemaker dismisses the setback, saying it is focused on meeting delivery targets to make up for production snags rather than seeking new purchasers.
Even with the boost from the MAX 10, Boeing CEO Dennis Muilenburg does not expect order flow to surpass deliveries this year, as demand jumped in past years as high fuel prices encouraged airlines to scramble for more efficient planes.
Copa Airlines to convert 15 Boeing 737NG to MAX 10s
Panama City-based Copa Airlines will convert 15 previously ordered Boeing 737 MAX aircraft to the new MAX 10 version, the company said at the Paris Air show June 21. Copa will become the first airline to operate the 737 MAX 10 in Latin America.
Air Lease Corporation has announced a letter of intent for the purchase of 12 737 MAX aircraft. The agreement includes, in particular, 5 Boeing 737-7 MAX and 7 Boeing 737-8 MAX.
AerCap has announced the rental by AerCap of 2 737 MAX aircraft to the Italian company Neos. Based at Milan Malpensa airport, it will become the first operator of the 737 MAX in the country when it receives the plane in 2019.
Mauritania Airlines has announced the order for 1 Boeing 737-8 MAX plane valued at 112.4 million dollars at catalog prices.
EL AL Israel Airlines has placed an order for 3 Boeing 787 aircraft, confirming the actual requirements commitments announced in 2015. With a value of more than $ 729 million at catalog current prices, the order includes 2 787-8 and 1 787-9 airplane.
Donghai Airlines has announced the airline's decision to convert 10 737NG aircraft to 737-10 MAX. The order is valued at 1.2 billion dollars at current catalog prices.
Malaysia Airlines has announced an order for 10 737-10 MAX aircraft, worth $ 1.25 billion at catalog prices. CON, 10 of the airline's current 737 MAX aircraft becomes an order for the new model of the 737 MAX family.
Xiamen Airlines has announced the signing of a letter of intent for the purchase of 10 737-10 MAX aircraft valued at 1.2 billion dollars at catalog prices.
Boeing envisions the end of large aircraft
Boeing's current market forecast has been perceived by Boeing Commercial Airplanes vice president of marketing Randy Tinseth as saying the company is convinced that the VLA segment would decline so much that it no longer deserved to be a separate category in the company's portfolio.
"By looking at the 747-8, we see its future as a freighter or VIP plane or Boeing Business Jet," he said. Referring to the Airbus A380, he said the market was declining so significantly that "we do not think Airbus will deliver the rest of its peddling orders."
Despite the wide package of proposed improvements announced this week by the European aeronautical manufacturer to improve the A380's aerodynamic and economic performance, it said: "Putting new winglets in the plane does not make it smaller." He noted that the upcoming 777X from Boeing Would be the biggest airplane that will succeed in the market.
Boeing has revised its forecasts and has estimated that 41,030 new aircraft will be needed over the next 20 years, valued at $ 6.1 billion. Of this total, 40% would go to Asia, 20% for Europe and North America and the other 20% for the rest of the world.
"Passenger traffic has registered strong growth so far this year and we estimate an annual increase of 4.7% over the next two decades. As for passengers, we have seen traffic growing above the long-term trend. Demand has grown faster than capacity, so load factors have risen and yields have been strong. "
He referred to the airline's global profits of $ 35 billion in 2016 and the forecast improvement for this year by the International Air Transport Association (IATA) to $ 31 billion.
Boeing expects passenger numbers to grow by 6-7%, even taking into account current economic and political setbacks such as currency volatility and terrorism,
Boeing expects to deliver 760-765 aircraft this year, which should give it an advantage over Airbus, he said.
GKN and Boeing to complete 737 BBJ for Dutch government
GKN's Fokker business and Boeing Business Jets have today signed a contract for the design and completion of the interior of a new Boeing Business Jet (BBJ) for the Dutch government.
The aircraft will be used to transport government officials and the Dutch Royal family. The 737BBJ is the successor to the Fokker 70 PH-KBX of the Dutch government that has been in service for more than 20 years.
Under the contract, which was signed at the Paris Air Show, Fokker Techniek in Woensdrecht will design and complete the aircraft's interior. The 737 Boeing Business Jet will be configured for 24 passengers, split into two cabins (12 VIP, 12 staff) and include a crew rest area and bathroom. The interior will include the latest SatCom technologies. Boeing and Fokker Techniek have closely collaborated on the offer for the delivery of the new Government aircraft.
Both companies have worked together before on conversion and completion projects for Boeing Business Jets. Interior design activities will start immediately, and the completed aircraft will be delivered to the Dutch Government in 2019.
BOMBARDIER
Bombardier Signs a Letter of Intent with CemAir for Two Q400 Aircraft
Bombardier Commercial Aircraft announced today from the International Paris Air Show, that it has signed a letter of intent (LOI) with CemAir (Pty) Ltd. (CemAir) of South Africa for two Q400 airliners. Based on the Q400 turboprop list price, a firm order would be valued at approximately US$ 65 million.
"We are proud of the Q Series turboprops' continued success in Africa. Our operators appreciate their outstanding economics and performance, and we are delighted that CemAir intends to add new Q400 aircraft to its current fleet of Bombardier aircraft", said Jean-Paul Boutibou, Vice President, Sales, Middle East and Africa. "With its unmatched capabilities, the Q400 is uniquely suitable for the region and we are thrilled with this additional recognition for our modern and versatile turboprop."
"With their impressive short runway performance and the flexibility it brings to our operations, the Q Series turboprops have allowed us to build our network and fly passengers from more airports," said Miles van der Molen, Chief Executive Officer, CemAir. "We are looking forward to the addition of these brand new Q400 aircraft which will help us support our growth and increase connectivity in South Africa."
With these Q400 aircraft, CemAir would increase its current fleet of Bombardier aircraft to 17 – including five Q Series turboprops and 12 CRJ Series aircraft.
Bombardier Commercial Aircraft already has a solid foothold on the African continent with upwards of 190 Q Series turboprops – including over 35 Q Series operators – and CRJ regional jets in operation or on order from customers. Over the next two decades, Africa is expected to take deliveries of 550 new aircraft, and with Bombardier's family of aircraft, the company is well positioned to serve this growing market
EMBRAER
Embraer closes sale of 51 aircraft for $ 3 billion and strengthens its position in the market
The Brazilian company Embraer announced this week that it has concluded agreements for the sale of 51 aircraft in negotiations that will reach a total of 3,000 million dollars. The negotiations were closed during the 52nd International Aeronautics and Space Show (Paris Air Show), an event of the aeronautical market in France.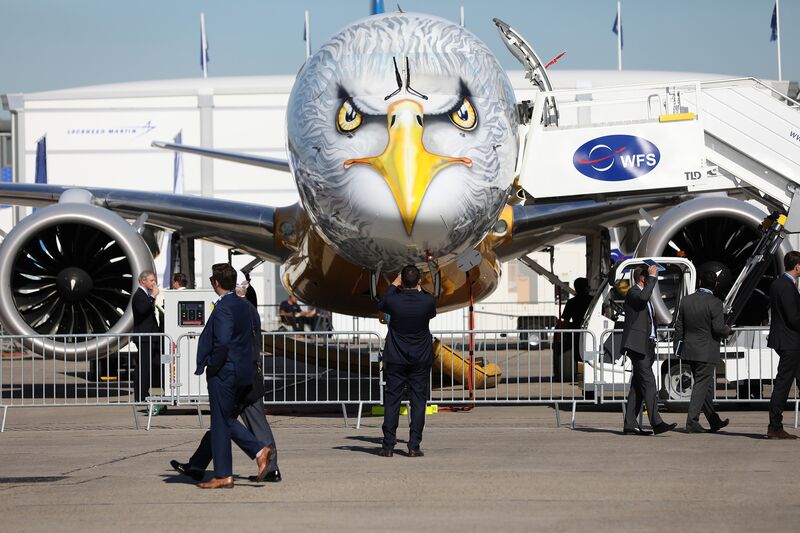 Embraer exhibited at the fair some new features of the company, such as the new E195-E2, the second-generation aircraft in the company's commercial jet family. Embraer, since it maintains the capacity of the company to continue producing 80 to 100 aircraft per year, even more in a very competitive market.
The business closed by Embraer in Paris was with Belarusian airline Belavia, which ordered two jets one E175 and one E195, to be delivered in 2018. The deal was closed at USS 99.1 million. The same company already has four Embraer aircraft.
SUKHOI
Increase production of SSJ-100
The Russian company, United Aircraft Corporation (UAC), plans to produce 35 to 40 Sukhoi SuperJet 100 aircraft (SSJ100) a year, with a total of 38 aircraft in 2017, UAC president Yuri Slyusar said on Wednesday, market.
The SSJ100 is a twin-engine aircraft manufactured by the Russian company Sukhoi Civil Aircraft Company. It can carry up to 98 passengers over a distance of up to 4350 kilometers, and costs about $ 36 million in its basic configuration. The jet made its first flight in May 2008.
The model is considered to be one of Embraer's competitors who, despite delivering 18 commercial aircraft in the first quarter alone, is likely to have lower production compared to last year when it delivered 108 aircraft to the commercial aviation market and 117 to The executive aviation market. A \ W
PARIS AIR SHOW LE BOURGET 2017 / SHOW PHOTO'S
Ξ A I R G W A Y S Ξ
SOURCE:  Siae.fr / Seekingalpha.com / Atwonline.com / Adsadvance.co.uk / Bombardier.com
DBk:  Xfw-spotter.blogspot.com / Wizzair.com / Boeing.com / Slidesharecdn.com / Adsadvance.co.uk / Gannett-cdn.com / Bombardier.com / Assets.bwbx.io / Ainonline.com / Madeinalabama.com / Timesfreepress.com  / Ainonline.com / Defesaaereanaval.com.br / Cnbc.com
AW-POST: 201706212028AR
A\W   A I R G W A Y S ®