AW | 2017 06 22 16:07 | AIR SHOW
PARIS AIR SHOW LE BOURGET 2017 / THURSDAY, 22 JUNE 2017
AIRBUS
Airbus afianza pedidos de 326 naves comerciales por valor de 39.700 millones
Airbus ha asegurado pedidos de un total de 326 naves comerciales por valor de 39.700 millones de dólares (35.554 millones de euros), según ha informado este jueves el fabricante, entre los que se encuentran 144 aeronaves que valen 18.500 millones de dólares (16.566 millones De euros) y memorandos de entendimiento sobre 182 unidades por valor de 21.200 millones de dólares (18.984 millones de euros), todos ellos alcanzados durante el Paris Air Show 2017.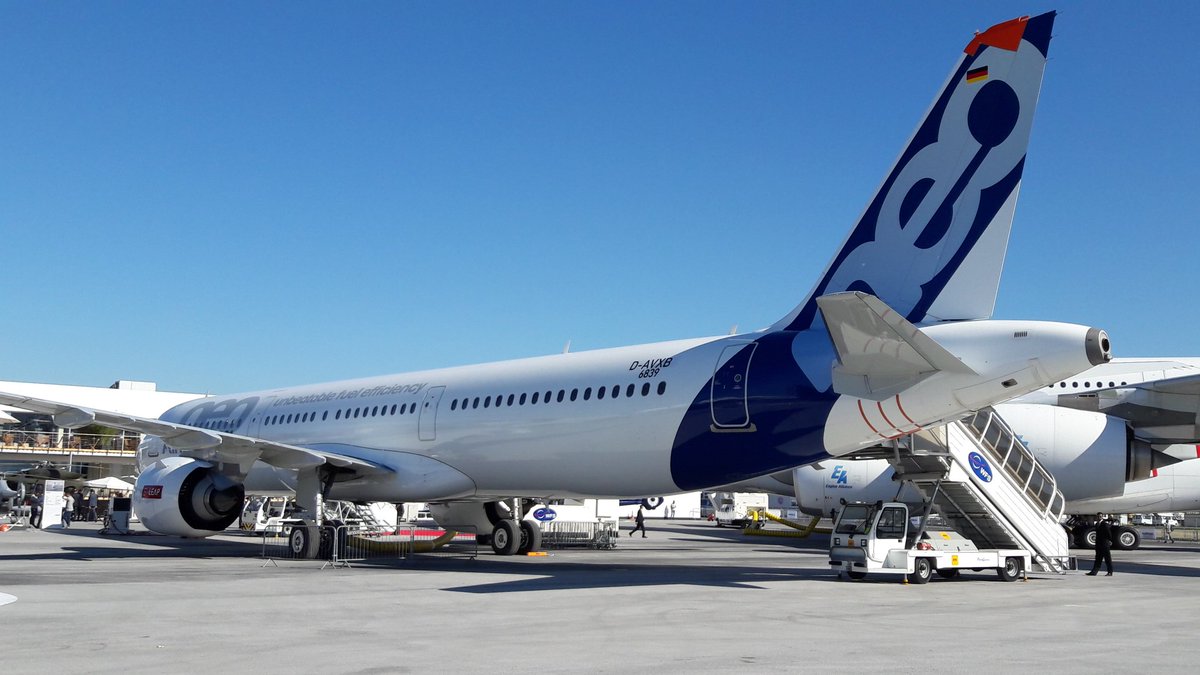 La compañía ha informado que la familia que experimenta ventas más fuertes es la A320, con un total de 306 entregas valoradas en 33.800 millones de dólares (30.266 millones de euros). De estos, 132 son reservas en firme, con un valor de 14.700 millones de dólares (13.163 millones de euros), y acuerdos de entendimiento sobre 174 aeronaves por 19.100 millones de dólares (17.103 millones de euros).
El director comercial de Airbus, John Leahy, afirmó que el éxito de esta semana en París «amplía la ya diversificada oferta de Airbus hasta un nuevo récord en la industria de 6.800 aviones». Además de las compras nuevas, la compañía informó en el comunicado de la compañía de transporte DHL expreso había pedido conversiones de cuatro aviones A330-300 de pasajeros un avión de carga.
El fabricante ha destacado la solidez de las ventas y la mejora «en todos los estratos», de aviones de carga, pasando por los aviones de pasajeros de todos los tipos y el aumento en el ahorro de combustible y la comodidad por la innovación tecnológica.
Emirates se resiste a comprar más A380 mientras que el futuro del superjumbo está nublado
Emirates, el mayor operador mundial del superjumbo del Airbus A380, dijo que es reacio a realizar una nueva orden para el avión de dos pisos hasta que el futuro del modelo de venta lenta se aclare.
Emirates, con sede en Dubai, necesita garantías sobre los planes del fabricante europeo de aviones para el A380, así como ahorros de costes adicionales, dijo el miércoles en París el presidente de Tim Clark.
Airbus esta semana formalizó planes para adaptarse al A380 con winglets ahorradores de combustible para ayudar a aumentar la eficiencia en un 4 por ciento, doblando el avión mejorado el A380plus. El fabricante no se ha ofrecido a reajustar las extensiones de 15 pies que reducen el arrastre de los 95 aviones que Emirates ha recibido, o proporcionarlos en los 45 aún por venir, dijo Clark. Añadió que podrían estar disponibles si elige comprar más de los aviones.
Zagros Airlines de Irán se compromete con 28 Airbus NEO's
La aerolínea local iraní Zagros Airlines ha firmado un memorando de entendimiento con Airbus para la compra de 28 aviones en el Salón del Aire de París, anunció Airbus el 22 de junio. La aerolínea con sede en Teherán pretende comprar 20 A320NEO's y ocho A330-800 Adquisición valorada en $ 4.2 mil millones en los precios de lista.
Zagros opera una flota de 11 aviones de la familia Airbus A320, además de nueve DC-9. «Estos aviones permitirán a Zagros modernizar y ampliar su flota con un cambio mínimo que se beneficie de nuestra comunalidad de la flota que es única para Airbus», dijo el presidente de Airbus COO y Aviones Comerciales Fabrice Brégier en la firma. Airbus dijo que el MOU está supeditado a todas las aprobaciones necesarias, incluyendo las de la Oficina de Control de Activos Extranjeros.
AirAsia firmó un acuerdo de servicios con Airbus
El cofundador de AirAsia, Tony Fernandes, firmó un acuerdo de servicios con Airbus a principios de esta semana y se mantuvo en negociaciones con el único proveedor de aviones de su compañía, dijeron fuentes, aunque no se puede garantizar un acuerdo.
Airbus se negó a comentar, mientras que los funcionarios de AirAsia no pudieron ser contactados para hacer comentarios. Al entrar en la cuarta jornada de negocios del Airshow de París, Boeing estaba por delante en la red, nuevos pedidos y compromisos después de lanzar una nueva versión de su familia de aviones 737 MAX.
ATR
ATR ha vendido 89 aviones desde principios de año a 2,3 mil millones de dólares
ATR, una empresa conjunta propiedad de Leonard y Airbus, ha recibido desde el inicio de 89 pedidos de aviones valor de más de 2,3 mil millones de dólares al que se añade un 20 opciones adicionales. La cartera de pedidos comprende 250 aviones también.
En el transcurso de esta semana en el Salón Aeronáutico de París, ATR anunció nuevos acuerdos que permitan tanto el ATR 42-600 como al ATR 72-600 para desarrollar nuevos mercados, China y África en particular. ATR ha anunciado hoy nuevos acuerdos: para la sueca BRA un ATR 72-600, lo que conduce a la flota de esta familia a un total de 10 aviones, y un ATR 72 -600 para Air Tahití, la compañía que opera con ATR durante más de tres décadas. En total, en Le Bourget se dieron a conocer cinco nuevos acuerdos.
ATR ha firmado un acuerdo a principios de este año por 50 ATR 52-600 con el Indigo Indian y ATR-20 600 y otras 20 opciones adicionales con Iran Air. Desde enero, cinco nuevos clientes han comprado ATR por primera vez, por lo tanto fortalecer aún más la posición de liderazgo de mercado regional ATR. «El nivel de ventas alcanzado en menos de seis meses refleja una positiva evoluzioen el mercado y que el ATR es una excelente opción para abrir nuevas rutas para reducir los costos de operación para las empresas«, dice el CEO de ATR Christian Scherer.
BOEING
Boeing 737 MAX 10 un gran éxito en el Salón del Aire de París 2017
Boeing 737-10 MAX es un gran éxito en el Paris Air Show de esta semana, con más de una docena de aerolíneas y flotas que realizan pedidos para el avión más grande.
El MAX 10 es la respuesta de Boeing al Airbus A321NEO. Aunque la línea 737 es el avión comercial más vendido de la historia, el A321NEO ha sido recientemente más popular que el 737-9 MAX, que es el avión de un solo pasillo más grande de Boeing de un solo cuerpo que actualmente está en el mercado.
El MAX 10 puede acoger a unos 10 pasajeros más que el MAX 9, con una capacidad máxima de 230 asientos. Para hacer espacio para el asiento adicional, Boeing estiró el fuselaje 66 pulgadas contra el MAX 9.
«Las aerolíneas querían una opción más grande y mejor en el segmento de un solo pasillo con las ventajas operativas de la familia 737 MAX», dijo el presidente y CEO de Boeing Commercial Airplanes, Kevin McAllister.
Boeing presentó su último avión el lunes, y una inundación de pedidos siguió rápidamente. El gigante aeroespacial recibió compromisos para vender un total de 361 MAX 10, incluyendo 147 nuevos pedidos y 214 conversiones de otros modelos. El MAX 10 representó más de la mitad de la cartera total de pedidos de Boeing para el show, ya que la compañía vendió 571 aviones por valor de 74.800 millones de dólares.
En el Salón del Aire de París, Boeing se burla del '797'
El fabricante más grande del mundo dde aviones comerciales ofreció una visión de su próximo 'avión de mercado medio', pero todo el mundo ya lo llama 797.
¿Lo que hay en un nombre? Resulta que, bastante. Boeing lanzó esta semana la presentación de un avión comercial de próxima generación de dos pasillos en el Salón del Aire de París, dando al mundo mirada temprano al «avión del mercado medio» del fabricante, lo que todo el mundo se refiere ya con razón como el Boeing 797.
Boeing no lanza un nuevo jet comercial a menudo, así que a pesar de que este no era un lanzamiento oficial, todavía se está tratando como una gran cosa. El supuesto 797 se asentaría en el rango entre 220 y 270 pasajeros. Se prevé que entre en servicio en 2025, llenando la brecha entre el caballo de batalla Boeing 737 y el avanzado 787. Boeing predice que podría vender hasta 4.000 y mantenerlo en servicio durante 20 años.
Así que ahora sabemos lo que es, lo que parece, y lo que es probable que se llame. Lo que lleva a otra pregunta: ¿Qué pasa con el extraño nombramiento convencional de Boeing para el jet comercial? La historia es ligeramente interesante así que, si te gustaría estar ligeramente entretenido, por todos los medios leer.
Todo el mundo sabe que el primer Boeing comercial jetliner fue el 707, introducido en 1958. ¿Por qué ese número? La razón más bien simple es que Boeing reservó el bloque de números 700 para sus jets comerciales, los bloques 300 y 400 eran aviones de la hélice, 500 motores jet, y 600 cohetes y misiles. El primero de la serie debería haber sido el Boeing 700, pero la gente de marketing no le gustaba el anillo (doble cero) así que lo llamaron el 707.
Boeing decidió entonces llamar a su próximo avión el 717, lo cual tiene sentido excepto por el hecho de que el siguiente modelo no era un avión comercial sino un tanque militar. Así que fue rediseñado el KC-135. Luego Boeing creó el 720, que en realidad era sólo un 707 ligeramente modificado. Luego vino el 727, el cual fue seguido secuencialmente por los 737, 747, 757, 767 y 777. En los años 90, Boeing volvió a la designación 717 Por su modelo de pasillo único basado en el MD-95 después de haber adquirido McDonnell-Douglas. Por último, pero no menos importante vino el 787 Dreamliner hace seis años.
Así que, por supuesto, Boeing nombrará el «avión del mercado medio» el 797. ¿Qué más podrían llamarlo? Quizás la pregunta más apremiante es, ¿cómo podría llamarlo en el mundo de Boeing después de eso?
BOMBARDIER
Bombardier continúa creando impulso con éxito en el Air Show de París
Bombardier Commercial Aircraft concluyó una exitosa semana en el Salón Internacional del Aire de París 2017, donde tuvo la oportunidad de conectarse con clientes de todo el mundo y anunció hasta US $ 2.000 millones en pedidos y otros compromisos.
«Estamos concluyendo el programa aéreo con un sólido impulso, y estoy muy satisfecho con el nivel de interés y actividad que estamos viendo en todos nuestros programas de aviones», dijo Fred Cromer, Presidente de Bombardier Commercial Aircraft. «Con nuestro portafolio de productos único, somos el líder en el segmento de mercado por debajo de 150 plazas, y los pedidos y compromisos de múltiples operadores para más de 60 aviones Q400 anunciados durante el show aéreo son demostraciones claras de que Bombardier ya tiene soluciones innovadoras que satisfacen el mercado Requisitos para turbopropulsores de mayor y mayor rendimiento «.
La exhibición fue también una oportunidad para Bombardier para mostrar el avión CS300 junto con el operador de lanzamiento airBaltic. «A medida que el impulso continúa acumulándose tras el exitoso primer año de servicio de los aviones de la Serie C, nos complace que las aerolíneas de todo el mundo estén demostrando un interés creciente al ser testigos del desempeño de la Serie C y escuchar la abrumadora retroalimentación positiva de pasajeros y Nuestros operadores de lanzamiento», agregó Fred Cromer.
El 21 de junio de 2017, Ilyushin Finance and Co. (IFC) y una aerolínea no divulgada han firmado un acuerdo marco sobre el arrendamiento de seis aviones CS300. IFC ordenó 20 aviones CS300 bajo un acuerdo firmado con Bombardier en 2013. La Compañía Limitada de Aeronaves CSeries, afiliada al segmento Bombardier Commercial Aircraft de Bombardier Inc. que fabrica los aviones de la CSeries. 
PARIS AIR SHOW LE BOURGET 2017 / THURSDAY, 22 JUNE 2017
AIRBUS
Airbus orders orders for 326 commercial vessels worth 39.7 billion
Airbus has secured orders for a total of 326 commercial ships valued at $ 39.7 billion, the manufacturer said on Thursday, including 144 aircraft worth $ 18.5 billion ($ 16.5 billion Of euros) and memoranda of understanding on 182 units valued at 21.2 billion dollars (18.984 million euros), all of which were achieved during the Paris Air Show.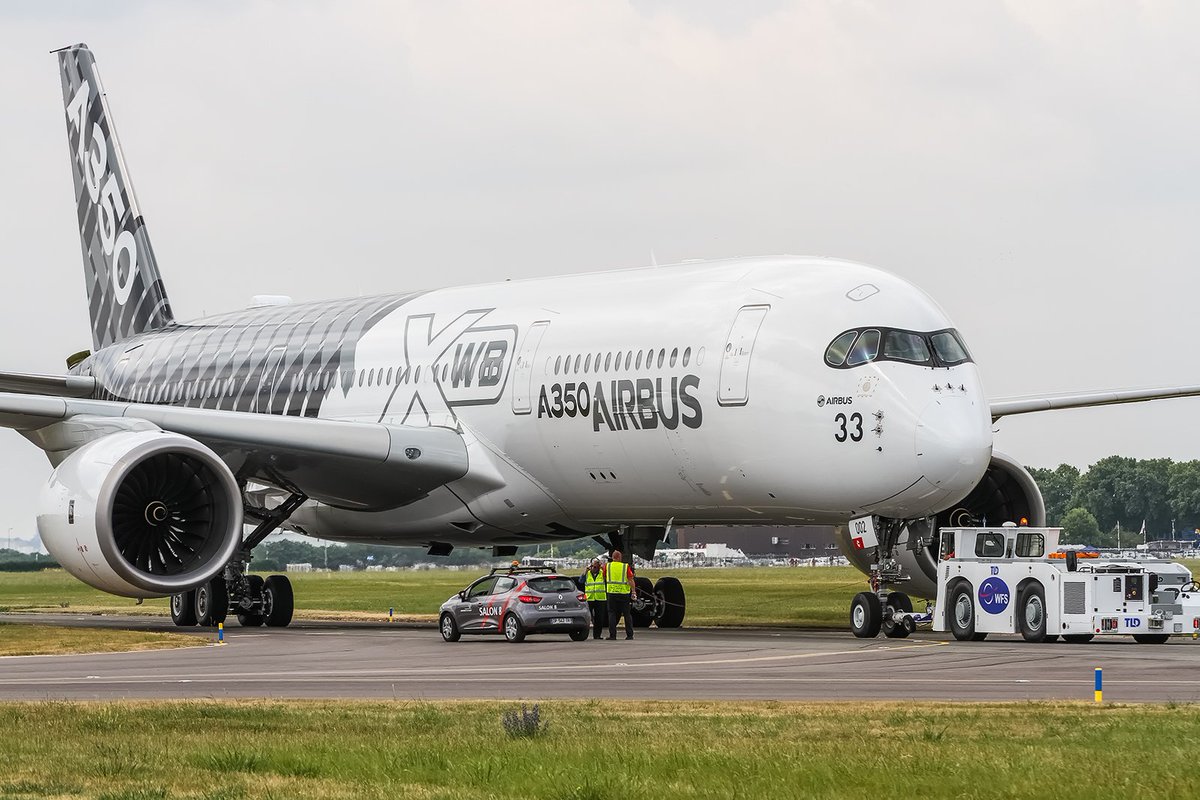 The company has reported that the family experiencing stronger sales is the A320, with a total of 306 deliveries valued at 33.8 billion dollars (30.266 billion euros). Of these, 132 are firm reserves with a value of 14.7 billion dollars (13.163 billion euros) and agreements of understanding on 174 aircraft for 19.1 billion dollars (17.103 billion euros).
Airbus commercial director John Leahy said that this week's success in Paris «extends Airbus' already diversified offer to a new record in the industry of 6,800 aircraft.» In addition to the new purchases, the company said in a statement that DHL Express had ordered conversions of four A330-300 passenger-to-cargo aircraft.
The manufacturer has highlighted the strength of sales and improvement «in all strata», from cargo aircraft, to passenger aircraft of all types and the increase in fuel economy and comfort due to technological innovation.
Emirates resists buying more A380s while superjumbo's future is clouded
Emirates, the world's largest operator of the Airbus A380 superjumbo, said it is reluctant to place a further order for the double-decker jet until the future of the slow-selling model becomes clear.
With Airbus mulling production cuts if not new deals are secured this year, Dubai-based Emirates needs reassurances about the European planemaker's plans for the A380 as much as it does additional cost savings, Tim Clark, its president, said Wednesday in Paris.
Airbus this week formalized plans to fit the A380 with fuel-saving winglets to help boost efficiency by as much as 4 percent, dubbing the upgraded aircraft the A380plus. The manufacturer has not offered to retrofit the drag-reducing, 15-foot extensions to the 95 plans that Emirates has taken delivery of, or provide them on the 45 yet to come, Clark said. I would have liked to have more of the jets.
Iran's Zagros Airlines commits to 28 Airbus NEO's
Iranian domestic carrier Zagros Airlines has signed a memorandum of understanding (MOU) with Airbus for the purchase of 28 aircraft at the Paris Air Show, Airbus announced June 22. The Tehran-based airline intends to buy 20 A320neos and eight A330-800neos, an Acquisition valued at $ 4.2 billion at list prices.
Zagros operates a fleet of 11 Airbus A320 family aircraft, in addition to nine DC-9s. «These aircraft will allow Zagros to modernize and expand its fleet with minimal change benefiting from our fleet commonality which is unique to Airbus,» Airbus COO and Commercial Aircraft president Fabrice Brégier said at the signing. Airbus said the MOU is contingent upon all necessary approvals, including those from the Office of Foreign Assets Control.
AirAsia signed a service agreement with Airbus
AirAsia co-founder Tony Fernandes signed a services agreement with Airbus earlier this week and stayed on for further negotiations with his company's sole aircraft supplier, sources said, while cautioning a deal could not be guaranteed.
Airbus declined to comment, while officials at AirAsia could not be reached for comment. Going into the fourth trade day of the Paris Airshow, Boeing was ahead on net, new orders and commitments after launching a new version of its 737 MAX family of planes.
ATR
ATR has sold 89 aircraft since the beginning of the year to 2.3 billion dollars
ATR, a joint venture owned by Leonard and Airbus, has received since the beginning of 89 aircraft orders valued at more than $ 2.3 billion and added an additional 20 options. The order book comprises 250 aircraft as well.
During this week's Aeronautical Show in Paris, ATR announced new agreements allowing both ATR 42-600 and ATR 72-600 to develop new markets, China and Africa in particular. ATR has announced new deals today: for the Swedish BRA ATR 72-600, which leads to the fleet of this family to a total of 10 aircraft, and an ATR 72 -600 for Air Tahiti, the company that operates with ATR during More than three decades. In total, five new agreements were announced at Le Bourget.
ATR has signed an agreement earlier this year for 50 ATR 52-600 with Indigo Indian and ATR-20 600 and another 20 additional options with Iran Air. Since January, five new customers have bought ATR for the first time, thus further strengthening ATR's regional market leadership position. «The level of sales achieved in less than six months reflects a positive evolution in the market and the ATR is an excellent option to open new routes to reduce operating costs for companies,» says ATR CEO Christian Scherer.
BOEING
Boeing's 737 MAX 10 a big hit at Paris Air Show 2017
Boeing 737 MAX 10 is a big hit at this week's Paris Air Show with over a dozen airlines and fleets placing orders for the larger jet.
The MAX 10 is Boeing's answer to the Airbus A321NEO. Although the 737 lineup is the best-selling commercial aircraft in history, the A321NEO has recently been more popular than the 737-9 MAX, which is Boeing's largest narrowbody, single-aisle jet currently on the market.
The MAX 10 can seat about 10 more passengers than the MAX 9, sporting a maximum capacity of 230 seats. To make room for extra seating, Boeing stretched the fuselage 66 inches versus the MAX 9.
"Airlines wanted a larger, better option in the large single-aisle segment with the operating advantages of the 737 MAX family," said Boeing Commercial Airplanes President and CEO Kevin McAllister.
Boeing introduced its latest jet on Monday, and a flood of orders quickly followed. The aerospace giant received commitments to sell a total of 361 MAX 10s, including 147 new orders and 214 conversions from other models. The MAX 10 accounted for more than half of Boeing's total order book for the show, as the company sold 571 jets worth $74.8 billion.
At Paris Air Show, Boeing Teases the '797'
The world's largest commercial jetmaker offered a glimpse of its upcoming 'middle-market airplane', but everybody's already calling it the 797.
What's in a name? It turns out, quite a lot. Boeing released an artist's rendering of its next-generation twin-aisle commercial jetliner at the Paris Air Show this week, giving the world an early look at the planemaker's "middle-market airplane" – what everybody is justifiably already referring to as the Boeing 797.
Boeing doesn't launch new commercial jet's that often, so even though this wasn't an official launch it's still being treated as a pretty big deal. The composite 797 would seat between 220 and 270 passengers. It is predicted to enter service in 2025, filling the gap between the Boeing 737 workhorse and advanced 787. Boeing predicts its could sell up to 4,000 and keep it in service for 20 years.
So now we know what it is, what it looks like, and what it's likely to be called. Which begs another question: What's up with Boeing's strange commercial jet naming convention anyway? The story is mildly interesting – so, if you'd like to be mildly entertained, by all means read on.
Everybody knows that the first Boeing commercial jetliner was the 707, introduced in 1958. Why that number? The rather simple reason is that Boeing reserved the 700 block of numbers for its commercial jets (the 300 and 400 blocks were propeller airplanes, 500 jet engines, and 600 rockets and missiles). The first in the series should have been the Boeing 700 but the marketing folks didn't like the ring of that so they called it the 707.
Boeing then decided to call its next plane the 717, which makes sense except for the fact that the next model wasn't a commercial jetliner but rather a military tanker. So it was redesignated the KC-135. Next Boeing created the 720, which was really just a slightly modified 707. Then came the 727, which was followed sequentially by the 737, 747, 757, 767 and 777. In the 1990s, Boeing went all the way back to the 717 designation for its single-aisle model based on the MD-95 after it acquired McDonnell-Douglas. Last but not least came the 787 Dreamliner six years ago.
So of course Boeing will name the "middle-market airplane" the 797. What else could they call it? Perhaps the more pressing question is, what in the world will Boeing call the airplane after that?
BOMBARDIER
Bombardier Continues to Build Momentum with Successful Paris Air Show
Bombardier Commercial Aircraft concluded a successful week at the 2017 International Paris Air Show, where it had the opportunity to connect with customers from around the world and announced up to US$2 billion in orders and other commitments.
«We are concluding the airshow with solid momentum, and I am very pleased with the level of interest and activity we are seeing in all of our aircraft programs,» said Fred Cromer, President, Bombardier Commercial Aircraft. «With our unique product portfolio, we are the leader in the market segment below 150 seats, and the orders and commitments, from multiple operators, for over 60 Q400 aircraft announced during the airshow are clear demonstrations that Bombardier already has innovative solutions that meet market requirements for larger and higher-performance turboprops.»
The airshow was also an opportunity for Bombardier to showcase the CS300 aircraft alongside launch operator airBaltic. «As the momentum continues to build up following the successful first year in service of the C Series aircraft, we are pleased that airlines around the world are demonstrating growing interest as they witness the C Series performance and hear about the overwhelming positive feedback from passengers and our launch operators,» added Fred Cromer.
On June 21, 2017, Ilyushin Finance and Co. (IFC) and an undisclosed airline have signed a framework agreement on the lease of six CS300 aircraft. IFC ordered 20 CS300 aircraft under an agreement signed with Bombardier in 2013. The C Series Aircraft Limited Partnership, an affiliate of the Bombardier Commercial Aircraft segment of Bombardier Inc. manufactures the C Series aircraft. A \ W
Ξ A I R G W A Y S Ξ
SOURCE:  Saie.fr / Seattletimes.com / Thefiscaltimes.com / Foxbusiness.com / Flyingmag.com / Marketwired.com
DBk:  Dawn.com / Twimg.com / Airbus.com / Diepresse.com /  Boeing.com / Ainonline.com / Airwaysmag.com
AW-POST: 201706221607AR
A\W   A I R G W A Y S ®