AW | 2017 06 23 16:11 | AIR SHOW
PARIS AIR SHOW LE BOURGET 2017 / FRIDAY, 23 JUNE 2017
Como con la mayoría de los espectáculos aéreos, la mayoría de los 'bang' es en los primeros 2 días y con Boeing. Después de 2 días fuertes, el día 3 fue tranquilo y esto habría continuado en el último día del Salón del Aire de París, si no fuera por Boeing ahorrando un gran anuncio.
VISTA PANORÁMICA DE PARIS AIR SHOW LE BOURGET 2017
AIRBUS

Nuevos registradores de Datos / Voces de Airbus
Airbus ha lanzado un nuevo y novedoso diseño mejorado de sus dispositivos registradores de vuelo y voces, Registrador de Datos de Vuelo (FDR) Registrador de Voces de Vuelo (FVR), conocidos comúnmente como "cajas negras", introduciendo un mecanismo de desacoplamiento del fuselaje principal en rutas de largo recorrido.
El consorcio europeo Airbus Group informó que estas innovaciones ofrecen una mayor redundancia para la localización y recuperación de los datos de vuelo, particularmente en casos de accidente o pérdida de contacto con los sistemas de navegación en tierra al sobrevolar zonas marítimas.
Esta nueva tecnología obedece a los problemaas ocasionados por varios accidentes que han complicado la búsqueda de los registros de las aeronaves, como lo fueron los casos de los vuelos VJ592 de la extinta Valujet, el vuelo AF477 de Air France, como así el caso vigente que desvela a las autoridades de investigación, el vuelo MH370 de Malaysia Airlines. En estos casos, como los más relevantes, está implicado el uso de tecnología de avazada para la localización de las cajas de registros de los aviones.
Airbus incorporará los dispositivos a toda la gama de aviones comerciales de Airbus a partir de 2019. Todos sus aviones contarán con Registrador de Voz y Datos de Cabina (CVDR) y el Registrador de Vuelo Automáticamente Desprendible (ADFR), ambos con la capacidad de grabar y almacenar hasta 25 horas de audio y datos en una sola sesión de vuelo.
Diseño de los nuevos CVDR y ADFR
"El nuevo CVDR será más ligero, más compacto y proporcionará nuevas capacidades en comparación con la generación actual de grabadoras, incluyendo interfaces versátiles; responde a exigencias de la EASA y de la OACI de extender la duración de la grabación de voz a 25 horas (el requisito actual requiere una duración de dos horas de grabación de voz)", señaló la compañía en un comunicado (link is external). Dos de estos CVDR serían instalados en los aviones de pasajeros A320 de menor alcance, en comparación con los modelos en operación actual que incluyen un solo registrador de datos de vuelo más una grabadora de voz independiente. En tanto, el ADFR está dirigido a aeronaves de mayor alcance, con mayor autonomía de vuelo sobre el mar o en áreas remotas como lo son los aviones A321LR, A330, A350 XWB y A380.
En caso de deformación estructural significativa o de inmersión en agua, el ADFR cuenta con un sistema que le permite desacoplarse automáticamente. Está diseñado para flotar y su módulo de memoria está protegido contra accidentes. Cuenta con un transmisor de localización de emergencia (ELT), para ayudar a los equipos de rescate a localizar y recuperar rápidamente los registradores de vuelo.
«Comenzando con el A350 de largo alcance, esperamos instalar progresivamente estos nuevos dispositivos de recuperación de voz y datos en toda nuestra gama de productos", apuntó Charles Champion, vicepresidente ejecutivo de Ingeniería de Aeronaves Comerciales de Airbus.
Tibet Financial Leasing
Después de que Airbus presentara un resumen para el Salón del Aire de París 2017, una última firma del MdE fue otorgada por el Tíbet Financial Leasing comprometiéndose a 20 aviones Airbus A321NEO.
Las intenciones de la orden de hoy alcanzaron 93 (incluyendo opciones) para Airbus – ocho jets de cuerpo ancho y 85 chorros de cuerpo estrecho. Las ofertas llevan un precio de lista de $ 11.9B, pero después de descuentos, el reparto puede ser valorado más cercano a $ 5.3B. Esto traería las órdenes y los compromisos para Airbus en el día 4 a 107 aviones con un valor de catálogo de $ 13.3B y $ 6.0B después de descuentos.
Durante el Air Show de París, Airbus aumentó su orden y sus compromisos (incluidas las conversiones) hasta 351, mientras que Boeing ya está en 970 órdenes y compromisos incluyendo opciones, conversiones y conversiones de opciones. Compensando esto, el flujo de pedidos va a ser menor, pero probablemente suficiente para vencer a Airbus en el Salón del Aire de París. Contrariamente a mis expectativas, Airbus no ha podido ofrecer mucho en los días 3 y 4, pero cabe señalar que la preocupación del fabricante de aviones no es acumular pedidos, sino aumentar los volúmenes de entrega mientras que para Boeing algunos pedidos sería bienvenido.
ANTONOV
Antonov An-132D hace su debut internacional
El nuevo Antonov An-132D aviones de transporte ha hecho su debut internacional en el Salón del Aire de París 2017. La aeronave es una colaboración entre el ucraniano Antonov y la Arabia Saudita Taqnia Aeronáutica y King Abdulaziz Ciudad de Ciencia y Tecnología
El Antonov An-132D ha hecho su debut internacional en el Paris Air Show, tras el primer vuelo de la aeronave en marzo en Ucrania. El avión desarrollado por Antonov y Taqnia de Arabia Saudita ha sido desarrollado como una versión modernizada y occidentalizada del Antonov An-32 'Curl', con nuevos motores Pratt & Whitney PW150, aviónica de Honeywell y propulsores Dowty R408.
ATR
ATR, ventas discretas
El fabricante de aviones ATR tomó las órdenes de cinco clientes en el Salón del Aire de París esta semana, para 17 aviones en total.
Shaanxi Tianju Investment Group firmó una carta de intención para comprar 10 ATR 42-600s, con las primeras entregas se espera que comience en 2018. El avión se utilizará para desarrollar servicios de cercanías en la región de Xinjiang de China.
Xuzhou Hantong Aviation también firmó una Carta de Intención, esta vez para la compra de tres ATR 42-600 para desarrollar servicios de cercanías en la provincia de Jiangsu, China. Las primeras entregas se esperan en 2018.
Startup Air Senegal ordenó dos ATR 72-600 con un valor estimado de aproximadamente EUR 50 millones. Air Senegal es la nueva aerolínea nacional del país de África Occidental. Planea lanzar vuelos en noviembre cuando los ATR sean entregados.
«Nuestra ambición es que esta nueva aerolínea desempeñe un papel importante en Senegal, y en toda África Occidental. Después de un año de evaluación … la elección de la flota inicial se centró en el ATR 72-600 «, dijo el director ejecutivo de la aerolínea, Mamadou Lamine Sow.
ATR dijo que las órdenes de París y las cartas de intención de llevar el número de compromisos para la compra de aeronaves a 89 en lo que va de este año. Si se ejercitan todos los compromisos, el valor total de la lista de los pedidos será superior a USD $ 2.3 mil millones.
BOEING
Boeing suma más aviones
El arrendador AerCap (AER) siguió el ejemplo de otros arrendadores y compañías aéreas y convirtió las órdenes existentes para 15 aviones Boeing 737-10 MAX. La conversión de AerCap fue la única orden firme en el Día 4, que a un precio total tiene un valor de $ 1.9B. Tassili Airlines se reveló como el cliente de 3 aviones Boeing 737-800 que previamente se atribuyeron a un cliente no identificado.
Memorandos de Entendimiento (MoU) firmados: Ruili Airlines firmó por 20 aviones Boeing 737-8 MAX. Un cliente no identificado, que Boeing describe como «una aerolínea importante» firmado por 125 aviones Boeing 737-8 MAX con opciones para otros 50. Los Memorandos de Entendimiento que se firmaron hoy todos fueron para el Boeing 737-8 MAX y totalmente ejercitado llevan una lista Precio de $ 21.9B o $ 10.1B después de descuentos. Esto traería órdenes y compromisos para Boeing en el Día 4 a 210 aviones (incluyendo opciones) con un valor de catálogo de $ 23.8B y $ 10.9B después de descuentos. Es interesante ver que no parecía haber un desvanecimiento en afluencia de pedidos en el segundo día del espectáculo como solemos ver durante los grandes espectáculos aéreos.
BOMBARDIER
Bombardier no agregó órdenes o compromisos en el día 4 del show aéreo. Bombardier anunció que Ilyushin Finance llegó a un acuerdo para la colocación de 6 aviones CS300 con un cliente, lo que significa que los aviones serán producidos por Bombardier pronto.
COMAC
El crecimiento de COMAC
China hizo saber que no tiene la intención de ser sólo un comprador en el mercado de aviones en el Salón del Aire de París esta semana, ya que el país parece desafiar Boeing y Airbus en el mercado de aviones grandes. Muchas aerolíneas chinas, sin embargo, estaban más que felices de abrir sus billeteras.
Durante el programa, la estatal china Commercial Aircraft Corp. COMAC, dio a conocer el interior de un avión de dos pasillos que está desarrollando con la compañía rusa United Aircraft Corp.
El programa también vio varias aerolíneas chinas y compañías de leasing comprar aviones Boeing y Airbus, especialmente Boeing 737 MAX. El avión de pasajeros de pasillo único tiene una capacidad de 138-230 asientos y puede recorrer 6.000 km-7.000 km. Con 280 asientos y una gama de 12.000 km, el avión de pasajeros de dos pasillos de COMAC está diseñado para competir con el Boeing 787 Dreamliner y el Airbus A350.
«El nuevo amplio cuerpo llegará al mercado en el peor de los casos», advierte Mark Bobbi, un analista de aviación en la defensa y consultoría aeroespacial Jane's. «Ya hay un exceso de capacidad en los cuerpos de ancho», mientras que las nuevas versiones de los modelos existentes de Airbus y Boeing también están en camino, dijo.
Eso no ha impedido que COMAC y su socio ruso avancen. La empresa conjunta espera vender más de 600 unidades en un período de 20 años, ya que el mercado de aviación de Asia y el Pacífico, liderado por China, se convertirá en el más grande del mundo en las próximas dos décadas.
La empresa conjunta espera iniciar consultas con los proveedores y realizar un primer vuelo de prueba en 2023, con una primera entrega programada para 2025, dijo un portavoz de la UAC.
El desafío para la empresa, sin embargo, será competir en términos de fiabilidad. El recién llegado COMAC tiene poco en el camino de un historial. Sólo ha construido dos aviones de pasajeros hasta ahora.
EMBRAER
En el Día 4, Embraer no ha formalizado ningún pedido de las aerolíneas.
20 años de operaciones del Embraer E145
Paris Air Show Embraer celebró 20 años de operaciones de uno de sus modelos más icónicos el ERJ-145, uno de sus clientes de lanzamiento HOP! fue el encargado de partir el pastel y la destapar la champaña. "El Embraer 145 es un avión que corre por las venas de Embraer, se vendieron más de mil y siguen en operación" dijo John Slatter CEO de Embraer; mencionó que es curioso que este resurgiendo el interés por los jets de 50 asientos y que Embraer tiene un departamento especial para re-colocar estos más de mil ERJs vendidos.
20 AÑOS DE OPERACIONES DE LA EMPRESA  EMBRAER, JUNTO A UN E-145 DE HOP!
Al preguntarle acerca del programa E2, Slatter comentó que están haciendo un avión que es eficiente y que además se encuentra sin demoras en la producción y dentro de presupuesto establecido; además lo está haciendo mejor de lo que planearon "Es la segunda vez que redefinimos su rango, ya vamos en 2600 millas náuticas".
Al compararse en una presentación para prensa con el CSeries dijeron tener un menor costo por asiento aunque el CSeries 300 es más grande y que pueden tener el mismo costo por asiento que un A320NEO o que un B737MAX con lo que el E2 se convierte en el mejor modelo para abrir nuevas rutas o incrementar frecuencias. Embraer fue enfático en que no compiten con estos operadores aunque el E2 al tener un ala más eficiente y única para cada modelo (175,190, 195) y no una misma ala para toda una familia, es más eficiente aún que estos aviones.
Hablando del MRJ-90, que se dice más eficiente que Embraer, Slatter comentó que no está la arrogancia dentro de los genes de Embraer por lo que respeta a todos los competidores que los hacen mejores; sin embargo refirió que acaba de vender Embraer a dos operadores japoneses.
Embraer tiene 61% del mercado y prevee que en los próximos 20 años se necesiten 6400 aviones del rango de las 70 a 130 plazas, sobre todo porque preveen que las "clausulas de alcance" que impusieron los trabajadores por medio de sus sindicatos a aerolíneas regionales se vean un tanto relajada en 2019. "Nuestra meta es que crezca el mercado y conservar el 61% o más" mencionó Embraer.
Durante esta edición de Paris Air Show, Embraer ha vendido 3 billones de dólares en 18 pedidos en firme más 33 intenciones de compra. Cada 10 segundos, un Embraer despega de alguna parte del mundo transportando a más de 145 millónes de pasajeros cada año.
MITSUBISHI
Mitsubishi Aircraft Corp de Japón llevó su jet MRJ regional a Europa por primera vez durante el show aéreo.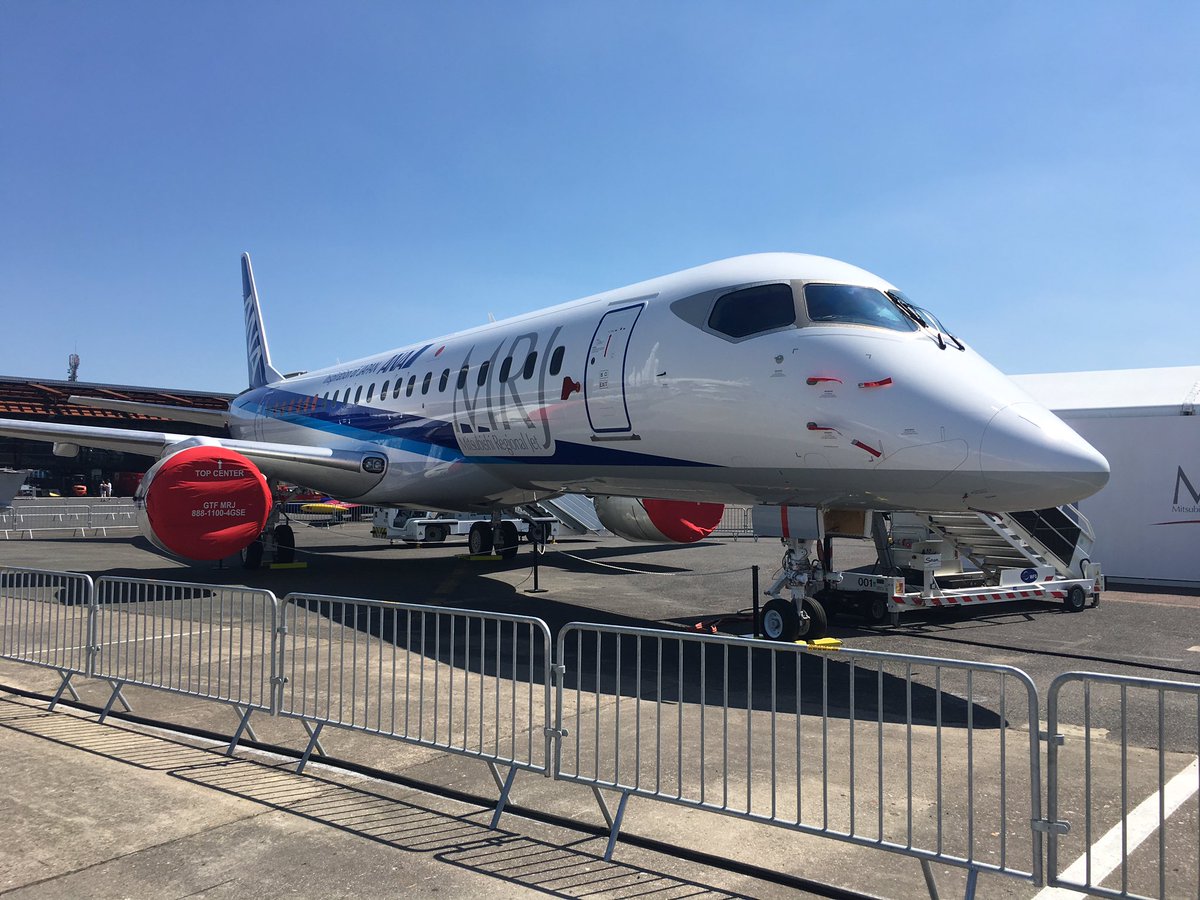 SUKHOI
PowerJet listo para desarrollar motores SaM146 para 130 asientos SSJ100
PowerJet, el fabricante de motores SaM146 para el Sujoki SuperJet 100 (SSJ100), está listo para desarrollar un motor más potente para un modelo de 130 asientos en espera de una revisión del mercado.
La United Aircraft Corp. (UAC, por sus siglas en inglés) de Rusia reveló en el Salón del Aire de París que una decisión sobre una versión de tracción de la Sujko SuperJet 100 -una variante de 130 asientos denominada SSJ100NG- se haría a fines de este año.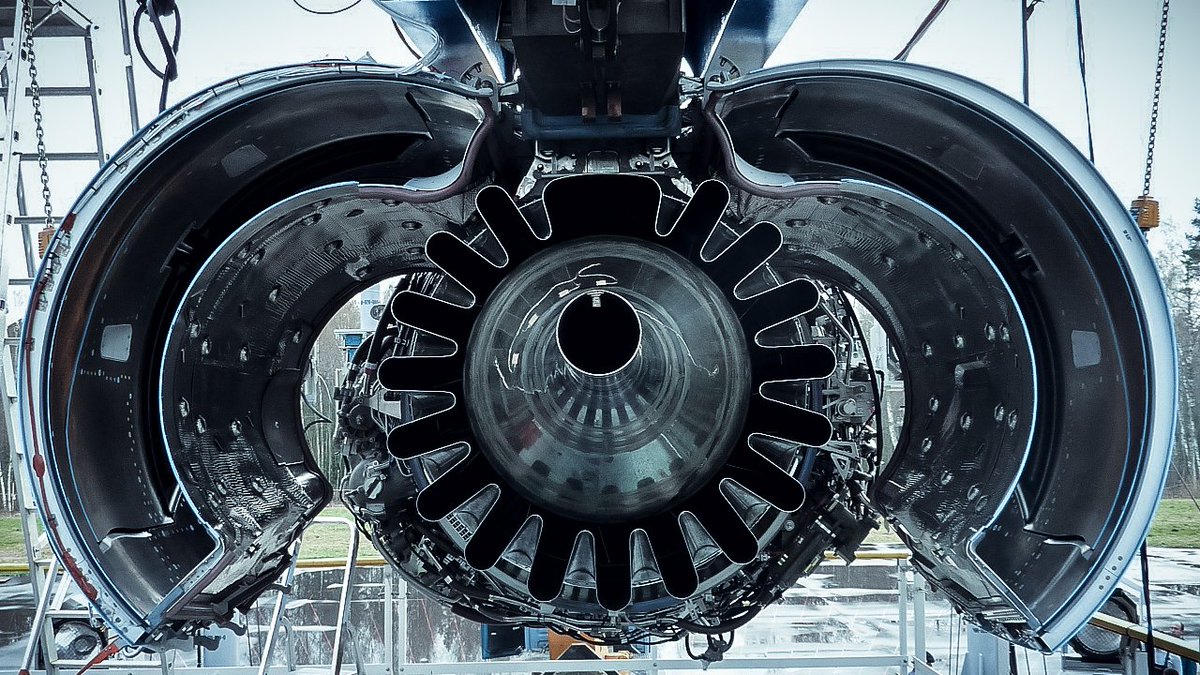 VISTA TRASERA DEL MOTOR POWERJET SaM146 DEL SUKHOI SSJ-100
El fabricante del motor quiere estar seguro de que existe suficiente mercado para justificar la inversión en el desarrollo del motor. «Revisemos juntos el mercado potencial y la inversión necesaria. Entonces, basándonos en la evaluación conjunta, tomaremos la decisión de mejorar el motor o no «, dijo el gerente general de PowerJet, Marc Sorel, a periodistas en el Salón del Aire de París.
El desarrollo del motor puede tomar varios años. «Si se quiere alcanzar un aumento de empuje del 2%, se necesitarán alrededor de tres años con la certificación, que también tenemos que hacer», dijo Sorel.
El motor SaM146 ahora existe en dos modificaciones-1S17 con empuje de despegue de 15,400 lbf y 1S18 para la modificación de largo alcance con 16,100 lbf de empuje de despegue. Con el motor existente, el avión podría transportar hasta 120 pasajeros siempre que Sukhoi Civil Aircraft continúe modernizando el avión para reducir el peso y mejorar la aerodinámica: los motores existentes soportarán hasta 125 pasajeros.
PowerJet es una empresa conjunta 50/50% de Snecma francés y UEC-Saturn de Rusia. PowerJet ha fabricado alrededor de 270 motores en serie; Este año el fabricante planea producir más de 70 motores excluyendo motores de repuesto.
GTLK abrirá el depósito de piezas SSJ100 en Europa
GTLK Europe, filial de la compañía estatal de arrendamiento de transporte estatal (GTLK), y el proveedor internacional de piezas OEMServices, planean abrir un depósito de piezas en Europa que serviría a los operadores europeos de los aviones regionales Sukhoi Superjet 100 (SSJ100).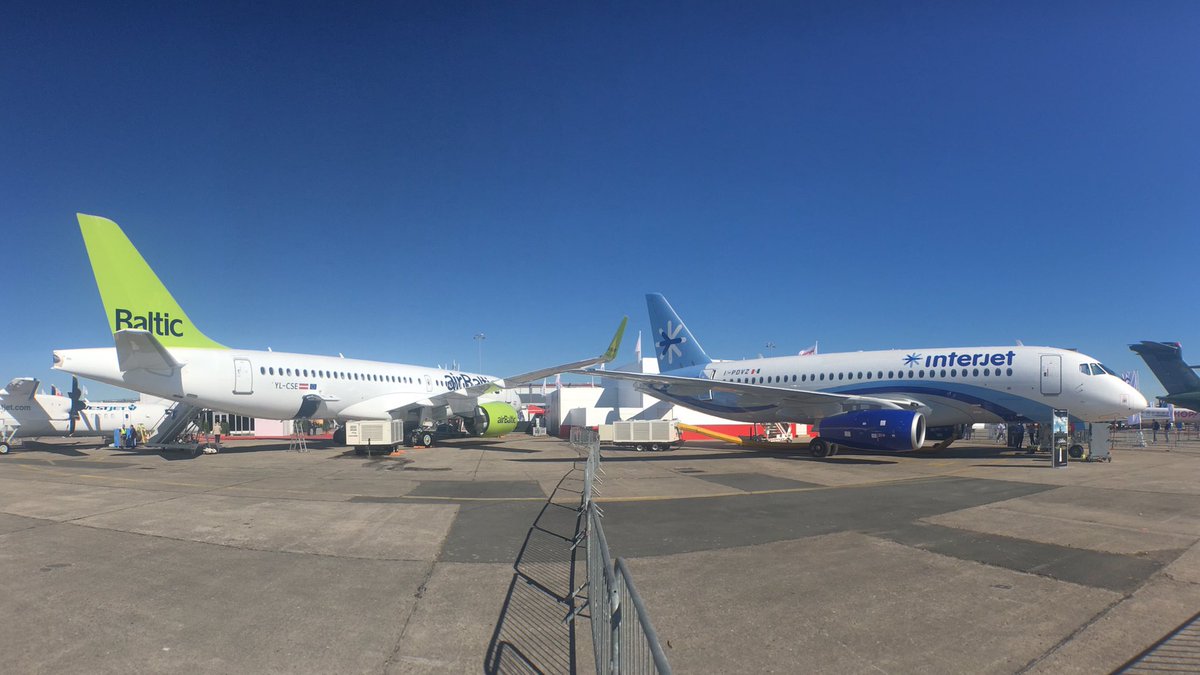 El informante ruso de la aviación aprendió sobre el plan del director de GTLK Europa Roman Lyadov en la demostración de aire de París. Las partes firmaron un memorando sobre cooperación. Lyadov dijo que su compañía financiará el proceso de creación de depósitos, mientras que OEMServices administrará la instalación. Los socios del socio europeo son Liebherr, Thales y Zodiac Aerospace.
A pesar de que el mantenimiento no es la principal línea de negocio para GTLK Europa, es importante para la compañía prevenir situaciones de aeronaves en el suelo relacionadas con la falta de disponibilidad de piezas, lo que afecta a la capacidad de los clientes para hacer pagos de arrendamiento a tiempo. Agregó que el memorando con OEMServices se convertirá en un acuerdo de pleno derecho en el cuarto trimestre de 2017.
París es el sitio más probable para el depósito futuro, ya que OEMServices ya tiene una faciltiy similar allí para otros tipos de aeronaves. OEM Services no proporcionó una respuesta a la investigación de información de la aviación rusa por el momento de la publicación.
Irish LCC CityJet es actualmente el único operador europeo SSJ100. El transportista ya ha recibido seis de los 15 Superjets bajo pedido. Todas las células están siendo proporcionadas por RJ Leasing. El banco de desarrollo estatal ruso VEB está financiando el acuerdo. CityJet está alquilando por lo menos cuatro de sus SSJ1100: tres a Brussels Airlines y una a BMI Regional.
El propio GTLK sólo está arrendando SSJ100s a las aerolíneas rusas por el momento, aunque en 2015 la compañía firmó un memorando con SCAT Airlines de Kazajstán para 15 del tipo. 
PARIS AIR SHOW LE BOURGET 2017 / FRIDAY, 23 JUNE 2017
As with most air shows, most of the 'bang' is in the first 2 days and with Boeing. After 2 strong days, Day 3 was a tranquil one and this would have continued on the last day of the Paris Air Show, were it not for Boeing saving up one big announcement.
AIRBUS
New Airbus Data / Voice recorders
Airbus has launched a new and improved design of its flight recorders and voices, Flight Data Recorder (FDR) Flight Recorder (FVR), commonly known as «black boxes», by introducing a fuselage decoupling mechanism Principal on long-haul routes.
The European consortium Airbus Group reported that these innovations offer greater redundancy for the location and retrieval of flight data, particularly in cases of accident or loss of contact with the ground navigation systems when flying over sea areas.
This new technology obeys to the problems caused by several accidents that have complicated the search of the records of the aircraft, as they were the cases of the flights VJ592 of the extinct Valujet, the flight AF477 of Air France, as well as the current case that reveals the investigative authorities, the flight MH370 of Malaysia Airlines. In these cases, as the most relevant, is involved the use of technology of discovery for the location of the boxes of records of the aircraft.
Airbus will incorporate the devices to the full range of Airbus commercial aircraft from 2019. All of its aircraft will have Voice Recorder and Cab Data (CVDR) and the Automatically Removable Flight Recorder (ADFR), both with the ability to record And store up to 25 hours of audio and data in a single flight session.
Design of the new CVDR and ADFR
«The new CVDR will be lighter, more compact and will provide new capabilities compared to the current generation of recorders, including versatile interfaces; Responds to the requirements of EASA and ICAO to extend the duration of voice recording to 25 hours (the current requirement requires a two-hour voice recording)», the company said in a statement (link is external) . Two of these CVDRs would be installed on smaller-range A320 passenger aircraft compared to current operating models including a single flight data recorder plus an independent voice recorder. Meanwhile, the ADFR is aimed at larger aircraft, with greater autonomy of flight over the sea or in remote areas such as the A321LR, A330, A350 XWB and A380 aircraft.
In the case of significant structural deformation or immersion in water, the ADFR has a system that allows it to be decoupled automatically. It is designed to float and its memory module is protected against accidents. It has an Emergency Locator Transmitter (ELT), to help rescue teams quickly locate and retrieve flight recorders.
«Starting with the long-range A350, we hope to progressively install these new voice and data recovery devices across our product range,» said Charles Champion, Executive Vice President of Airbus Commercial Aircraft Engineering.
Tibet Financial Leasing
After Airbus presented a wrap up for the 2017 Paris Air Show, one last MoU signing came through from Tibet Financial Leasing committing to 20 Airbus A321NEO aircraft.
Today's order intentions reached 93 (including options) for Airbus – eight wide body jets and 85 narrow body jets. The deals carry a list price of $11.9B, but after discounts, the deal can likely be valued closer to $5.3B. This would bring the orders and commitments for Airbus on Day 4 to 107 aircraft with a catalog value of $13.3B and $6.0B after discounts.
During the Paris Air Show Airbus increased its order and commitments (including conversions) tally to 351, while Boeing is already at 970 orders and commitments including options, conversions and option conversions. Compensating for this, the order inflow is going to be less but likely enough to beat Airbus at the Paris Air Show. Contrary to my expectations, Airbus has not been able to deliver a lot on Day 3 and 4, but it should be noted that the jet maker's concern is not accumulating orders, but increasing the delivery volumes while for Boeing some orders would be welcome.
ANTONOV
Antonov An-132D makes international debut
The new Antonov An-132D transport aircraft has made its international debut at the Paris Air Show 2017. The aircraft is a collaboration between Ukraine's Antonov and Saudi Arabia's Taqnia Aeronautics and King Abdulaziz City for Science and Technology
 The Antonov An-132D has made its international debut at the Paris Air Show, following the aircraft's first flight in March in Ukraine. The aircraft developed by Antonov and Saudi Arabia's Taqnia has been developed as a modernised, westernised version of the Antonov An-32 'Curl', featuring new Pratt & Whitney PW150 engines, Honeywell avionics, and Dowty R408 propellers.
ATR
ATR, discrete sales
Regional aircraft manufacturer ATR took orders from five customers at the Paris Air Show this week, for 17 aircraft in total.
Shaanxi Tianju Investment Group signed a Letter of Intent to purchase 10 ATR 42-600s, with first deliveries expected to start in 2018. The aircraft will be used to develop commuter services in the Xinjiang region of China.
Xuzhou Hantong Aviation also signed a Letter of Intent, this time for the purchase of three ATR 42-600s to develop commuter services in Jiangsu province, China. First deliveries are expected in 2018.
Startup Air Senegal ordered two ATR 72-600s with an estimated value of approximately EUR€50 million. Air Senegal is the new national airline of the west African country. It plans to launch flights in November when the ATRs are delivered.
"Our ambition is for this new airline to play a major role in Senegal, and in all of West Africa. After a year of assessment… the choice of the initial fleet focused on the ATR 72-600s," the airline's chief executive Mamadou Lamine Sow said.
ATR said the Paris orders and LOIs bring the number of commitments for the purchase of aircraft to 89 so far this year. If all the commitments are exercised, the total list value of the orders will be over USD$2.3 billion.
BOEING
Boeing sum more aircraft
Lessor AerCap (AER) followed the lead of other lessors and airlines and converted existing orders for 15 Boeing 737-10 MAX. The conversion from AerCap was the only firm order on Day 4, which fully priced has a value of $1.9B. Tassili Airlines was revealed as the customer for 3 Boeing 737-800 jets that were previously attributed to an unidentified customer.
Memoranda of Understanding (MoU) signed: Ruili Airlines signed for 20 Boeing 737-8 MAX jets. An unidentified customer, which Boeing describes as 'a major airline' signed for 125 Boeing 737-8 MAX jets with options for another 50. The Memoranda of Understandings that were signed today all were for the Boeing 737-8 MAX and fully exercised carry a list price of $21.9B or $10.1B after discounts. This would bring the orders and commitments for Boeing on Day 4 to 210 aircraft (including options) with a catalog value of $23.8B and $10.9B after discounts. It is interesting to see that there didn't seem to be a fade in order inflow on the second day of the show as we usually see during the big air shows.
BOMBARDIER
Bombardier did not add orders or commitments on day 4 of the air show. Bombardier announced that Ilyushin Finance reached an agreement for the placement of 6 CS300 aircraft with a customer, which means that those aircraft will be produced by Bombardier soon.
COMAC
The growth of COMAC
China made it known it does not intend to just be a buyer in the airplane market at the Paris Air Show this week as the country looks to challenge Boeing and Airbus's in the large-aircraft market. Many Chinese airlines, however, were more than happy to open their wallets.
During the show, China's state-owned Commercial Aircraft Corp. COMAC, unveiled the interior of a two-aisle airliner it is developing with Russian company United Aircraft Corp.
The show also saw several Chinese airlines and leasing companies purchase Boeing and Airbus planes, especially Boeing's 737 MAX. The single-aisle passenger jet has a capacity of 138-230 seats and can travel 6,000km-7,000km. With 280 seats and a range of 12,000km, COMAC's two-aisle airliner is designed to compete with the Boeing 787 Dreamliner and the Airbus A350.
«The new wide body will come to market at the worst of times,» warns Mark Bobbi, an aviation analyst at defense and aerospace consultancy Jane's. «There is already an overcapacity in wide bodies» while new versions of existing Airbus and Boeing models are also on the way, he said.
That has not deterred COMAC and its Russian partner from moving ahead. The joint venture hopes to sell more than 600 units over a period of 20 years, as the Asia-Pacific aviation market, led by China, is expected to become by far the world's largest in the next two decades.
The joint venture expects to begin consultation with suppliers and conduct a first test flight in 2023, with a first delivery scheduled for 2025, a UAC spokesman said. The challenge for the venture, however, will be to compete in terms of reliability. Newcomer COMAC has little in the way of a track record. It has only built two passenger jets so far.
EMBRAER
Embraer  did not add orders or commitments on day 4 of the air show.
20 years of operations of Embraer E-145
Paris Air Show Embraer celebrated 20 years of operations of one of its most iconic models the ERJ-145, one of its HOP launch clients! Was in charge of breaking the cake and uncovering the champagne. «The Embraer 145 is a plane that runs through Embraer's veins, sold more than a thousand and is still in operation,» said John Slatter CEO Embraer; Mentioned that it is curious that this resurgent interest by the jets of 50 seats and that Embraer has a special department to re-place these more than thousand ERJs sold.
20th YEARS OF EMBRAER ERJ-145 OPERATIONS
When asked about the E2 program, Slatter commented that they are making an airplane that is efficient and that also is without delay in the production and within established budget; Also doing better than they planned «This is the second time we have redefined their rank, we are already at 2600 nautical miles.»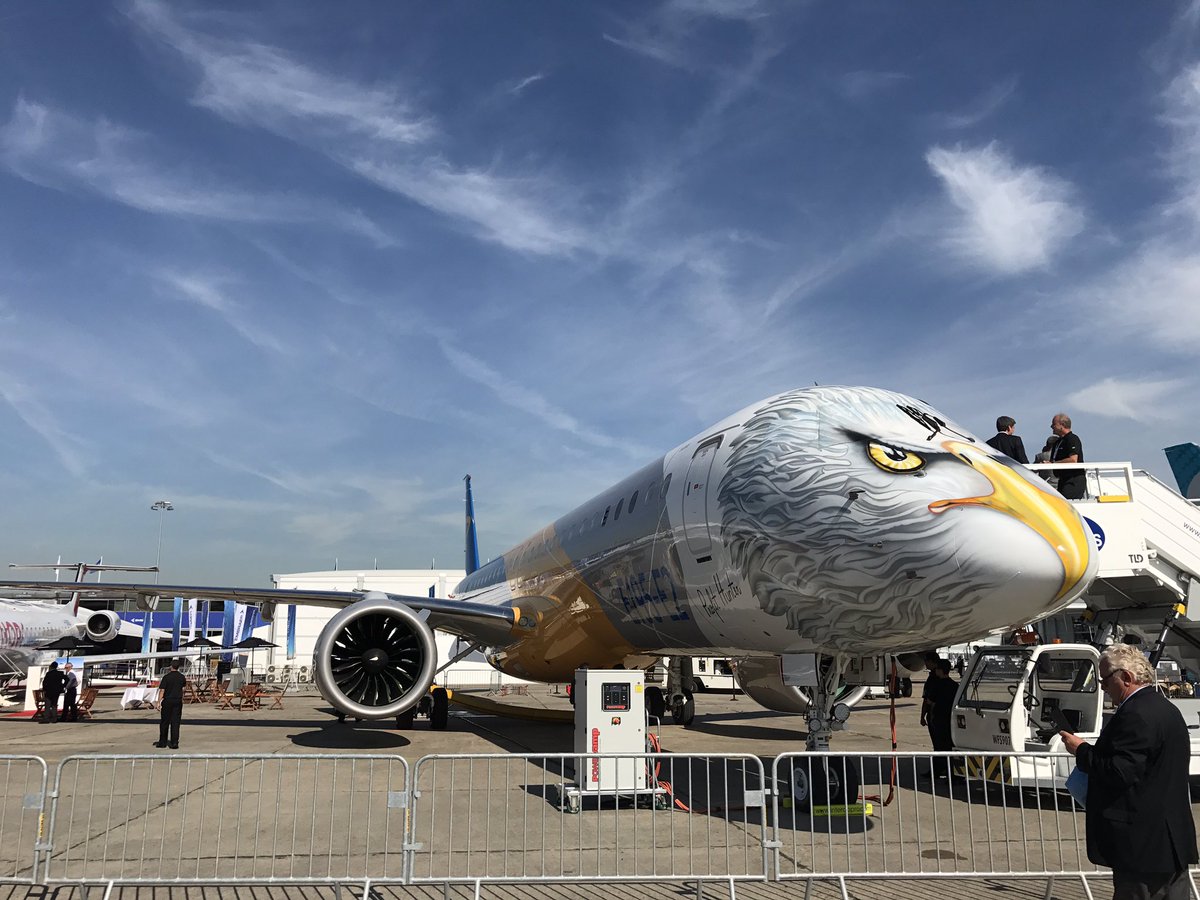 When compared in a press presentation with the CSeries said to have a lower cost per seat although the CSeries 300 is larger and they can have the same cost per seat as A320NEO or a B737MAX with which the E2 becomes the best Model to open new routes or increase frequencies. Embraer was emphatic in not competing with these operators although the E2 having a more efficient and unique wing for each model (175,190,195) and not the same wing for an entire family, is even more efficient than these aircraft.
Speaking of the MRJ-90, which is said to be more efficient than Embraer, Slatter commented that there is not the arrogance within the Embraer genes that respects all the competitors that make them better; However he said that he has just sold Embraer to two Japanese operators.
Embraer has 61% of the market and expects that in the next 20 years 6400 aircraft will be needed in the range of 70 to 130 seats, mainly because they predict that the «reach clauses» imposed by the workers through their unions to regional airlines Are somewhat relaxed in 2019. «Our goal is to grow the market and keep 61% or more,» said Embraer.
During this edition of the Paris Air Show, Embraer has sold 3 trillion dollars in 18 firm orders and 33 purchase intentions. Every 10 seconds, an Embraer takes off from somewhere in the world transporting more than 145 million passengers every year.
MITSUBISHI
Japan's Mitsubishi Aircraft Corp brought its MRJ regional jet to Europe for the first time during the air show.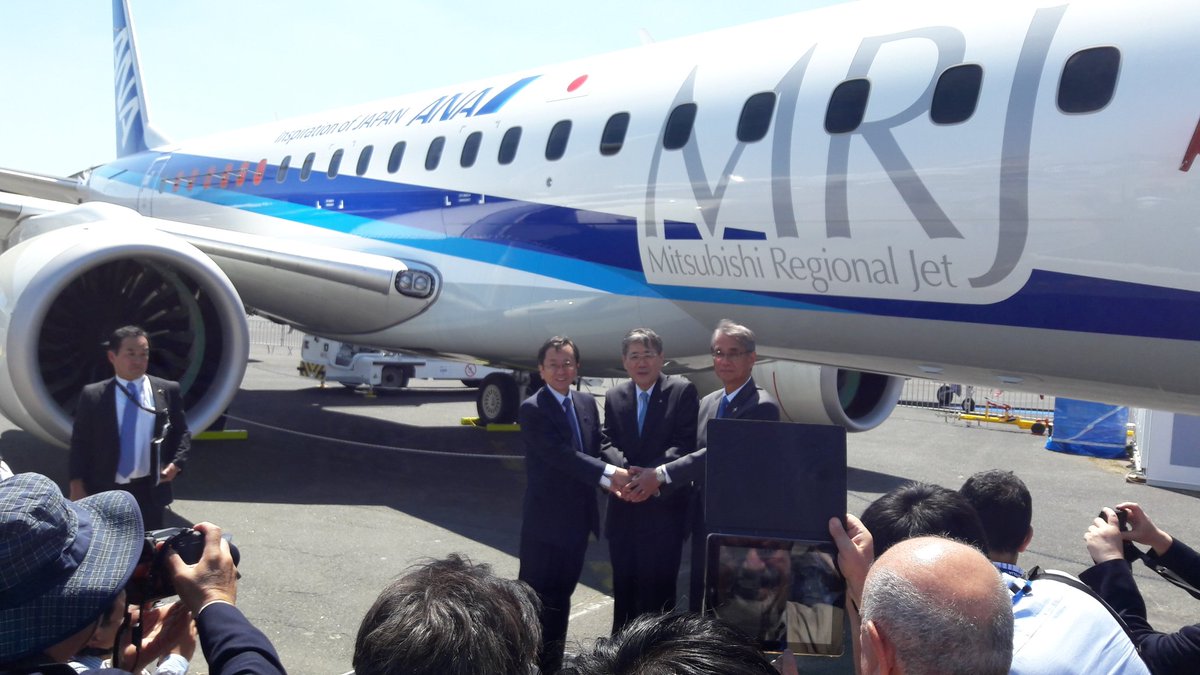 SUKHOI
PowerJet ready to develop SaM146 engines for 130-seat SSJ100
PowerJet, the manufacturer of SaM146 engines for the Sukhoi SuperJet 100 (SSJ100), is ready to develop a more powerful engine for a 130-seat model pending a market review.
Russia's United Aircraft Corp. (UAC) revealed at the Paris Air Show that a decision on a stretch version of the Sukhoi SuperJet 100—a 130-seat variant dubbed the SSJ100NG—would be made by the end of this year.
The engine manufacturer wants to be sure sufficient market exists to justify the investment into further engine development. "Let's review together the potential market and needed investment. Then, based on the joint assessment, we will make the decision to [either] further improve the engine or not," PowerJet CEO Marc Sorel told journalists at the Paris Air Show.
Engine development can take several years. "If you want to reach a thrust increase of 2%, it will take around three years with the certification, which we also need to do," Sorel said.
The SaM146 engine now exists in two modifications—1S17 with takeoff thrust of 15,400 lbf and 1S18 for the long-range modification with 16,100 lbf takeoff thrust. With the existing engine, the aircraft could carry up to 120 passengers provided Sukhoi Civil Aircraft continues to modernize the aircraft to reduce weight and improve aerodynamics: existing engines will then support up to 125 passengers.
PowerJet is a 50/50% joint venture of French Snecma and Russia's UEC-Saturn. PowerJet has manufactured around 270 serial engines; this year the manufacturer plans to produce more than 70 engines excluding spare engines.
GTLK to open SSJ100 parts depot in Europe
GTLK Europe, a subsidiary of Russian lessor State Transport Leasing Company (GTLK), and international parts supplier OEMServices are planning to open a parts depot in Europe that would serve European operators of Sukhoi Superjet 100 (SSJ100) regional airliners.
Russian Aviation Insider learned about the plan from GTLK Europe Director Roman Lyadov at the Paris Air Show. The parties signed a memorandum on cooperation. Lyadov said his company will finance the depot creation process, while OEM Services will manage the facility. The European partner's shareholders include Liebherr, Thales, and Zodiac Aerospace.
Even though maintenance is not the main line of business for GTLK Europe, it is important for the company to prevent aircraft-on-ground situations related to the unavailability of parts, which affect customers' ability to make lease payments on time, Lyadov explained. He added that the memorandum with OEMServices is to be converted into a full-fledged agreement in Q4 2017.
Paris is the likeliest site for the future depot, as OEMServices already has a similar faciltiy there for other types of aircraft. OEMServices did not provide a reply to Russian Aviation Insider's inquiry by the time of publication.
Irish LCC CityJet is currently the only European SSJ100 operator. The carrier has already received six out of the 15 Superjets on order. All the airframes are being provided by RJ Leasing. Russian government-owned development bank VEB is financing the deal. CityJet is wet-leasing at least four of its SSJ1100s: three to Brussels Airlines and one to BMI Regional.
GTLK itself is only leasing SSJ100s to Russian airlines at the moment, although in 2015 the company signed a memorandum with Kazakhstan's SCAT Airlines for 15 of the type. A \ W
Ξ A I R G W A Y S Ξ
SOURCE:  Airgways.com / Siae.fr / Janes.com / Nikkei.com / Atwonline.com / Rusaviainsider.com
DBk:  Ainonline.com / Boeing.com / Antonov.com / Airbus.com / Twimg.com / Airwaysmag.com / Atraircraft.com
AW-POST: 201706231611AR
A\W   A I R G W A Y S ®