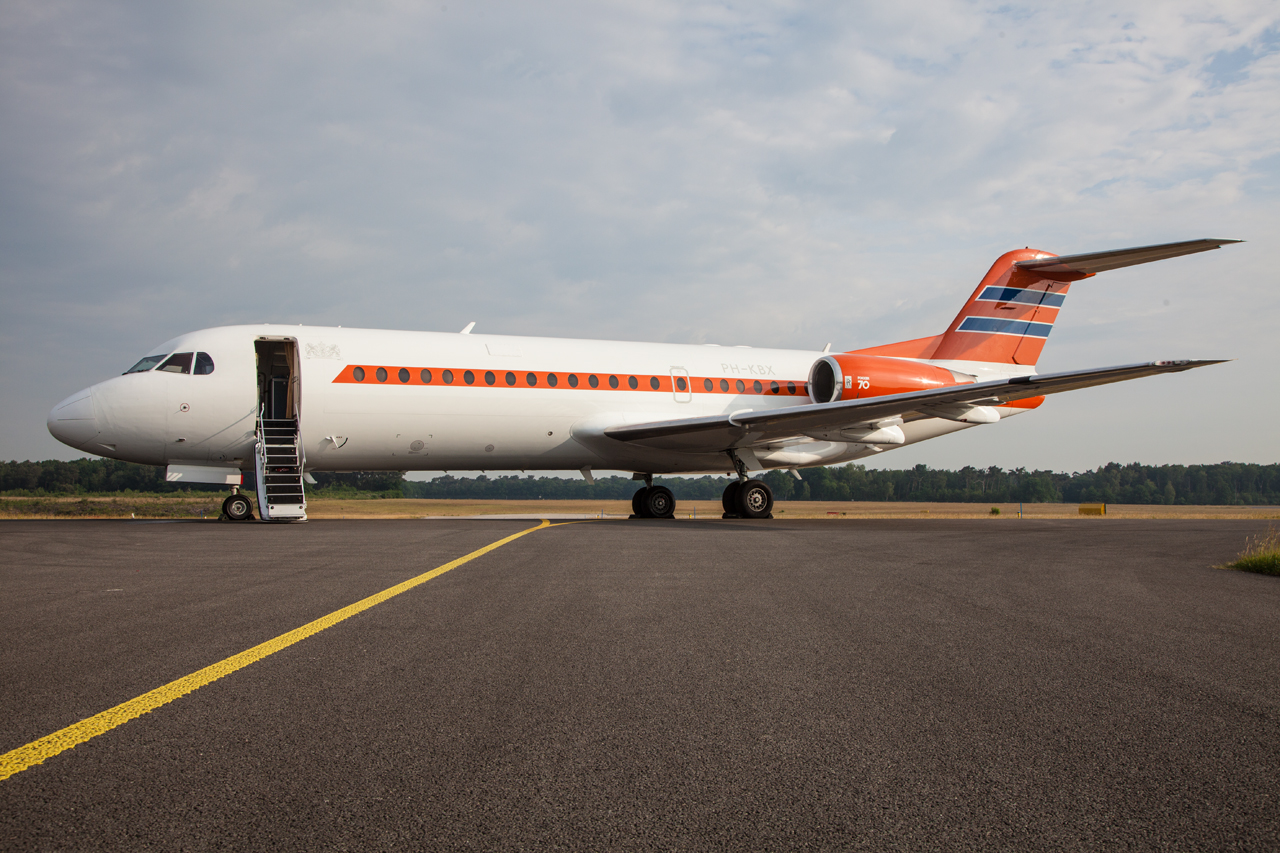 AW | 2017 06 03 21:33 | GOVERNMENT
Woensdrecht, Países Bajos · Entusiastas del avión le han dicho adiós a la unidad de gobierno holandés, el Fokker 70, matrícula PH-KBX. Alrededor de 4000 personas llegaron a la Woensdrecht para ver el teléfono por última vez desde la cercana informado el Ministerio de Infraestructura y Medio Ambiente.


El PH-KBX se ha utilizado durante años por el gobierno y los miembros de la familia real. Después de más de veinte años – el Fokker 70, construido en 1996 – un fin a esto. Las letras PH son el código de la aviación en los Países Bajos. Las letras corresponden a KBX de la reina Beatriz, que estaba sentado en el trono en el momento de la inscripción. El avión se sustituye por un Boeing 737 Business Jet  con la matrícula PH-GOV.
Los visitantes pudieron ver y fotografiar el dispositivo desde el exterior. El interior fue visto en película y fotos. También hubo una exposición con información sobre el dispositivo y los viajes realizados. La gente no estaba en el avión, ya que fue vendido a la empresa australiana Alliance Airlines por 3,7 millones de euros. 
Great farewell breeder 70



Woensdrecht, Netherlands · Aircraft enthusiasts have said goodbye to the Fokker 70 PH-KBX Dutch government agency on Saturday. About 4000 people arrived at the Woensdrecht air base to see the device for a last time, reported the Ministry of Infrastructure and Environment.
The PH-KBX has been used for years by the government and members of the royal house. After over twenty years – the Fokker 70 dates back to 1996 – an end is coming. The letters PH are the aviation code for the Netherlands. The letters KBX represent Queen Beatrix, who was on the throne at the time of registration. The aircraft is replaced by a Boeing 737 Business Jet, registered as PH-GOV.
Visitors could see and photograph the device from outside. Inside the interior were movies and pictures to be seen. There was also an exhibition with information about the device and the trips made. People could not enter the plane because it was sold to Australian society Alliance Airlines for 3.7 million euros. A \ W

Groot afscheid Fokker 70
Woensdrecht, Nederland · Vliegtuigliefhebbers hebben zaterdag afscheid genomen van het Nederlandse regeringstoestel de Fokker 70 PH-KBX. Zo'n 4000 mensen kwamen naar de vliegbasis Woensdrecht om het toestel voor een laatste keer van dichtbij te kunnen zien meldde het ministerie van Infrastructuur en Milieu.
De PH-KBX werd jarenlang gebruikt door de regering en leden van het koningshuis. Na ruim twintig jaar – de Fokker 70 stamt uit 1996 – komt daar een einde aan. De letters PH zijn de luchtvaartcode voor Nederland. De letters KBX staan voor voor Koningin Beatrix, die op moment van registratie op de troon zat. Het vliegtuig wordt vervangen door een Boeing 737 Business Jet, met als registratie PH-GOV.
Bezoekers konden het toestel van buiten zien en fotograferen. Van het interieur waren film en foto's te zien. Ook was er een tentoonstelling met informatie over het toestel en de gemaakte reizen. Mensen konden niet het vliegtuig in omdat het is verkocht aan de Australische maatschappij Alliance Airlines voor 3,7 miljoen euro. A\W


Ξ A I R G W A Y S Ξ
SOURCE: Telegraaf.nl
DBk: Telegraaf.nl / Rd.nl  / Luchtvaartnieuws.nl
AW-POST: 201706032133AR
A \ W   A I R G W A Y S ®