AW | 2018 03 06 21:55 | AIRLINES ROUTES
Fly AllWays ha cancelado los vuelos a Santo Domingo, República Dominicana
La aerolínea Fly AllWays ha cancelado los vuelos a Santo Domingo, República Dominicana por el incumplimiento de las condiciones para obtener el permiso del gobierno de Curazao para llevar a cabo los vuelos. Aunque tal suspensión es transitoria, la aerolínea de Surinam estará regularizando la situación a la brevedad.
En un comunicado de prensa la aerolínea expresó que: "Fly AllWays estaba convencido que cumplía con todos los requisitos, pero ha habido una diferencia de opinión al respecto, tampoco se tenía permiso para operar estos vuelos del tipo chárter". La aerolínea dice que debe haber una consulta con las autoridades de Curazao y Surinam para encontrar una solución. 
Fly AllWays cancels flights Willemstad-Santo Domingo
Fly AllWays has canceled flights to Santo Domingo
The airline Fly AllWays has canceled flights to Santo Domingo, Dominican Republic for non-compliance with the conditions to obtain the permission of the government of Curaçao to carry out the flights. Although such a suspension is transitory, the airline of Suriname will be regularizing the situation as soon as possible.
In a press release, the airline said: "Fly AllWays was convinced that it complied with all the requirements, but there has been a difference of opinion in this regard, nor was there permission to operate these charter flights". The airline says that there should be a consultation with the authorities of Curaçao and Suriname to find a solution. A \ W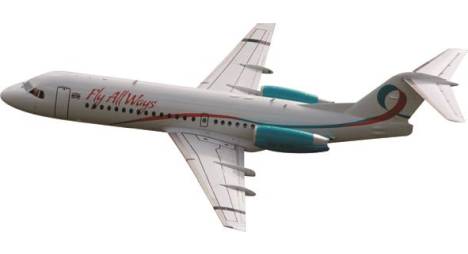 Fly AllWays annuleert vluchten Willemstad-Santo Domingo
Fly AllWays heeft vluchten naar Santo Domingo geannuleerd
De luchtvaartmaatschappij Fly AllWays heeft vluchten naar Santo Domingo, Dominicaanse Republiek geannuleerd wegens niet-naleving van de voorwaarden om toestemming te krijgen van de regering van Curaçao om de vluchten uit te voeren. Hoewel een dergelijke opschorting van voorbijgaande aard is, zal de luchtvaartmaatschappij van Suriname de situatie zo snel mogelijk regulariseren.
In een persbericht zei de luchtvaartmaatschappij: "Fly AllWays was ervan overtuigd dat het aan alle vereisten voldeed, maar er was wat dit betreft een meningsverschil, noch was er toestemming om deze chartervluchten te exploiteren". De luchtvaartmaatschappij zegt dat er een overleg moet zijn met de autoriteiten van Curaçao en Suriname om een oplossing te vinden. A \ W
Ξ A I R G W A Y S Ξ
SOURCE:  Airgways.com
DBk: Flyallways.com / Fokker-aircraft.info
AW-POST: 201803062155AR
A\W   A I R G W A Y S ®