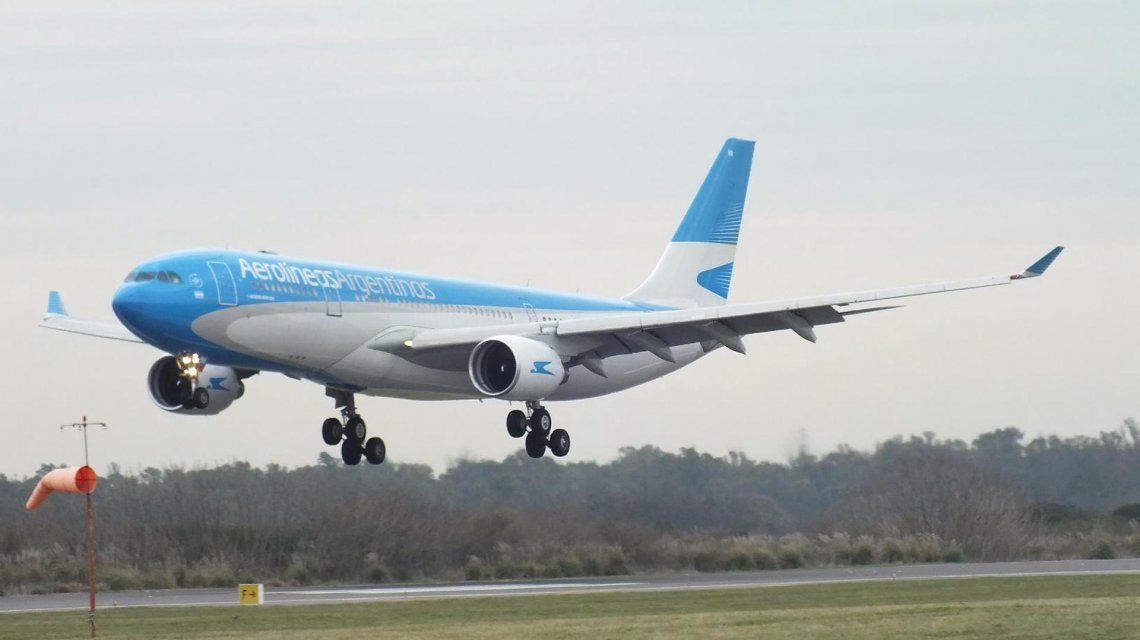 AW | 2018 03 22 04:51 | AIRLINES
Los gremios aeronáuticos levantarían el paro en Argentina
Los gremios estaban en alerta luego del anuncio de Aerolíneas Argentinas de que cancelaba 35 vuelos previstos para este miércoles y reprogramaba otros 49 por falta de aeronaves en condiciones de volar.
Los gremiales aeronáuticos de Argentina hasta ayer hablaban de un paro en Semana Santa como una posibilidad, que nunca fue desmentida ni confirmada. En el día de hoy las medidas de fuerza con las cancelaciones programadas de los vuelos y sus consiguientes reprogramaciones los hubieran convertido en los principales generadores de inconvenientes frente a los usuarios de la empresa.
Aerolíneas suspendió la venta de pasajes hasta el domingo próximo y para este miércoles canceló 35 vuelos y reprogramó otros 49. La razón de estas cancelaciones y reprogramaciones es que varios aviones de la flota están en tierra con distinto tipo de averías causadas por el granizo que cayó en la tarde del miércoles 14 de marzo.
Las medidas de fuerza durante Semana Santa se debía a que en esos días existe una mayor demanda a los principales destinos turísticos, demanda que según la propia empresa ya está cubierta en un 90 por ciento", dijo la fuente.
La amenaza gremial de medidas de fuerza tenía como objetivo alertar que los gremios aeronáuticos están en contra de la política aerocomercial de la empresa Aerolíneas. Los pilotos vienen reclamando por el cierre de rutas a favor de empresas transnacionales. 
Aeronautics ruled out during Holy Week
The unions were on alert after the announcement of Aerolineas Argentinas that canceled 35 flights scheduled for Wednesday and reprogrammed another 49 for lack of aircraft in flight conditions.
The aeronautical guilds of Argentina until yesterday spoke of a strike in Holy Week as a possibility, which was never denied or confirmed. Today, the measures of force with the scheduled cancellations of the flights and their subsequent reprogramming would have turned them into the main generators of inconveniences against the users of the company.
Airlines suspended the sale of tickets until next Sunday and for this Wednesday canceled 35 flights and reprogrammed another 49. The reason for these cancellations and reprogramming is that several aircraft of the fleet are on land with different types of faults caused by the hail that fell on the afternoon of Wednesday, March 14.
The measures of force during Holy Week were due to the fact that in those days there is a greater demand to the main tourist destinations, demand that according to the company itself is already covered by 90 percent, "said the source.
The aim of the union threat of force measures was to warn that the aeronautical guilds are against the airline commercial policy of the airline company. Pilots have been demanding the closure of routes in favor of transnational companies. A \ W
Ξ A I R G W A Y S Ξ
SOURCE:  Airgways.com
DBk: Aerolineas.com
AW-POST: 201803220451AR
A\W   A I R G W A Y S ®