AW | 2018 06 06 15:28 | AIRLINES ROUTES
Avianca ha inaugurado la nueva ruta Aeroparque-Santa Fe
La aerolínea Avianca Argentina inauguró este miércoles por la mañana el primer vuelo Buenos Aires-Santa Fe empleando aeronaves ATR 72-600. Avianca aterrizó por primera vez en el Aeropuerto de Sauce Viejo. Con el arribo de la aeronave ATR 72-600 —con capacidad para 70 pasajeros— quedó oficialmente habilitada la nueva conexión con la Ciudad Autónoma de Buenos Aires y Mar del Plata.
"Con estos vuelos el viajero puede ir y volver en el mismo día. Muchas veces una persona de negocio necesita hacer el viaje en el mismo día, algo que ahora podrá hacerlo junto a Avianca", indicó Hugo Díaz, Gerente Comercial de Avianca.
Incremento vuelos en Sauce Viejo
El Aeropuerto de Sauce Viejo dispondrá de cuatro frecuencias diarias, sumadas a las dos frecuencias que ofrece Aerolíneas Argentinas. A la llegada del primer avión de Avianca, le sucedió el acto inaugural que contó con la presencia de Carlos Fascendini, Vicegobernador de la Provincia de Santa Fe, Santiago Amézaga, interventor del Aeropuerto de Sauce Viejo, entre otros funcionarios provinciales.
Las expectativas de la línea aérea es que más frecuencias deberían existir en una ciudad como Santa Fe, con un conurbano de mas del millón de habitantes, donde el aeropuerto sufría de la escacéz de vuelos, sobre todo por la tarde.
Avianca se expande
La próxima ruta a incorporar será Córdoba. La aerolínea Avianca con la incorporación de Sauce Viejo a la ruta de vuelos, cuenta con dos de los tres destinos santafesinos en los que tenía previsto operar, ya que desde el 17 Julio 2018 también llegará a Reconquista. "Unir el norte con el sur de la provincia era un gran anhelo para los santafesinos y lo vamos a cumplir con el vuelo Aeroparque-Rosario-Reconquista", informó el Gerente Comercial. La intención para los próximos meses es conectar Santa Fe con Córdoba, un aeropuerto clave, ya que desde allí despegan muchas aerolíneas hacia el exterior, entre ellas Avianca.
Además, desde la empresa tienen la intención, luego de establecer la ruta a la capital cordobesa, de unirla con provincias turísticas como Mendoza, Salta y Tucumán.
Vuelos a Sauce Viejo
Avianca ofrece dos vuelos diarios de lunes a viernes y uno los sábados y domingos, los cuales, además, permitirán conexiones inmediatas hacia Mar del Plata sin descender del avión. Entre semana, la aerolínea colombiana despegará de la aeroestación local a las 9:30 hs y el horario nocturno será a las 20:15 hs.
Los sábados, el único vuelo que arribará a Sauce Viejo será a las 8:45 hs y partirá 9:15 hs hacia Buenos Aires. La novedad es la frecuencia dominical, algo nuevo para los santafesinos que hasta entonces no tenían servicios para esta jornada. Para este día, el servicio saldrá desde la aeroestación local a las 20:15 hs. El vuelo hasta Buenos Aires tiene prevista una duración de 1 hora y 15 minutos y a Mar del Plata llega en poco más de 3 horas.
En relación al precio y servicios de esta empresa, hay que destacar que no es de características lowcost, debido a que el precio del pasaje —menor a AR$ 1.000 desde Sauce Viejo a Buenos Aires y viceversa—, incluye equipaje en bodega y servicio de catering a bordo. "No ser lowcost no es un impedimento para ofrecer tarifas promocionales de AR$ 647 hacia Buenos Aires", resaltó el gerente comercial.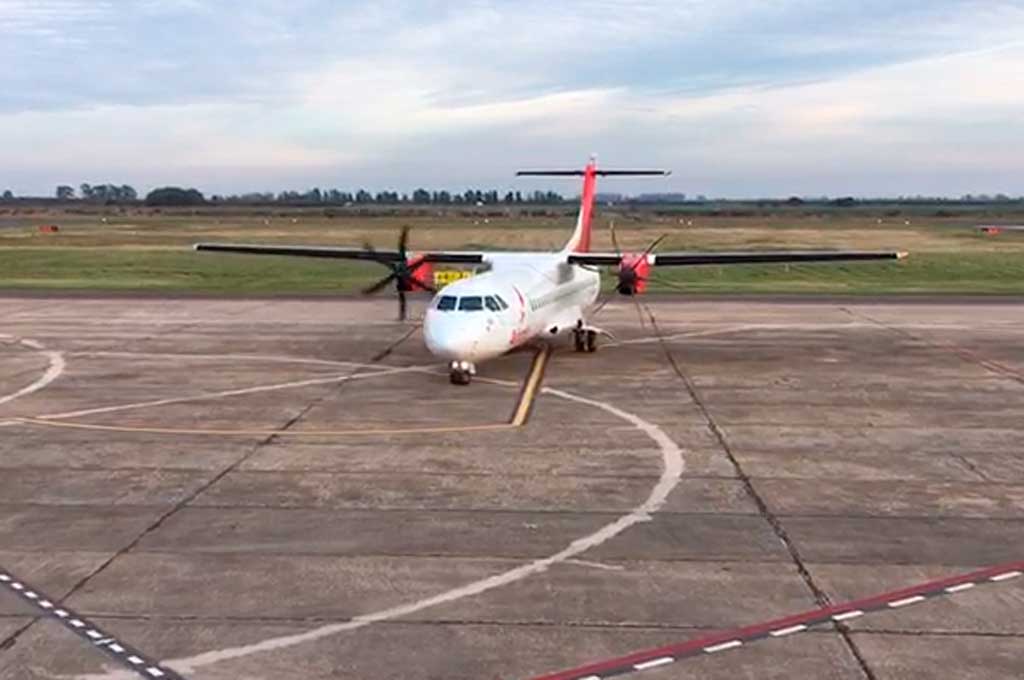 Avianca inaugurates Santa Fe destination
Avianca has inaugurated the new Aeroparque-Santa Fe route
The airline Avianca Argentina inaugurated this Wednesday morning the first Buenos Aires-Santa Fe flight using ATR 72-600 aircraft. Avianca landed for the first time at Sauce Viejo Airport. With the arrival of the aircraft ATR 72-600 -with capacity for 70 passengers- the new connection with the Autonomous City of Buenos Aires and Mar del Plata was officially enabled.
"With these flights the traveler can go and return on the same day. Many times a business person needs to make the trip on the same day, something that can now be done with Avianca", said Hugo Díaz, Commercial Manager of Avianca.
Increase flights in Sauce Viejo
The Sauce Viejo Airport will have four daily frequencies, added to the two frequencies offered by Aerolineas Argentinas. At the arrival of Avianca's first plane, he was followed by the opening ceremony, which was attended by Carlos Fascendini, Vice Governor of the Province of Santa Fe, Santiago Amézaga, Controller of Sauce Viejo Airport, among other provincial officials.
The expectations of the airline is that more frequencies should exist in a city such as Santa Fe, with a conurbano of more than one million inhabitants, where the airport suffered from flight shortages, especially in the afternoon.
Avianca expands
The next route to incorporate will be Córdoba. The airline Avianca with the incorporation of Sauce Viejo to the flight route, has two of the three Santa Fe destinations in which it had planned to operate, since from July 17, 2018 will also reach Reconquista. "Uniting the north with the south of the province was a great desire for the Santa Fe people and we will comply with the Aeroparque-Rosario-Reconquista flight", informed the Commercial Manager. The intention for the coming months is to connect Santa Fe with Córdoba, a key airport, since many airlines take off from there, including Avianca. In addition, from the company have the intention, after establishing the route to the Cordovan capital, to unite it with tourist provinces such as Mendoza, Salta and Tucumán.
Flights to Sauce Viejo
Avianca offers two daily flights from Monday to Friday and one on Saturdays and Sundays, which, in addition, will allow immediate connections to Mar del Plata without descending from the plane. During the week, the Colombian airline will take off from the local airport at 9:30 a.m. and the night time will be at 8:15 p.m.
On Saturdays, the only flight that will arrive at Sauce Viejo will be at 8:45 am and depart 9:15 am to Buenos Aires. The novelty is the Sunday frequency, something new for the Santafesinos who until then had no services for this day. For this day, the service will depart from the local airport at 20:15 hs. The flight to Buenos Aires has a duration of 1 hour and 15 minutes and Mar del Plata arrives in just over 3 hours.
In relation to the price and services of this company, it should be noted that it is not low cost, because the price of the ticket – less than AR $ 1,000 from Sauce Viejo to Buenos Aires and vice versa – includes baggage in the hold and service catering on board. "Not being lowcost is not an impediment to offer promotional rates of $ 647 to Buenos Aires", said the commercial manager. A \ W
Ξ A I R G W A Y S Ξ
SOURCE:  Airgways.com
DBk: Avianca.com
AW-POST: 201806061528AR
A\W   A I R G W A Y S ®