AW | 2018 06 18 11:02 | AIRLINES MARKET
La aerolínea alemana ha entrado en contacto para ofertar por Norwegian Air Shuttle ASA
Lufthansa está en contacto con Norwegian Air Shuttle ASA, que también es objeto de una oferta por parte del propietario de British Airways IAG, ya que la aerolínea alemana busca involucrarse en una esperada ola de acuerdos en el sector, dijo su director general a un periódico.
«En Europa, todos están hablando con todos. Se acerca una nueva ola de consolidación. Eso significa que también estamos en contacto con Norwegian. Las adquisiciones siempre son una cuestión de valor estratégico, precio y antimonopolio. No hay respuestas fáciles», expresó Carsten Spohr, Jefe de Lufthansa.
Norwegian reiteró el lunes que compradores potenciales e inversionistas se pusieron en contacto con ellos después de que en Abril 2018 se anunciara que IAG había adquirido una participación del 4,6% en el operador.
Las partes involucradas han expresado interés indicativo y preliminar en adquisiciones de acciones, fusiones, transacciones estructuradas, financiamiento del grupo y varias formas de cooperación operativa y financiera.
Después de los fracasos de Air Berlin y Monarch Airlines en el 2017, los ejecutivos de las líneas aéreas han pronosticado una mayor consolidación este año en Europa, especialmente porque los precios del petróleo hacen la vida más difícil para los operadores con finanzas más débiles.
Lufhansa Group
Lufthansa obtendría más oportunidades de adquisición si surgieran y que los transportistas estuvieran en contacto entre sí. Estratégicamente hablando, Norwegian encajaría bien con Eurowings, la marca de bajo costo de Lufthansa.
Después de hacerse cargo de partes de Air Berlin el año pasado y adquirir la participación restante en Brussels Airlines para expandir su marca Eurowings, Lufthansa también ha mirado a Alitalia, aunque el proceso de venta se ve frenado por la agitación política.
Lufthansa había estado interesado previamente en la compañía escandinava SAS Airlines, pero hace dos años dijo que había decidido no invertir.
El CEO de IAG ha dicho que no participará en una guerra de ofertas por Norwegian, y repitió a los accionistas la semana pasada que Norwegian Air no era un acuerdo que el grupo tuviera prioridad. 
Lufthansa enters into contact with Norwegian Air
The German airline has contacted to bid for Norwegian Air Shuttle ASA
Lufthansa is in contact with Norwegian Air Shuttle ASA, which is also the subject of an offer by the owner of British Airways IAG, as the German airline seeks to get involved in an expected wave of deals in the sector, its CEO told a newspaper.
«In Europe, everyone is talking to everyone, a new wave of consolidation is coming in. That means we're also in touch with Norwegian, acquisitions are always a matter of strategic value, price and antitrust there are no easy answers», said Carsten Spohr, Chief of Lufthansa.
Norwegian reiterated on Monday that potential buyers and investors contacted them after it was announced in April 2018 that IAG had acquired a 4.6% stake in the operator.
The parties involved have expressed indicative and preliminary interest in acquisitions of shares, mergers, structured transactions, group financing and various forms of operational and financial cooperation.
After the failures of Air Berlin and Monarch Airlines in 2017, airline executives have predicted further consolidation this year in Europe, especially as oil prices make life more difficult for operators with weaker finances.
Lufhansa Group
Lufthansa would obtain more acquisition opportunities if they arose and carriers were in contact with each other. Strategically speaking, Norwegian would fit in well with Eurowings, Lufthansa's low-cost brand.
After taking over parts of Air Berlin last year and acquiring the remaining stake in Brussels Airlines to expand its Eurowings brand, Lufthansa has also looked to Alitalia, although the sales process is held back by political turmoil.
Lufthansa had previously been interested in the Scandinavian company SAS Airlines, but two years ago said it had decided not to invest.
The CEO of IAG has said he will not participate in a bidding war for Norwegian, and he repeated to shareholders last week that Norwegian Air was not an agreement that the group had priority. A \ W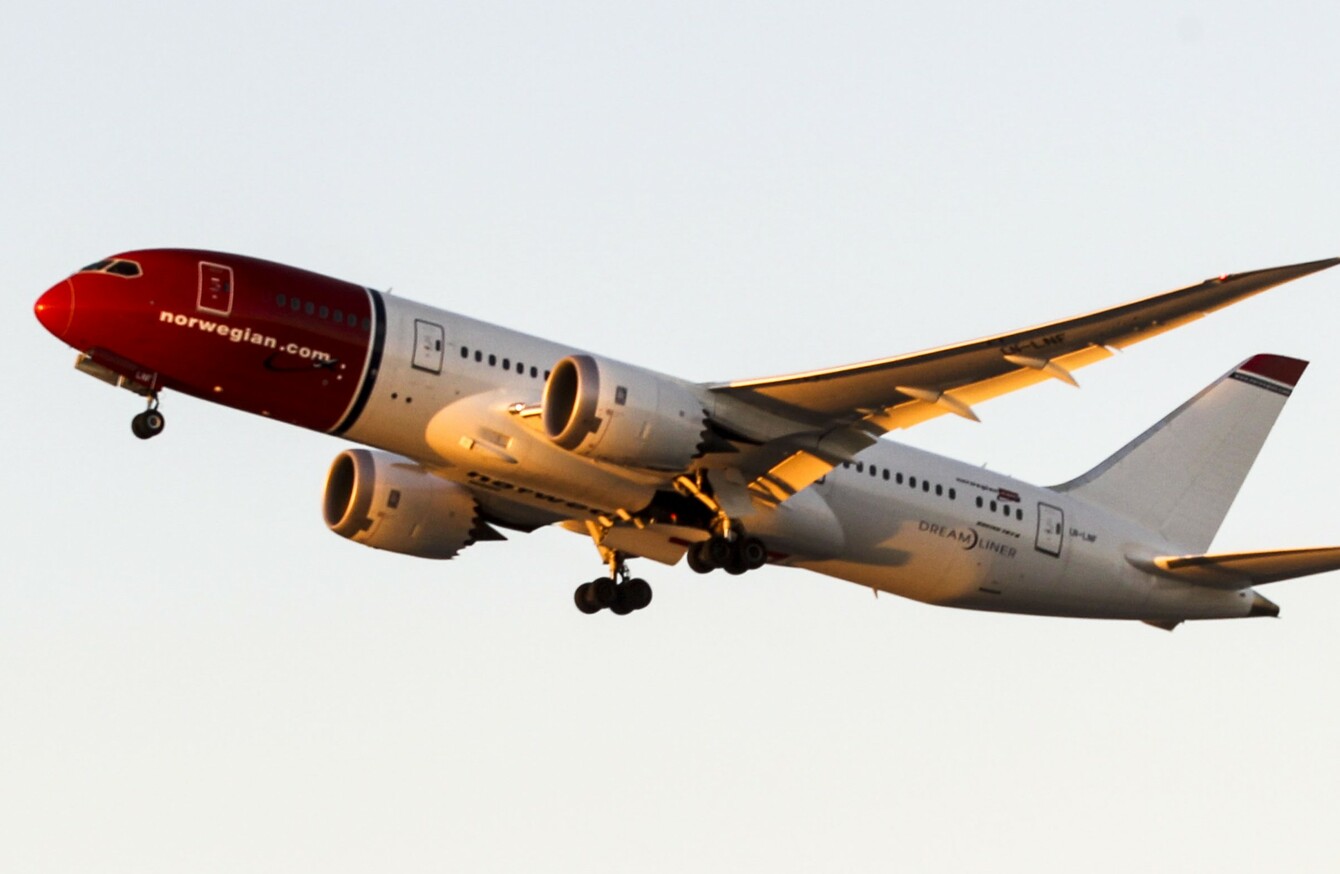 Lufthansa tritt mit Norwegian Air in Kontakt
Die deutsche Fluggesellschaft hat Kontakt aufgenommen, um für Norwegian Air Shuttle ASA zu bieten
Lufthansa steht in Kontakt mit der Norwegian Air Shuttle ASA, die auch Gegenstand eines Angebots des Eigentümers von British Airways IAG ist, da die deutsche Fluggesellschaft versucht, sich auf eine erwartete Welle von Geschäften in der Branche einzulassen, sagte der CEO einer Zeitung.
«In Europa spricht jeder mit jedem, eine neue Welle der Konsolidierung kommt hinzu. Das heißt, wir sind auch in Kontakt mit Norwegisch, Akquisitionen sind immer eine Frage von strategischem Wert, Preis und Kartellrecht es gibt keine einfachen Antworten», sagte Carsten Spohr, Leiter der Lufthansa.
Norwegian bekräftigte am Montag, dass potenzielle Käufer und Investoren Kontakt mit ihnen aufgenommen haben, nachdem im April 2018 bekannt gegeben wurde, dass IAG 4,6% der Anteile an dem Betreiber erworben hatte.
Die beteiligten Parteien haben ein indikatives und vorläufiges Interesse an Aktienkäufen, Fusionen, strukturierten Transaktionen, Gruppenfinanzierungen und verschiedenen Formen der operativen und finanziellen Zusammenarbeit bekundet.
Nach den Misserfolgen von Air Berlin und Monarch Airlines im Jahr 2017 haben die Verantwortlichen der Fluggesellschaften eine weitere Konsolidierung in diesem Jahr in Europa prognostiziert, zumal die Ölpreise das Leben der schwächeren Finanziers erschweren.
Lufhansa Gruppe
Lufthansa würde mehr Akquisitionsmöglichkeiten erhalten, wenn sie entstehen und Carrier miteinander in Kontakt treten. Strategisch passt Norwegisch gut zu Eurowings, der Low-Cost-Marke von Lufthansa.
Nach der Übernahme von Teilen von Air Berlin im vergangenen Jahr und dem Erwerb der restlichen Anteile an Brussels Airlines für den Ausbau der Marke Eurowings hat Lufthansa auch auf Alitalia gesetzt, obwohl der Verkaufsprozess durch politische Unruhen gebremst wird.
Lufthansa hatte sich zuvor für das skandinavische Unternehmen SAS Airlines interessiert, sagte aber vor zwei Jahren, es habe sich entschieden, nicht zu investieren.
Der CEO von IAG sagte, er werde nicht an einem Bieterkrieg für Norweger teilnehmen, und er wiederholte letzte Woche den Aktionären, dass Norwegian Air keine Vereinbarung sei, der die Gruppe Vorrang hätte. A \ W
Ξ A I R G W A Y S Ξ
SOURCE:  Airgways.com
DBk: Norwegian.com / Reuters.com / Ft.com / Thejournal.ie / Kas van Zonneveld
AW-POST: 201806181102AR
A\W   A I R G W A Y S ®