AW | 2018 06 27 11:22 | AIRLINES
Iberia Líneas Aéreas de España ha incorporado el primer Airbus A350-900 a su flota de aeronaves
Iberia Líneas Aéreas de España ha tomado entrega en las instalaciones de Airbus de Toulouse, Francia, su primer avión A350-900, con matrícula EC-MXV, y bautizado como Plácido Domingo, el primero de dos aeronaves de este modelo que este año integrará a su flota, que forman parte del pedido de 16 aeronaves que se incorporará a su flota hasta 2021. El segundo avión lo recibirá en unas tres semanas.
A la ceremonia de entrega han asistido el presidente de Iberia, Luis Gallego, junto a miembros del comité de dirección de la aerolínea española y empleados, además del consejero delegado de Airbus, Tom Enders, y el Director del proyecto Trent XWB de Rolls-Royce Engines, Gareth Davis.
A350-900 de Iberia
El nuevo avión A350-900 de Iberia estará configurado para transportar a 348 asientos a bordo: 31 en business, 24 en turista premium y 293 en turista. El avión pueda despegar con un peso máximo de 280 toneladas. Este avión de doble pasillo ofrece un ahorro de un 25% en el consumo de combustible con respecto a aviones similares y está equipado con motores Trent XWB-84 de la firma Rolls Royce, que permiten un alcance de 14.800 Kilómetros, y es el avión más silencioso del mercado. Además, el vuelo de entrega del primer A350 de Iberia que volará desde Toulouse a Madrid, 'hub' de Iberia, se realizará con una mezcla de biocombustible.
La incorporación del A350-900 de nueva generación a la flota de Iberia conllevará hasta 270 acciones desde la operativa de vuelo hasta el entrenamiento necesario de tripulación y mecánicos, así como asistencia en tierra, entre otros. Los nuevos A350-900 permiten la integración de los sistemas de a bordo con la infraestructura de operaciones, el manejo de sistemas para los pilotos en pantallas táctiles y una transferencia más avanzada de la información desde el avión.
Las ventajas de comodidad en la cabina de pasajeros incorpora un sistema de renovación del aire que mejora los niveles de humedad a bordo hasta un 16%, ventanas panorámicas y mayor sensación de espacio (pasillos más anchos y techos más altos). Además, incorpora la última tecnología con WiFi de alta velocidad entre otras mejoras, tanto en su operativa como para el viajero.
Inicio rutas con A350-900
La compañía ibérica iniciará su primer vuelo en Julio 2018, compartiendo con sus clientes la introducción de un avión de nueva generación, con nuevas tecnologías. Iberia afectará inicialmente el A350-900 en rutas de corto y medio rango de acción como Londres-París para facilitar la adaptación de tripulaciones en el manejo de la nueva aeronave. En Agosto 2018 iniciará vuelos transatlánticos, iniciando la ruta Madrid-Nueva York como primer destino. Los demás A350-900 a incorporar introducirán vuelos de largo radio.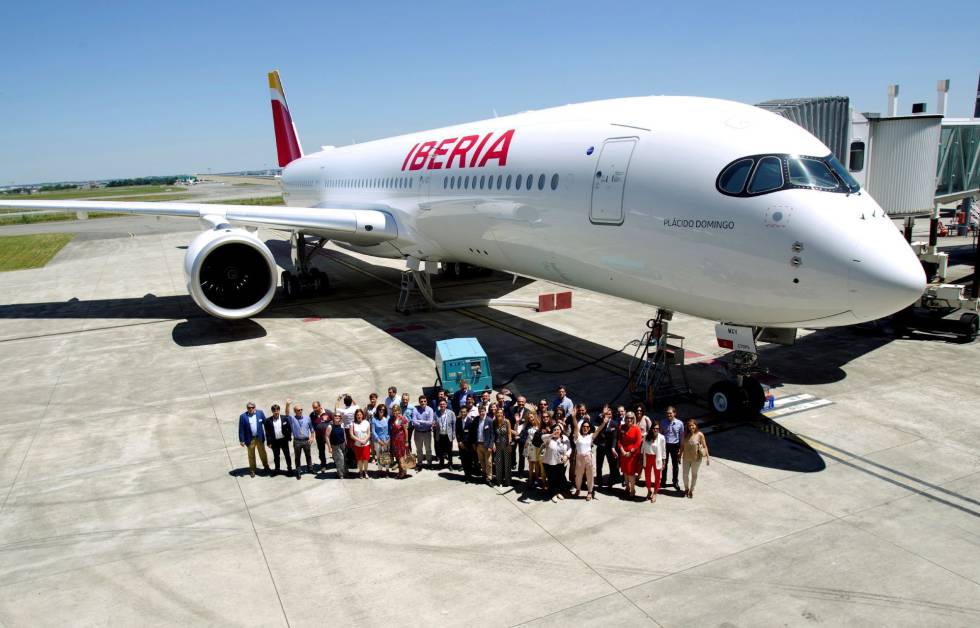 Iberia receives first Airbus A350-900
Iberia has added the first Airbus A350-900 to its fleet of aircraft
Iberia Líneas Aéreas de España has taken delivery at the Airbus facilities in Toulouse, France, its first A350-900 aircraft, with registration EC-MXV, and baptized as Plácido Domingo, the first of two aircraft of this model that this year will integrate its fleet, which are part of the order for 16 aircraft that will be incorporated into its fleet until 2021. The second plane will receive it in about three weeks.
The award ceremony was attended by the president of Iberia, Luis Gallego, along with members of the steering committee of the Spanish airline and employees, in addition to the CEO of Airbus, Tom Enders, and the Director of the Trent XWB project of Rolls-Royce Engines, Gareth Davis.
A350-900 from Iberia
The new aircraft A350-900 of Iberia will be configured to transport 348 seats on board: 31 in business, 24 in premium tourist and 293 in tourist. The plane can take off with a maximum weight of 280 tons. This double aisle aircraft offers a 25% savings in fuel consumption with respect to similar aircraft and is equipped with Trent XWB-84 engines from Rolls Royce, which allows a range of 14,800 kilometers, and is the most Silent market. In addition, the flight of delivery of the first A350 Iberia that will fly from Toulouse to Madrid, 'hub' of Iberia, will be made with a mixture of biofuel.
The incorporation of the new generation A350-900 to the Iberia fleet will involve up to 270 actions from flight operations to the necessary training of crew and mechanics, as well as assistance on the ground, among others. The new A350-900 allows the integration of on-board systems with the operating infrastructure, the management of systems for pilots on touch screens and a more advanced transfer of information from the aircraft.
The advantages of comfort in the passenger cabin incorporates a system of air renewal that improves the humidity levels on board up to 16%, panoramic windows and greater sense of space (wider corridors and higher ceilings). In addition, it incorporates the latest technology with high speed WiFi among other improvements, both in its operations and for the traveler.
Start routes with A350-900
The Iberian company will begin its first flight in July 2018, sharing with its customers the introduction of a new generation aircraft, with new technologies. Iberia will initially affect the A350-900 in routes of short and medium range of action such as London-Paris to facilitate the adaptation of crews in the handling of the new aircraft. In August 2018, it will begin transatlantic flights, initiating the Madrid-New York route as the first destination. The other A350-900 to be incorporated will introduce long-haul flights. A \ W
Ξ A I R G W A Y S Ξ
SOURCE:  Airgways.com
DBk: Airbus.com / Elpais.es / Airgways.com
AW-POST: 201806271122AR
A\W   A I R G W A Y S ®