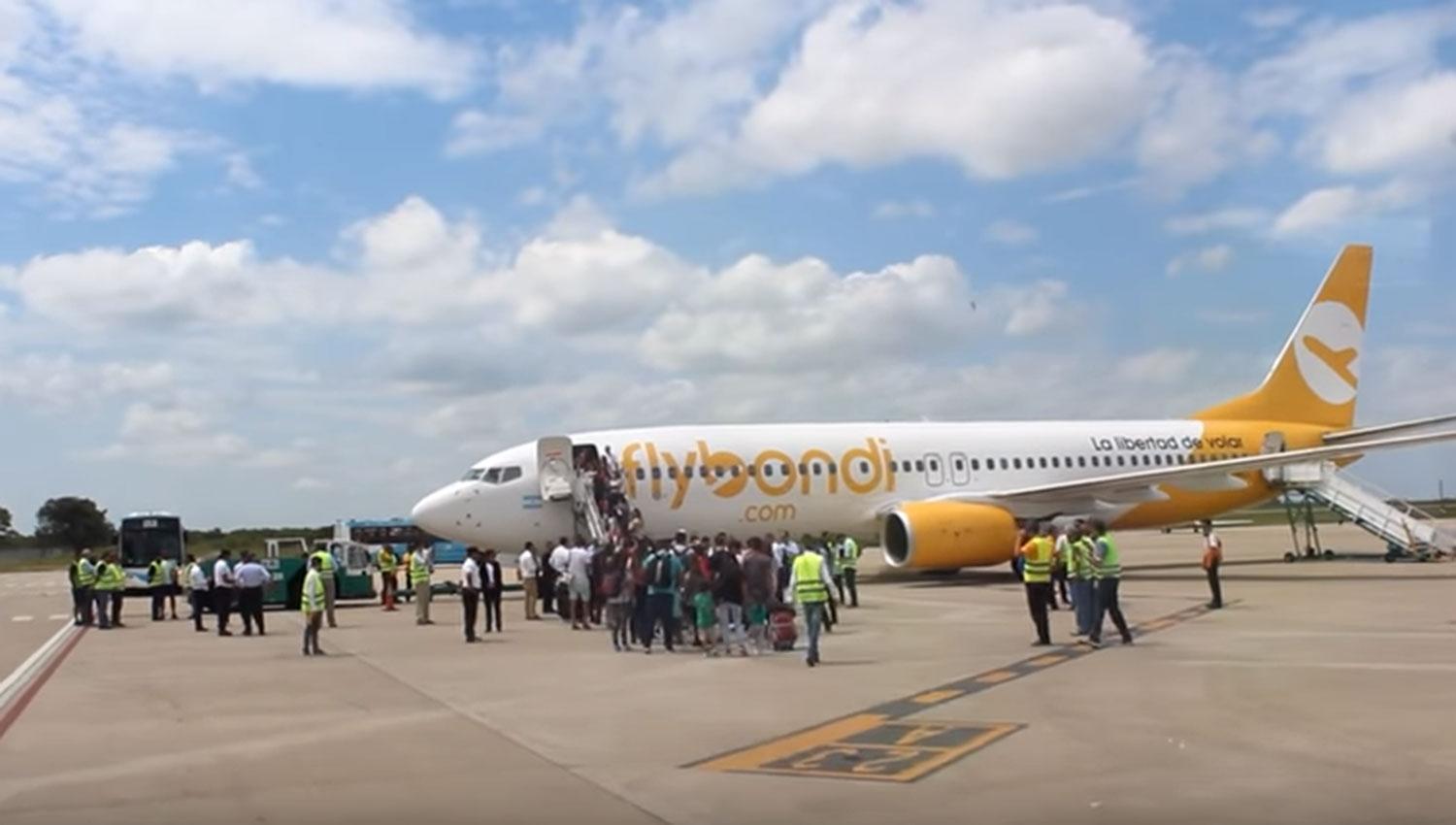 AW | 2018 06 27 12:19 | AIRPORTS
El Aeropuerto El Palomar es una aeroestación estratégica para las operaciones de las low-cost
El Aeropuerto El Palomar (EPA) ha tenido un flujo de 54.000 pasajeros que han viajado volaron solo en el mes de Mayo 2018. Flybondi Líneas Aéreas es hoy la única aerolínea que está operando desde este lugar.
Ubicado a 26 kilómetros del Obelisco, el Aeropuerto del Palomar es el primero al que se puede llegar en tren de manera directa. Desde el inicio de las operaciones, han transitado unos 115.000 pasajeros desde su fundación el 9 Febrero 2018. En términos comparativos en los últimos doce meses, por Aeroparque pasaron 38.500 pasajeros por día, por Ezeiza unos 29.500. Por el Aeropuerto El Palomar ya supera las operaciones de cabotaje de Comodoro Rivadavia, Ezeiza y Bahía Blanca y duplica la afluencia de otros aeropuertos como Resistencia o Rosario. Sólo en el fin de semana del 25 Mayo tuvo un movimiento de pasajeros de cabotaje de más de 10.000 personas. Las tres rutas más demandadas son El Palomar-Córdoba, El Palomar-Corrientes y El Palomar-Mendoza.

Flybondi opera diez destinos desde el Aeropuerto El Palomar. La low cost comenzará a volar a partir del 1 Julio 2018 las rutas a Iguazú y Santiago del Estero. Pero el plan más ambicioso es seguir sumando destinos para poder volar a nivel regional: para antes de fin de año se prevé que se podrá volar a Paraguar y Uruguay. Chile también está en los planes de la aerolínea. Norwegian Air Argentina y las chilenas JetSmart Airlines y Sky Airline sumarán sus frecuencias al Aeropuerto El Palomar.
El desembarco fallido de Avianca en El Palomar se debió a que la empresa no vio rentabilidad si no podía poner a funcionar diez aviones en el aeropuerto. A medida que se vayan sumando hangares, se espera que continúen desembarcando nuevas líneas áreas.
Planes de expansión
El Administrador del Aeropuerto El Palomar, Claudio Balzola, visualiza el potencial de crecimiento que ve en la aeroestación. Las planificaciones futuras de construcción establecen más hangares, aumentar frecuencias y lograr que más compañías quieran venir a operar a la Argentina estiman que el aeropuerto podría tener una afluencia de hasta ochenta vuelos diarios. La ampliación de terminales y mejoras de pista, habilitación de check-in en la estación del tren y poner a funcionar una separadora de residuos.
En la segunda etapa de mejoras del aeropuerto, que comienza en Julio, se invertirán AR$500 millones en reacondicionar hangares militares del predio, instalar terminales de check-in automático, comercios, áreas de aduana, migraciones y un estacionamiento. La tercera etapa, valuada en AR$1000 millones, contempla la construcción de una nueva terminal con capacidad para recibir un millón de pasajeros al año. Desde el Ministerio de Transporte prevén una modernización de 30 aeropuertos en el país por un total de AR24.000 millones de pesos durante los dos próximos años para el sector aéreo.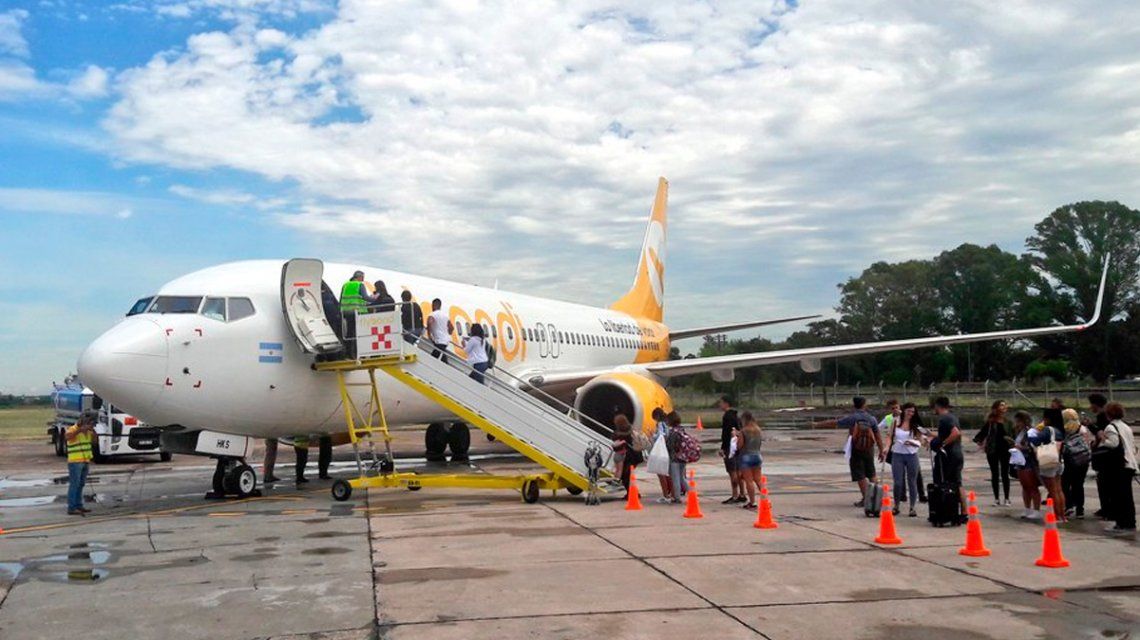 El Palomar increases its operations
El Palomar Airport is a strategic aero-location for low-cost operations
El Palomar Airport (EPA) has had a flow of 54,000 passengers who have traveled only in the month of May 2018. Flybondi Líneas Aéreas is today the only airline that is operating from this location.
Located 26 kilometers from the Obelisk, the Palomar Airport is the first one that can be reached by train directly. Since the beginning of operations, some 115,000 passengers have passed since its foundation on February 9, 2018. In comparative terms in the last twelve months, Aeroparque passed 38,500 passengers per day, for Ezeiza about 29,500. El Palomar Airport already exceeds the cabotage operations of Comodoro Rivadavia, Ezeiza and Bahía Blanca and doubles the number of other airports such as Resistencia or Rosario. Only on the weekend of May 25 did a passenger movement of cabotage of more than 10,000 people. The three most popular routes are El Palomar-Córdoba, El Palomar-Corrientes and El Palomar-Mendoza.
Flybondi operates ten destinations from El Palomar Airport. The low cost will start flying from 1 July 2018 the routes to Iguazu and Santiago del Estero. But the most ambitious plan is to continue adding destinations to be able to fly at regional level: before the end of the year it is expected that you can fly to Paraguar and Uruguay. Chile is also in the plans of the airline. Norwegian Air Argentina and the Chilean JetSmart Airlines and Sky Airline will add their frequencies to El Palomar Airport.
The failed landing of Avianca in El Palomar was due to the fact that the company did not see profitability if it could not operate ten aircraft at the airport. As hangars are added, it is expected that they will continue to unload new lines.
Expansion plans
El Palomar Airport Administrator, Claudio Balzola, visualizes the growth potential he sees in the airport. The future construction plans establish more hangars, increase frequencies and make more companies want to come to operate in Argentina. They estimate that the airport could have an influx of up to eighty daily flights. The extension of terminals and track improvements, enabling check-in at the train station and putting a waste separator to work.
In the second phase of improvements to the airport, which begins in July, AR$ 500 million will be invested in refurbishing military hangars on the premises, installing automatic check-in terminals, shops, customs areas, migrations and a parking lot. The third stage, valued at AR$ 1000 million, contemplates the construction of a new terminal with capacity to receive one million passengers a year. From the Ministry of Transport foresee a modernization of 30 airports in the country for a total of AR24,000 million pesos during the next two years for the air sector. A \ W
Ξ A I R G W A Y S Ξ
SOURCE:  Airgways.com
DBk: Lanacion.com.ar / Minutouno.com.ar / Airgways.com
AW-POST: 201806271219AR
A\W   A I R G W A Y S ®