AW | 2018 06 27 14:11 | AIR TRAFFIC
El monto estimado de la pérdida generada por el paro nacional en Argentina asciende a AR$ 1.015 millones de pesos
El paro nacional en argentina ha arrojado unas pérdidas de AR$ 1.015 millones de pesos (US$ 27.938 millones de dólares). El cálculo fue realizado por el Gobierno de Argentina sobre el costo del paro general a la economía. La industria será la más afectada: AR$ 5.359 millones de pérdidas, un 0,3% de su valor agregado bruto anual, para el sector que representa el 19,2% de la actividad total del país.
En un documento enviado por el Ministerio de Hacienda se difundieron estimaciones de las pérdidas cuantitativas del paro. Para el cálculo, se proyectó el total del PBI anual y se lo dividió por la cantidad de días hábiles que trabaja cada industria. Se tuvo en cuenta, además, la tasa de adhesión en los diferentes sectores.
En transporte y comunicaciones se han estimados pérdidas de AR$ 1.504 millones de pesos, afectando al transporte terrestre, marítimo y aéreo. La huelga general que se registró ayer en Argentina provocó que la aerolínea bandera de este país cancelara 339 vuelos y dejara a 17 mil 200 pasajeros varados sin poder llegar a sus destinos. Se calcula que el costo económico para Aerolíneas Argentinas fue de US$ 8 millones de dólares por el paro general de actividades. A nivel nacional, fueron cerca de 71.000 pasajeros los que se vieron afectados por la huelga, y 594 vuelos en total.
Entre los organismos que se unieron al paro general, estuvo el sindicato de técnicos aeronáuticos (APTA), lo que impidió la revisión técnica de cada avión antes de su despegue, lo que ancló a tierra a las aeronaves. Los aeropuertos argentinos se fueron afectados casi en su totalidad.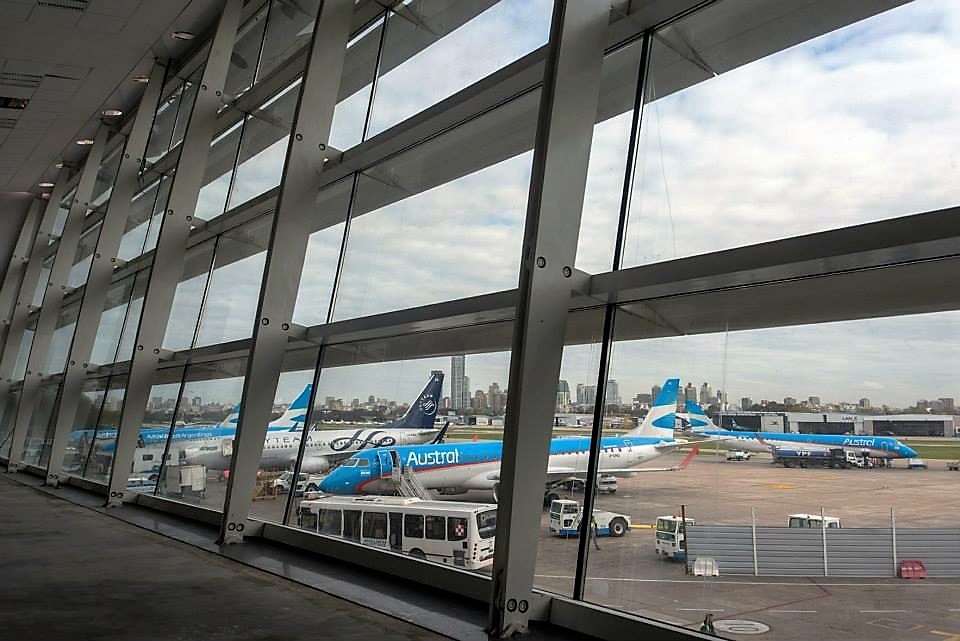 Losses after unemployment in Argentina
The estimated amount of the loss generated by the national strike in Argentina amounts to AR $ 1,015 million pesos
The national strike in Argentina has resulted in losses of AR $ 1,015 million pesos (US $ 27,938 million). The calculation was made by the Government of Argentina on the cost of the general strike to the economy. The industry will be the most affected: AR $ 5,359 million in losses, 0.3% of its annual gross added value, for the sector that represents 19.2% of the country's total activity.
In a document sent by the Ministry of Finance, estimates of the quantitative losses of unemployment were disseminated. For the calculation, the total annual GDP was projected and divided by the number of working days that each industry works. The rate of adhesion in the different sectors was also taken into account.
In transportation and communications, losses of AR $ 1,504 million have been estimated, affecting land, sea and air transport. The general strike that took place yesterday in Argentina caused that the flag carrier of this country canceled 339 flights and left 17,200 passengers stranded without being able to reach their destinations. It is estimated that the economic cost for Aerolineas Argentinas was US $ 8 million for the general strike of activities. At a national level, there were about 71,000 passengers who were affected by the strike, and 594 flights in total.
Among the agencies that joined the general strike, was the union of aeronautical technicians (APTA), which prevented the technical review of each plane before its takeoff, which anchored the aircraft to land. The Argentine airports were affected almost entirely. A \ W
Ξ A I R G W A Y S Ξ
SOURCE:  Airgways.com
DBk: Aa2000.com.ar / Airgways.com / Lacapitalmdp.com
AW-POST: 201806271411AR
A\W   A I R G W A Y S ®