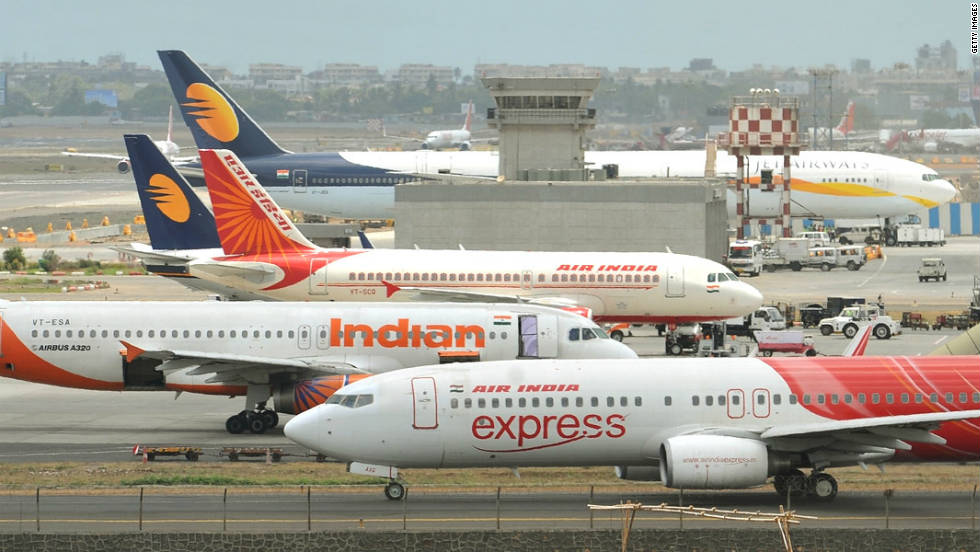 AW | 2018 09 24 11:24 | AIRLINES MARKET
Las aerolíneas indias tradicionales se enfrentan a vientos cruzados con las low cost
Las líneas aéreas de servicios completos buscan destacarse con la promesa de un mayor nivel de servicios y conectividad global pero son cada vez más las presiones para reducir los costos y ofrecer tarifas a la par con las aerolíneas de bajo costo para viajar dentro del país y continuar siendo competitivos.
Las tarifas aéreas competitivas ofrecidas por aerolíneas de bajo costo (LCC), que tienen aviones nuevos y modernos, un plan de expansión de la flota agresivo, una red doméstica más amplia con frecuencias más altas y a menudo una mejor puntualidad han asegurado una disminución en la participación del mercado nacional 30%. Los expertos de la industria aeronáutica de la India dicen que a diferencia de los transportistas de bajo costo en otros países, las aerolíneas de bajo costo en la India significan que hay muy poca diferencia entre ellos y los operadores de servicio completo.
Jet Airways, recientemente decidió prescindir de la comida de cortesía a bordo, la característica más distintiva para una compañía de servicios completos en el país, para ciertas categorías de tarifas en rutas nacionales. En Agosto 2018, Vistara Airlines, hizo lo mismo al introducir una canasta de opciones de tarifas donde se puede pagar más por servicios adicionales como comida a bordo, equipaje adicional permitido, selección de asiento y como reprogramación y cancelación gratuitas. En 2017, Air India también decidió ofrecer únicamente comidas vegetarianas a bordo para vuelos nacionales. Los expertos de la industria dicen que también puede responder con tarifas light.
Beneficios marginales
Un analista dijo, bajo condición de anonimato, que con la introducción de tarifas "lite" esta diferenciación se erosiona aún más para Vistara y Jet Airways. Si bien estas aerolíneas pueden tratar de cortejar a los pasajeros con tarifas más bajas y reducir sus propios costos operacionales para estas categorías, existe la preocupación de que los beneficios acumulados pueden ser marginales, en su caso.
Los costos operacionales incurridos por las aerolíneas convencionales son casi 40% más altos que los de las low cost y la introducción de tarifas light no tendría mucho impacto en esta diferencia de costo, agregó el analista.
Tamaño de flotas
Como ejemplo, los tres operadores de servicios completos, Air India, Jet Airways y Vistara Airlines, entre ellos tienen una flota total de 265 aviones y 121 rutas nacionales. Las aerolíneas de bajo costo IndiGo, SpiceJet, Go Air y Air Asia tienen un tamaño de flota colectiva de 280 aviones y 136 destinos nacionales que se expandirán varias veces, agregando colectivamente tres veces los aviones que las aerolíneas de servicio completo planean agregar a su flota en los próximos años.
Air India y Jet Airways tienen más cerca del 50% de los ingresos de las operaciones de vuelos nacionales, pero siguen siendo poco competitivos ya que sus costos son significativamente más altos, mientras que sus ganancias por pasajero son bajas. Con precios del petróleo que rondan los US$ 80 dólares por barril y una rupia que ronda 72 frente al dólar, junto con la inducción masiva de la capacidad de los transportistas indios, la industria de la aviación enfrenta desafíos de rentabilidad. Los tres principales low cost: IndiGo, SpiceJet y GoAir, están mejor posicionados que las aerolíneas tradicionales y podrían alcanzar una rentabilidad modesta e incluso una pérdida anual completa, mientras que loas líneas aéreas clásicas podrían perder hasta US$ 1.75 a US$ 2 mil millones en el año fiscal 2019.  
Cross winds Indian airlines
Traditional Indian airlines face cross-winds with low cost
The full service airlines seek to stand out with the promise of a higher level of services and global connectivity but there are increasingly pressures to reduce costs and offer rates on a par with low cost airlines to travel within the country and continue being competitive.
The competitive air fares offered by low-cost airlines (LCCs), which have new and modern aircraft, an aggressive fleet expansion plan, a wider home network with higher frequencies and often better timeliness have ensured a decrease in the 30% domestic market share. Experts from the Indian aviation industry say that unlike low-cost carriers in other countries, low-cost airlines in India mean there is very little difference between them and full-service operators.
Jet Airways, recently decided to dispense with the complimentary meal on board, the most distinctive feature for a full service company in the country, for certain categories of fares on domestic routes. In August 2018, Vistara Airlines, did the same by introducing a basket of rate options where you can pay more for additional services such as on board food, additional baggage allowance, seat selection and as free reprogramming and cancellation. On 2017, Air India also decided to offer only vegetarian meals on board for domestic flights. Industry experts say that you can also respond with light rates.
Marginal benefits
One analyst said, on condition of anonymity, that with the introduction of "lite" tariffs this differentiation is eroded even further for Vistara and Jet Airways. While these airlines may try to woo passengers with lower fares and reduce their own operating costs for these categories, there is a concern that the accumulated benefits may be marginal, if any.
Operational costs incurred by conventional airlines are almost 40% higher than those of low cost airlines and the introduction of light tariffs would not have much impact on this cost difference, the analyst added.
Fleet size
As an example, the three full service operators, Air India, Jet Airways and Vistara Airlines, among them have a total fleet of 265 aircraft and 121 domestic routes. The low-cost airlines IndiGo, SpiceJet, Go Air and Air Asia have a collective fleet size of 280 aircraft and 136 domestic destinations that will expand several times, collectively adding three times the aircraft that full-service airlines plan to add to their fleet in the next years.
Air India and Jet Airways have closer to 50% of revenues from domestic flight operations, but remain uncompetitive because their costs are significantly higher, while their per-passenger earnings are low. With oil prices of around US$ 80 per barrel and a rupee of around 72 against the dollar, along with the massive induction of the capacity of Indian carriers, the aviation industry faces profitability challenges. The three main low cost: IndiGo, SpiceJet and GoAir, are better positioned than traditional airlines and could achieve modest profitability and even a complete annual loss, while classic airlines could lose up to US$ 1.75 to US$ 2 billion in the fiscal year 2019. A \ W
क्रॉस हवा भारतीय एयरलाइंस
पारंपरिक भारतीय एयरलाइनों को कम लागत वाले क्रॉस-विंड का सामना करना पड़ता है
एयरलाइंस पूर्ण सेवा सेवाओं और वैश्विक संपर्क के एक उच्च स्तर के वादे के साथ बाहर खड़े करने की मांग लेकिन लागत को कम करने और देश के भीतर यात्रा करने के लिए कम लागत वाली विमान सेवाओं के समान दरों की पेशकश करते हैं और जारी रखने के लिए दबाव बढ़ रही हैं प्रतिस्पर्धी होने के नाते।
प्रतियोगी हवा कम लागत वाहक (एल सी सी) है, जो नए और आधुनिक विमान द्वारा की पेशकश की किराया, आक्रामक बेड़े का एक विस्तार योजना, उच्च आवृत्तियों के साथ एक व्यापक घर नेटवर्क अक्सर बेहतर समय की पाबंदी में कमी सुरक्षित 30% घरेलू बाजार हिस्सेदारी। भारतीय विमानन उद्योग के विशेषज्ञों का कहना है कि अन्य देशों में कम लागत वाले वाहक के विपरीत, भारत में कम लागत वाली एयरलाइनों का मतलब है कि उनके और पूर्ण सेवा ऑपरेटरों के बीच बहुत अंतर है।
जेट एयरवेज ने हाल ही में घरेलू मार्गों पर किराए की कुछ श्रेणियों के लिए, देश में पूर्ण सेवा कंपनी के लिए सबसे विशिष्ट सुविधा बोर्ड पर मानार्थ भोजन के साथ बांटने का फैसला किया है। अगस्त 2018 में, विस्तार एयरलाइंस, किराया विकल्पों में से एक टोकरी जहां इस तरह के बोर्ड पर भोजन, अतिरिक्त सामान भत्ता, सीट चयन के रूप में और शेड्यूलिंग और रद्द करने के लिए स्वतंत्र के रूप में अतिरिक्त सेवाओं के लिए अधिक भुगतान कर सकते हैं शुरू करने से भी ऐसा ही किया। एन 2017 को, एयर इंडिया ने घरेलू उड़ानों के लिए बोर्ड पर केवल शाकाहारी भोजन की पेशकश करने का भी फैसला किया। उद्योग विशेषज्ञों का कहना है कि आप प्रकाश दरों के साथ भी प्रतिक्रिया दे सकते हैं।
मामूली लाभ
एक विश्लेषक ने कहा, गुमनाम होने की शर्त पर, "लाइट" टैरिफ की शुरूआत के साथ विस्टारा और जेट एयरवेज के लिए यह अंतर भी आगे बढ़ गया है। हालांकि ये एयरलाइंस कम किराए वाले यात्रियों को लुभाने और इन श्रेणियों के लिए अपनी परिचालन लागत को कम करने का प्रयास कर सकती हैं, लेकिन चिंता है कि संचित लाभ मामूली हो सकते हैं, यदि कोई हो।
विश्लेषकों ने कहा कि पारंपरिक एयरलाइंस द्वारा संचालित परिचालन लागत कम लागत वाली एयरलाइनों की तुलना में लगभग 40% अधिक है और हल्की टैरिफ की शुरूआत से इस लागत के अंतर पर ज्यादा असर नहीं पड़ेगा।
बेड़े का आकार
उदाहरण के तौर पर, तीन पूर्ण सेवा ऑपरेटर, एयर इंडिया, जेट एयरवेज और विस्तर एयरलाइंस, उनमें से 265 विमान और 121 घरेलू मार्गों का कुल बेड़ा है। कम लागत वाली वाहक इंडिगो, स्पाइसजेट, गो एयर और एयर एशिया, 280 विमान और 136 घरेलू स्थलों में से सामूहिक बेड़े के आकार में कई बार विस्तार किया जा करने के लिए है सामूहिक रूप से तीन बार विमानों कि पूर्ण सेवा योजना एयरलाइनों अपने बेड़े में जोड़ने के लिए जोड़ने अगले वर्षों में।
एयर इंडिया और जेट एयरवेज के पास घरेलू उड़ान परिचालन से 50% राजस्व है, लेकिन असंगत रहेगा क्योंकि उनकी लागत काफी अधिक है, जबकि उनकी प्रति यात्री कमाई कम है। भारतीय वाहकों की क्षमता में भारी वृद्धि के साथ-साथ डॉलर के मुकाबले करीब 80 डॉलर प्रति बैरल और 72 रुपये के तेल की कीमतों के साथ, विमानन उद्योग को लाभप्रद चुनौतियों का सामना करना पड़ता है। तीन मुख्य कम लागत: इंडिगो, स्पाइसजेट और गोएयर, पारंपरिक एयरलाइनों की तुलना में बेहतर स्थिति में हैं और एक मामूली लाभ और यहां तक ​​कि एक पूर्ण वार्षिक हानि को प्राप्त कर सकता है, जबकि Loas क्लासिक एयरलाइनों $ 1.75 अमेरिका के लिए $ 2 बिलियन अमरीकी खो सकता है वित्त वर्ष 2019 में। A \ W
Ξ A I R G W A Y S Ξ
SOURCE:  Airgways.com
DBk: Thehindu.com / Dgca.nic.in / Airgways.com /  Gettyimages.com
AW-POST: 201809241124AR
A\W   A I R G W A Y S ®