AW | 2018 10 13 16:07 | AVIATION SAFETY
El Huracán Leslie avanza sobre las Islas de Madeira
De acuerdo con las previsiones del Instituto Portugués Mar y la Atmósfera (IPMA), las islas de Madeira y Porto Santo sentirán el impacto del Huracán Leslie. Según el IPMA, hay entre el 60 y el 80% de probabilidad de que las islas de Madeira y Porto Santo comiencen a sufrir los efectos de Leslie a partir de las 07:00 de Sábado en términos de agitación marítima, viento y precipitación. «En estas condiciones se prevé, a partir de la tarde del sábado, viento fuerte del cuadrante sur con ráfagas hasta 90 kilómetros por hora, siendo que en las regiones montañosas el viento será fuerte a muy fuerte, con ráfagas hasta 110 kilómetros por hora», explicó el instituto. De acuerdo con el IPMA, se prevé un aumento de la agitación marítima, así como una precipitación fuerte, acompañada de tormenta.
La agencia de aeropuertos de Portugal ANA recomienda que los pasajeros se informen sobre el estado de su vuelo antes de dirigirse al aeropuerto. La previsión de mal tiempo para el archipiélago de Madeira motivó a TAP Portugal Airlines y otras compañías aéreas a cancelar los vuelos programados para el sábado.  
Hurricane Leslie in Madeira
Hurricane Leslie advances over the Madeira Islands
According to the forecasts of the Portuguese Institute of Sea and Atmosphere (IPMA), the islands of Madeira and Porto Santo will feel the impact of Hurricane Leslie. According to the IPMA, there is between 60 and 80% probability that the islands of Madeira and Porto Santo begin to suffer the effects of Leslie from 07:00 on Saturday in terms of maritime agitation, wind and precipitation. «Under these conditions, as of Saturday afternoon, a strong wind from the south quadrant is expected with gusts up to 90 kilometers per hour, and in the mountainous regions the wind will be strong to very strong, with gusts up to 110 kilometers per hour», explained the institute. According to the IPMA, an increase in maritime agitation is expected, as well as a strong precipitation, accompanied by a storm.
The airport agency of Portugal ANA recommends that passengers inform themselves about the status of their flight before going to the airport. The forecast of bad weather for the archipelago of Madeira motivated TAP Portugal Airlines and other airlines to cancel flights scheduled for Saturday. A \ W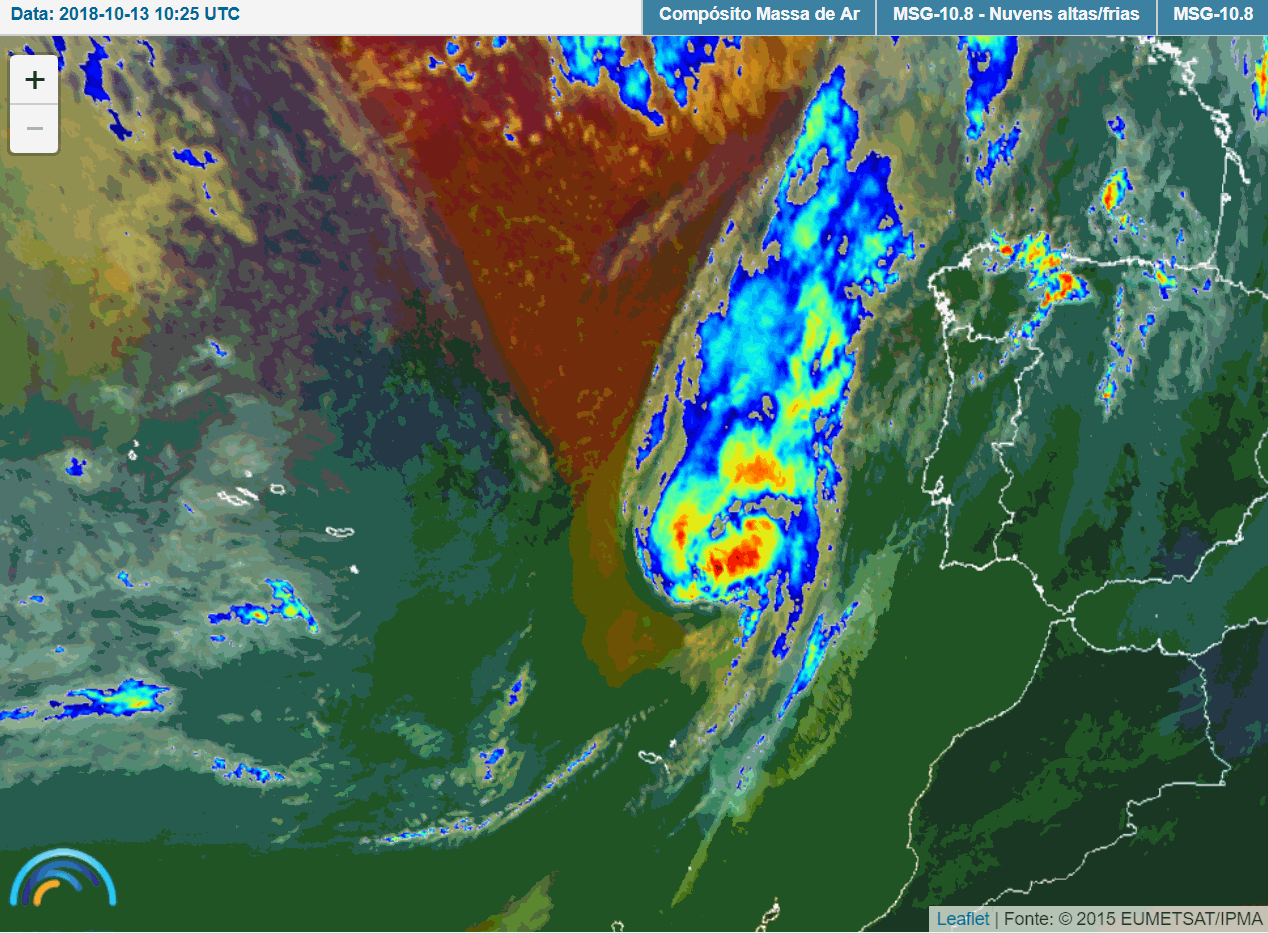 Furacão Leslie na Madeira
Furacão Leslie avança sobre as ilhas da Madeira
Segundo as previsões do Instituto Português do Mar e da Atmosfera (IPMA), as ilhas da Madeira e do Porto Santo sentirão o impacto do Furacão Leslie. De acordo IPMA, entre 60 e 80% de probabilidade de que a Madeira eo Porto Santo começam a sofrer os efeitos de Leslie a partir das 07:00 de sábado em termos de marítima agitação, vento e precipitação. «Sob estas condições é esperado a partir de sábado à tarde, vento forte do quadrante sul com rajadas a 90 mph, sendo nas regiões montanhosas o vento será forte a muito forte, com rajadas a 110 quilômetros por hora», explicou o instituto. Segundo o IPMA, espera-se um aumento da agitação marítima, além de uma forte precipitação, acompanhada de uma tempestade.
aeroportos Agência ANA em Portugal recomenda que os passageiros são informados sobre o status do seu voo antes de ir para aeropuerto. A previsão de mau tempo para o arquipélago da Madeira motivado TAP Portugal Airlines e outras companhias aéreas a cancelar vôos regulares para o Sábado. A \ W
Ξ A I R G W A Y S Ξ
SOURCE: Airgways.com
DBk: Ipma.pt / Dnoticias.pt / Observador.pt
AW-POST: 201810131607AR
A\W   A I R G W A Y S ®