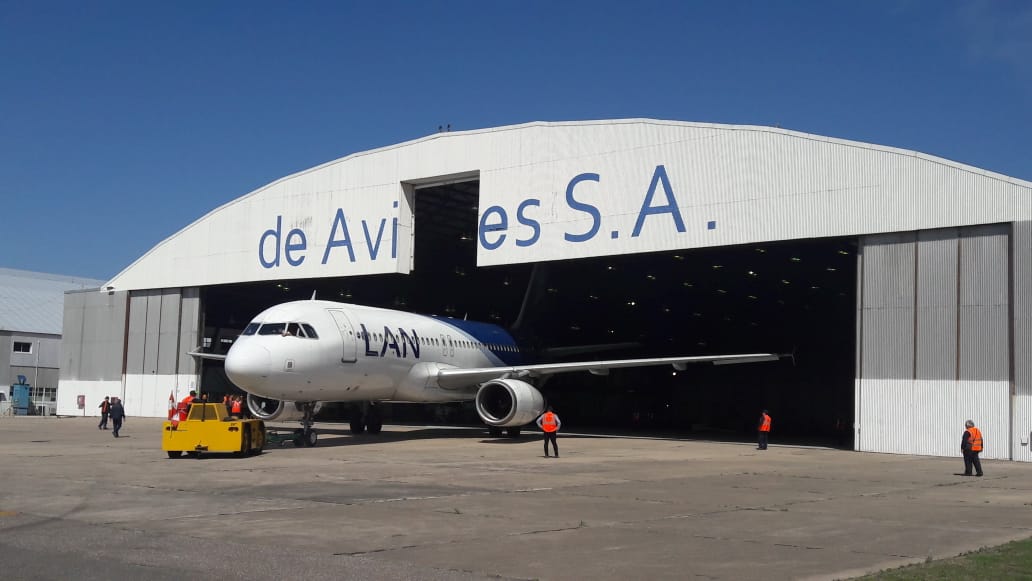 AW | 2018 10 04 16:10 | INDUSTRY / MRO
FAdeA comenzó a realizar mantenimiento a aeronaves A320 de Latam Argentina
La Fábrica Argentina de Aviones (FAdeA) recibió este miércoles el primer avión Airbus A320-200 de la aerolínea Latam Argentina Airlines, que recibirá mantenimiento de la cabina de pasajeros, como así de aeronaves de Etihad Airways.
FAdeA inició un ciclo de trabajo con la aerolínea Flybondi Líneas Aéreas y que permitirá ampliar la oferta y potencial de la industria aeronáutica a los requerimientos de diferentes firmas sus servicios y prestaciones. La firma Etihad Engineering de Abu Dhabi, Emiratos Árabes Unidos, mantendrá un acuerdo para la realización del mantenimiento de los aviones, reparación y recorrida general de aeronaves pertenecientes a las familias Boeing 737 y Airbus 320. El ingreso del primer Airbus A320-200 de Latam Argentina Airlines permitirá insertarse en el mundo de la ingeniería aeronáutica del mantenimiento de aviones comerciales, un área muy demandada por las líneas aéreas, teniendo en cuenta los costos de enviar aviones al exterior.
FAdeA comunica que tiene previsto incorporar seis aeronaves adicionales en el transcurso de Octubre 2018 para el mantenimiento en diferentes requerimientos de las líneas aéreas. Aún así FAdeA se encuentra inmerso en un proceso de aplicación de MRO más pesados, de habilitación para la realización de inspecciones mayores a estas familias de aeronaves. Para la concreción de este contrato, se debió capacitar personal, adquirir nuevas herramientas especiales y adecuar instalaciones, con el objetivo de brindar un servicio según los estándares internacionales que la industria aeronáutica..
FAdeA tiene como cliente inicial a la firma Flybondi Líneas Aéreas para el mantenimiento de la flota de Boeing 737-800. La industria aeronáutica espera incrementar los acuerdos de MRO con diferentes compañías aéreas de Argentina y el exterior. Además, la fábrica argentina ha efectuado diferentes contratos de mantenimientos en el ámbito militar.  
FAdeA begins MRO commercial aircraft
FAdeA began to perform maintenance on A320 aircraft from Latam Argentina
The Argentine Aircraft Factory (FAdeA) received on Wednesday the first Airbus A320-200 aircraft of the airline Latam Argentina Airlines, which will receive maintenance of the passenger cabin, as well as Etihad Airways aircraft.
FAdeA started a work cycle with the airline Flybondi Líneas Aéreas and that will allow the aeronautical industry to offer more and more potential to the requirements of different firms for its services and benefits. The firm Etihad Engineering of Abu Dhabi, United Arab Emirates, will maintain an agreement for the maintenance of the aircraft, repair and general tour of aircraft belonging to the Boeing 737 and Airbus 320 families. The entry of the first Airbus A320-200 from Latam Argentina Airlines will allow insertion in the world of aeronautical engineering of commercial aircraft maintenance, an area in high demand by airlines, taking into account the costs of sending planes abroad.
FAdeA communicates that it plans to incorporate additional aircraft during the course of October 2018 for the maintenance of different airline requirements. Even so, FAdeA is immersed in a process of application of heavier MROs, enabling the realization of major inspections of these aircraft families. For the realization of this contract, it was necessary to train personnel, acquire new special tools and adapt facilities, with the aim of providing a service according to international standards that the aeronautical industry.
FAdeA has the initial client Flybondi Líneas Aéreas for the maintenance of the Boeing 737-800 fleet. The aeronautical industry expects to increase MRO agreements with different airlines in Argentina and abroad. In addition, the Argentine factory has made different maintenance contracts in the military field. A \ W
Ξ A I R G W A Y S Ξ
SOURCE: Airgways.com
DBk: Fadeasa.com.ar / Argentina.gob.ar / Argentina.gob.ar/Defensa
AW-POST: 201810041610AR
A\W   A I R G W A Y S ®