AW | 2018 11 02 22:15 | AIRLINES
La nueva aerolínea californiana inició operaciones desde el aeropuerto de Carlsbad
California Pacific Airlines ha iniciado operaciones el Jueves, 1 Noviembre 2018 desde el Aeropuerto de Carlsbad, en el norte del condado de San Diego, con vuelos a San José, California y Reno, Nevada. Planea expandirse a Las Vegas y Phoenix-Mesa, Arizona, hacia el futuro. California Pacific Airlines cuenta con una flota de cuatro Embraer E145 de 50 asientos.
La aerolínea pretende atraer a los viajeros del norte del condado de San Diego que buscan vuelos más convenientes fuera de un aeropuerto más pequeño que no tiene otro servicio comercial, dijo Ryan DiVita, Director de Ventas y Marketing de la aerolínea. California Pacific se centrará en los viajeros de negocios que viajan semanalmente por su trabajo, así como en aquellos que viajan a Las Vegas y Reno para realizar actividades de ocio. "El objetivo es entrar en lo que vemos es un mercado desatendido. Creemos que la cantidad de usuarios posibles en el área norte de San Diego garantiza su propio servicio", dijo DiVita.
Carlsbad tenía un servicio comercial en la década de 1990 de American Airlines, United Airlines y America West Airlines. San Francisco es el principal destino de San Diego International (aproximadamente 35 millas al sur del Aeródromo de Carlsbad), donde Southwest Airlines Co. es la principal aerolínea, con una participación de mercado del 39%.
La aerolínea es un sueño de larga data de Ted Vallas, un empresario en serie del área que hizo su fortuna en una carrera abigarrada que abarca proyectos de campos de golf y complejos turísticos en todo el mundo, dirigiendo una aerolínea regional y trabajando en interiores de cabinas de aviones.
California Pacific levanta vuelo
Numerosos esfuerzos no se han lanzado en los últimos años en medio de disputas con los reguladores federales y del condado de San Diego. Su flota actual y su certificado operativo se adquirieron en mayo, cuando la compañía compró Aerodynamics Inc. Esa compañía, con sede en los suburbios de Atlanta, opera rutas del Servicio Aéreo Esencial subsidiadas por el gobierno federal desde Denver a Pierre y Watertown, Dakota del Sur, un respaldo financiero que podría ayudar a respaldar California Pacific en el corto plazo.
"Es una idea inteligente intentar construir un servicio aéreo a partir de Carlsbad, porque ha habido un crecimiento al norte del centro de la ciudad, pero no tienen un camino fácil por delante", dijo Henry Harteveldt, analista de la industria de viajes de Atmosphere Research Group. Southwest no volará sus Boeing 737 a Carlsbad, pero ciertamente puede dificultar la vida de la nueva aerolínea con recortes de tarifas, servicios adicionales y otros incentivos dirigidos a los viajeros en el Condado de San Diego y Orange, al norte.
California Pacific, que tiene 89 empleados, también considerará el servicio a Oakland, Sacramento, California y Los Cabos, México, dependiendo de cómo se desempeñen los vuelos iniciales. Para un edulcorante adicional, la aerolínea ofrecerá a los viajeros dos maletas facturadas sin cargo, igualando a Southwest, la mayor aerolínea en California por tráfico. Las tarifas introductorias de ida solo van desde $ 99 a $ 149.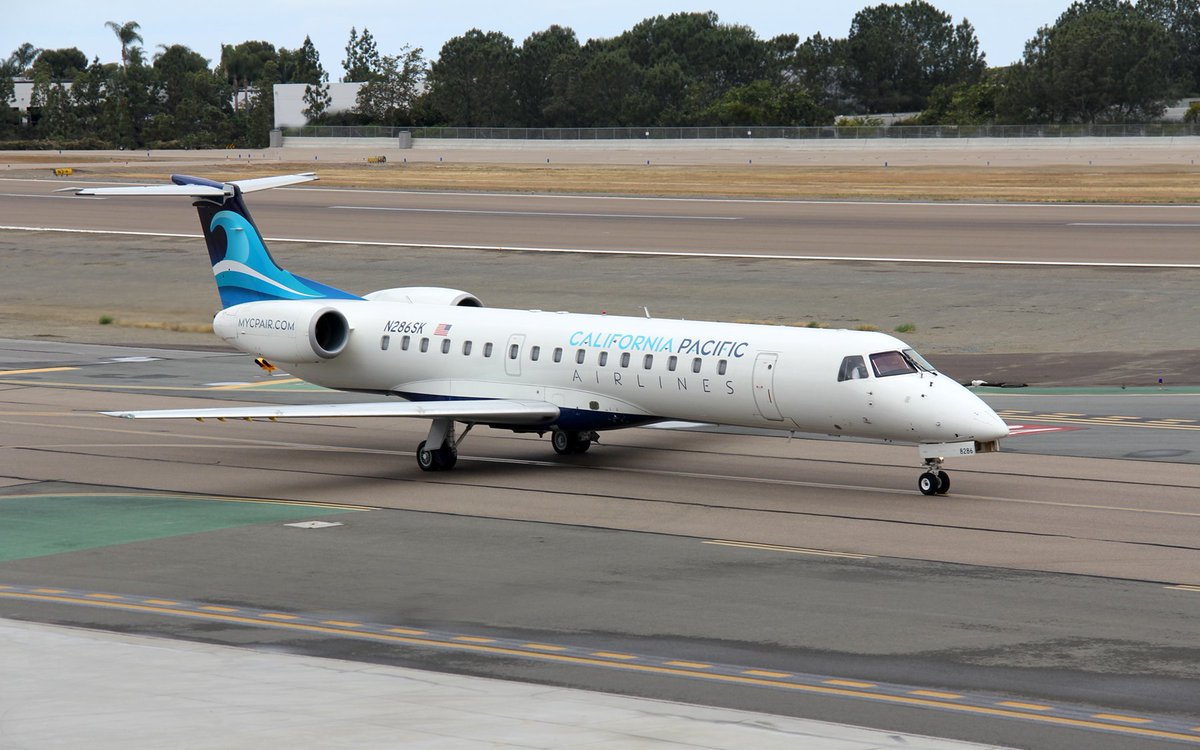 California Pacific Airlines starts ops
The new Californian airline started operations from Carlsbad airport
California Pacific Airlines has started operations on Thursday, November 1, 2018 from Carlsbad Airport, in northern San Diego County, with flights to San Jose, California and Reno, Nevada. He plans to expand to Las Vegas and Phoenix-Mesa, Arizona, into the future. California Pacific Airlines has a fleet of four Embraer E145 50 seats.
The airline aims to attract travelers from northern San Diego County who are looking for more convenient flights outside a smaller airport that has no other commercial service, said Ryan DiVita, the airline's Director of Sales and Marketing. California Pacific will focus on business travelers who travel weekly for their work, as well as those who travel to Las Vegas and Reno for leisure activities. "The goal is to enter into what we see as an unattended market, and we believe that the number of possible users in the northern San Diego area guarantees their own service", said DiVita.
Carlsbad had a commercial service in the 1990s from American Airlines, United Airlines and America West Airlines. San Francisco is the main destination of San Diego International (approximately 35 miles south of Carlsbad Aerodrome), where Southwest Airlines Co. is the leading airline, with a market share of 39%.
The airline is a long-time dream of Ted Vallas, a serial entrepreneur in the area who made his fortune in a motley race spanning golf course projects and resorts around the world, running a regional airline and working in interiors aircraft cabins.

California Pacific takes flight
Numerous efforts have not been launched in recent years amid disputes with federal and San Diego county regulators. Its current fleet and operating certificate were acquired in May, when the company purchased Aerodynamics Inc. That company, based in the suburbs of Atlanta, operates Federally subsidized Essential Service routes from Denver to Pierre and Watertown, Dakota. South, financial support that could help support California Pacific in the short term.
"It's a smart idea to try to build an air service from Carlsbad, because there's been growth north of the city center, but they do not have an easy road ahead", said Henry Harteveldt, travel industry analyst at Atmosphere. Research Group. Southwest will not fly its Boeing 737s to Carlsbad, but it can certainly make life difficult for the new airline by cutting fares, additional services and other incentives aimed at travelers in San Diego County and Orange, to the north.
California Pacific, which has 89 employees, will also consider service to Oakland, Sacramento, California and Los Cabos, Mexico, depending on how the initial flights perform. For an additional sweetener, the airline will offer travelers two bags checked in at no charge, matching Southwest, the largest airline in California for traffic. Introductory one-way rates only range from US$ 99 to US$ 149. A \ W
Ξ A I R G W A Y S Ξ
SOURCE: Airgways.com
DBk: Mycpaair.com
AW-POST: 201811022215AR
A\W   A I R G W A Y S ®