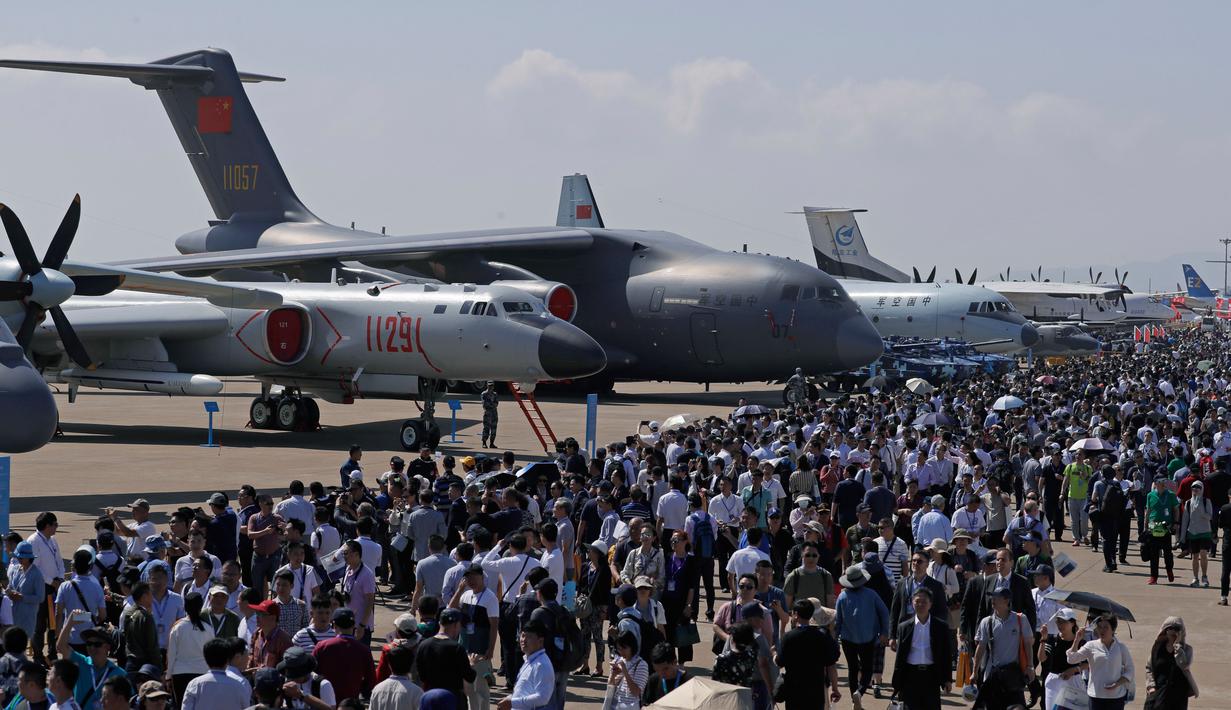 AW | 2018 11 08 10:50 | AIR SHOW / FAIR / CONGRESS
Desarrollo de la 12º Exposición Internacional de Aviación y Aeroespacial de China en Zhuhai
China demuestra ambición por la aviación. El evento tradicional, Airshow China 2018, se realiza en la ciudad costera de Zhuhai del 6 al 11 de noviembre de dicho año, y los comentarios del día solo referían a la creciente destreza de la aviación.
Las dos principales constructoras de aviones civiles del mundo, Boeing y Airbus de Estados Unidos y Europa respectivamente, manifestaron en conjunto el 6 Noviembre 2018 los deseos de ver el final de la guerra comercial entre Washington y Pekín. Tal manifestación se produjo durante la mayor exhibición aérea en China, en la apertura de la bienal Airshow China.
AIRBUS SE
George Xu, principal ejecutivo de Airbus en China y mayor rival de Boeing, sostuvo en conferencia de prensa que el fabricante europeo no esperaba ganancias superiores de ventas por motivo de las tensiones China-Estados Unidos. Y enfatizó, la actual guerra comercial no arrojará un ganador. Airbus planeaba cerrar un acuerdo de venta por 184 aviones durante el viaje del presidente francés Macron, en enero de 2018, pero las negociaciones se estancaron, según fuentes de la industria europea.
Proyectos exhibidos en la gigantesca muestra aérea de Zhuhai, incluyeron una maqueta a gran escala del jet CR-929 de fuselaje ancho, con desarrollo conjunto entre Commercial Aircraft Corporation de China y la empresa rusa United Aircraft Corporation, con clara intención de competir contra los aviones 787 y A350. El mercado global de aviones en las próximas dos décadas tendría un valor de 2.5 billones de dólares con una flota aproximada de 9 mil 180 aviones.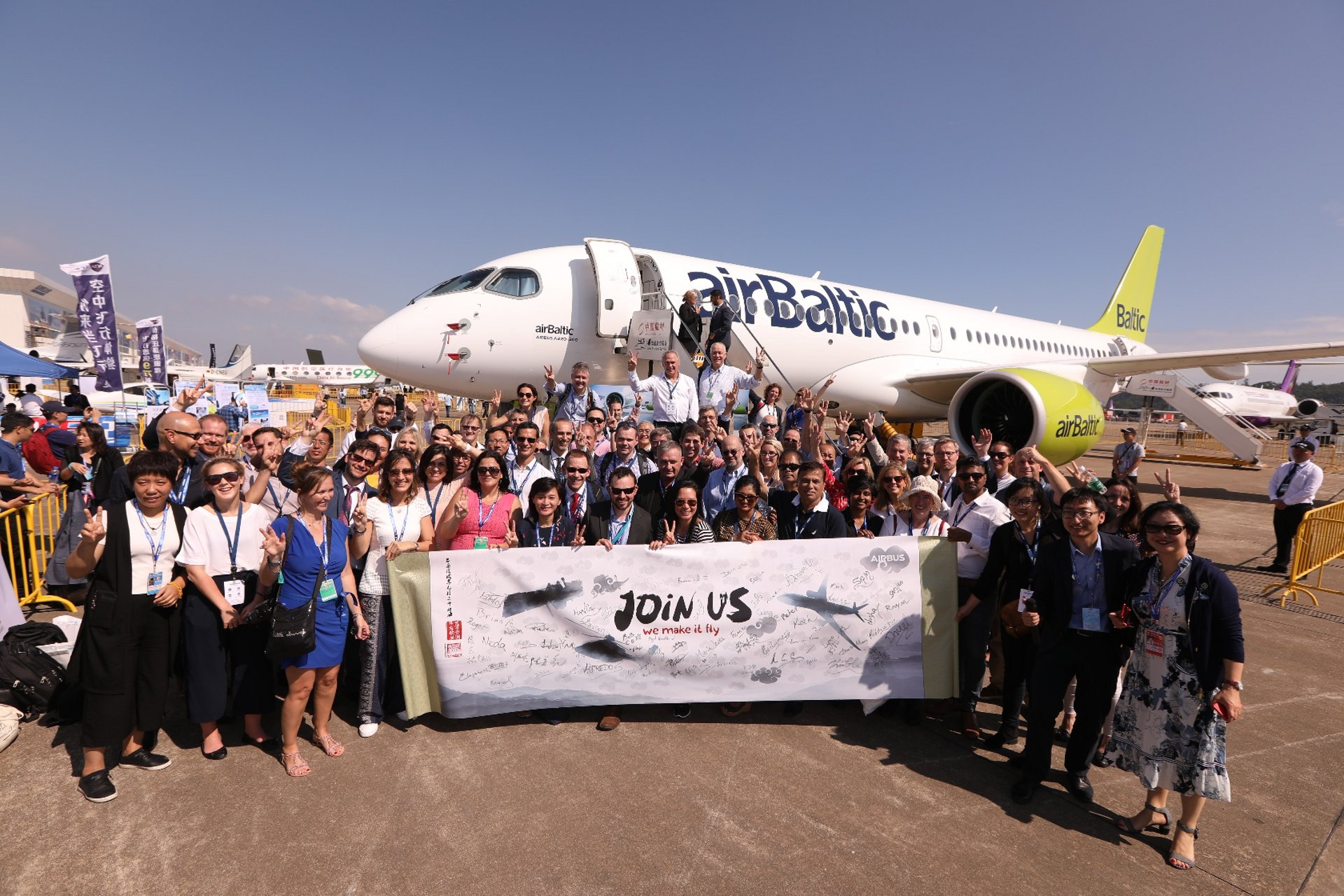 A220 en gira
Airbus ha comenzado una gira de demostración de su avión regional A220 a través de Asia. La gira comenzó el 5 de noviembre de 2018, cuando un airBaltic A220-300 tocó tierra en el Zhuhai Airshow en China.
El avión, anteriormente conocido como CSeries, está programado para estar en Chengdu el 9 Noviembre, Koh Samui en Tailandia el 10 Noviembre, Katmandú en Nepal el 11 Noviembre y Estambul en Turquía el 12 Noviembre. Luego regresará a la base de airBaltic en Riga, Letonia el 14 Noviembre 2018.
AVIC
Un modelo de la aeronave turbohélice pasajeros Xinzhou-700 se muestra en el stand de la Corporación de Industria de Aviación de China (AVIC) durante el 12º Airshow China que se desarrolla en Zhuhai, China.
THE BOEING Co.
Desde el punto de vista del comercio, el mercado chino es un claro objetivo para las compañías de aviación extranjeras debido a la creciente demanda de viajes, pero en los últimos años las perspectivas se han complicado por la nueva ambición del gigante asiático que propicia el crecimiento de sus industrias, e incluyen la aviación.
Vínculos entre el presidente Trump y el líder Xi Jinping se han tornado tensos. Estados Unidos ha lanzado duras críticas por robos de propiedad intelectual, barreras chinas a los negocios estadounidenses y un déficit comercial enorme; mientras, desde Pekín responden a todas las acusaciones como infundadas e irrazonables. La batalla dialéctica terminó en el terreno de una guerra comercial, y ambos países recurrieron a incrementar aranceles "tit for tat", estrategia de toma y daca, sobre bienes por valor de miles de millones de dólares.
Por el momento, los aviones fabricados en Estados Unidos han sorteado los aranceles de China, entre las exportaciones estadounidenses más grandes hacia el país asiático; sin embargo los analistas comerciales se mantienen expectantes y esperan qué significado implicaría la guerra comercial sobre las compañías aeronáuticas, tal el caso de Boeing.
COMAC
Los comentarios en la exhibición aérea más grande de China subrayan los desafíos que enfrenta la República Islámica al reavivar los planes para importar aviones luego de que se reimplantaron las sanciones de Estados Unidos, aunque IranAir reiteró el miércoles que recibiría ofertas de proveedores que no estén sujetos a restricciones en la exportación de partes de aviones de Estados Unidos.
Irán había mostrado interés en comprar aviones chinos ARJ 21-700, Zhao Yuerang, Gerente General del fabricante COMAC (Commercial Aircraft Corporation de China), dijo a Reuters: "No, no podemos vender a Irán. Irán no está encima de la mesa. Tenemos que cumplir con las regulaciones de ambos países".
CRAIC
CRAIC es una alianza ruso-china, de la constructora COMAC y la corporación aeronáutica rusa OAK, se ha dado cita en la feria Airshow China 2018 con una maqueta de su nuevo avión widebody C-929.
El nuevo proyecto, aeronave de fuselaje ancho permitirá competir en un mercado muy competitivo. Las series o versiones del CR-929 contemplan una versión básica C929-600 se encuentra en etapa de definición de diseño, para completar su rollout a finales de 2019, que tendrá una capadidad de 280 pasajeros y un alcance de 12.000 kilómetros. la segunda versión, CR929–700, con fuselaje más largo, y el CR929–500, más reducido. Estará equipado con una nueva generación de motores de origen ruso. Las proyecciones de CRAIC para los primeros vuelos y entregas del CR929 están entre 2025-2028.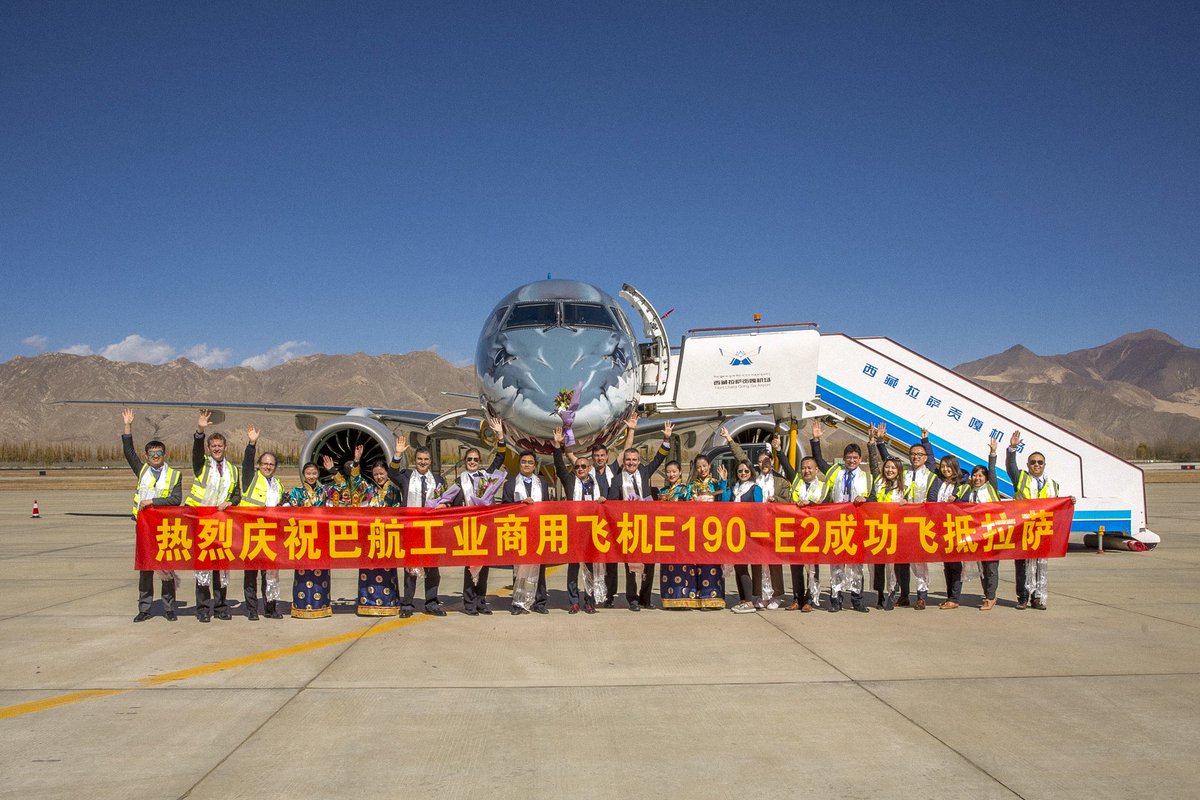 AIRSHOW CHINA 2018
Development of the 12th China International Aviation and Aerospace Exhibition in Zhuhai
China shows ambition for aviation. The traditional event, Airshow China 2018, takes place in the coastal city of Zhuhai from November 6 to 11 of that year, and the comments of the day only referred to the growing skill of aviation.
the two main civil aircraft builders in the world, Boeing and Airbus in the United States and Europe, respectively, said on November 6, 2018 the desire to see the end of the trade war between Washington and Beijing. This demonstration took place during the largest air show in China, at the opening of the China Airshow biennial.
AIRBUS SE
George Xu, chief executive of Airbus in China and Boeing's biggest rival, said in a press conference that the European manufacturer did not expect higher sales gains due to China-US tensions. And he emphasized, the current commercial war will not throw a winner. Airbus planned to close a sales agreement for 184 aircraft during the trip of French President Macron in January 2018, but negotiations stalled, according to European industry sources.
Projects exhibited at the giant Zhuhai air show included a large-scale model of the CR929 wide-body jet, joint development between the Commercial Aircraft Corporation of China and the Russian company United Aircraft Corporation, with a clear intention to compete against the 787 aircraft and A350. The global aircraft market in the next two decades would have a value of 2.5 billion dollars with a fleet of approximately 9 thousand 180 aircraft.AIRBUS A220-300 OF AIRBALTIC PRESENTS IN AIRSHOW CHINA 2018
A220 on tour
Airbus has started a demonstration tour of its A220 regional aircraft through Asia. The tour began on November 5, 2018, when an airBaltic A220-300 made landfall at the Zhuhai Airshow in China.
The plane, previously known as CSeries, is scheduled to be in Chengdu on November 9, Koh Samui in Thailand on November 10, Kathmandu in Nepal on November 11 and Istanbul in Turkey on November 12. Then he will return to the airBaltic base in Riga, Latvia on November 14, 2018.
AVIC
A model of the passenger turboprop aircraft Xinzhou-700 is displayed on the stand of the China Aviation Industry Corporation (AVIC) during the 12th China Airshow taking place in Zhuhai, China.
THE BOEING Co.
From the point of view of trade, the Chinese market is a clear target for foreign aviation companies due to the growing demand for travel, but in recent years the prospects have been complicated by the new ambition of the Asian giant that promotes growth of its industries, and include aviation.
Links between President Trump and leader Xi Jinping have become tense. The United States has launched harsh criticism for intellectual property theft, Chinese barriers to US business and a huge trade deficit; while, from Beijing they respond to all the accusations as unfounded and unreasonable. The dialectical battle ended in the field of a commercial war, and both countries resorted to increasing tariffs "tit for tat", strategy of give and take, on goods worth billions of dollars.
At the moment, the planes manufactured in the United States have raffled tariffs from China, among the largest US exports to the Asian country; However, the commercial analysts remain expectant and expect what the commercial war on the aeronautical companies would mean, such as Boeing.
COMAC
The comments in China's largest air show underscore the challenges the Islamic Republic faces in reviving plans to import planes after the US sanctions were reinstated, although IranAir reiterated on Wednesday that it would receive offers from suppliers that are not subject to restrictions on the export of parts of United States aircraft.
Iran had shown interest in buying Chinese aircraft ARJ 21-700, Zhao Yuerang, General Manager of manufacturer COMAC (Commercial Aircraft Corporation of China), told Reuters: "No, we can not sell to Iran. Iran is not on the table. We have to comply with the regulations of both countries".
CRAIC
CRAIC is a Russian-Chinese alliance, from the construction company COMAC and the Russian aeronautical corporation OAK, has met at the Airshow China 2018 fair with a model of its new widebody aircraft C-929.
The new project, wide-body aircraft will allow to compete in a very competitive market. The series or versions of the CR-929 contemplate a basic version C929-600 is in the design definition stage, to complete its rollout at the end of 2019, which will have a capacity of 280 passengers and a range of 12,000 kilometers. the second version, CR929-700, with longer fuselage, and the CR929-500, more reduced. It will be equipped with a new generation of engines of Russian origin. The CRAIC projections for the first flights and deliveries of the CR929 are between 2025-2028. A \ W
Ξ A I R G W A Y S Ξ
SOURCE: Airgways.com
DBk: Airshow.com.cn / Airbus.com / Boeing.com / Comac.cc / Uacrussia.ru / Reuters.com / Liputan6.com / Embraer.com / Ainonlline.com / Xinhuanet.com
AW-POST: 201811081050AR
A\W   A I R G W A Y S ®