AW | 2018 11 08 10:05 | AIRPORTS
El nuevo Aeropuerto Internacional de Pekín permitirá descongestionar el actual aeropuerto de la capital china
El nuevo Aeropuerto de Pekín toma forma. A menos de un año de su inauguración, el nuevo aeropuerto permitirá descongestionar el aumento de tráfico en el país. La espectacular terminal, que se convertirá en la más grande del mundo con 700.000 metros cuadrados de superficie, se habrá construido en apenas cinco años y está destinada a ser una infraestructura eficiente que ayude a descongestionar el actual aeródromo de la capital china, que pese a su expansión con motivo de los Juegos Olímpicos del año 2008 opera ya al límite de su capacidad.
Los trabajos de esta impresionante mega-obra de ingeniería avanzan a buen ritmo y los más de 40.000 operarios que trabajan en su interior y alrededores están centrados en la instalación eléctrica y comenzando a decorar el interior del edificio. Debido a su diseño hexagonal, la puerta de embarque más lejana estará relativamente cerca, a 600 metros del control de seguridad y ocho minutos andando. En los extremos de cada ala, junto a las puertas de embarque, habrá cinco grandes jardines al aire libre diseñados de acuerdo con la tradición china.
Las características del nuevo aeropuerto tendrá siete pisos: dos bajo tierra, en los que se ha construido una enorme estación intermodal en la que confluirán metro, trenes de cercanías, regionales y alta velocidad, y cinco hacia arriba. La infraestructura se alza a 46 kilómetros del centro de la ciudad dirección sur, una distancia mayor en comparación con la ubicación del aeropuerto actual.
El nuevo aeropuerto entrará en funcionamiento el 30 Septiembre 2019, justo antes del Día Nacional de China. En su primera fase, para el año 2025, tiene como objetivo albergar a 72 millones de pasajeros al año, dos millones de toneladas de carga y 620.000 operaciones en sus cuatro pistas. A largo plazo el número de pistas se ampliará hasta las siete y su capacidad máxima será de 100 millones de pasajeros por año. El coste del proyecto es de 80.000 millones de yuanes (11.500 millones de dólares, 10.100 millones de euros).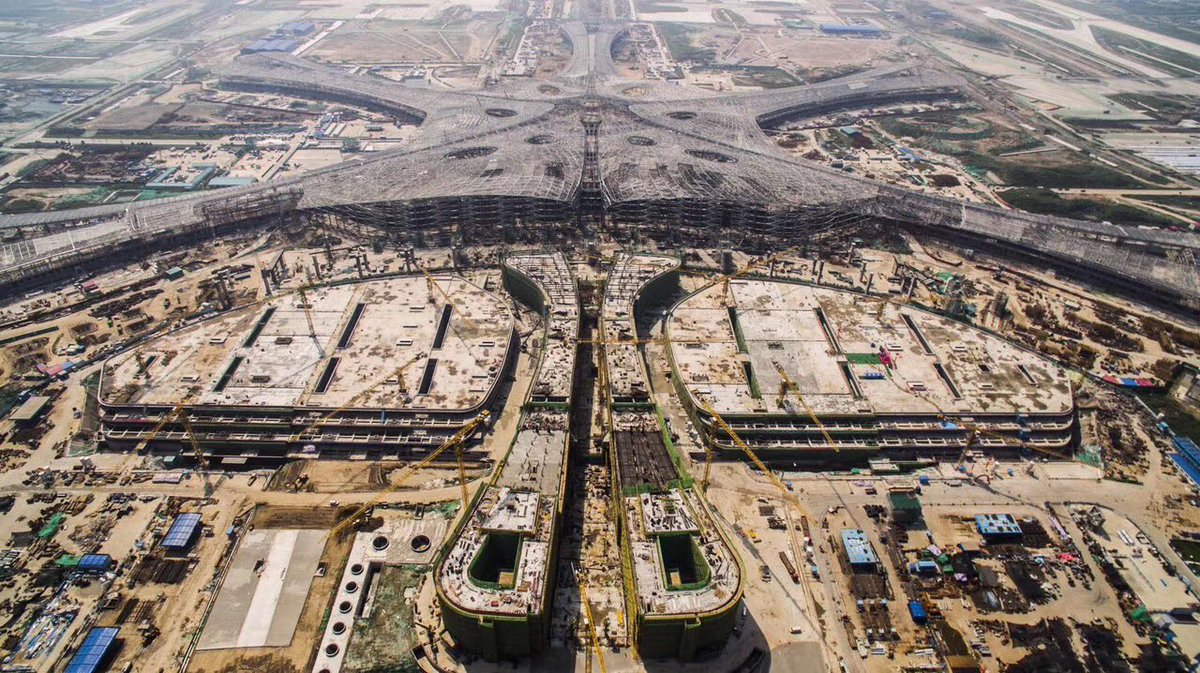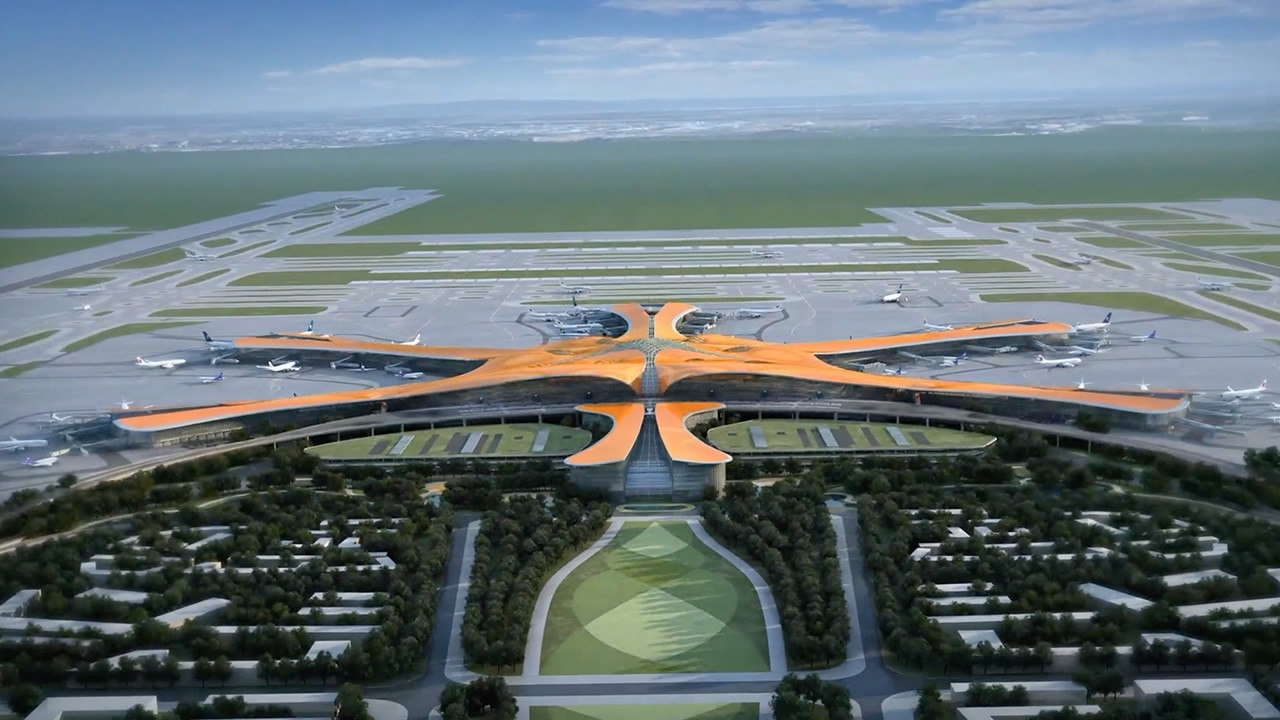 Beijing builds the world's largest airport
The new Beijing International Airport will make it possible to decongest the current airport in the Chinese capital
The new Beijing Airport takes shape. Less than a year after its inauguration, the new airport will allow decongesting the increase in traffic in the country. The spectacular terminal, which will become the largest in the world with 700,000 square meters, will have been built in just five years and is destined to be an efficient infrastructure that helps to decongest the current airfield in the Chinese capital, despite the fact that its expansion on the occasion of the Olympic Games of the year 2008 already operates at the limit of its capacity.
The works of this impressive mega-engineering work are advancing at a good pace and the more than 40,000 workers who work inside and around are focused on the electrical installation and beginning to decorate the interior of the building. Due to its hexagonal design, the farthest gate will be relatively close, 600 meters from the security control and eight minutes walk. At the ends of each wing, next to the boarding gates, there will be five large outdoor gardens designed according to Chinese tradition.
The characteristics of the new airport will have seven floors: two underground, in which a huge intermodal station has been built in which metro, suburban, regional and high-speed trains will converge, and five upwards. The infrastructure rises 46 kilometers from the center of the city to the south, a greater distance compared to the location of the current airport.
The new airport will become operational on September 30, 2019, just before China's National Day. In its first phase, for the year 2025, it aims to house 72 million passengers a year, two million tons of cargo and 620,000 operations on its four tracks. In the long term, the number of runways will be extended until seven and its maximum capacity will be 100 million passengers per year. The cost of the project is 80,000 million yuan (11,500 million dollars, 10,100 million euros). A \ W
北京建成了世界上最大的机场
新的北京国际机场将有可能减轻中国首都的现有机场
新的北京机场初具规模。比其就职后不到一年,新机场将允许疏散拥挤在全国增加的交通流量。壮观的终端,这将成为世界上最大的70万平方米,将建成在短短五年,旨在高效的基础设施,以帮助疏散拥挤的机场目前在中国的首都,尽管它在2008年奥运会期间的扩张已经在其容量的极限运行。
这令人印象深刻的大型工程作业的工作进展顺利,4个万多运营商内部和周围的工作都集中在电气安装和开始装饰建筑物的内部。由于其六边形设计,最远的门将相对靠近,距离安全控制600米,步行8分钟。在每个机翼的两端,在登机口旁边,将有五个根据中国传统设计的大型户外花园。
新机场的特点将有七层,​​地下两层,其中已建成,其中汇聚地铁,通勤列车,区域和高速和五个向上一个巨大的联运站。基础设施从城市中心向南延伸46公里,与当前机场的位置相比距离更远。
新机场将于2019年9月30日即中国国庆节前投入运营。在第一阶段,到2025年,旨在适应每年招生72万人次,200万吨货物和62万所经营的四条轨道。从长远来看,轨道数量将扩展到七个,最大容量为每年100万人次。该项目的成本为800亿元人民币(115亿美元,10,100万欧元)。A\W
Ξ A I R G W A Y S Ξ
SOURCE: Airgways.com
DBk: Atimes.com / Mot.gov.cn / Cgtn..com
AW-POST: 201811081005AR
A\W   A I R G W A Y S ®