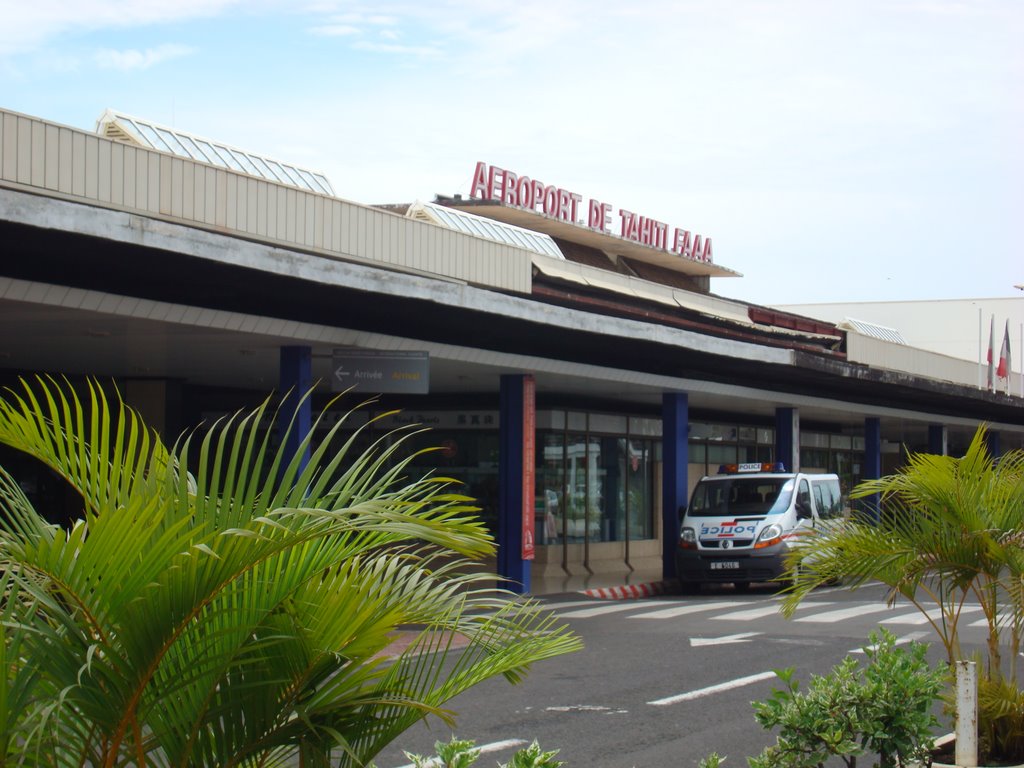 AW | 2018 11 09 17:04 | AIRPORTS / AVIATION SAFETY
El Aeropuerto Internacional de Tahití podría sufrir una huelga en controles de seguridad
Una huelga podría comenzar este viernes en la compañía South Pacific Security (SPS) y en Tahiti Sureté, dos empresas que brindan controles de identidad para los pasajeros en la entrada de las salas de embarque en el Aeropuerto Internacional de Tahití Faa'a.
El sindicato CSIP presentó una notificación de huelga, que representa a parte del personal de las compañías South Pacific Security (SPS) y Tahiti Sureté, quienes garantizan los controles de identidad de los pasajeros en las entradas de las puertas de embarque, con A partir de este viernes a medianoche, anuncia Air Tahiti. Si la huelga se hace efectiva, se esperarán retrasos en las estaciones de inspección (PIF) de los pasajeros en el Aeropuerto de Tahiti-Faa'a. La compañía Air Tahití, por lo tanto, pide a los pasajeros que respeten el horario de convocatoria de su vuelo, o 1:30 hs antes del despegue previsto. 
Tahiti Airport slows down security controls
The Tahiti International Airport could suffer a strike in security controls
A strike could begin this Friday at the company South Pacific Security (SPS) and at Tahiti Sureté, two companies that provide identity checks for passengers at the entrance of boarding rooms at the Tahiti Faa'a International Airport.
The CSIP union filed a notice of strike, which represents part of the staff of the companies South Pacific Security (SPS) and Tahiti Sureté, who guarantee the identity checks of passengers at the entrances of the boarding gates, with this Friday at midnight, announces Air Tahiti. If the strike becomes effective, delays will be expected at the inspection stations (PIF) of the passengers at the Tahiti-Faa'a Airport. The company Air Tahiti, therefore, asks passengers to respect the time of call of their flight, or 1:30 hs before the planned takeoff. A \ W
L'Aéroport de Tahiti ralentit les contrôles de sécurité
L'aéroport international de Tahiti pourrait subir une grève des contrôles de sécurité
Une grève pourrait commencer ce vendredi à la compagnie South Pacific Security (SPS) et à Tahiti Sureté, deux sociétés qui vérifient l'identité des passagers à l'entrée des salles d'embarquement de l'aéroport international Tahiti Faa'a.
Le syndicat CSIP a déposé un avis de grève représentant une partie du personnel des sociétés South Pacific Security (SPS) et Tahiti Sureté qui garantissent les contrôles d'identité des passagers aux entrées des portes d'embarquement. ce vendredi à minuit, annonce Air Tahiti. Si la grève entre en vigueur, des retards seront attendus aux postes de contrôle (PIF) des passagers de l'aéroport de Tahiti-Faa'a. La société Air Tahiti demande donc aux passagers de respecter l'heure d'appel de leur vol, soit 1h30 avant le décollage prévu. A\W
Ξ A I R G W A Y S Ξ
SOURCE: Airgways.com
DBk: Tahita-aeroport.pf / Tntv.pf / Airport-data.com
AW-POST: 201811091704AR
A\W   A I R G W A Y S ®