AW | 2018 11 09 19:27 | AIR INVESTIGATION / AVIATION SAFETY
Lion Air JT610 datos erróneos en AoA
El Boeing 737-8 MAX PK-LQP, MSN43000, de la aerolínea Lion Air accidentado en el Mar de Java el 29 Octubre 2018, la aeronave perdió altura y se estrelló contra el Mar de Java, emitía datos erróneos de Ángulo de Ataque (AoA).
El Boeing 737-8 MAX realiza el vuelo JT-610 desde Jakarta a Pangkal Pinang (Indonesia) con 181 pasajeros y 8 tripulantes, estaba saliendo de Yakarta cuando la aeronave alcanzó una altitud máxima de unos 5400 pies, luego altura perdida, el contacto por radar se perdió a unos 35nm al noreste de Jakarta sobre el Mar de Java a las 06:33L (23:33Z, 28 Octubre 2018).
Avances de informaciones
El 7 Noviembre 2018, Boeing emitió un Boletín del Manual de Operaciones (OMB) a todos los operadores de Boeing 737 MAX que indicaron que la investigación sobre el choque de PK-LQP encontró que uno de los sensores de ángulo de ataque había proporcionado lecturas incorrectas, lo que podría causar que el sistema de equipamiento de la aeronave sin recortar la nariz para evitar un bloqueo durante el vuelo manual. La OMB dirige a "los operadores a los procedimientos existentes de la tripulación de vuelo para abordar las circunstancias en las que hay una entrada errónea de un sensor AOA". La OMB reitera la lista de verificación no normal de Estabilizador Runaway.
El 8 Noviembre 2018, Basarnas informó que la búsqueda del CVR aún está en curso con el ROV, el sonar lateral de escaneo, el localizador de ping y las sondas de eco de haz múltiple desplegadas. Basarnas escribió: "Como se explicó anteriormente, el localizador de ping pudo detectar la señal de la caja negra, pero era débil. La fuente de la señal es difícil de determinar su posición considerando que el fondo marino es de lodo con una profundidad de más de 1 metro". Hasta el 7 Noviembre 2018 20:00L 187 bolsas de cadáveres fueron recolectadas y llevadas al puesto de comando y luego al hospital para su identificación.
El KNKT informó que un ángulo de sensor de ataque había sido reemplazado el 28 de octubre de 2018 después del vuelo JT-775 de Manado a Denpasar (la aeronave completó el vuelo subsiguiente JT-43 a Jakarta y sufrió el accidente del siguiente vuelo JT-610). Posteriormente el avión voló a Jakarta, sin embargo, la tripulación informó que todavía había problemas. La búsqueda del CVR se ve obstaculizada por lodo espeso.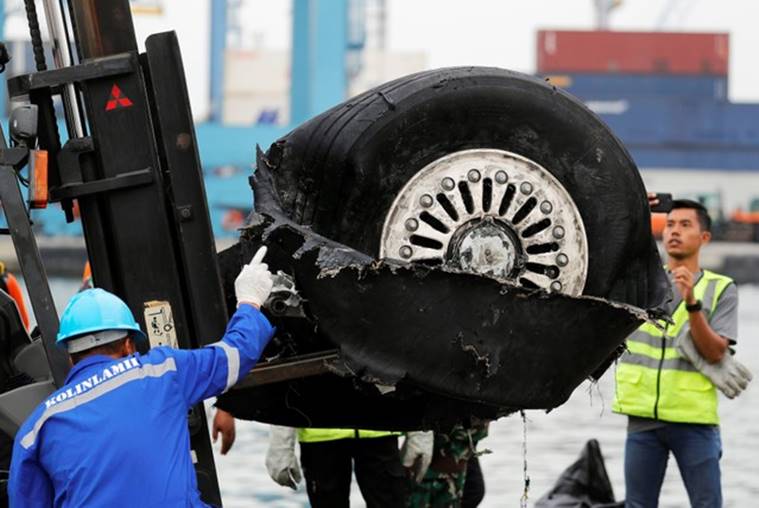 JT610 Lion Air | Day 12
Lion Air JT610 erroneous data in AoA
The Boeing 737-8 MAX PK-LQP, MSN43000, of the Lion Air airline crashed in Java Sea on 29 October 2018, the aircraft lost altitude and crashed into the Java Sea, issuing erroneous Angle of Attack data (AoA) .
The Boeing 737-8 MAX performs the JT-610 flight from Jakarta to Pangkal Pinang (Indonesia) with 181 passengers and 8 crew, it was leaving Jakarta when the aircraft reached a maximum altitude of about 5400 feet, then lost height, contact by radar was lost at about 35nm northeast of Jakarta over the Java Sea at 06: 33L (23:3Z, 28 October 2018).
Advances of information
On November 7, 2018, Boeing issued an Operations Manual Bulletin (OMB) to all Boeing 737 MAX operators who indicated that the investigation into the PK-LQP collision found that one of the attack angle sensors had provided incorrect readings, which could cause the aircraft's equipment system without trimming the nose to avoid a blockage during manual flight. The OMB directs "operators to the existing procedures of the flight crew to address the circumstances in which there is an erroneous entry of an AOA sensor". The OMB repeats the non-normal Runaway Stabilizer checklist.
On November 8, 2018, Basarnas reported that the CVR search is still ongoing with the ROV, the lateral scanning sonar, the ping locator and the multiple beam echo probes deployed. Basarnas wrote: "As explained above, the ping locator was able to detect the signal from the black box, but it was weak.The source of the signal is difficult to determine its position considering that the seafloor is mud with a depth of more of 1 meter". Until November 7, 2018 20: 00L 187 bags of corpses were collected and taken to the command post and then to the hospital for identification.
The KNKT reported that an attack sensor angle had been replaced on October 28, 2018 after flight JT-775 from Manado to Denpasar (the aircraft completed the subsequent flight JT-43 to Jakarta and suffered the accident of the next flight JT- 610). Later the plane flew to Jakarta, however, the crew reported that there were still problems. The search for the CVR is hampered by thick mud. A \ W
VIDEO > LION AIR JT-610 FLIGHT ANIMATION 
Ξ A I R G W A Y S Ξ
SOURCE: Airgways.com
DBk: Avherald.com / Nst.com.my / Paperdabba.com / Radarbogor.id / Filmcutter.it
AW-POST: 201811091927AR
A\W   A I R G W A Y S ®