AW | 2018 11 29 14:24 | AIRPORTS
El Aeropuerto de Congonhas planifica ampliación de vuelos
El estudio de la Secretaría de Aviación Civil prevé aumentar de 34 a 39 los aterrizajes y despegues en el Aeropuerto Congonhas de Sao Paulo. El gobierno por medio del Ministerio de Transporte de Brasil estudia aumentar el número de slots, las franjas de autorizaciones para aterrizajes y despegues en el Aeropuerto de Congonhas (SP), en una medida para atender a las compañías aéreas y aliviar las dificultades financieras de Infraero. Según el Ministerio, el aumento forma parte de un estudio de cambios en la red aérea de São Paulo y está siendo discutido por la Secretaría de Aviación Civil, el Departamento de Control del Espacio Aéreo (DECEA) y los consultores internacionales.
La expansión de vuelos en el Aeropuerto Congonhas abre espacio para que la aerolínea Azul Linhas Aéreas rivalice con Latam Airlines y Gol Linhas Aéreas. El Gobierno planea expandirse de los actuales 34 para hasta 39 slots (permisos de aterrizajes y despegues) por hora, lo que abriría más espacio de vuelos.
Aunque el Aeropuerto Congonhas está operando en el límite de la capacidad de pasajeros y tiene cuellos de botella que necesitan ser resueltos, como la inspección de seguridad y el embarque sin puentes, lo que demandarían más inversiones en infraestructura.
La expansión de los slots representa una revisión en la política de contención de vuelos implementada, por cuestiones de seguridad, tras el accidente del Airbus A320-200 de TAM Linhas Aéreas de 2007, donde fallecieron 199 personas. Antes del accidente del vuelo JJ-3054 de TAM, el aeropuerto operaba con hasta 48 slots. Luego, una serie de restricciones fue impuesta disminuyendo los slots. Las operaciones se redujeron a 33 slots en aquel año. Se llegó a ser aún menores, de 30 aterrizajes y despegues hasta 2014. Según ANAC, Congonhas opera hoy con 32 o 33 aterrizajes y despegues.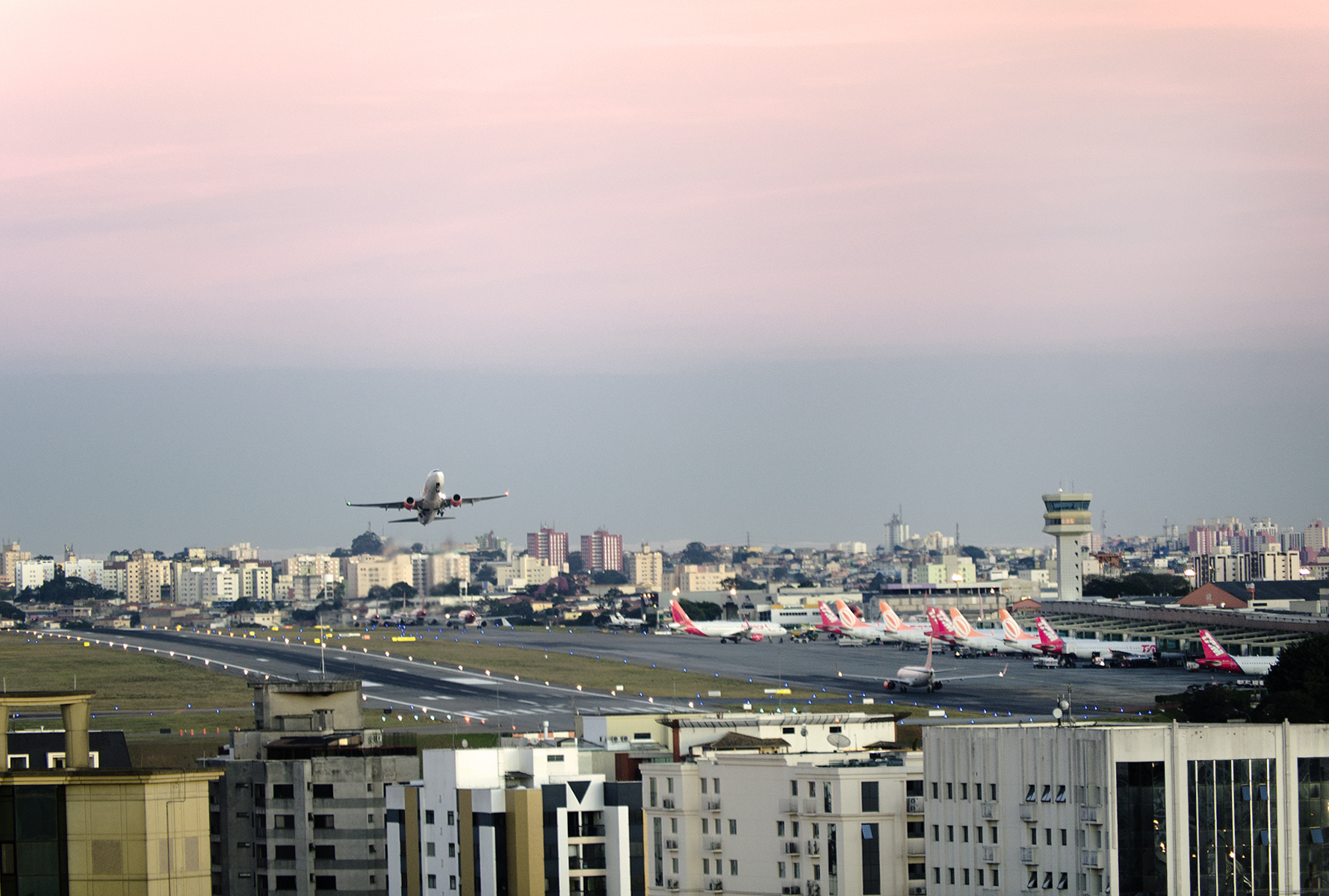 Enlargement flights Congonhas
Congonhas Airport plans flight expansion
The study by the Secretariat of Civil Aviation plans to increase landings and takeoffs from Sao Paulo Congonhas Airport from 34 to 39. The government through the Ministry of Transport of Brazil is studying increasing the number of slots, the authorization slots for landings and takeoffs at Congonhas Airport (SP), in a measure to serve airlines and alleviate the financial difficulties of Infraero. According to the Ministry, the increase is part of a study of changes in the São Paulo air network and is being discussed by the Secretariat of Civil Aviation, the Department of Airspace Control (DECEA) and international consultants.
The expansion of flights at Congonhas Airport opens space for Blue airline to rival Latam Airlines and Gol Linhas Aéreas. The Government plans to expand from the current 34 for up to 39 slots (permissions for landings and takeoffs) per hour, which would open up more flight space.
Although Congonhas Airport is operating at the limit of passenger capacity and has bottlenecks that need to be resolved, such as safety inspection and boarding without bridges, which would require more infrastructure investments.
The expansion of the slots represents a revision in the policy of containment of flights implemented, for safety reasons, after the accident of the Airbus A320-200 of TAM Linhas Aéreas of 2007, where 199 people died. Before the accident of TAM flight JJ-3054, the airport operated with up to 48 slots. Then, a series of restrictions was imposed by decreasing the slots. The operations were reduced to 33 slots in that year. It became even lower, with 30 landings and take-offs until 2014. According to ANAC, Congonhas operates today with 32 or 33 landings and takeoffs. A \ W
Ampliação de voos Congonhas
Aeroporto de Congonhas planeja expansão de vôos
O estudo da Secretaria de Aviação Civil prevê aumentar os desembarques e decolagens do Aeroporto Congonhas de São Paulo de 34 para 39. O governo, por meio do Ministério dos Transportes do Brasil, estuda aumentar o número de vagas, os slots de autorização para aterrissagens e decolagens no Aeroporto de Congonhas (SP), em uma medida para atender as companhias aéreas e aliviar as dificuldades financeiras da Infraero. De acordo com o ministério, o aumento faz parte de um estudo sobre mudanças na rede aérea de São Paulo e está sendo discutido pela Secretaria de Aviação Civil, pelo Departamento de Controle do Espaço Aéreo (DECEA) e por consultores internacionais.
A expansão dos vôos no aeroporto de Congonhas abre espaço para a companhia aérea Blue competir com a Latam Airlines e a Gol linhas Aéreas. O governo planeja expandir dos atuais 34 para até 39 vagas (permissões para pousos e decolagens) por hora, o que abriria mais espaço para vôos.
Embora o Aeroporto de Congonhas esteja operando no limite da capacidade de passageiros e tenha gargalos que precisam ser resolvidos, como inspeção de segurança e embarque sem pontes, o que exigiria mais investimentos em infraestrutura.
A expansão dos slots representa uma revisão na política de contenção de vôos implementada, por questões de segurança, após o acidente do Airbus A320-200 da TAM Linhas Aéreas de 2007, onde morreram 199 pessoas. Antes do acidente do voo JJ-3054 da TAM, o aeroporto operava com até 48 slots. Então, uma série de restrições foi imposta diminuindo os slots. As operações foram reduzidas para 33 slots naquele ano. Ela ficou ainda mais baixa, com 30 pousos e decolagens até 2014. Segundo a ANAC, Congonhas opera hoje com 32 ou 33 aterrissagens e decolagens. A \ W
Ξ A I R G W A Y S Ξ
SOURCE: Airgways.com
DBk: Transportes.gov.br / Decea.gov.br / Afp.com, Yasuyoshi Chiba/ Airgways.com
AW-POST: 201811291424AR
A\W   A I R G W A Y S ®