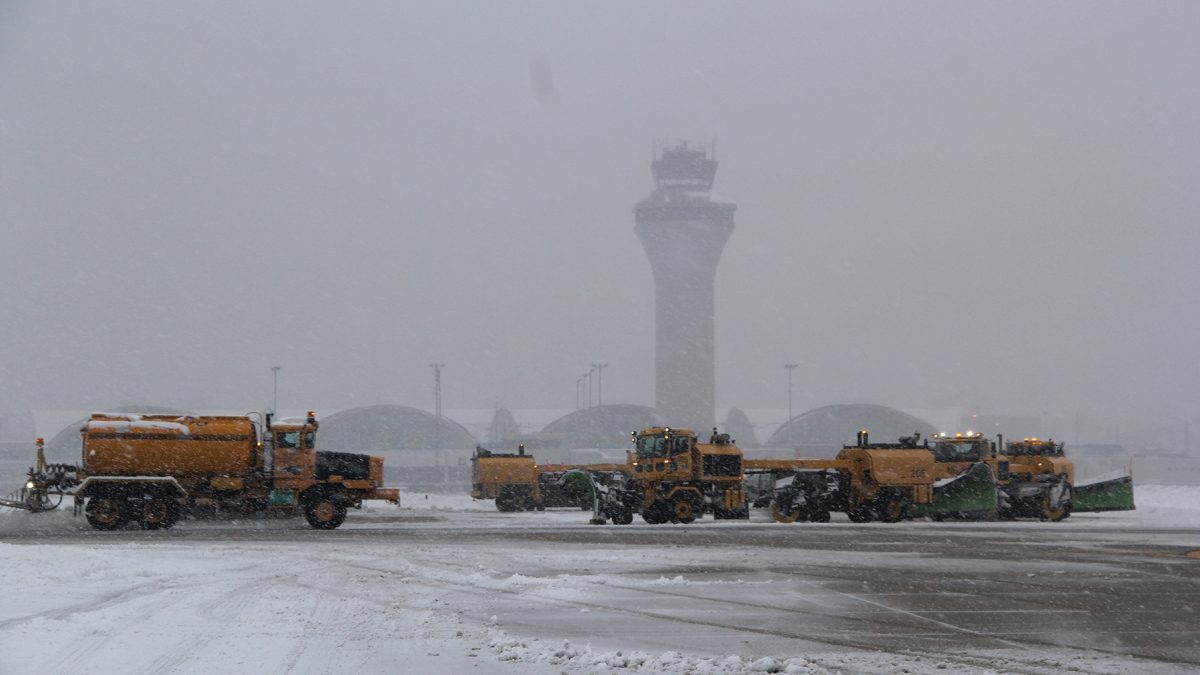 AW | 2019 01 13 11:23 | AIR TRAFFIC
Tormenta invernal «Gia» con más 450 vuelos cancelados en EEUU
Las cancelaciones de vuelos aumentaron el sábado debido a una tormenta invernal «Gia» con nieve a lo largo de un sendero de 1.500 millas que se extiende desde el Estado de Colorado hasta el Atlántico medio. Se cancelaron más de 450 vuelos en todo Estados Unidos y otros 2.000 se retrasaron desde el Sábado por la mañana según el servicio de seguimiento de vuelos FlightAware.com.
El Sábado, el aeropuerto más afectado fue St. Louis, donde se cancelaron unos 120 arribos y decolajes combinados, ya que más de un pie de nieve cayó en el área. Entre tanto, los aeropuertos Washington Reagan National, Chicago O'Hare, Indianapolis y Kansas City, Missouri, se encontraban entre otros con cancelaciones por encima del promedio debido a la tormenta.
La mayoría de las aerolíneas grandes estaban exentas del pago de cambios en al menos algunos aeropuertos en el camino de la tormenta, que se espera que traiga nieve adicional al Valle de Ohio y al Atlántico Medio para el domingo por la noche.
Otros 366 vuelos ya se habían puesto a tierra para el domingo, incluidos más de 190 llegadas y salidas combinadas en el Washington Reagan National, según FlightAware. Eso representa aproximadamente el 20% del calendario de todo el día en el aeropuerto cercano al centro de Washington.
Las previsiones habían requerido de 4 a 8 pulgadas de nieve para el domingo por la noche en el área metropolitana de D.C., con pronósticos cada vez más optimistas sobre los totales de nevadas. Más de 40 vuelos del Domingo ya se habían cancelado en Washington Dulles y unos 30 en Baltimore/Washington. Hoy Domingo, deben esperar la posibilidad de retrasos y cancelaciones en los aeropuertos de gran parte del Valle de Ohio y del Atlántico Medio. Incluso los aeropuertos en los estados de las Carolinas estaban viendo un aumento en las cancelaciones, incluido el Aeropuerto de Greensboro en Carolina del Norte.
Debido a la tormenta, las cuatro aerolíneas más grandes de los EEUU estaban renunciando a las tarifas de cambio de reserva para algunos aeropuertos, aunque los detalles eran diferentes en cada una de las aerolíneas estadounidenses, Delta, United y Southwest. Otros transportistas que habían emitido exenciones relacionadas con la tormenta el Sábado por la mañana incluyen JetBlue, Frontier y Spirit.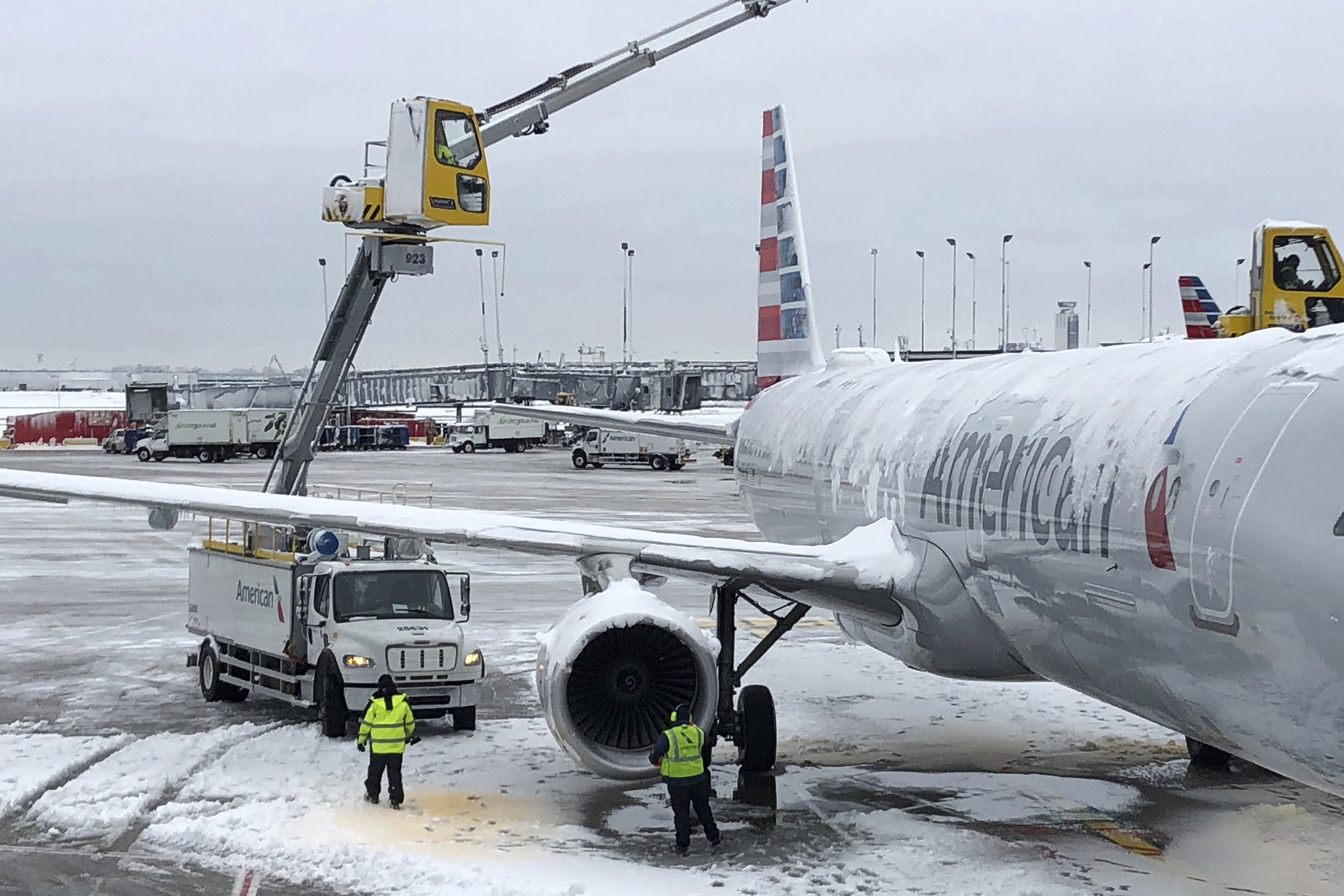 Cancellations for temporary in the USA
Winter storm «Gia» with more than 450 flights canceled in the US
Flight cancellations increased on Saturday due to a «Gia» winter snowstorm along a 1,500-mile trail that stretches from the State of Colorado to the mid-Atlantic. More than 450 flights were canceled throughout the United States and another 2,000 were delayed as of Saturday morning according to FlightAware.com flight tracking service.
On Saturday, the most affected airport was St. Louis, where about 120 combined balconies and screens were canceled, as more than a foot of snow fell in the area. Meanwhile, the airports Washington Reagan National, Chicago O'Hare, Indianapolis and Kansas City, Missouri, were among others with cancellations above the average due to the storm.
An American Eagle plane slid off the runway at Columbia Regional Airport on Friday afternoon
Most major airlines were exempt from paying for changes in at least some airports in the path of the storm, which is expected to bring additional snow to the Ohio Valley and the Mid-Atlantic by Sunday evening.
Another 366 flights had already been grounded for Sunday, including more than 190 combined arrivals and departures at the Washington Reagan National, according to FlightAware. That represents approximately 20% of the all-day schedule at the airport near downtown Washington.
The forecasts had required 4 to 8 inches of snow for Sunday night in the metropolitan area of ​​D.C., with increasingly optimistic forecasts of snowfall totals. More than 40 flights on Sunday had already been canceled in Washington Dulles and about 30 in Baltimore / Washington. Today, Sunday, you should expect the possibility of delays and cancellations at airports throughout much of the Ohio Valley and Mid-Atlantic. Even airports in the Carolinas states were seeing an increase in cancellations, including Greensboro Airport in North Carolina.
Due to the storm, the four largest airlines in the US were waiving the reservation change rates for some airports, although the details were different for each of the US airlines, Delta, United and Southwest. Other carriers that had issued exemptions related to the storm on Saturday morning included JetBlue, Frontier and Spirit. A \ W
Ξ A I R G W A Y S Ξ
SOURCE: Airgways.com
DBk: Usatoday.com / FlightAware.com / Bloomberg.com / Flysti.com
AW-POST: 201901131123AR
A\W   A I R G W A Y S ®