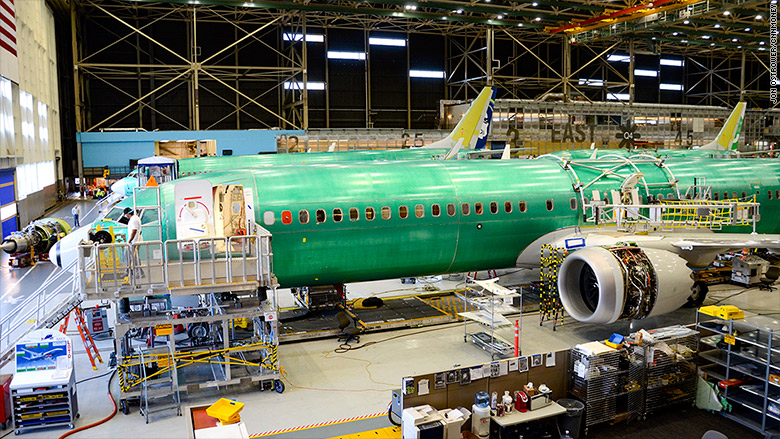 AW | 2019 01 08 19:19| INDUSTRY
Boeing reporta entregas en el 4Q2018
The Boeing Company anunció hoy las entregas en sus operaciones comerciales y de defensa para el cuarto trimestre de 2018. Boeing Co. entregó un récord de 806 aviones comerciales en 2018, superando a Airbus SE para retener la corona como el mayor fabricante de planos del mundo, ya que ambos fabricantes mantuvieron a las fábricas agitándose a fines de diciembre para superar las deficiencias anteriores de los proveedores.
El titán industrial de Estados Unidos también reveló una serie de pedidos de aviones de último minuto, lo que le permitió vender más aviones de los que construyó en 2018. Boeing obtuvo pedidos para 893 aviones de línea el año pasado con un valor de lista de US$ 143.7 mil millones, rellenando su cartera de pedidos y aliviando las preocupaciones de los inversores. que las tensiones comerciales entre Estados Unidos y China y el elevado precio del petróleo podrían suavizar la demanda de nuevos aviones.
Para Boeing y Airbus, los duopolistas de duelo en el sector aeroespacial, los pedidos de fin de año y los totales de entrega proporcionan derechos de jactancia, y un primer indicio de los informes de ganancias de la compañía que se anunciarán el próximo mes. Airbus cumplió con su objetivo de entrega doble de 800 jets en 2018, según los resultados preliminares publicados el martes.
Las cuentas se enfrentan a un escrutinio especial este año, ya que ambos fabricantes trabajaron durante las vacaciones de fin de año para superar la escasez de motores y otras piezas que han reducido los envíos de sus aviones altamente rentables de un solo pasillo.
Entregas 737
Boeing entregó 69 de sus 737 aviones en diciembre para llevar los envíos totales de la familia de cuerpos estrechos, su mayor fuente de ganancias, a 580. Eso fue menos que las 593 entregas predichas por George Ferguson, un analista aeroespacial de Bloomberg Intelligence. Boeing no alcanzó la meta de entregar un total de 810 a 815 aviones por año.
El fabricante con sede en Chicago aterrizó 218 pedidos de aeronaves en diciembre, lo que subraya la fortaleza continua de la amplia gama de cuerpos de la compañía y la sólida demanda de su 737 MAX. A pesar de la publicidad negativa de un accidente mortal de Lion Air en Indonesia en octubre, Boeing vendió 194 de los aviones de cuerpo estrecho en diciembre. Todos menos 11 de los aviones están destinados a clientes no revelados, que a menudo son transportistas chinos.
El fabricante de planos también registró 24 pedidos de aeronaves de fuselaje ancho para el mes, incluidas cuatro nuevas ventas para su carguero Boeing 747-8. Las órdenes ayudarán a prolongar la vida de la modelo con respaldo de joroba, apodada la «Reina de los Cielos», que fue pionera en una nueva era de viajes de largo alcance cuando comenzó a volar en 1970.
Boeing report 4Q2018
Boeing reports deliveries in 4Q2018

The Boeing Company today announced deliveries in its commercial and defense operations for the fourth quarter of 2018. Boeing Co. delivered a record of 806 commercial aircraft in 2018, surpassing Airbus SE to retain the crown as the world's largest planemaker, as both manufacturers kept factories shaking at the end of December to overcome previous deficiencies of the aircraft. suppliers.
The US industrial titan also unveiled a series of last-minute aircraft orders, which allowed it to sell more aircraft than it built in 2018. Boeing obtained orders for 893 airliners last year with a US list value US$ 143.7 billion, filling in its order book and alleviating investor concerns. that the commercial tensions between the United States and China and the high price of oil could soften the demand for new aircraft.
For Boeing and Airbus, duel duopolists in the aerospace sector, end-of-year orders and delivery totals provide boasting rights, and a first indication of the company's earnings reports to be announced next month. Airbus met its goal of double delivery of 800 jets in 2018, according to preliminary results published on Tuesday.
The accounts face special scrutiny this year, as both manufacturers worked during the year-end holidays to overcome shortages of engines and other parts that have reduced shipments of their highly profitable aircraft from a single aisle.
737 deliveries
Boeing delivered 69 of its 737 aircraft in December to carry the total shipments of the narrow-bodied family, its largest source of profit, to 580. That was less than the 593 deliveries predicted by George Ferguson, a Bloomberg Intelligence aerospace analyst. Boeing did not reach the goal of delivering a total of 810 to 815 aircraft per year.
The Chicago-based automaker landed 218 orders for aircraft in December, underscoring the continued strength of the company's wide body range and the strong demand for its 737 MAX. Despite negative publicity of a deadly Lion Air crash in Indonesia in October, Boeing sold 194 of the narrow-body aircraft in December. All but 11 of the aircraft are intended for undisclosed customers, who are often Chinese carriers.
The planes manufacturer also registered 24 orders of wide-body aircraft for the month, including four new sales for its Boeing 747-8 freighter. The orders will help prolong the life of the humpback-backed model, dubbed the «Queen of the Skies», who pioneered a new era of long-range travel when she began flying in 1970. A \ W
Ξ A I R G W A Y S Ξ
SOURCE: Airgways.com
DBk: Boeing.com / Airgways.com
AW-POST: 201901081919AR
A\W   A I R G W A Y S ®