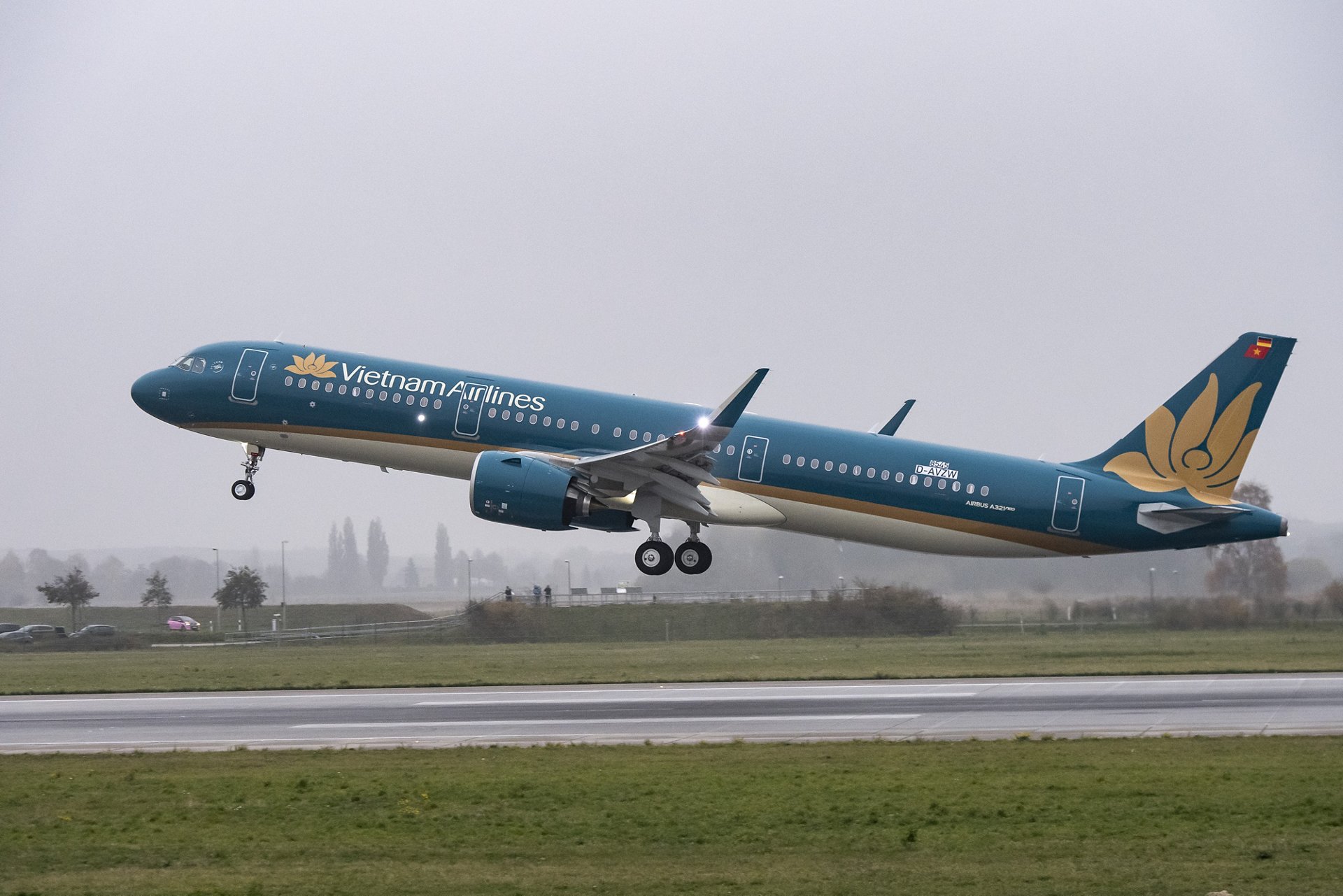 AW | 2019 01 30 13:03 | AIRLINES / INDUSTRY
Air Lease entrega Airbus A321NEO a Vietnam Airlines
Air Lease entregó un nuevo avión Airbus A321-200NEO con motores PW1130G en arrendamiento a largo plazo a Vietnam Airlines. Este avión es el primero de los 12 nuevos A321NEO's programados para entregar a Vietnam Airlines hasta 2019 según el libro de pedidos de ALC con Airbus.
«ALC se complace en anunciar este primero de 12 nuevos aviones Airbus A321-200neo hoy. Esta nueva entrega fortalece nuestra relación de larga data a medida que Vietnam Airlines continúa destacándose como una de las aerolíneas de más rápido crecimiento en Asia con la aeronave más moderna y eficiente en consumo de combustible», dijo Steven F. Udvar-Házy, Presidente Ejecutivo de Air Lease.
El Vicepresidente Ejecutivo y Director General de Air Lease para Asia, Jie Chen, expresó: «Estamos encantados de entregar el primero de los 12 nuevos aviones A321NEO en arrendamientos a largo plazo de ALC a Vietnam Airlines. En las próximas semanas se realizarán más envíos de A321neo a Vietnam».
Ampliación flota
Vietnam Airlines recibirá ocho Boeing 787-10s de ALC a partir del tercer trimestre de 2019 a 2021. Vietnam Airlines actualmente tiene dos A330-200 en arrendamiento de ALC, para un total de 22 aviones en arrendamiento a la aerolínea.
Con sede en Los Ángeles, Air Lease es una compañía de arrendamiento de aeronaves con clientes de aerolíneas en todo el mundo. Se dedica principalmente a la compra de aviones comerciales y al arrendarlos a sus clientes a través de soluciones personalizadas de arrendamiento y financiamiento de aviones.
Vietnam Airlines es la aerolínea de bandera de Vietnam. Fundada en 1956 bajo el nombre de Vietnam Civil Aviation, la aerolínea se estableció como una empresa estatal en abril de 1989. Vietnam Airlines tiene su sede en el distrito de Long Bien, Hanoi, con centros en el Aeropuerto Internacional Noi Bai y el Aeropuerto Internacional Tan Son Nhat.
Vietnam Airlines receives A321NEO
Air Lease delivers Airbus A321NEO to Vietnam Airlines
Air Lease delivered a new Airbus A321-200NEO aircraft with PW1130G engines on long-term lease to Vietnam Airlines. This aircraft is the first of the 12 new A321NEO's scheduled to deliver to Vietnam Airlines until 2019 according to the order book of ALC with Airbus.
«ALC is pleased to announce this first of 12 new Airbus A321-200neo aircraft today, and this new release strengthens our long-standing relationship as Vietnam Airlines continues to stand out as one of the fastest growing airlines in Asia with the most modern aircraft. and efficient in fuel consumption», said Steven F. Udvar-Házy, Executive Chairman of Air Lease.
Executive Vice President and General Manager of Air Lease for Asia, Jie Chen, said: «We are delighted to deliver the first of the 12 new A321NEO aircraft in long-term leases from ALC to Vietnam Airlines. A321neo to Vietnam».
Fleet expansion
Vietnam Airlines will receive eight Boeing 787-10s from LAC from the third quarter of 2019 to 2021. Vietnam Airlines currently has two A330-200s in LAC leases, for a total of 22 aircraft leased to the airline.
Based in Los Angeles, Air Lease is an aircraft leasing company with airline customers around the world. It is mainly dedicated to the purchase of commercial airplanes and to lease them to their customers through customized leasing and aircraft financing solutions.
Vietnam Airlines is the flag carrier of Vietnam. Founded in 1956 under the name of Vietnam Civil Aviation, the airline was established as a state company in April 1989. Vietnam Airlines is based in the Long Bien district, Hanoi, with hubs at Noi Bai International Airport and International Airport Tan Son Nhat. A \ W
Ξ A I R G W A Y S Ξ
SOURCE: Airgways.com
DBk: Flyvietnam.com / Vietnamplus.vn
AW-POST: 201901301303AR
A\W   A I R G W A Y S ®