AW | 2019 01 22 11:30 | AIRLINES / HISTORY
British Airways está diseñando la pintura decorativa para su Boeing 747-400 en aproximación 100 aniversarios
El primer Boeing 747-400 con librea de BOAC, aeronave con registro G-BYGC regresará a Heathrow desde la fábrica de pinturas el 18 Febrero 2019 para ingresar a la programación de vuelos de la aerolínea británica. La aerolínea estableció el 25 Agosto 1919 como fecha de festejo de sus 100 aniversarios cuando la aerolínea precursora de British Airways, la Aircraft Transport and Travel Limited (AT&T), lanzó el primer servicio aéreo internacional,pero fue en 1974 cuando se creó la British Airways de a fusión de la BOAC y BEA.
Tres aviones más recibirán diseños populares del pasado de British Airways durante los próximos meses y se revelarán más detalles a su debido tiempo. Los cuatro aviones volarán las rutas de British Airways, mostrando algunos de los diseños populares como parte de las celebraciones del centenario de la aerolínea.
Alex Cruz, Presidente y Director General de British Airways, dijo: "Muchos clientes y colegas de British Airways tienen buenos recuerdos de nuestras libreas anteriores, compartiendo regularmente sus fotos de todo el mundo. Es increíblemente emocionante volver a presentar algunos diseños clásicos, y qué mejor lugar para comenzar que la icónica librea de BOAC. Nuestra historia ha dado forma a lo que somos hoy, por lo que nuestro centenario es el momento perfecto para volver a visitar nuestra herencia y el paisaje de aviación del Reino Unido a través de estos diseños icónicos. Estamos entusiasmados por compartir detalles de las otras libreas en las próximas semanas».
El 747 se ha elegido deliberadamente para la librea de BOAC, ya que es una variante posterior del mismo tipo de aeronave que adornó el diseño cuando estuvo inicialmente en funcionamiento. La librea de BOAC permanecerá en el Boeing 747 hasta que se retire en 2023. En ese momento, British Airways habrá retirado la mayoría de su flota de 747, reemplazándola con un nuevo avión de larga distancia con tecnología de punta. Esto incluye recibir 18 A350 y 12 Boeing 787 Dreamliners en los próximos cuatro años, que cuentan con nuevas cabinas y son más eficientes desde el punto de vista ambiental, así como otros 26 aviones de corto recorrido, todos parte de la inversión de la aerolínea de 6.500 millones de libras para los clientes.
Historia de British Airways
Una librea que se puede usar es la de BEA, que se fusionó con BOAC para formar British Airways en 1974. El 25 Agosto 1919, la compañía precursora de British Airways, Aircraft Transport and Travel Limited (AT&T), lanzó el primer servicio aéreo internacional diario programado del mundo entre Londres y París. En 1924, las cuatro principales aerolíneas británicas, que para entonces habían evolucionado a Instone, Handley Page, Daimler Airways (una sucesora de AT&T) y British Air Marine Navigation Company Limited, se fusionaron para formar Imperial Airways Limited. Para 1925, Imperial Airways prestaba servicios a París, Bruselas, Basilea, Colonia y Zurich. Mientras tanto, varias compañías de transporte aéreo más pequeñas del Reino Unido iniciaron vuelos y, en 1935, se fusionaron para formar la compañía privada británica British Airways Limited, que se convirtió en el principal competidor británico de Imperial Airways en las rutas europeas.
Tras una revisión del Gobierno, Imperial Airways y British Airways se nacionalizaron en 1939 para formar British Overseas Airways Corporation (BOAC). Los vuelos de Europa continental y vuelos nacionales fueron llevados por una nueva aerolínea, British European Airways (BEA) desde 1946. BOAC introdujo servicios a Nueva York en 1946, Japón en 1948, Chicago en 1954 y la costa oeste de los Estados Unidos en 1957. BEA se desarrolló. una red doméstica a varios puntos en el Reino Unido, incluyendo Belfast, Edimburgo, Glasgow y Manchester.
Desde 1946 hasta 1960, BOAC y BEA fueron los principales operadores británicos de servicios internacionales regulares de pasajeros y carga, y conservaron el papel pionero de Gran Bretaña en la industria. La década de 1950 vio al mundo entrar en la era del avión de pasajeros, liderado por BOAC, con el Cometa volando a Johannesburgo en 1952, reduciendo a la mitad el tiempo de vuelo anterior.
Otras aerolíneas comenzaron a pasar a ser propiedad de BEA y, en 1967, el gobierno recomendó que un consejo de administración sea responsable de BOAC y BEA, con el establecimiento de una segunda aerolínea de fuerza, lo que provocó el nacimiento del Caledonian británico en 1970.
Dos años más tarde, los negocios de BOAC y BEA se combinaron bajo la recién formada Junta de British Airways, y las aerolíneas independientes se unieron como British Airways en 1974. En julio de 1979, el Gobierno anunció su intención de vender acciones en British Airways y en febrero de 1987 se privatizó British Airways.
British Airways retro design «BOAC»
British Airways is designing decorative paint for its Boeing 747-400 in approaching 100 anniversaries
The first Boeing 747-400 with BOAC livery, aircraft with G-BYGC registration will return to Heathrow from the paint factory on February 18, 2019 to enter the flight schedule of the British airline. The airline established on August 25, 1919 as the anniversary date of its 100 anniversaries when the airline precursor of British Airways, Aircraft Transport and Travel Limited (AT&T), launched the first international air service, but it was in 1974 when the British Airways was created of a merger of BOAC and BEA.
Three more aircraft will receive popular designs from British Airways past in the coming months and more details will be revealed in due time. The four aircraft will fly the British Airways routes, displaying some of the popular designs as part of the airline's centennial celebrations.
Alex Cruz, President and CEO of British Airways, said: «Many customers and colleagues of British Airways have fond memories of our previous lives, regularly sharing their photos from around the world. It is incredibly exciting to re-present some classic designs, and what better place to start than the iconic BOAC livery. Our history has shaped what we are today, so our centennial is the perfect time to revisit our heritage and the aviation landscape of the United Kingdom through these iconic designs. We are excited to share details of the other liveries in the coming weeks».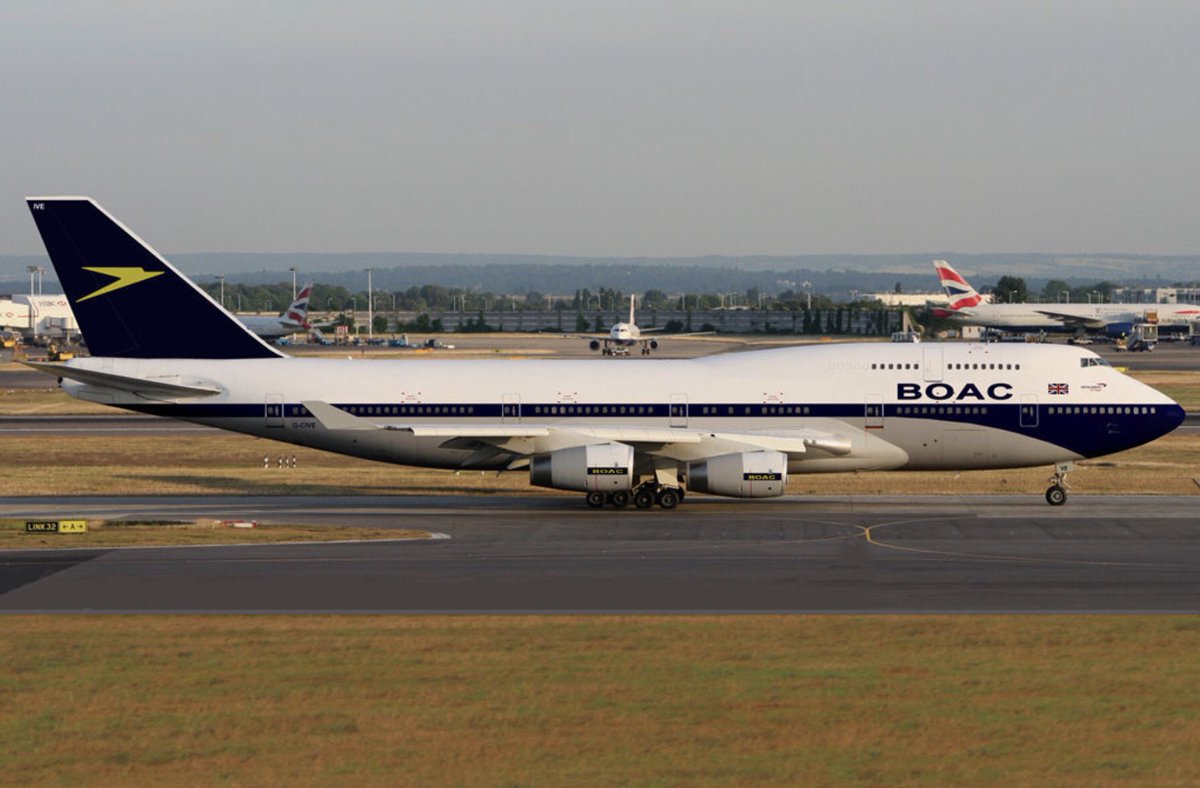 The 747 has been deliberately chosen for the BOAC livery, as it is a later variant of the same type of aircraft that adorned the design when it was initially in operation. The BOAC livery will remain on the Boeing 747 until it retires in 2023. At that time, British Airways will have withdrawn most of its 747 fleet, replacing it with a new state-of-the-art long-haul aircraft. This includes receiving 18 A350 and 12 Boeing 787 Dreamliners in the next four years, which have new cabins and are more efficient from the environmental point of view, as well as other 26 short-haul aircraft, all part of the airline's investment. 6.5 billion pounds for customers.
History of British Airways
A livery that can be used is that of BEA, which merged with BOAC to form British Airways in 1974. On August 25, 1919, the precursor company of British Airways, Aircraft Transport and Travel Limited (AT&T), launched the first international air service scheduled daily of the world between London and Paris. In 1924, the four main British airlines, which by then had evolved into Instone, Handley Page, Daimler Airways (an AT&T successor) and British Air Marine Navigation Company Limited, merged to form Imperial Airways Limited. By 1925, Imperial Airways was serving Paris, Brussels, Basel, Cologne and Zurich. Meanwhile, several smaller air transport companies in the United Kingdom started flights and, in 1935, merged to form the British private company British Airways Limited, which became the main British competitor of Imperial Airways on European routes.
Following a government review, Imperial Airways and British Airways were nationalized in 1939 to form the British Overseas Airways Corporation (BOAC). Continental European flights and domestic flights were carried by a new airline, British European Airways (BEA) since 1946. BOAC introduced services to New York in 1946, Japan in 1948, Chicago in 1954 and the west coast of the United States in 1957 BEA was developed. a home network to several points in the United Kingdom, including Belfast, Edinburgh, Glasgow and Manchester.
From 1946 to 1960, BOAC and BEA were the main British operators of regular international passenger and cargo services, and they retained Britain's pioneering role in the industry. The 1950s saw the world enter the age of the passenger plane, led by BOAC, with the Comet flying to Johannesburg in 1952, halving the previous flight time.
Other airlines began to become the property of BEA and, in 1967, the government recommended that a board of directors be responsible for BOAC and BEA, with the establishment of a second force airline, which led to the birth of the British Caledonian in 1970 .
Two years later, the BOAC and BEA businesses were combined under the newly formed British Airways Board, and the independent airlines joined as British Airways in 1974. In July 1979, the Government announced its intention to sell shares in British Airways and in February 1987 British Airways was privatized. A \ W
Ξ A I R G W A Y S Ξ
SOURCE: Airgways.com
DBk: Ba.com / Airlineratings.com / Scott Bateman / Wikimedia.org / Airgways.com
AW-POST: 201901221130AR
A\W   A I R G W A Y S ®