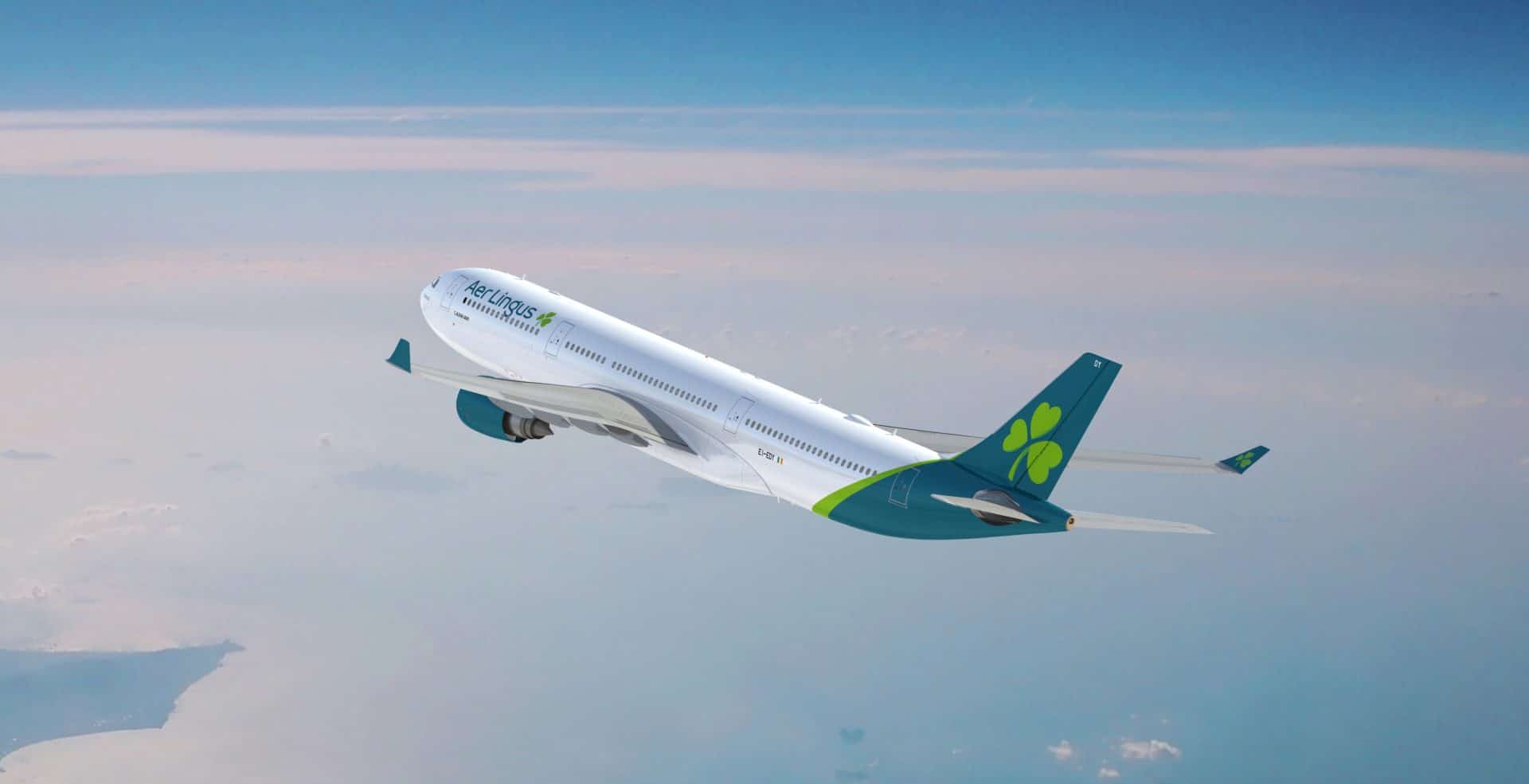 AW | 2019 01 26 13:29 | AIRLINES ALLIANCE
Aer Lingus solicita acordar participación ingresos del grupo
Aer Lingus se ha postulado formalmente para unirse a la empresa conjunta transatlántica International Airlines Group (IAG) y American Airlines en un movimiento que podría resultar en una serie de beneficios que incluyen tarifas más bajas desde y hacia América del Norte. Los operadores afirman que la adición de una aerolínea podría generar US$ 96 millones en beneficios anuales para el consumidor.
En una moción presentada ante el Departamento de Transporte de Estados Unidos (DOT) por Aer Lingus y miembros existentes de la sociedad a fines de Diciembre 2018, los operadores dijeron que el acuerdo de participación en los ingresos podría generar hasta US$ 96 millones (€ 84 millones) en beneficios anuales para el consumidor. La moción conjunta de Aer Lingus, American Airlines, British Airways, Iberia y Finnair indica una serie de posibles beneficios derivados de la aerolínea irlandesa que se unió a la empresa. Estos incluyen tarifas más bajas y más opciones de conectividad para los viajeros debido al aumento de código compartido. Los operadores dijeron que la empresa conjunta ampliada daría lugar a 72 nuevos destinos de código compartido únicos para Aer Lingus en América del Norte y 12 para American Airlines más allá de Dublín. Las aerolíneas también dijeron que la medida desbloquearía nuevas rutas para Aer Lingus en América del Norte y podría estimular la demanda de hasta 16.800 pasajeros adicionales por año y dar lugar a tarifas más bajas.
Los reguladores en el Reino Unido iniciaron una nueva investigación sobre la empresa conjunta a fines del año pasado debido a problemas de competencia. Sin embargo, en su solicitud presentada, los transportistas dijeron que la aerolínea Aer Lingus no conduciría a menos opciones para los consumidores. «El acuerdo de negocios conjuntos generará beneficios significativos para el consumidor que no se podrán alcanzar por otros medios y no redundarán en una disminución de la competencia», dijeron los operadores.
Acuerdo Aer Lingus-IAG-American
El acuerdo incluye la coordinación de precios, capacidad y programación, así como el reparto de ingresos en los servicios entre Europa y América del Norte. Se acordó inicialmente entre American Airlines, British Airways e Iberia, que comenzó en julio de 2010 como un acuerdo transatlántico de agrupación de ingresos con el objetivo de fortalecer la alianza Oneworld de los operadores, de la que Aer Lingus era anteriormente miembro. Finnair se unió a la empresa en 2013. De acuerdo con la moción presentada, la incorporación de Aer Lingus a la empresa conjunta no permitiría que la aerolínea volviera a unirse a la Alianza de Oneworld, que ahora se extiende a 13 aerolíneas y alrededor de 30 afiliadas. Los detalles de la solicitud de Aer Lingus para formar parte de la empresa conjunta fueron revelados por representantes de American Airlines en Dublín el viernes, ya que revelaron más detalles sobre su nuevo servicio de verano de Dublín a Dallas/Fort Worth.
La gerente de ventas de American Airlines para Irlanda, Catriona Toner, dijo que la incorporación de Aer Lingus a la empresa le brindaría al cliente más opciones, además de otros beneficios, como permitirles ganar puntos de fidelidad. La nueva ruta a Dallas / Fort-Worth se ejecutará desde principios de junio hasta finales de septiembre y se volará en un avión Boeing 787-9, que según la Sra. Toner, «es tan nuevo que sale directamente de la percha». Ella dijo que había habido una respuesta positiva del público sobre el nuevo servicio con fuertes reservas anticipadas. La Sra. Toner agregó que con una gran cantidad de tejanos que tienen ascendencia irlandesa, la aerolínea también espera que sea popular entre los viajeros en el Estado de Lone Star.
Dallas/Fort Worth es el centro de operaciones de American Airlines y es uno de los aeropuertos más transitados de los EEUU, con 900 salidas diarias a destinos en América del Norte, el Caribe, América Latina y Canadá. Además de la ruta de Dallas, American también vuela desde Dublín a Charlotte, Chicago O'Hare y Filadelfia. También opera un servicio de Shannon a Filadelfia.
Aer Lingus requests joint IAG/American participation
Aer Lingus requests to agree on group income
Aer Lingus has formally applied to join the transatlantic joint venture International Airlines Group (IAG) and American Airlines in a move that could result in a number of benefits including lower fares to and from North America. Operators say that the addition of an airline could generate US$ 96 million in annual benefits for the consumer.
In a motion filed with the United States Department of Transportation (DOT) by Aer Lingus and existing members of the company at the end of December 2018, operators said that the revenue sharing agreement could generate up to US$ 96 million (€ 84 million) in annual benefits for the consumer. The joint motion of Aer Lingus, American Airlines, British Airways, Iberia and Finnair indicates a series of possible benefits derived from the Irish airline that joined the company. These include lower fares and more connectivity options for travelers due to the increased code sharing. The operators said that the joint venture would result in 72 new codeshare destinations unique to Aer Lingus in North America and 12 to American Airlines beyond Dublin. The airlines also said the measure would unlock new routes for Aer Lingus in North America and could stimulate demand for up to 16,800 additional passengers per year and result in lower fares.
Regulators in the United Kingdom launched a new investigation into the joint venture at the end of last year due to competition concerns. However, in their submitted application, carriers said that the airline Aer Lingus would not lead to fewer options for consumers. «The joint business agreement will generate significant benefits for the consumer that can not be achieved by other means and will not result in a decrease in competition», the operators said.
Aer Lingus-IAG-American Agreement
The agreement includes the coordination of prices, capacity and programming, as well as the distribution of revenues in services between Europe and North America. It was initially agreed between American Airlines, British Airways and Iberia, which began in July 2010 as a transatlantic revenue grouping agreement with the aim of strengthening the Oneworld alliance of operators, of which Aer Lingus was previously a member. Finnair joined the company in 2013. According to the motion presented, the addition of Aer Lingus to the joint venture would not allow the airline to rejoin the Oneworld Alliance, which now extends to 13 airlines and around 30 Affiliates The details of Aer Lingus' request to join the joint venture were revealed by representatives of American Airlines in Dublin on Friday, as they revealed more details about their new summer service from Dublin to Dallas/Fort Worth.
American Airlines sales manager for Ireland, Catriona Toner, said that adding Aer Lingus to the company would give the customer more options, as well as other benefits, such as allowing them to earn loyalty points. The new route to Dallas/Fort Worth will run from the beginning of June until the end of September and will be flown on a Boeing 787-9 aircraft, which according to Ms. Toner, «is so new that it comes straight out of the hanger». She said there had been a positive response from the public about the new service with strong early reservations. Ms. Toner added that with a large number of Texans who have Irish ancestry, the airline also expects it to be popular with travelers in the Lone Star State.
Dallas / Fort Worth is the hub of American Airlines and is one of the busiest airports in the US, with 900 daily departures to destinations in North America, the Caribbean, Latin America and Canada. In addition to the Dallas route, American also flies from Dublin to Charlotte, Chicago O'Hare and Philadelphia. It also operates a service from Shannon to Philadelphia. A \ W
Ξ A I R G W A Y S Ξ
SOURCE: Airgways.com
DBk: Aerlingus.com / Irishtimes.com
AW-POST: 201901261329AR
A\W   A I R G W A Y S ®