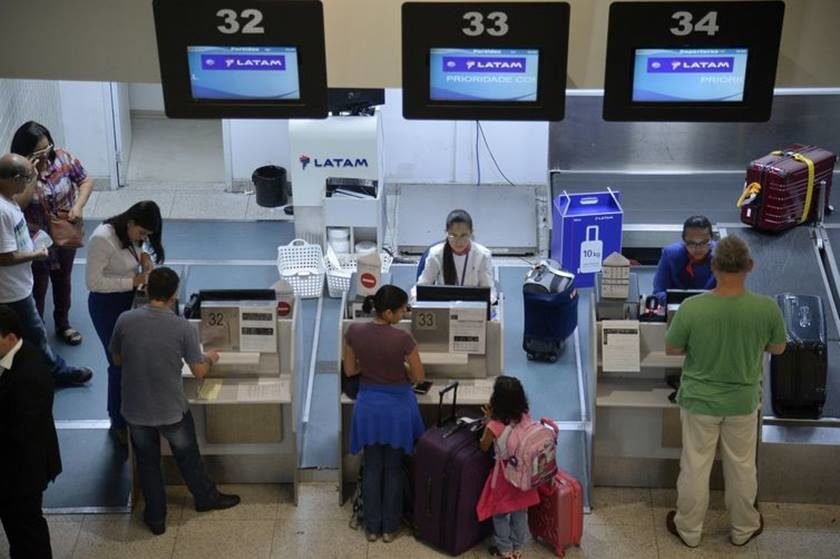 AW | 2019 05 14 14:30 | AIRLINES / AIRPORTS
Incrementan supervisión de equipaje de mano en Brasil
El Gobierno de Brasil ha estado implementando el control del equipaje de mano con las nuevas directrices para el transporte aéreo doméstico. Cinco aeropuertos tienen procedimientos de inspección más estrictas a partir del Lunes 13 Mayo 2019 en el equipaje de mano de los pasajeros en vuelos nacionales.
Los aeropuertos de Santa Genoveva (Goiânia); Salgado Filho (Porto Alegre); Congonhas (São Paulo); Galeão y Santos Dumont (Río de Janeiro) iniciaron controles rigurosos implementando un método innovador para facilitar la correcta administración del despacho de equipajes en cabina de pasajeros, empleando una caja para introducir el equipaje de mano para determinar el tamaño máximo y garantizar una mejor distribución el los bin de la cabina de las aeronaves. De esta forma, equipajes que no se encuadren en las dimensiones permitidas con las dimensiones 55 centímetros de altura x 35 centímetros de ancho y 25 centímetros de profundidad tendrán que ser despachadas en bodega. La Asociación Brasileña de las Aerolíneas (ABEAR) advierte que, dependiendo de la tarifa adquirida por los pasajeros, el despacho podrá ser cobrado.
Según la entidad, los valores de la tasa extra varían a partir de R$ 59. Para evitar que los pasajeros sean atrapados por sorpresa, ABEAR inició en Abril 2019 una campaña de orientación en conjunto con representantes de compañías aéreas. Los 15 aeropuertos con mayor movimiento de pasajeros en el país participan en la iniciativa. A cada uno se le dio un período de aproximadamente dos semanas para informar sobre las medidas a los pasajeros. Después del período de campaña, bolsas fuera de la norma tendrán que ser comprobado en el momento de la llegada.
El cargo por equipaje facturado se inició en 2017. En ese momento, las líneas aéreas y la Agencia Nacional de Aviación Civil (ANAC) de Brasil afirmaron que la medida daría lugar a la reducción del precio de los billetes de avión.
Preguntado sobre si las nuevas medidas ya estarían colaborando para la reducción del precio de los pasajes aéreos, Abear informó que la desregulación del transporte de equipaje facturado "es sólo uno de los muchos factores que influyen en los precios del transporte aéreo, y que el sector, como todo el país, lidia con la grave crisis económica y ve crecimiento económico prácticamente nulo en los últimos cuatro años, aunque tenga que absorber una disparada de costos". De acuerdo con la entidad que representa a las compañías aéreas, las nuevas reglas posibilitar a las compañías un nuevo tipo de tarifa económica, sólo con equipaje de mano, preferido hoy por el 65% de los clientes. ABEAR añade que, en los últimos dos años, "eso ayudó a traer de vuelta a los aviones más de 7 millones de pasajeros en vuelos domésticos e internacionales que habían dejado de viajar durante el período reciente de crisis económica".
Fiscalización de equipajes
Las nuevas normativas de inspecciones más estrictas en los equipajes de mano comenzó a ser realizado a partir de Abril 2019 en 25 aeropuertos en todo el país. Entre ellos, los Aeropuerto Afonso Pena (Curitiba), Viracopos (Campinas), Aluízio Alves Aeropuerto (Natal). En Brasilia, la selección en el aeropuerto Juscelino Kubitschek comenzó el 26 Abril 2019. Desde el 2 Mayo, pasó a ser implementada en los aeropuertos de Confins (Belo Horizonte); Pinto Martins (Fortaleza); Guararapes (Recife); y Val-de-Cans (Belén).
Según Abear, las nuevas normativas serán implementadas a partir del 23 Mayo en Aeropuerto Luís Eduardo Magalhães (Salvador) y Aeropuerto internacional de São Paulo (Guarulhos). Otros 90 aeropuertos de todo el país tendrán plantillas con las medidas estándar de las compañías aéreas en sus respectivas ramas de registro de entrada.
Reinforce hand baggage control in Brazil
Increase supervision of hand luggage in Brazil
The Government of Brazil has been implementing the control of carry-on luggage with the new guidelines for domestic air transport. Five airports have stricter inspection procedures as of Monday, May 13, 2019 in the carry-on baggage of passengers on domestic flights.
The airports of Santa Genoveva (Goiânia); Salgado Filho (Porto Alegre); Congonhas (São Paulo); Galeão and Santos Dumont (Rio de Janeiro) initiated rigorous controls by implementing an innovative method to facilitate the correct administration of baggage handling in the passenger cabin, using a box to introduce carry-on luggage to determine the maximum size and ensure a better distribution of luggage. the bin of the cabin of the aircraft. In this way, luggage that does not fit into the permitted dimensions with the dimensions 55 centimeters in height x 35 centimeters in width and 25 centimeters in depth will have to be dispatched in the warehouse. The Brazilian Association of Airlines (ABEAR) warns that, depending on the fare purchased by passengers, the dispatch may be charged.
According to the entity, the values ​​of the extra rate vary from R$ 59. To avoid that passengers are caught by surprise, ABEAR began in April 2019 a campaign of guidance in conjunction with representatives of airlines. The 15 airports with the largest passenger movement in the country participate in the initiative. Each was given a period of approximately two weeks to report the measures to the passengers. After the campaign period, bags out of the norm will have to be checked at the time of arrival.
The charge for checked baggage started in 2017. At that time, the airlines and the National Civil Aviation Agency (ANAC) of Brazil stated that the measure would lead to a reduction in the price of air tickets.
Asked if the new measures would already be collaborating to reduce the price of air tickets, Abear reported that the deregulation of checked baggage transport "is just one of the many factors that influence the prices of air travel, and that the sector, like the whole country, deals with the serious economic crisis and sees practically zero economic growth in the last four years, although it has to absorb a surge in costs". According to the entity that represents airlines, the new rules allow companies a new type of economic fare, only with hand luggage, preferred today by 65% ​​of customers. ABEAR adds that, in the last two years, "that helped bring back more than 7 million passengers on domestic and international flights that had stopped traveling during the recent period of economic crisis".
Checking of luggage
The new regulations for stricter inspections of hand luggage began to be made as of April 2019 at 25 airports throughout the country. Among them, Afonso Pena Airport (Curitiba), Viracopos (Campinas), Aluízio Alves Airport (Natal). In Brasilia, the selection at the Juscelino Kubitschek airport began on April 26, 2019. From May 2, it was implemented at the Confins (Belo Horizonte) airports; Pinto Martins (Fortaleza); Guararapes (Recife); and Val-de-Cans (Bethlehem).
According to Abear, the new regulations will be implemented from 23 May at Luís Eduardo Magalhães Airport (Salvador) and São Paulo International Airport (Guarulhos). Another 90 airports throughout the country will have templates with the standard measures of the airlines in their respective branches of registration. A \ W
Reforçar o controle de bagagem de mão no Brasil
Aumentar a supervisão de bagagem de mão no Brasil
O Governo do Brasil vem implementando o controle da bagagem de mão com as novas diretrizes para o transporte aéreo doméstico. Cinco aeroportos têm procedimentos de inspeção mais rigorosos a partir de segunda-feira, 13 de maio de 2019, na bagagem de mão de passageiros em voos domésticos.
Os aeroportos de Santa Genoveva (Goiânia); Salgado Filho (Porto Alegre); Congonhas (São Paulo); Galeão e Santos Dumont (Rio de Janeiro) começou a controlos rigorosos implementado um método inovador para facilitar a administração adequada de manuseio de bagagem na cabine de passageiros, utilizando uma caixa para introduzir a bagagem para determinar o tamanho máximo e assegurar uma melhor distribuição do o bin da cabine da aeronave. Desta forma, a bagagem que não se encaixa nas dimensões permitidas com as dimensões de 55 centímetros de altura x 35 centímetros de largura e 25 centímetros de profundidade terá que ser despachada no depósito. A Associação Brasileira das Empresas Aéreas (ABEAR) alerta que, dependendo da tarifa comprada pelos passageiros, o despacho poderá ser cobrado.
TAMANHO DA BAGAGEM DE MÃO IMPLEMENTADA NO BRASIL PARA VÔOS DOMÉSTICOS
Segundo a entidade, os valores da taxa extra variam de R$ 59. Para evitar que os passageiros sejam pegos de surpresa, a ABEAR iniciou em abril de 2019 uma campanha de orientação em conjunto com representantes das companhias aéreas. Os 15 aeroportos com o maior movimento de passageiros do país participam da iniciativa. Cada um recebeu um período de aproximadamente duas semanas para relatar as medidas aos passageiros. Após o período de campanha, sacolas fora da norma terão que ser verificadas no momento da chegada.
A carga para bagagem despachada começou em 2017. Naquela época, as companhias aéreas e a Agência Nacional de Aviação Civil (ANAC) do Brasil declararam que a medida levaria a uma redução no preço dos bilhetes aéreos.
Perguntado se as novas medidas já estariam colaborando para reduzir o preço dos bilhetes aéreos, Abear informou que a desregulamentação do transporte de bagagem despachada "é apenas um dos muitos fatores que influenciam os preços das viagens aéreas, e que o setor, como todo o país, lida com a grave crise econômica e vê um crescimento econômico praticamente nulo nos últimos quatro anos, embora tenha que absorver um aumento nos custos". Segundo a entidade que representa as companhias aéreas, as novas regras permitem às empresas um novo tipo de tarifa econômica, apenas com bagagem de mão, hoje preferido por 65% dos clientes. A ABEAR acrescenta que, nos últimos dois anos, "isso ajudou a trazer de volta mais de 7 milhões de passageiros em vôos domésticos e internacionais que pararam de viajar durante o recente período de crise econômica".
Verificação de bagagem
Os novos regulamentos para inspeções mais rigorosas de bagagem de mão começaram a ser feitos em abril de 2019 em 25 aeroportos em todo o país. Entre eles, o Aeroporto Afonso Pena (Curitiba), Viracopos (Campinas), o Aeroporto Aluízio Alves (Natal). Em Brasília, a seleção no aeroporto Juscelino Kubitschek teve início em 26 de abril de 2019. A partir de 2 de maio, foi implementada nos aeroportos de Confins (Belo Horizonte); Pinto Martins (Fortaleza); Guararapes (Recife); e Val-de-Cans (Belém).
Segundo Abear, a nova regulamentação será implementada a partir de 23 de maio no Aeroporto Luís Eduardo Magalhães (Salvador) e no Aeroporto Internacional de São Paulo (Guarulhos). Outros 90 aeroportos em todo o país terão modelos com as medidas padrão das companhias aéreas em seus respectivos ramos de registro. A \ W
Ξ A I R G W A Y S Ξ
SOURCE: Airgways.com
DBk: Abear.gov.br / Agenciabrasil.ebc.com.br / Tribunaribeirao.com.br / Leonardo Cassol / Metropoles.com
AW-POST: 201905011417141430Y S ®