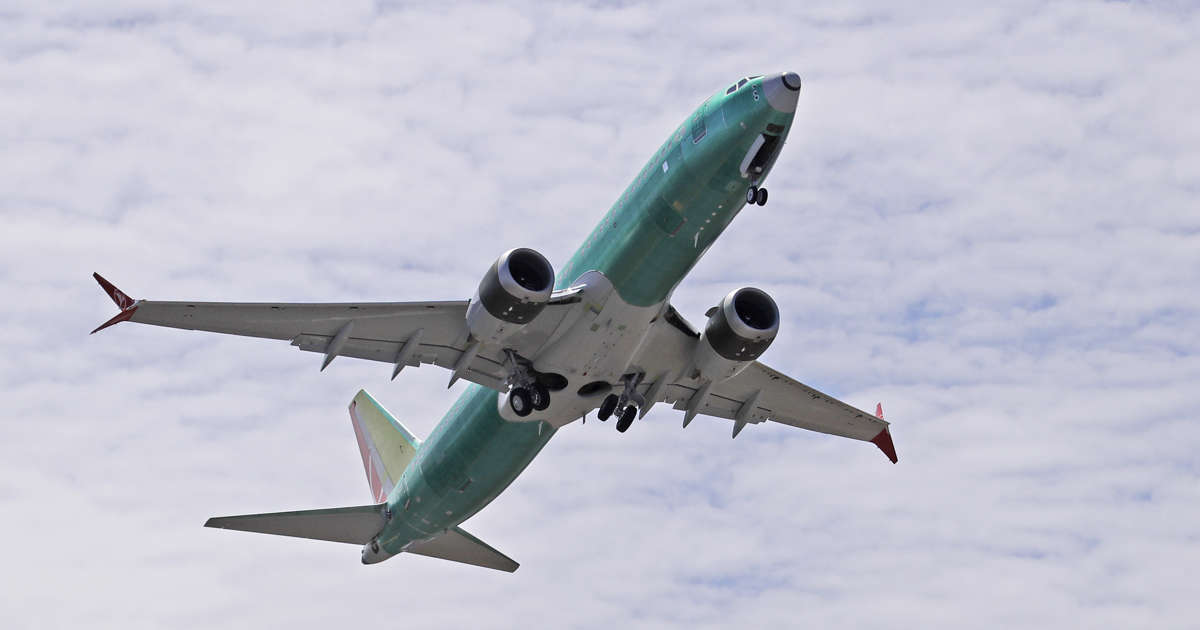 AW | 2019 05 30 14:53 | AIR INVESTIGATION / AVIATION SAFETY
Los reguladores globales se acercan a un acuerdo en torno al Boeing 737 MAX
Los reguladores de aviación de Estados Unidos y del mundo junto a Boeing se reunirán en las próximas semanas para establecer el cronograma para el regreso al servicio. El jefe de la Administración Federal de Aviación (FAA) se siente confiado con relación a que el Boeing 737 MAX vuelva muy pronto a los cielos.
Las inquietudes sobre posibles errores en la certificación de seguridad del Boeing 737 MAX ha provocado preocupaciones de fracturas en la unida comunidad de los reguladores de la aviación internacional y una pérdida de liderazgo por parte de la Administración Federal de Aviación de los Estados Unidos. De acuerdo al administrador interino, Daniel Elwell, los representantes de 33 organismos reguladores de seguridad en aviación de todo el mundo avanzaron hacia el consenso este Jueves 30 Mayo 2019 en Fort Worth, Texas. Una reunión que duró todo el día convocada por la FAA para discutir qué se necesita hacer para que el 737 MAX vuelva a funcionar después de dos choques mortales fue extremadamente positiva, sumamente constructiva y productiva, dijo Elwell en una conferencia de prensa.
Acuerdo de organismos globales
Si bien, el consenso entre los reguladores ayudaría a apuntalar la confianza pública en el avión, Elwell indicó que la FAA avanzaría a su propio ritmo, y no está claro cuántos otros países se moverán en conjunto cuando la agencia permita que el avión salga a volar otra vez en los Estados Unidos. Elwell se negó a confirmar un reporte de Reuters en el que los funcionarios de la FAA informaron a los miembros de la Organización de Aviación Civil Internacional en la reunión en Montreal, el jueves, que el regulador estadounidense podría otorgar esa aprobación a fines de junio. "Lo último que quiero hacer es poner una fecha", dijo Elwell.
Un factor determinante de cuánto tiempo tomará devolver el 737 MAX al servicio, es si los reguladores deciden exigir que los pilotos se entrenen en un simulador de vuelo para una versión revisada del sistema de control que se ha implicado en los dos accidentes aéreos, el Sistema de Aumento de las Características de Maniobras (MCAS). Cuando la nueva versión del avión más vendido de Boeing entró en servicio en 2017, los pilotos de Estados Unidos homologaron de la anterior versión del 737 solo recibieron una o dos horas de entrenamiento sobre las diferencias en un iPad. La FAA no incluyó las MCAS en su evaluación de los cambios que requieren capacitación.
EL BOEING 737 MAX EN LA MIRA DE LOS ORGANISMOS DE SEGURIDAD MUNDIAL
La capacitación en simuladores es costosa y requiere mucho tiempo para las aerolíneas, lo que obliga sacar a los pilotos del servicio y enviarlos a los centros de simuladores. Además, pocas aerolíneas han recibido simuladores de 737 MAX, incluso el mayor operador del avión del mundo, Southwest Airlines, no tendrá uno en servicio hasta Octubre 2019, dijo su sindicato de pilotos en Marzo 2019. Si bien se cree que varios reguladores están considerando requerir un tiempo de simulación, Elwell dijo que ninguno de los asistentes a la reunión había insistido en ello. "Ningún país se puso de pie y dijo que necesitamos tener entrenamiento con simuladores", dijo.
Un panel asesor de la FAA emitió un informe preliminar en Abril 2019 que indicaba que la instrucción en computadora y en el aula solo con MCAS sería suficiente, pero Elwell fue prudente con el tema y dijo que la FAA no había tomado una decisión final.
Panorama mundial
Los reguladores de la Unión Europea, Canadá y China han dicho que realizarán evaluaciones independientes de la seguridad del 737 MAX antes de permitir que vuelva a funcionar. Ali Bahraimi, Administrador asociado de la FAA para la seguridad de la aviación, dijo que otros organismos reguladores han solicitado a esta Administración Federal la validación de las suposiciones en los procedimientos de seguridad para el avión.
También dijo que la agencia ha estado respondiendo preguntas sobre qué se requerirá para que los aviones estén listos para volar nuevamente después de meses en tierra. Bahraimi dijo que podría tomar «entre dos, tres días y una semana» por cada avión, dependiendo de cuánto se haya omitido el mantenimiento programado.
La Agencia de Seguridad Aérea de la Unión Europea ha dicho a Boeing y a la FAA que aprobará independientemente cualquier cambio de diseño por parte de Boeing, también realizará una revisión de diseño independiente adicional y confirmará que las tripulaciones de vuelo a bordo "han sido entrenadas adecuadamente", según el Financial Times.
Boeing dijo la semana pasada que había completado el trabajo para actualizar las MCAS, pero que necesitaba abordar las solicitudes de la FAA para obtener mayor información antes de poder programar un vuelo de prueba final y presentar la documentación para la certificación.
Compensación a aerolíneas
Después de dos choques mortales en el avión de mayor venta, Muilenburg reconoció que la crisis del Boeing 737 MAX había sacudido la confianza pública en la compañía y había incomodado a los clientes clave, pero es poco probable que la compañía reciba un gran golpe financiero.
Boeing adaptará su compensación a las aerolíneas para el 737 MAX basado en la preferencia de los clientes, y podrían ser reembolsados ​​en servicios en lugar de efectivo, dijo el miércoles el presidente ejecutivo, Dennis Muilenburg. Después de dos accidentes mortales en el avión de mayor venta, Muilenburg reconoció que la crisis de MAX había sacudido la confianza pública en la compañía y había incomodado a los clientes clave, pero es poco probable que la compañía reciba un gran golpe financiero. "Sabemos que hemos impactado los horarios de verano para muchos de ellos, y es difícil, es doloroso. No veo esto como un evento material adicional para nosotros, pero es algo que va a requerir atención individual de cliente a cliente", dijo en una conferencia de inversionistas en Nueva York. La compensación podría incluir ajustar los horarios de entrega del avión, u ofrecer capacitación o servicios adicionales, así como efectivo en algunos casos, dijo.
Perspectiva 737 MAX
Devolver al Boeing 737 MAX al servicio comercial es el enfoque principal de la compañía, dice el CEO de Boeing, Dennis Muilenburg, en la Conferencia de Decisiones Estratégicas de Bernstein.
El fabricante norteamericano está haciendo un progreso claro y constante en el 737 MAX y está en proceso de solicitar la certificación final del software. Para garantizar que la cadena de suministro sea estable antes de aumentar la salida, Boeing está implementando equipos de servicio de campo en cada 737 MAX almacenado. Boeing planea aumentar la línea de producción llevando a 57 unidades por mes y no considera que la capacidad de almacenamiento sea un problema.
Piloto avisó problemas del 737 MAX
Un piloto de la compañía Ethiopian Airlines ya advirtió de que se necesitaría más formación para manejar el modelo Boeing 737 MAX, con el que la compañía tuvo un fatal accidente en el que fallecieron 157 personas.
Un piloto llamado Bernd Kai Von Hoesslin estaba preocupado por la forma en que los pilotos resolverían un problema con la función de control de vuelo en combinación con las advertencias de la cabina. El piloto también se mostró inquieto por el mantenimiento de las aeronaves e hizo referencia al sensor del sistema de seguridad automatizado denominado MCAS.
Bernd Kai Von Hoesslin, piloto de Ethiopian Airlines e instructor del 737 MAX, advirtió en Diciembre 2018 a los gerentes de que era necesario un mayor entrenamiento, sobre todo, tras el accidente el 29 Octubre 2018 del Boeing 737-8 MAX de Lion Air. Por desgracia, tres meses después de las recomendaciones del piloto se dio el peor de los casos y el vuelo ET-302 de Ethiopian Airlines que operaba con el polémico modelo 737 MAX también se estrelló.
Von Hoesslin estaba preocupado por la forma en que los pilotos resolverían un problema con la función de control de vuelo en combinación con las advertencias de la cabina. "Seguro que terminará en un accidente", comentó von Hoesslin en uno de los correos electrónicos. El piloto también se mostró inquieto por el mantenimiento de las aeronaves e hizo referencia al sensor del sistema de seguridad automatizado, una característica que ha sido examinada por los investigadores. No obstante, no se sabe si el accidente de Ethiopian Airlines se hubiera podido prevenir si la compañía hubiese prestado atención a las advertencias del piloto. Bernd Kai von Hoesslin dejó la aerolínea en Abril 2019 e incluyó sus consejos anteriores en su carta de renuncia.
Inspections continue on Boeing 737 MAX
Global regulators are approaching an agreement on the Boeing 737 MAX
Aviation regulators from the United States and the world, together with Boeing, will meet in the coming weeks to establish the schedule for the return to service. The head of the Federal Aviation Administration (FAA) is confident that the Boeing 737 MAX will soon return to the skies.
Concerns about possible errors in the security certification of the Boeing 737 MAX have caused concerns of fractures in the united community of international aviation regulators and a loss of leadership by the Federal Aviation Administration of the United States. According to the interim administrator, Daniel Elwell, the representatives of 33 aviation security regulatory bodies from all over the world advanced toward consensus this Thursday, May 30, 2019 in Fort Worth, Texas. A day-long meeting convened by the FAA to discuss what needs to be done to make the 737 MAX work again after two fatal crashes was extremely positive, highly constructive and productive, Elwell told a news conference.
Agreement of global organizations
While consensus among regulators would help shore up public confidence in the plane, Elwell said the FAA would advance at its own pace, and it is not clear how many other countries will move together when the agency allows the plane to fly. again in the United States. Elwell declined to confirm a Reuters report in which FAA officials informed members of the International Civil Aviation Organization at the meeting in Montreal on Thursday that the US regulator could grant such approval by the end of June. "The last thing I want to do is put a date", Elwell said.
A determining factor in how long it will take to return the 737 MAX to the service is if the regulators decide to require pilots to train in a flight simulator for a revised version of the control system that has been implicated in the two plane crashes. of Increase of Maneuvering Characteristics (MCAS). When the new version of Boeing's best-selling aircraft entered service in 2017, US pilots approved of the previous version of the 737 only received one or two hours of training on the differences on an iPad. The FAA did not include the MCAS in its evaluation of the changes that require training.
SENSORS OF THE ATTACK OF ANGLE (AOA) OF THE BOEING 737 MAX
Training in simulators is expensive and requires a lot of time for the airlines, which means taking the pilots out of the service and sending them to the simulator centers. In addition, few airlines have received simulators of 737 MAX, even the largest operator of the plane in the world, Southwest Airlines, will not have one in service until October 2019, said its pilot union in March 2019. While it is believed that several regulators are considering requiring a simulation time, Elwell said that none of the attendees at the meeting had insisted on it. "No country stood up and said we need to have training with simulators", he said.
An FAA advisory panel issued a preliminary report in April 2019 indicating that computer and classroom instruction with MCAS alone would be sufficient, but Elwell was cautious about the issue and said the FAA had not made a final decision.
Global panorama
Regulators from the European Union, Canada and China have said they will carry out independent evaluations of the safety of the 737 MAX before allowing it to work again. Ali Bahraimi, Associate Administrator of the FAA for aviation security, said that other regulatory agencies have requested this Federal Administration to validate the assumptions in security procedures for the aircraft.
He also said the agency has been answering questions about what will be required to make the planes ready to fly again after months on shore. Bahraimi said he could take "between two, three days and a week" for each plane, depending on how much scheduled maintenance has been omitted.
The European Union Air Safety Agency has told Boeing and the FAA that it will independently approve any design change by Boeing, will also carry out an additional independent design review and will confirm that the flight crew on board "have been adequately trained", According to the Financial Times.
Boeing said last week that it had completed work to update MCAS, but that it needed to address FAA requests for more information before it could schedule a final test flight and submit documentation for certification.
Compensation to airlines
After two fatal crashes on the best-selling plane, Muilenburg acknowledged that the Boeing 737 MAX crisis had shaken public confidence in the company and had bothered key customers, but it is unlikely that the company will receive a major financial blow.
Boeing will adapt its compensation to airlines for the 737 MAX based on customer preference, and could be reimbursed for services instead of cash, Chief Executive Dennis Muilenburg said on Wednesday. After two fatal crashes on the best-selling airplane, Muilenburg acknowledged that MAX's crisis had shaken public confidence in the company and had bothered key customers, but it is unlikely that the company will receive a major financial blow. "We know that we have impacted the summer schedules for many of them, and it is difficult, it is painful, I do not see this as an additional material event for us, but it is something that will require individual attention from client to client", he said in an interview. investor conference in New York. Compensation could include adjusting aircraft delivery schedules, or offering additional training or services, as well as cash in some cases, he said.
Perspective 737 MAX
Returning the Boeing 737 MAX to commercial service is the company's primary focus, says Boeing CEO Dennis Muilenburg at the Bernstein Strategic Decisions Conference.
The American manufacturer is making clear and constant progress in the 737 MAX and is in the process of requesting the final software certification. To ensure that the supply chain is stable before increasing output, Boeing is deploying field service equipment in every 737 MAX stored. Boeing plans to increase the production line to 57 units per month and does not consider storage capacity a problem.
Pilot warned problems of the 737 MAX
A pilot of the company Ethiopian Airlines already warned that more training would be needed to operate the Boeing 737 Max model, with which the company had a fatal accident in which 157 people died.
A pilot named Bernd Kai Von Hoesslin was concerned about how the pilots would solve a problem with the flight control function in combination with the cabin warnings. The pilot was also uneasy about the maintenance of the aircraft and referred to the automated security system sensor called MCAS.
Bernd Kai Von Hoesslin, Ethiopian Airlines pilot and instructor of the 737 MAX, warned managers in December 2018 that more training was necessary, especially after the accident on 29 October 2018 of the Lion Air Boeing 737-8 MAX. Unfortunately, three months after the pilot's recommendations, the worst case occurred and Ethiopian Airlines flight ET-302, which operated with the controversial model 737 MAX, also crashed.
Von Hoesslin was concerned about how the pilots would solve a problem with the flight control function in combination with the cabin warnings. "Surely it will end in an accident", said von Hoesslin in one of the emails. The pilot was also uneasy about the maintenance of the aircraft and referred to the sensor of the automated safety system, a feature that has been examined by researchers. However, it is not known if the Ethiopian Airlines accident could have been prevented if the company had paid attention to the pilot's warnings. Bernd Kai von Hoesslin left the airline in April 2019 and included his previous advice in his letter of resignation. A \ W
Ξ A I R G W A Y S Ξ
SOURCE: Airgways.com
DBk: Faa.gov / Boeing.com / Forbes.com / Ft.com / Airgways.com / Seattletimes.com / Businessinsider.com
AW-POST: 201905301453AR
A\W   A I R G W A Y S ®