AW | 2019 07 07 14:20 | AIRLINES
Comisión Europea aprueba adquisición de Flybe por parte de Connect Airways
La Comisión Europea (CE) le ha dado el visto bueno a la compra de FlyBe por parte de Connect Airways, un consorcio compuesto por Virgin Atlantic Airways, Stobart Group y Cyrus Capital.
Connect Airways ha recibido la aprobación de la Comisión Europea (CE) para adquirir la aerolínea regional del Reino Unido Flybe e Irish Stobart Air. Esto significa que la British Limited Company ahora puede continuar con sus planes de adquisición de Flybe, que se informaron por primera vez en enero de este año. La compra significa que la marca Flybe desaparecerá de todos los aviones que pasarán a ser con la nueva imagen de Virgin, aunque competirán en el segmento regional.
Connect Airways es un consorcio, en el que a menudo se cita que Virgin Atlantic posee el 30%, Stobart Air el 30% y la administradora de fondos de cobertura Cyrus Capital Partners el 40%, a través de su filial luxemburguesa DLP Holdings. El ex-Vicepresidente de Virgin Atlantic Airways, Mark Anderson, se está convirtiendo en CEO de Connect Airways.
Las aerolíneas declararon que este acuerdo, en el que Connect Airways paga solo 2.8 millones de libras esterlinas en efectivo total a los accionistas de Flybe, asegura el futuro a largo plazo de la aerolínea regional. Flybe, junto con la compañía hermana Stobart Air, pronto se integrará a la marca Virgin. Sin embargo, aún no se han anunciado los detalles de este cambio de marca. Ambas aerolíneas mantendrán sus Certificados de Operador Aéreo individuales.
El CEO de Virgin Atlantic, Shai Weiss, comentó que su aerolínea, que en la actualidad solo ofrece vuelos de larga distancia, se beneficiará de la red regional existente que proporcionan Connect Airways y Flybe.
La aprobación por parte de la Comisión Europa otorga a la operación de los derechos de slots de FlyBe que operaba en el Aeropuerto Heathrow, pasarán a Virgin, porque es mucho más rentable operar un avión grande, para un destino transoceánico que hacerlo para un vuelo local. La decisión de la CE ha venido con algunas observaciones, dado que la compra supondría que se produciría casi una situación de monopolio entre las rutas Birmingham-Amsterdam y entre Birmingham-París, por lo que la aerolínea tendría que ceder cinco slots en Amsterdam y tres en París.
Flybe, con sede en Exeter, es la aerolínea regional más grande de Europa y opera una flota de más de 70 aviones, incluidos De Havilland Canada Dash 8-Q400 y Embraer E-Jets en rutas comerciales y de ocio de corto recorrido en todo el continente. En noviembre del año pasado, la aerolínea confirmó que está enfrentando problemas de ganancias y estaba buscando a un posible comprador luego de un aumento en los gastos de combustible, una desaceleración de la demanda y una difícil situación económica causada por el Brexit. Una semana más tarde, se informó que Virgin Atlantic, una empresa británica de larga distancia, está interesada en adquirir Flybe. Ambas aerolíneas ya se estaban asociando al tener acuerdos de código compartido para vuelos seleccionados.
Connect Airways acquires Flybe
European Commission approves acquisition of Flybe by Connect Airways
The European Commission (EC) has given its approval to the purchase of FlyBe by Connect Airways, a consortium consisting of Virgin Atlantic Airways, Stobart Group and Cyrus Capital.
Connect Airways has received approval from the European Commission (EC) to acquire the UK regional airline Flybe and Irish Stobart Air. This means that the British Limited Company can now continue with its acquisition plans for Flybe, which were first reported in January of this year. The purchase means that the Flybe brand will disappear from all the planes that will become the new image of Virgin, although they will compete in the regional segment.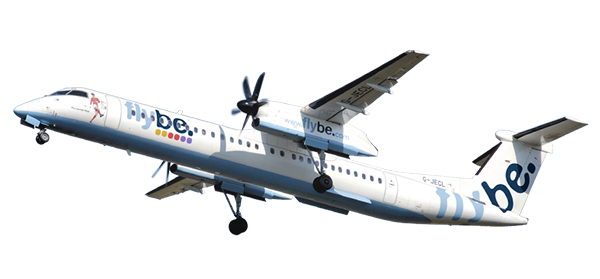 Connect Airways is a consortium, in which it is often cited that Virgin Atlantic owns 30%, Stobart Air 30% and hedge fund manager Cyrus Capital Partners 40%, through its Luxembourg subsidiary DLP Holdings. Former Virgin Atlantic Airways Vice President Mark Anderson is becoming CEO of Connect Airways.
The airlines said that this agreement, in which Connect Airways pays only 2.8 million pounds sterling in full cash to the shareholders of Flybe, ensures the long-term future of the regional airline. Flybe, together with the sister company Stobart Air, will soon join the Virgin brand. However, the details of this brand change have not yet been announced. Both airlines will maintain their individual Air Operator Certificates.
Virgin Atlantic CEO Shai Weiss said his airline, which currently only offers long-haul flights, will benefit from the existing regional network provided by Connect Airways and Flybe.
The approval by the European Commission grants to the operation of the rights of slots of FlyBe that operated in the Airport Heathrow, will pass to Virgin, because it is much more profitable to operate a large plane, for a transoceanic destination than to do it for a local flight . The decision of the EC has come with some observations, given that the purchase would mean that there would be almost a monopoly situation between the routes Birmingham-Amsterdam and Birmingham-Paris, so the airline would have to give five slots in Amsterdam and three in Paris.
Flybe, based in Exeter, is the largest regional airline in Europe and operates a fleet of more than 70 aircraft, including De Havilland Canada Dash 8-Q400 and Embraer E-Jets on short-haul commercial and leisure routes throughout the world. continent. In November of last year, the airline confirmed that it is facing profit problems and was looking for a possible buyer after an increase in fuel costs, a slowdown in demand and a difficult economic situation caused by the Brexit. A week later, it was reported that Virgin Atlantic, a British long distance company, is interested in acquiring Flybe. Both airlines were already partnering to have codeshare agreements for selected flights. A \ W
Ξ A I R G W A Y S Ξ
SOURCE: Airgways.com
DBk: Ec.europa.eu / Connect-airways.com
AW-POST: 201907071420AR
A\W   A I R G W A Y S ®