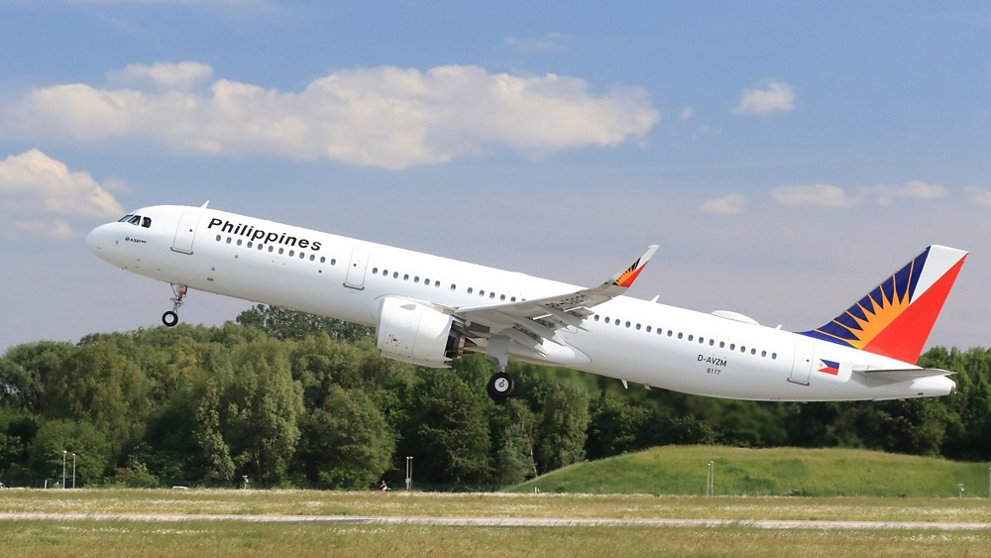 AW | 2019 07 08 10:30 | AIRLINES / INDUSTRY
Primer Airbus A321NEO para Philippine Airlines
Philippine Airlines (PAL) ha tomado entrega de su primer Airbus A321NEO en la sede de Airbus Hamburgo, Alemania. Este es el primero de los 21 aviones A321NEO solicitado por la aerolínea en virtud de su programa de renovación de flota. El nuevo avión, impulsado por los motores Pratt y Whitney Pure Power, cuenta con un diseño premium de dos clases, con 12 asientos en Business Class y 156 asientos en Economy Class.
La aerolínea Philippine Airlines empleará la aeronave para reforzar sus rutas regionales en Asia. Seleccionada por su extraordinaria eficiencia operativa, comodidad y alcance, desplegará el avión A321NEO en toda la región de Asia y el Pacífico, incluidas Australia e India.
El A321NEO se une a una flota de Airbus existente en Philippine Airlines que actualmente incluye 25 aviones de la Familia A320CEO, 15 aviones A330 y cinco A340. El transportista también recibirá la entrega del primero de los seis aviones A350-900 de ancho a fin de este año.
La familia A320NEO incorpora las últimas tecnologías, incluidos los motores de nueva generación y Sharklets, que en conjunto ofrecen al menos un 15 por ciento de ahorro de combustible en la entrega y un 20 por ciento para 2020. Con más de 6,000 pedidos recibidos de 100 clientes, la familia A320NEO ha captado casi el 60 por ciento. cuota de mercado.
El primer aparato ha sido tomado en leasing por Goshawk Aviation Limited, quees una compañía de arrendamiento y financiamiento de aeronaves con sede en Dublín, Irlanda, establecida en 2013. La compañía es una empresa conjunta 50/50 entre Chow Tai Fook Enterprises Limited y NWS Holdings Limited. La flota propia, comprometida y administrada de Goshawk consta de 226 aviones, arrendados a 63 aerolíneas en 33 países, lo que eleva el valor total de la flota a US$ 11,6 mil millones.
Peter Watson, Director Comercial de Goshawk, comentó: "Estamos encantados de mejorar aún más nuestra relación existente con PAL con la adición de estos aviones A321neo. Estamos convencidos de que PAL está muy bien situado para aprovechar el enorme aumento de la demanda de pasajeros en la región y esperamos continuar apoyando el crecimiento de las aerolíneas en los próximos años".
Philippine receives 1st A321NEO
First Airbus A321NEO for Philippine Airlines
Philippine Airlines (PAL) has taken delivery of its first Airbus A321NEO at the headquarters of Airbus Hamburg, Germany. This is the first of the 21 A321NEO aircraft requested by the airline under its fleet renewal program. The new aircraft, powered by the Pratt and Whitney Pure Power engines, has a premium design of two classes, with 12 seats in Business Class and 156 seats in Economy Class.
The airline Philippine Airlines will use the aircraft to strengthen its regional routes in Asia. Selected for its extraordinary operational efficiency, comfort and scope, it will deploy the A321NEO aircraft throughout the Asia-Pacific region, including Australia and India.
The A321NEO joins an existing Airbus fleet on Philippine Airlines that currently includes 25 A320CEO Family aircraft, 15 A330 aircraft and five A340 aircraft. The carrier will also receive delivery of the first of the six A350-900 wide aircraft by the end of this year.
The A320NEO family incorporates the latest technologies, including new generation engines and Sharklets, which together offer at least 15 percent fuel savings in delivery and 20 percent by 2020. With over 6,000 orders received from 100 customers, the A320NEO family has captured almost 60 percent. market share.
The first device has been leased by Goshawk Aviation Limited, which is an aircraft leasing and financing company headquartered in Dublin, Ireland, established in 2013. The company is a 50/50 joint venture between Chow Tai Fook Enterprises Limited and NWS Holdings Limited. Goshawk's own, committed and managed fleet consists of 226 aircraft, leased to 63 airlines in 33 countries, which brings the total value of the fleet to US $ 11.6 billion.
Peter Watson, Commercial Director of Goshawk, commented: "We are delighted to further enhance our existing relationship with PAL with the addition of these A321neo aircraft. We are convinced that PAL is well placed to take advantage of the huge increase in passenger demand in the region and we hope to continue supporting the growth of the airlines in the coming years". A \ W
Ξ A I R G W A Y S Ξ
SOURCE: Airgways.com
DBk: Airbus.com / Airgways.com
AW-POST: 201907081030AR
A\W   A I R G W A Y S ®