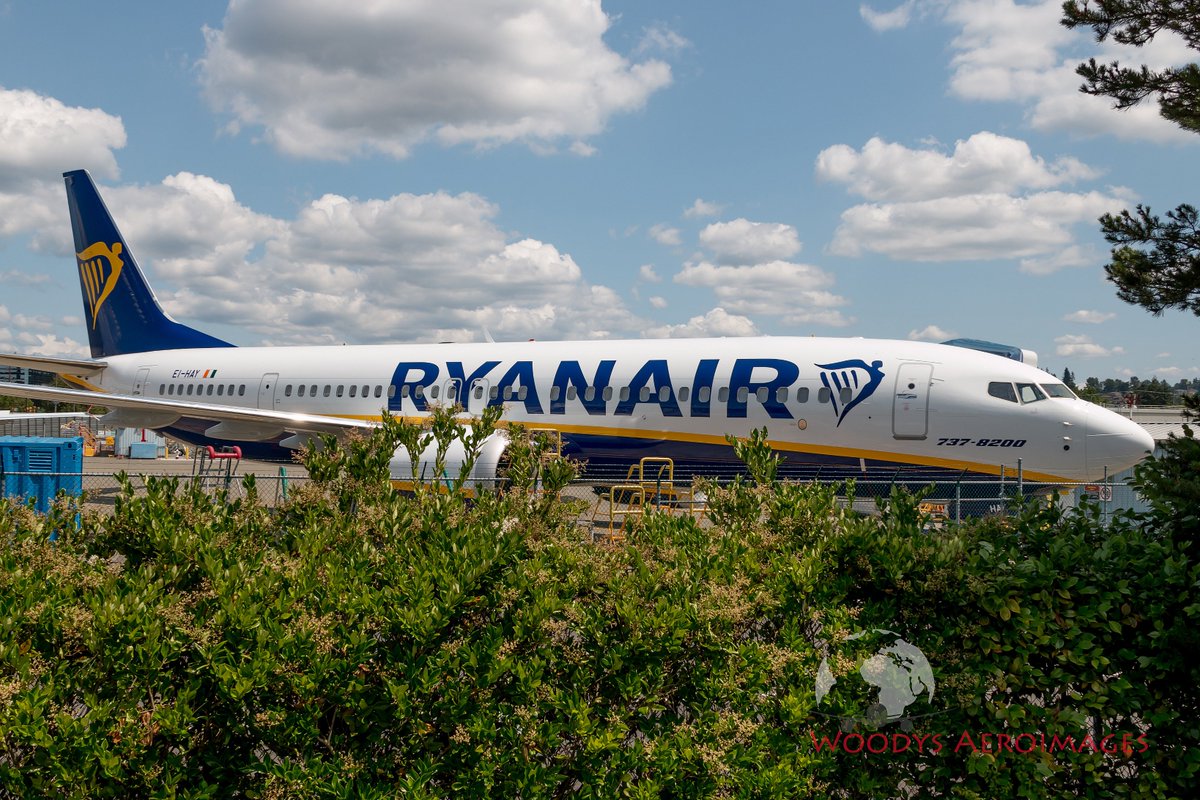 AW | 2019 07 15 17:16 | AIRLINES / INDUSTRY
La aerolínea low cost Ryanair ha cambiado de manera arbitraria la denominación del Boeing 737 MAX
La flota de Boeing 737 MAX ordenado por la aerolínea Ryanair introducirá un cambio de denominación. La decisión alimenta la especulación de que el avión en problemas cambiará de nombre una vez que esté listo para volar.
Un Boeing 737-8 MAX que se entregará próximamente a Ryanair, incorporará un cambio de librea en el fuselaje. La nueva aeronave que será entregada a la low cost irlandesa es un Boeing 737-8 200 MAX, una versión más condensada que la del modelo 737-8 MAX. El nuevo avión se observa en colores Ryanair fuera del centro de fabricación de Boeing, con la designación 737-8200 en lugar de 737 MAX sobre el fuselaje en la nariz de la aeronave.
El avión 737 MAX permanece en tierra en todo el mundo después de dos choques en Indonesia y Etiopía que mataron a un total de 346 personas. Boeing aún tiene que convencer a los reguladores de que las modificaciones de software son suficientes para garantizar la seguridad del avión.
Pedidos de Ryanair
Ryanair tiene órdenes por 135 de los 737 MAX, los primeros cinco de los cuales se entregarán en 3Q2019 o una vez que los reguladores hayan declarado que el avión es seguro. El pedido de la flota de la aerolínea se compone en su totalidad de una versión más grande del MAX 8, con 197 asientos, al que hasta ahora se ha hecho referencia en los anuncios oficiales de Ryanair como el 737 MAX 200.
Ni Ryanair ni Boeing han comentado ni confirmado la sustitución del 737 MAX por 737-8200, como se ve en las fotografías tomadas en Renton en Washington, Estados Unidos y publicadas en las redes sociales por Woodys Aeroimages, los nuevos aviones de Ryanair Boeing 737-8 200 MAX se muestran como 737-8200 en sus narices. Se entiende que lo que se pinta en el avión es un asunto de la aerolínea y no del fabricante.
Usos de denominación
Ryanair no sería la primera aerolínea en usar una formulación diferente al referirse al avión. En casos anteriores varias líneas aéreas han cambiado el nombre de algunas aeronaves comerciales, como es el caso del Fokker 100 (F28-0100) que técnicamente de denomina un derivado del Fokker F28. El Fokker 100 había sufrido mala fama en la década del 90 a raíz de varios incidentes y accidentes con la flota de las aeronaves de la aerolínea TAM Linhas Aéreas en Brasil. Tiempo después, OceanAir incorpora F100 a su flota y le introduce un cambio de denominación para simular la deteriorada fama que este avión de fabricación holandés ya poseía. Incorpora al Fokker 100 el nombre Mk 28 por la designación empleada en toda la flota industrial de Fokker de las aeronaves derivadas del Fokker 28 Mk-1000/2000/3000/4000/5000/6000.
Boeing oscilante con cambios
Boeing dijo a los reporteros en la demostración de la feria aeronáutica París Air Show 2019 que consideraría cambiar el nombre para ayudar a que el modelo regrese a los cielos, aunque la compañía dijo que no estaba trabajando en un cambio de nombre en su declaración más reciente sobre el asunto: "Seguimos con la mente abierta a todas las aportaciones de los clientes y otras partes interesadas, pero no tenemos planes en este momento para cambiar el nombre del 737 MAX".
El 737 MAX es el avión más vendido de The Boeing Company, con aproximadamente 5.000 pedidos, aunque las entregas han cesado desde la puesta a tierra en Abril 2019 y la de IAG es la única orden significativa y provisional.
Las investigaciones sobre los dos desastres relacionados con el 737 MAX han puesto de relieve el papel desempeñado por el software anti-bloqueo que anuló los comandos de los pilotos, ya que ambos aviones se estrellaron poco después del despegue. Las aerolíneas temen que algunos pasajeros se nieguen a volar en el MAX.
Ryanair changes name to 737 MAX
The low cost airline Ryanair has arbitrarily changed the name of the Boeing 737 MAX
The fleet of Boeing 737 MAX ordered by the Ryanair airline will introduce a change of denomination. The decision fuels speculation that the aircraft in trouble will change its name once it is ready to fly.
A Boeing 737-8 MAX that will be delivered shortly to Ryanair, will incorporate a change of livery in the fuselage. The new aircraft that will be delivered to the Irish low cost is a Boeing 737-8 200 MAX, a more condensed version than the model 737-8 MAX. The new aircraft is seen in Ryanair colors outside the Boeing manufacturing center, with the designation 737-8200 instead of 737 MAX on the fuselage in the nose of the aircraft.
The 737 MAX aircraft remains on the ground around the world after two crashes in Indonesia and Ethiopia that killed a total of 346 people. Boeing has yet to convince regulators that the software modifications are sufficient to guarantee the safety of the aircraft.
Ryanair orders
Ryanair has orders for 135 of the 737 MAX, the first five of which will be delivered in 3Q2019 or once the regulators have declared that the plane is safe. The order of the airline fleet consists entirely of a larger version of the MAX 8, with 197 seats, which until now has been referenced in official announcements of Ryanair as the 737 MAX 200.
Neither Ryanair nor Boeing have commented or confirmed the replacement of the 737 MAX by 737-8200, as seen in the photographs taken in Renton in Washington, United States and published on social networks by Woodys Aeroimages, the new aircraft of Ryanair Boeing 737- 8 200 MAX are shown as 737-8200 in their noses. It is understood that what is painted on the plane is a matter of the airline and not the manufacturer.
RYANAIR WILL INTRODUCE A NEW DESIGNATION TO THE BOEING 737-8 MAX 200 AS BOEING 737-8200
Naming applications
Ryanair would not be the first airline to use a different formulation when referring to the airplane. In previous cases several airlines have changed the name of some commercial aircraft, such as the Fokker 100 (F28-0100), which is technically called a derivative of the Fokker F28. The Fokker 100 had suffered bad reputation in the decade of the 90 as a result of several incidents and accidents with the fleet of the airplanes of the airline TAM Linhas Aéreas in Brazil. Time after, OceanAir incorporates F100 to its fleet and introduces a change of denomination to simulate the deteriorated fame of this Dutch-made aircraft already owned. It incorporates to the Fokker 100 the name Mk 28 for the designation used in the entire Fokker industrial fleet of the aircraft derived from the Fokker 28 Mk-1000/2000/3000/4000/5000/6000.
Boeing oscillating with changes
Boeing told reporters at the 2019 Paris Air Show show that he would consider changing the name to help the model return to the skies, although the company said it was not working on a name change in its most recent statement. on the matter: "We are still open to all input from customers and other interested parties, but we have no plans at this time to change the name of the 737 MAX".
The 737 MAX is the Boeing Company's best-selling aircraft, with approximately 5,000 orders, although deliveries have ceased since the grounding in April 2019 and that of IAG is the only significant and provisional order.
Investigations into the two disasters related to the 737 MAX have highlighted the role played by the anti-blockade software that annulled the pilots' commands, as both aircraft crashed shortly after takeoff. The airlines fear that some passengers refuse to fly in the MAX. A\W
Ξ A I R G W A Y S Ξ
SOURCE: Airgways.com
DBk: Boeing.com / Ryanair.com / Airgways.com / Twitter.com/AeroimagesChris / Theguardian.com
AW-POST: 201907151716AR
A\W   A I R G W A Y S ®