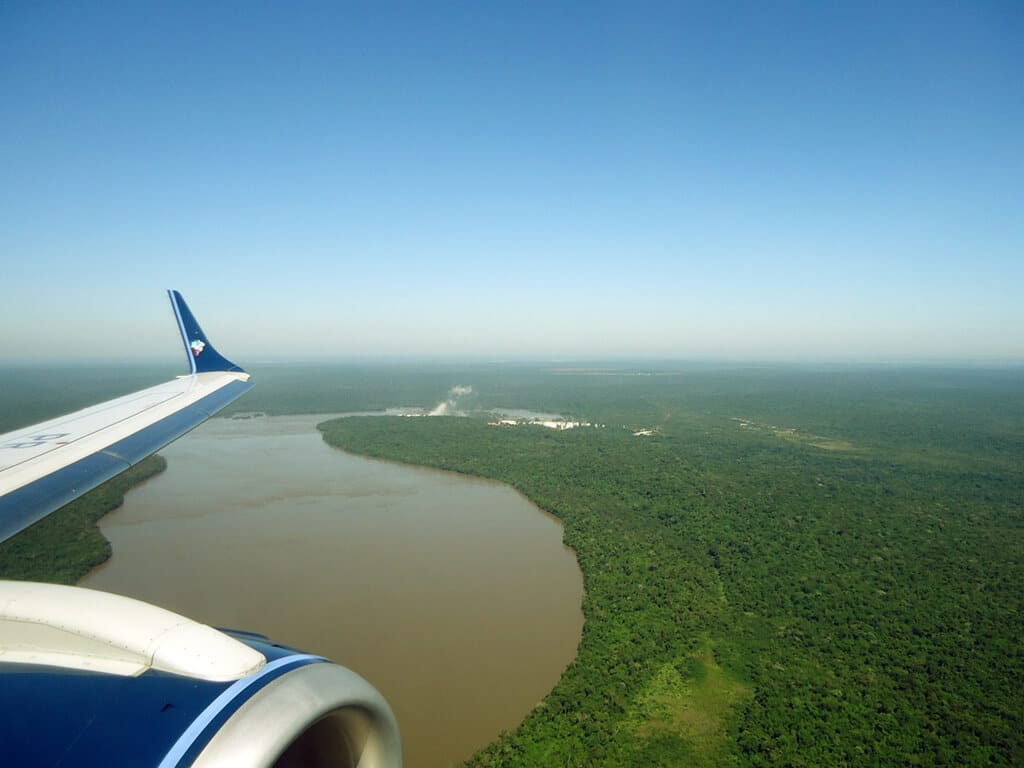 AW | 2019 07 17 15:47 | AIRPORTS
El Aeropuerto internacional Foz do Iguaçu se convertirá en el primer aeropuerto sustentable de Brasil
El Aeropuerto Internacional Foz do Iguaçu se convertirá en el primer aeropuerto sostenible en Brasil. El 28 Junio 2019, Infraero e Itaipú firmaron un memorando de intención (MoU) para marcar el inicio del proyecto que podría representar un hito para los problemas ambientales de Brasil.
Según Luiz Felipe Carbonell, Director Coordinador de Itaipú, el proyecto aún se está construyendo, pero las propuestas iniciales incluyen la implementación de vehículos eléctricos o de biogás, el uso de paneles fotovoltaicos para la generación de energía eléctrica y la reutilización del agua. "Estamos discutiendo la viabilidad de cada propuesta, incluidas aquellas que involucran la recuperación del medio ambiente, pero todo esto requiere un estudio mejorado", dice. El director indica que las propuestas deben ser aplicadas mediante acuerdos y que Itaipu dirigirá las obras. A través de su oficina de prensa, Infraero destacó la importancia de la asociación con la planta hidroeléctrica. Itaipu tiene una sólida experiencia ambiental y está en el mismo rango que el aeropuerto. Estamos mutuamente interesados ​​en promover acciones para el uso de energías renovables y la difusión de proyectos en esta área. Tenemos un área donde el medio ambiente es visto como el lema del turismo. Esto es en interés de la comunidad y fortalece un polo brasileño.
Según Infraero, la elección del aeropuerto de Foz do Iguaçu también se debió al potencial turístico de la ciudad. Infraero también está desarrollando un plan de sensibilización para pasajeros, usuarios, aerolíneas y la comunidad en general desde el aeropuerto. El objetivo es fomentar la separación de los residuos reciclables, la reducción del uso del plástico, la preferencia por productos biodegradables en la limpieza y el consumo de productos orgánicos en los alimentos.
Aeropuertos sostenibles
El primer aeropuerto famoso por acciones sostenibles fue O'Hare, en Chicago, Estados Unidos. En 2003, fue responsable de crear un sistema que certifique todo tipo de procedimientos, desde el mantenimiento hasta lo que sucede en los hangares, el Manual de aeropuerto sostenible. Desde entonces, se ha prestado más atención a cuestiones como la reducción de los niveles de ruido, la protección de la fauna y la flora y la mejora de la calidad del aire.
Otro ejemplo es el aeropuerto de Incheon, Corea del Sur, en el cual los paneles fotovoltaicos son responsables de la electricidad, y la luz también es proporcionada naturalmente por un techo de cristal.
Foz Iguazú 1st sustainable airport in Brazil
The Foz do Iguaçu International Airport will become the first sustainable airport in Brazil
The Foz do Iguaçu International Airport will become the first sustainable airport in Brazil. On June 28, 2019, Infraero and Itaipú signed a memorandum of intent (MoU) to mark the beginning of the project that could represent a milestone for Brazil's environmental problems.
Luiz Felipe Carbonell as Director Coordinator of Itaipu, the project is still being built, but initial proposals include implementation of electric vehicles or biogas, the use of photovoltaic panels for generating electricity and water reuse. "We are discussing the feasibility of each proposal, including those that involve the recovery of the environment, but all this requires an improved study", he says. The director indicates that the proposals must be applied through agreements and that Itaipu will direct the works. Through its press office, Infraero highlighted the importance of the association with the hydroelectric plant. Itaipu has a strong environmental experience and is in the same range as the airport. We are mutually interested in promoting actions for renewable energy use and dissemination of projects in this area. We have an area where the environment is seen as the motto of tourism, this is in the interest of the community and strengthens a Brazilian pole.
According to Infraero, the choice of the Foz do Iguaçu airport was also due to the tourist potential of the city. Infraero is also developing an awareness plan for passengers, users, airlines and the general community from the airport. The objective is to promote the separation of recyclable waste, the reduction of the use of plastic, the preference for biodegradable products in cleaning and the consumption of organic products in food.
Sustainable airports
The first airport famous for sustainable actions was O'Hare, in Chicago, United States. In 2003, he was responsible for creating a system that certifies all kinds of procedures, from maintenance to what happens in the hangars, the Sustainable Airport Manual. Since then, more attention has been paid to issues such as reducing noise levels, protecting wildlife and improving air quality.
Another example is the Incheon Airport, South Korea, in which photovoltaic panels are responsible for electricity, and light is also provided naturally by a glass roof. A \ W
Foz Iguazú 1er aeroporto sustentável
O Aeroporto Internacional de Foz do Iguaçu se tornará o primeiro aeroporto sustentável do Brasil
O Aeroporto Internacional de Foz do Iguaçu se tornará o primeiro aeroporto sustentável do Brasil. Em 28 de junho de 2019, a Infraero e a Itaipú assinaram um memorando de intenções (MoU) para marcar o início do projeto que poderia representar um marco para os problemas ambientais do Brasil.
Luiz Felipe Carbonell como Director Coordenador de Itaipu, o projeto ainda está sendo construído, mas as propostas iniciais incluem a implementação de veículos elétricos ou biogás, o uso de painéis fotovoltaicos para gerar eletricidade e reutilização da água. "Estamos discutindo a viabilidade de cada proposta, incluindo aquelas que envolvem a recuperação do meio ambiente, mas tudo isso requer um estudo melhorado", diz ele. O diretor indica que as propostas devem ser aplicadas por meio de acordos e que a Itaipu vai dirigir as obras. Por meio de sua assessoria de imprensa, a Infraero destacou a importância da associação com a usina hidrelétrica. Itaipu tem uma forte experiência ambiental e está na mesma gama como o aeroporto. Estamos mutuamente interessados ​​em promover ações para o uso de energia renovável e divulgação de projectos nesta área. Nós temos uma área onde o meio ambiente é visto como o lema do turismo, isso é do interesse da comunidade e fortalece um pólo brasileiro.
Segundo a Infraero, a escolha do aeroporto de Foz do Iguaçu deveu-se também ao potencial turístico da cidade. A Infraero também está desenvolvendo um plano de conscientização para passageiros, usuários, companhias aéreas e a comunidade em geral do aeroporto. O objetivo é promover a separação dos resíduos recicláveis, a redução do uso de plástico, a preferência por produtos biodegradáveis ​​na limpeza e o consumo de produtos orgânicos nos alimentos.
Aeroportos sustentáveis
O primeiro aeroporto famoso por ações sustentáveis ​​foi o O'Hare, em Chicago, Estados Unidos. Em 2003, ele foi responsável pela criação de um sistema que certifica todos os tipos de procedimentos, desde a manutenção até o que acontece nos hangares, o Sustainable Airport Manual. Desde então, mais atenção tem sido dada a questões como a redução dos níveis de ruído, a proteção da vida silvestre e a melhoria da qualidade do ar.
Outro exemplo é o Aeroporto de Incheon, na Coreia do Sul, no qual os painéis fotovoltaicos são responsáveis ​​pela eletricidade, e a luz também é fornecida naturalmente por um teto de vidro. A \ W
Ξ A I R G W A Y S Ξ
SOURCE: Airgways.com
DBk: Infraero.gov.br / Visitfoz.com.br / Airgways.com
AW-POST: 201907171547AR
A\W   A I R G W A Y S ®