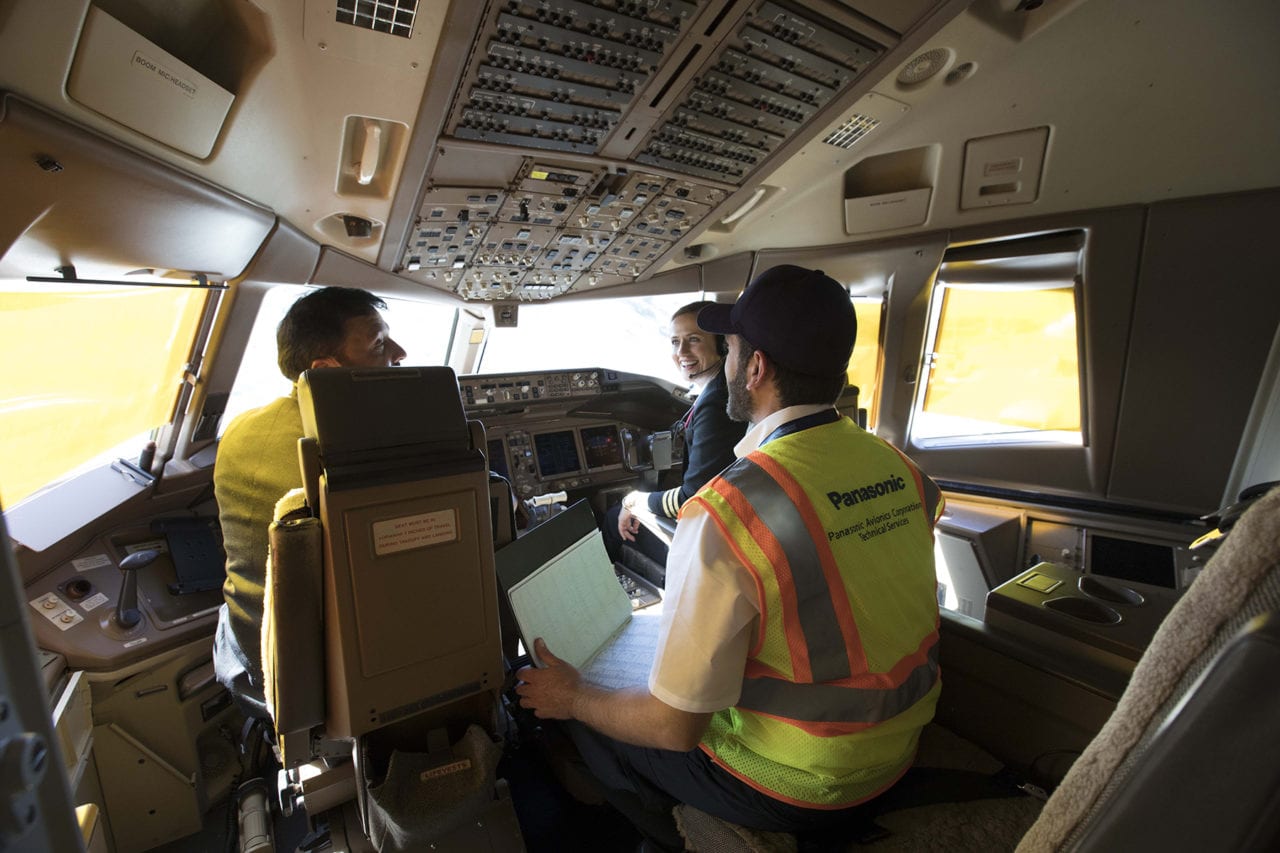 AW | 2019 09 22 14:49 | AVIATION
Panasonic Avionics módems 3G para aerolíneas
Panasonic Avionics ha instalado su módem de tercera generación en 1.100 aviones y se está preparando para respaldar un salto generacional prometido en las velocidades de conectividad en vuelo para las aerolíneas que vuelan en la región de Asia y el Pacífico una vez que el próximo servicio de satélite Extreme Throughput Satellite (XTS) esté disponible allí próxima año.
Avionics International habló con ejecutivos y expertos en la materia de Panasonic Avionics durante la reciente EXPO Airline Passenger Experience de 2019 para comprender qué nuevas aplicaciones de aviones estarán disponibles con la combinación del próximo servicio XTS, su módem de tercera generación y una nueva plataforma de análisis de datos que tiene desarrollado para agregar datos de pasajeros y brindar a las aerolíneas información automatizada sobre las tendencias de consumo IFE de los pasajeros.
APT Mobile Satcom operará APSTAR 6D, el satélite detrás de XTS que se convertirá en el primer satélite de alto rendimiento de banda Ku que proporcionará cobertura sobre China continental. Co-diseñado por Panasonic Avionics, el cliente de anclaje de APT Mobile Satcom, el nuevo servicio XTS proporcionará 30 Gbps de capacidad dedicada de alto rendimiento en China continental.
"Entre nuestro módem de tercera generación y el satélite XTS que estará disponible a principios de 2020, vamos a aumentar en gran medida nuestras capacidades en la región de Asia Pacífico", dijo a Avionics Paul Kent, director de productos de conectividad, soluciones digitales y servicios para Panasonic Avionics.
Según Kent, 250 Mbps es la velocidad "máxima teórica" ​​que su módem, desarrollado en colaboración con Newtec, puede entregar a la aeronave desde el satélite. Esa velocidad se divide entre casos de uso entre pasajeros y tripulaciones de vuelo. Pero Panasonic no ofrecerá la velocidad máxima como servicio de referencia para todas las aerolíneas.
En cambio, el nivel de servicio disponible dependerá del tipo de servicio y modelo de negocio que la aerolínea está tratando de soportar. Kent dijo que Panasonic ha visto una demanda de las aerolíneas por una variedad de usos diferentes de conectividad en vuelo, como mensajes de texto, pero las aplicaciones más intensivas en ancho de banda incluyen aquellas aerolíneas que desean dar a los pasajeros acceso a internet en vuelo sin cargo y Transmitiendo video. El sistema "Next" IFE de Panasonic tiene disponible un nuevo ecosistema de soluciones y aplicaciones de entretenimiento a bordo.
Aerolíneas asiáticas, que representan a más de 800 aviones, ya han seleccionado a Panasonic para el servicio de conectividad, incluidas muchas de las principales aerolíneas de la región. Estos incluyen Air China, All Nippon Airways, Cathay Pacific Airways, China Airlines, China Eastern, China Southern, EVA Air, Garuda Indonesia, Hainan Airlines, Hong Kong Airlines, Japan Airlines, Singapore Airlines, Thai Airways y Xiamen Airlines.
Panasonic también quiere permitir un mejor acceso a las actualizaciones del clima, las condiciones del aeropuerto y otra información del entorno de vuelo para los pilotos. "Los datos operativos son absolutamente un gran componente de lo que hacemos, proporcionamos SSID separados, para nuestras tripulaciones de cabina y nuestras tripulaciones de cubierta de vuelo que también están separadas, tenemos algunas disposiciones donde establecemos un punto de acceso inalámbrico separado para la cubierta de vuelo, y tendrán su propia capacidad de conectarse y sus propias aplicaciones y sus propias configuraciones potencialmente para cosas separadas que pueden necesitar hacer", dijo Kent.
Mirando hacia el futuro, un objetivo de la hoja de ruta de la tecnología de la aeronave conectada para el futuro para Panasonic es el soporte de más sensores a bordo. "Tenemos la capacidad de admitir cámaras, almacenar imágenes de video y enviarlas una vez que el vuelo haya aterrizado o podemos capturar y enviar imágenes en tiempo real. Hay otros sensores en la hoja de ruta, cuando habla de Internet de las cosas (IoT) y tiene una experiencia de cabina verdaderamente conectada a bordo y puede tomar la 'intranet' de ese avión y llevarlo a una experiencia de 'Internet' donde puede tomar mediciones en tiempo real para datos específicos que se recopilan y descargan, ese es un enfoque principal en este momento. En términos de sensores IoT en asientos, galeras y baños, se están introduciendo una serie de nuevos sensores inteligentes y queremos apoyarlos desde una perspectiva de cabina conectada", dijo Kent.
Panasonic 3G for airlines
Panasonic Avionics 3G modems for airlines
Panasonic Avionics has installed its third-generation modem on 1,100 aircraft and is preparing to support a promised generational jump in-flight connectivity speeds for airlines flying in the Asia-Pacific region once the next satellite service Extreme Throughput Satellite (XTS) is available there next year.
Avionics International spoke with executives and experts in the field of Panasonic Avionics during the recent EXPO Airline Passenger Experience of 2019 to understand what new aircraft applications will be available with the combination of the next XTS service, its third generation modem and a new analysis platform of data that it has developed to aggregate passenger data and provide airlines with automated information on passenger IFE consumption trends.
APT Mobile Satcom will operate APSTAR 6D, the satellite behind XTS that will become the first high-performance Ku-band satellite that will provide coverage over mainland China. Co-designed by Panasonic Avionics, the APT Mobile Satcom anchor customer, the new XTS service will provide 30 Gbps of high-performance dedicated capacity in mainland China.
"Between our third generation modem and the XTS satellite that will be available in early 2020, we will greatly increase our capabilities in the Asia Pacific region", Paul Kent, director of connectivity products, digital solutions, and services for Panasonic Avionics.
According to Kent, 250 Mbps is the "theoretical maximum" speed that your modem, developed in collaboration with Newtec, can deliver to the aircraft from the satellite. That speed is divided between use cases between passengers and flight crews. But Panasonic will not offer maximum speed as a reference service for all airlines.
Instead, the level of service available will depend on the type of service and business model that the airline is trying to support. Kent said Panasonic has seen demand from airlines for a variety of different uses of in-flight connectivity, such as text messages, but the most bandwidth-intensive applications include those airlines that want to give passengers access to the internet in flight. No charge and streaming video.
Panasonic's "Next" IFE system has a new ecosystem of on-board entertainment applications and solutions available. Photo: Panasonic Avionics Asian airlines, which represent more than 800 aircraft, have already selected Panasonic for connectivity service, including many of the region's leading airlines. These include Air China, All Nippon Airways, Cathay Pacific Airways, China Airlines, China Eastern, China Southern, EVA Air, Garuda Indonesia, Hainan Airlines, Hong Kong Airlines, Japan Airlines, Singapore Airlines, Thai Airways, and Xiamen Airlines.
Panasonic also wants to allow better access to weather updates, airport conditions and other flight environment information for pilots. "Operational data is absolutely a great component of what we do, we provide separate SSIDs, for our cabin crews and our flight deck crews that are also separate, we have some provisions where we establish a separate wireless access point for the deck of flight, and they will have their own ability to connect and their own applications and their own settings potentially for separate things they may need to do", Kent said.
Looking to the future, an objective of the technology roadmap of the connected aircraft for the future for Panasonic is the support of more sensors onboard. "We have the ability to support cameras, store video images and send them once the flight has landed or we can capture and send images in real-time. There are other sensors on the road map, when you talk about the Internet of Things (IoT) and you have a truly connected cockpit experience on board and you can take the 'intranet' of that plane and take it to an 'Internet' experience where you can Take real-time measurements for specific data that is collected and downloaded, that is a primary focus at this time. In terms of IoT sensors in seats, galleys, and bathrooms, a series of new smart sensors are being introduced and we want to support them from a connected cabin perspective", said Kent. A \ W
Ξ A I R G W A Y S Ξ
SOURCE: Airgways.com
DBk: Panasocins.aero / Aircraftinteriorsinternational.com / Aviationtoday.com
AW-POST: 201909221449AR
A\W   A I R G W A Y S ®