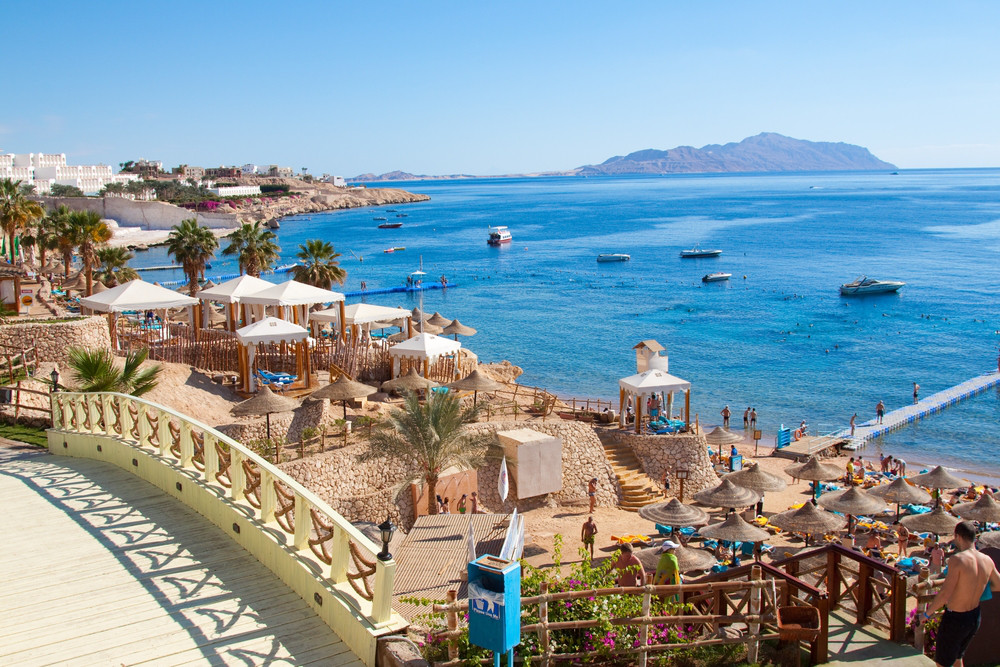 AW | 2019 10 23 14:07 | AIRLINES ROUTES / TOURISM
Gobierno británico reanuda destino Sharm el Sheikh
Cuatro años después de que se impusiera la prohibición de vuelos directos desde Gran Bretaña al principal centro vacacional de Egipto, el gobierno del Reino Unido ahora dice que los enlaces aéreos pueden reanudarse. La prohibición entró en vigencia a principios de Noviembre 2015, al comienzo de una temporada de invierno en la que se esperaba ver a 500.000 turistas británicos en la cadena de resorts en el flanco sureste de la península del Sinaí. Desde la prohibición, Egipto ha perdido aproximadamente dos millones de visitas de turistas del Reino Unido. Si bien algunos se han cambiado a otros centros turísticos en el Mar Rojo, especialmente Hurghada, hay muchos menos vuelos de vacaciones a Egipto que hasta 2015.
Durante este tiempo de prohibición de vuelos de Europa al destino turístico, en la industria turística egipcia y en el gobierno de El Cairo acerca de cuánto tiempo ha estado vigente la prohibición. Después de que 30 turistas británicos fueron masacrados en el complejo tunecino de Sousse en Junio 2015, la prohibición del Ministerio de Asuntos Exteriores se levantó después de dos años. Las vacaciones combinadas a Túnez no se reanudaron durante otros siete meses; Thomas Cook reanudó los vuelos al país del norte de África en Febrero 2018.
Retorno esperado
Para la aerolínea low cost británica easyJet, Sharm el Sheikh será una gran oportunidad. La aerolínea Tui Airways también se ha mostrado interesada en volar hacia este destiuno turístico en Medio Oriente. otra línea aérea es Jet2 en aterrizar en la costa del Mar Rojo.
Desde que comenzó la prohibición de vuelos, decenas de miles de viajeros británicos han estado volando a Sharm el Sheikh por otros medios, generalmente a través de El Cairo o Estambul, pero los viajes han sido largos y costosos.
United Kingdom resumes flights to Sharm el Sheikh
Bitánicvo government resumes destination Sharm el Sheikh
Four years after the ban on direct flights from Britain to the main resort in Egypt was imposed, the UK government now says air links can resume. The ban came into effect at the beginning of November 2015, at the beginning of a winter season in which it was expected to see 500,000 British tourists in the chain of resorts on the southeast flank of the Sinai Peninsula. Since the ban, Egypt has lost approximately two million tourist visits from the United Kingdom. While some have moved to other resorts in the Red Sea, especially Hurghada, there are many fewer vacation flights to Egypt than until 2015.
During this time of banning flights from Europe to the tourist destination, in the Egyptian tourism industry, and in the Cairo government about how long the ban has been in force. After 30 British tourists were massacred in the Tunisian Sousse complex on June 2015, the ban on the Ministry of Foreign Affairs was lifted after two years. The combined holidays to Tunisia did not resume for another seven months; Thomas Cook resumed flights to the North African country in February 2018.
SHARM EL SHEIKH INTERNATIONAL AIRPORT IN EGYPT
Expected return
For the British low-cost airline EasyJet, Sharm el Sheikh will be a great opportunity. Tui Airways has also been interested in flying to this tourist destination in the Middle East. Another airline is Jet2 landing on the Red Sea coast.
Since the flight ban began, tens of thousands of British travelers have been flying to Sharm el Sheikh by other means, usually through Cairo or Istanbul, but the trips have been long and expensive.
تستأنف المملكة المتحدة رحلاتها إلى شرم الشيخ
تستأنف الحكومة البريطانية مقصد شرم الشيخ
بعد مرور أربع سنوات على فرض الحظر على الرحلات الجوية المباشرة من بريطانيا إلى المنتجع الرئيسي في مصر ، تقول الحكومة البريطانية الآن إنه يمكن استئناف الرحلات الجوية. بدأ سريان الحظر في بداية نوفمبر 2015 ، في بداية موسم الشتاء الذي كان من المتوقع أن يشاهد فيه 500000 سائح بريطاني في سلسلة المنتجعات في الجهة الجنوبية الشرقية من شبه جزيرة سيناء. منذ الحظر ، فقدت مصر ما يقرب من مليوني زيارة سياحية من المملكة المتحدة. بينما انتقل البعض إلى منتجعات أخرى في البحر الأحمر ، خاصة الغردقة ، هناك عدد أقل من الرحلات الجوية إلى مصر مقارنة بعام 2015.
خلال هذا الوقت من حظر الرحلات الجوية من أوروبا إلى الوجهة السياحية ، وفي صناعة السياحة المصرية وفي حكومة القاهرة حول مدة سريان الحظر. بعد ذبح 30 سائحًا بريطانيًا في مجمع سوسة التونسي في يونيو 2015 ، تم رفع الحظر المفروض على وزارة الخارجية بعد عامين. العطل مجتمعة إلى تونس لم تستأنف لمدة سبعة أشهر أخرى ؛ استأنف توماس كوك رحلاته إلى الدولة الواقعة في شمال إفريقيا في فبراير 2018.
عودة المتوقعة
بالنسبة لشركة الطيران البريطانية منخفضة التكلفة easyJet ، فإن شرم الشيخ ستكون فرصة رائعة. تهتم Tui Airways أيضًا بالطيران إلى هذه الوجهة السياحية في الشرق الأوسط. شركة طيران أخرى هي الهبوط Jet2 على ساحل البحر الأحمر.
منذ بدء حظر الطيران ، كان عشرات الآلاف من المسافرين البريطانيين يسافرون إلى شرم الشيخ بوسائل أخرى ، عادة عبر القاهرة أو اسطنبول ، لكن الرحلات كانت طويلة ومكلفة. A \ W
Ξ A I R G W A Y S Ξ
SOURCE: Airgways.com
DBk: Sharm-el-sheikh-airport.com / Independent.co.uk / Alhadath.net / Travelzoo.com / Afktravel.com
AW-POST: 201910231407AR
A\W   A I R G W A Y S ®