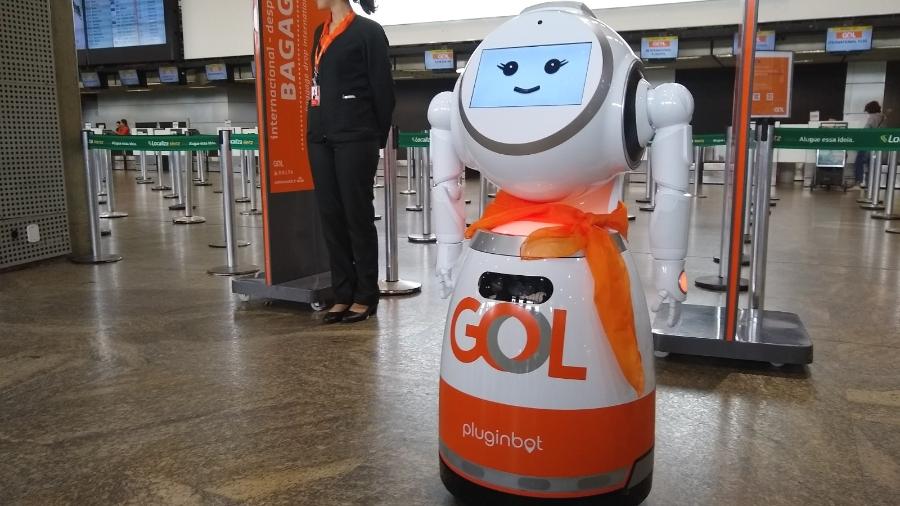 AW | 2019 10 23 14:57 | AIRLINES
Gol inicia servicio robótico en Aeropuerto Guarulhos
Gol Linhas Aéreas ha comenzado servicios de asistencia robótica en el Aeropuerto Internacional Guarulhos. El asistente es un robot denominado «Gal», un dispositivo físico, no solo de un bot programado para consulta que es una versión de hardware de inteligencia artificial en el sitio web de la compañía.
La tendencia es que los aeropuertos estén cada vez más automatizados. La razón principal es que la demanda de vuelos debe crecer, pero no hay espacio ni personal para manejar a tanta gente. Por lo tanto, un asistente virtual como Gal puede ayudarlo con procedimientos como empacar y registrarse. El mismo método se utiliza en el Aeropuerto Internacional de Amsterdam/Schiphol con la compañía KLM Airlines.
El Director de Aeropuertos de Gol, José Luiz Belixior, el robot aún no ocupará el lugar de los asistentes. «Será una nueva opción de contacto, pero no reemplazará las actividades de uno de nuestros empleados», explica.
Asistente virtual
Según la compañía, Gal obtendrá alrededor de 10 puntos de notificacioines del Aeropuerto Guarulhos, posibilitando que la inteligencia artificial guíe a los usuarios a colas o espacios de embarque. El robot fue creado en asociación con Ubtech, la compañía de robótica de China, y pla Puginbot, la compañía nacional que desarrolló el sistema de chatbot. Gal también tiene la plataforma Artificia Watson Intelligence de IBM para que el aprendizaje evolucione mientras lo usas. La pieza aún se está probando en el Aeropuerto Guarulhos, proyectando ampliar a otras terminales de aeropuertos de Brasil. Gal también podría estar integrando más funciones, como la compra de boletos, el intercambio de asientos y la reserva de vuelos.
Gol incorporates Gal in Guarulhos
Gol starts robotic service at Guarulhos Airport
Gol Linhas Aéreas has started robotic assistance services at Guarulhos International Airport. The assistant is a robot called «Gal», a physical device, not just a bot programmed for consultation that is a version of artificial intelligence hardware on the company's website.
The trend is that airports are increasingly automated. The main reason is that the demand for flights must grow, but there is no space or staff to handle so many people. Therefore, a virtual assistant like Gal can help you with procedures such as packing and registering. The same method is used at the Amsterdam/Schiphol International Airport with the company KLM Airlines.
Gol Airports Director, José Luiz Belixior, the robot will not yet take the place of the attendees. «It will be a new contact option, but it will not replace the activities of one of our employees», he explains.
Virtual assistant
According to the company, Gal will get around 10 notification points from Guarulhos Airport, allowing artificial intelligence to guide users to queues or boarding spaces. The robot was created in partnership with Ubtech, China's robotics company, and pla Puginbot, the national company that developed the chatbot system. Gal also has the IBM Watson Intelligence Artificial platform for learning to evolve while using it. The piece is still being tested at Guarulhos Airport, planning to expand to other airport terminals in Brazil. Gal could also be integrating more features, such as buying tickets, exchanging seats and booking flights.
Gol incorpora Gal em Guarulhos
Gol inicia serviço robótico no aeroporto de Guarulhos
A Gol Linhas Aéreas iniciou serviços de assistência robótica no Aeroporto Internacional de Guarulhos. O assistente é um robô chamado «Gal», um dispositivo físico, não apenas um bot programado para consulta, que é uma versão do hardware de inteligência artificial no site da empresa.
A tendência é que os aeroportos sejam cada vez mais automatizados. O principal motivo é que a demanda por voos deve crescer, mas não há espaço ou equipe para lidar com tantas pessoas. Portanto, um assistente virtual como Gal pode ajudá-lo com procedimentos como empacotar e registrar. O mesmo método é usado no Aeroporto Internacional de Amsterdã com a empresa KLM Airlines.
Diretor de Aeroportos da Gol, José Luiz Belixior, o robô ainda não substituirá os participantes. «Será uma nova opção de contato, mas não substituirá as atividades de um de nossos funcionários», explica ele.
Assistente virtual
Segundo a empresa, a Gal receberá cerca de 10 pontos de notificação no aeroporto de Guarulhos, permitindo que a inteligência artificial guie os usuários para filas ou espaços de embarque. O robô foi criado em parceria com a Ubtech, empresa chinesa de robótica, e a pla Puginbot, empresa nacional que desenvolveu o sistema de chatbot. Gal também possui a plataforma IBM Watson Intelligence Artificial para aprender a evoluir enquanto a usa. A peça ainda está sendo testada no aeroporto de Guarulhos, planejando expandir para outros terminais do aeroporto no Brasil. Gal também poderia estar integrando mais recursos, como a compra de passagens, a troca de assentos e a reserva de vôos.
Ξ A I R G W A Y S Ξ
SOURCE: Airgways.com
DBk: Voegol.com.br / Melhorsdestinos.com.br
AW-POST: 201910231457AR
A\W   A I R G W A Y S ®