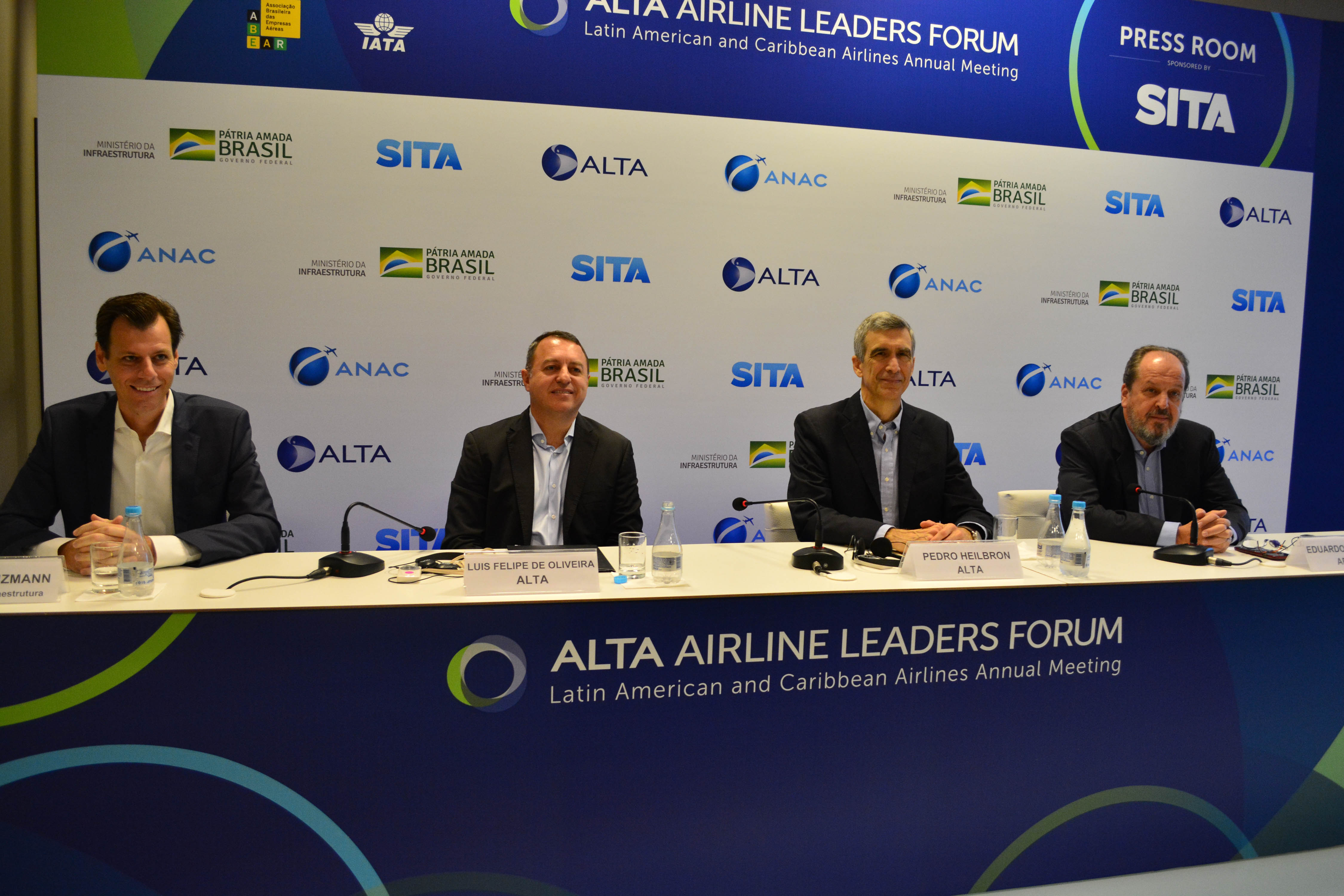 AW | 2019 10 28 09:47 | CONGRESS
El Foro ALTA 2019 se desarrolla entre el 27 al 29 Octubre 2019
El ALTA Airline Leaders Forum 2019 tiene lugar en Brasilia entre el 27 y el 29 Octubre 2019. La conferencia de prensa de apertura del 16° ALTA Airline Leaders Forum, el evento más importante de la industria aerocomercial latinoamericana. Con más de 100 miembros, ALTA ha cobrado cada vez más importancia para la región.
Entre los oradores están Luis Felipe Oliveira, Presidente de la Asociación Latinoamericana y del Caribe de Transporte Aéreo (ALTA); Pedro Heilbron, CEO de Copa Airlines y Presidente del Comité Ejecutivo de ALTA; Ronei Glanzmann, Secretario de Aviación Civil de Brasil y Eduardo Sanovicz, Presidente de ABEAR, la Asociación Brasileña de Empresas Aéreas.
El Presidente de ABEAR, Eduardo Sanovicz, ha expresado cómo la aviación comercial brasileña recién se encuentra saliendo de la crisis que vive desde 2015. Entre 2002 y 2014 el mercado había trepado de 30 millones de pasajeros por año a 100 millones, con la tarifa media descendiendo de US$ 195 a US$ 90 millones. Todavía quedan desafíos como la reducción del impuesto al combustible y revisiones en el aspecto regulatorio.
Brasil ha destacado la importancia de la realización de este evento en Brasil, considerando que cuatro de cada diez pasajeros en la región tienen como origen o destino a ese país. El directivo Luis Felipe Oliveira dijo que «nuestro gran objetivo es la integración y el trabajo conjunto de la industria para favorecer el desarrollo de la región».
El Secretario de Aviación Civil de Brasil (ANAC), Ronei Glanzmann, ha expresado: «Estamos haciendo un gran deber en casa, una verdadera revolución en infraestructura aeronáutica». Las nuevas medidas de apertura de mercado implementadas en los últimos años han ayudado a tener una apertura del 100% del capital de las aerolíneas brasileñas a inversores extranjeros, la flexibilización de acuerdos bilaterales con un monto de inversión de más de R$ 8 mil millones (US$ 2 mil millones). Actualmente, Brasil cubre destinos a 130 ciudades con 120 millones de pasajeros. El gobierno espera alcanzar a transportar 200 millones de pasajeros hacia 2025, y alcanzar a 200 ciudades para promover servicios regulares de transporte aéreo. Para esto, Brasil tiene un objetivo, profundizar las mejoras de los aeropuertos y su privatización. «El reto de la infraestructura en Brasil está en camino a resolverse; tenemos un plan y creemos que la infraestructura ya no es un cuello de botella. Los desafíos ahora pasan por la desregulación y la apertura de nuevos competidores», dijo Ronei Glanzmann.
El arribo de las low-cost internacionales como Norwegian Air International desde Reino Unido, Flybondi Líneas Aéreas desde Argentina, y Sky Airline y JetSmart Airlines desde Chile, permitirá continuar desarrollando políticas en el mercado doméstico brasileño. «Creemos que hay un gran margen de crecimiento en el mercado brasileño. La población brasileña y latinoamericana es muy sensible al precio», estimó el Secretario de la ANAC.
Una política clara en la reducción del 25% de los impuestos a los combustibles es un punto clave para el desarrollo de la aviación comercial en Brasil.
16th ALTA 2019
The 2019 ALTA Forum takes place from October 27 to 29, 2019
The ALTA Airline Leaders Forum 2019 takes place in Brasilia from October 27 to 29, 2019. The opening press conference of the 16th ALTA Airline Leaders Forum, the most important event of the Latin American air industry. With more than 100 members, ALTA has become increasingly important for the region.
Speakers include Luis Felipe Oliveira, President of the Latin American and Caribbean Air Transport Association (ALTA); Pedro Heilbron, CEO of Copa Airlines and Chairman of the Executive Committee of ALTA; Ronei Glanzmann, Secretary of Civil Aviation of Brazil and Eduardo Sanovicz, President of ABEAR, the Brazilian Association of Air Companies.
The President of ABEAR, Eduardo Sanovicz, has expressed how Brazilian commercial aviation is just emerging from the crisis that has been going on since 2015. Between 2002 and 2014 the market had climbed from 30 million passengers per year to 100 million, with the average rate decreasing from US$ 195 to US$ 90 million. There are still challenges such as the reduction of the fuel tax and revisions in the regulatory aspect.
Brazil has highlighted the importance of the realization of this event in Brazil, considering that four out of every ten passengers in the region have that country as their origin or destination. The manager Luis Felipe Oliveira said that «our main objective is the integration and the joint work of the industry to favor the development of the region».
The Secretary of Civil Aviation of Brazil (ANAC), Ronei Glanzmann, has said: «We are doing a great duty at home, a true revolution in aeronautical infrastructure». The new market-opening measures implemented in recent years have helped to open 100% of the capital of Brazilian airlines to foreign investors, the flexibility of bilateral agreements with an investment amount of more than R$ 8 billion (US$ 2 billion). Currently, Brazil covers destinations in 130 cities with 120 million passengers. The government expects to transport 200 million passengers by 2025 and reach 200 cities to promote regular air transport services. For this, Brazil has one objective, to deepen the improvements of the airports and their privatization. «The challenge of infrastructure in Brazil is on its way to being solved; we have a plan and we believe that infrastructure is no longer a bottleneck. The challenges now go through deregulation and the opening of new competitors», said Ronei Glanzmann.
The arrival of international low-cost like Norwegian Air International from the United Kingdom, Flybondi Airlines from Argentina, and Sky Airline and JetSmart Airlines from Chile, will continue to develop policies in the Brazilian domestic market. «We believe that there is a large margin of growth in the Brazilian market. The Brazilian and Latin American population is very price sensitive», said the Secretary of the ANAC.
A clear policy in reducing 25% of fuel taxes is a key point for the development of commercial aviation in Brazil.
Ξ A I R G W A Y S Ξ
SOURCE: Airgways.com
DBk: Alta.aero / Airgways.com
AW-POST: 201910280947AR
A\W   A I R G W A Y S ®