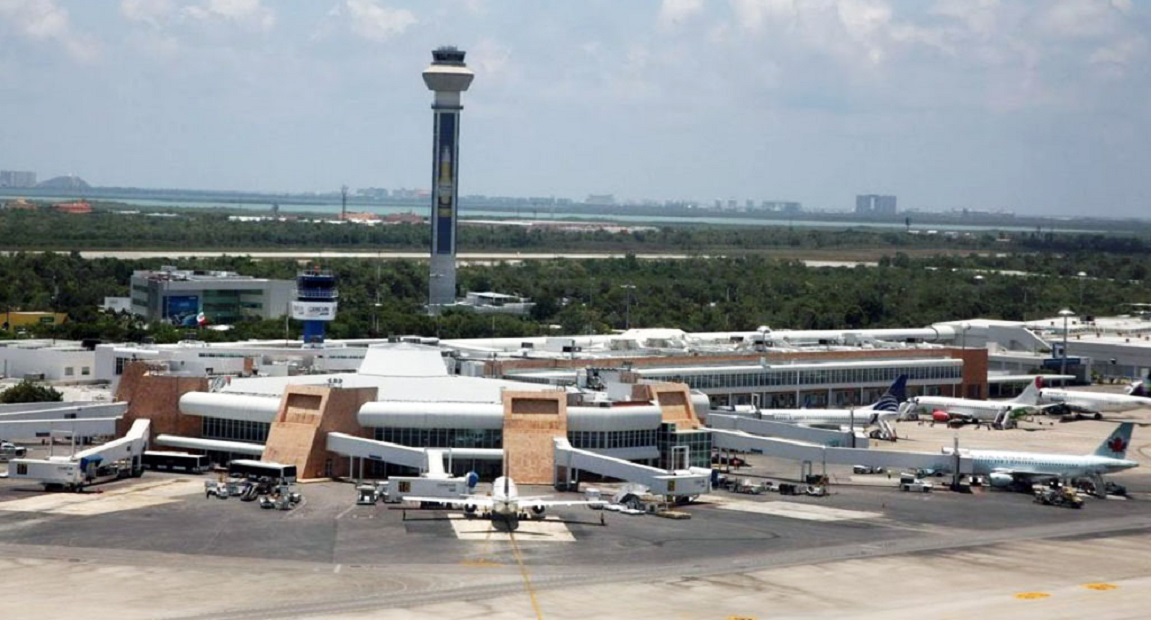 AW | 2020 01 22 09:20 | AIRPORTS
Aeropuerto Internacional Cancún inician obras de mejoras
El Gobierno del Estado de Quintana Roo, la Secretaria de Hacienda y Crédito Público, han aprobado el inicio a las ampliaciones de obras en el Aeropuerto Internacional Cancún. nte las mejoras a realizar se encuentran la construcción de una pista de rodaje, ampliación del edificio y la plataforma de la Terminal 4. Esta nueva pista de rodaje correrá paralela a la pista 12L-30R, conocida como segunda pista y al Rodaje A-7, lo que permitirá que las aeronaves abandonen rápidamente la pista de aterrizaje y se haga posible un mayor número de operaciones. Por lo que se refiere a la ampliación de la Terminal 4, se dará inicio a la construcción de su segunda fase, lo que incrementará su capacidad de atención de 10 millones de pasajeros a 14 millones anuales.
"Siempre es importante para Quintana Roo que sigan llegando inversiones que nos consolidan como potencia turística regional, que contribuyen al desarrollo económico, de ocupación hotelera, de llegada de más turistas, y a la generación de más empleos para la gente", expresó el Gobernador Carlos Joaquín.
El titular de la SHCP Herrera Gutiérrez informó que Quintana Roo es la punta de lanza del crecimiento mexicano. Expresó que, desde el año de 2013, no ha habido un solo año que no haya crecido cuando menos al 3.1 por ciento. "En términos reales, ha crecido al 4.4 por ciento, 4.5 por ciento ó 5.1 por ciento", enfatizó.
Miguel Torruco Marqués, titular de la Secretaría de Turismo (Sectur), anunció en sus redes sociales un boom en la llegada de nuevos vuelos internacionales a Cancún para este 2020, de aerolíneas como Air Canada, Swoop, Air France, Conviasa, Tui Airways, Spirit Airlines, British Airways y Virgin Atlantic Airways. El Aeropuerto Internacional de Cancún mejoró en 2019 la cifra de pasajeros que registró en 2018, y aunque el crecimiento pueda ser el menor en cinco años, el destino habrá conseguido crecer en un año.

Work begins to expand Cancun Airport
Cancun International Airport begin improvement works
The Government of the State of Quintana Roo, the Ministry of Finance and Public Credit, has approved the start of the expansion of works at the Cancun International Airport. Among the improvements to be made are the construction of a taxiway, extension of the building and the platform of Terminal 4. This new taxiway will run parallel to runway 12L-30R, known as the second runway and the A-7 taxiway, which will allow aircraft to quickly leave the runway and make a greater number of operations possible. With regard to the extension of Terminal 4, the construction of its second phase will begin, which will increase its service capacity from 10 million passengers to 14 million annually.
"It is always important for Quintana Roo that investments continue to consolidate us as a regional tourism power, which contributes to economic development, hotel occupancy, the arrival of more tourists, and the generation of more jobs for people," said Governor Carlos Joaquin.
The owner of the SHCP Herrera Gutiérrez reported that Quintana Roo is the spearhead of Mexican growth. He said that, since 2013, there has not been a single year that has not grown at least 3.1 percent. "In real terms, it has grown to 4.4 percent, 4.5 percent or 5.1 percent", he said.
Miguel Torruco Marqués, head of the Ministry of Tourism (Sectur), announced in his social networks a boom in the arrival of new international flights to Cancun by 2020, from airlines such as Air Canada, Swoop, Air France, Conviasa, Tui Airways, Spirit Airlines, British Airways, and Virgin Atlantic Airways. The Cancun International Airport improved in 2019 the number of passengers registered in 2018, and although the growth may be the lowest in five years, the destination will have managed to grow in one year.
Ξ A I R G W A Y S Ξ
SOURCE: Airgways.com
DBk: Asur.com.mx / Quintafuerza.mx
AW-POST: 202001220920AR
A\W   A I R G W A Y S ®