AW | 2020 01 30 08:20 | AVIATION SAFETY / GOVERNMENT
Los gobiernos, organismos, aerolíneas exteman medidas por epidemia mundial
La República de China se está aislando cada vez más a medida que las principales aerolíneas se apresuraron a cancelar masivamente los vuelos, mientras el número de muertos por el coronavirus continúa creciendo. Los datos oficiales confiman que más de 170 personas murieron a causa de la enfermedad y el número de personas infectadas en China ha aumentado por encima de 6.000, una cifra más alta que la epidemia del Síndrome Respiratorio Agudo Severo (SARS) en 2003.
Impacto aerolíneas
Las aerolíneas Lufthansa, British Airways, Lion Air Group de Indonesia y Air Canada han cancelado todos los vuelos a tierra firme, mientras que United Airlines, American Airlines, IndiGo, Finnair, Delta Air Lines y Jetstar Asia han reducido drásticamente sus servicios. En otros lugares, se dice que los funcionarios en los Estados Unidos están considerando si detener todos los vuelos entre Estados Unidos y China.
Lufthansa Group, que incluye sus líneas aéreas hermanas Swiss International Air Lines y Austrian, y cuenta con más de 100 vuelos de regreso a la semana, dijo que detendría todos los vuelos de China continental hasta el 9 Febrero 2020. British Airways, que opera servicios diarios a Beijing y Shanghái, dijo que las cancelaciones estuvieron en vigencia hasta el 31 Enero 2020, aunque su sitio web parece mostrar que no tomarán reservas para vuelos directos al continente hasta el 1 Marzo 2020. La medida se produjo después de que el Ministerio de Asuntos Exteriores británico advirtió contra todos los viajes menos esenciales a China continental, mientras que desaconseja todos los viajes a la Provincia de Hubei. Air Canada dijo que detendría todos los vuelos a China continental desde el jueves hasta el 29/02. Para Lion Air, la decisión afecta a docenas de vuelos en 15 rutas. United Airlines, que ha cortado 24 vuelos, incluso a Hong Kong, hasta el 8 de febrero, admitió que había sufrido una disminución significativa en la demanda de viajes a China. Jetstar, que suspendió tres rutas en el continente, dijo que fue golpeado por los clientes que optaron por no viajar y que se impuso una prohibición temporal a los grupos de turistas de China. Delta Air Lines, que tiene una participación del 5% en la aerolínea estatal China Eastern, dijo que reduciría a la mitad los vuelos entre Estados Unidos y China del 42 al 21, entre el 6/02 y el 30/04. KLM y Air France de los Países Bajos y Francia dijeron que no detendrían los vuelos a China, pero que los cambios en sus horarios durarían al menos hasta el 29/02. KLM dijo que los vuelos de Chengdu, Hangzhou y Xiamen fueron suspendidos. Shangai y Pekín serían operados una vez al día cada uno. Los vuelos de Wuhan de Air France siguen suspendidos. La española Iberia señaló que no operaría más vuelos de Shanghai desde Madrid en el futuro previsible después de suspender la venta de boletos hasta principios de Marzo 2020. En un nuevo intento por combatir la propagación de la enfermedad, Cathay Pacific Airways dijo que revisaría su servicio en vuelo para limitar el contacto entre el personal y los pasajeros en las rutas de China continental.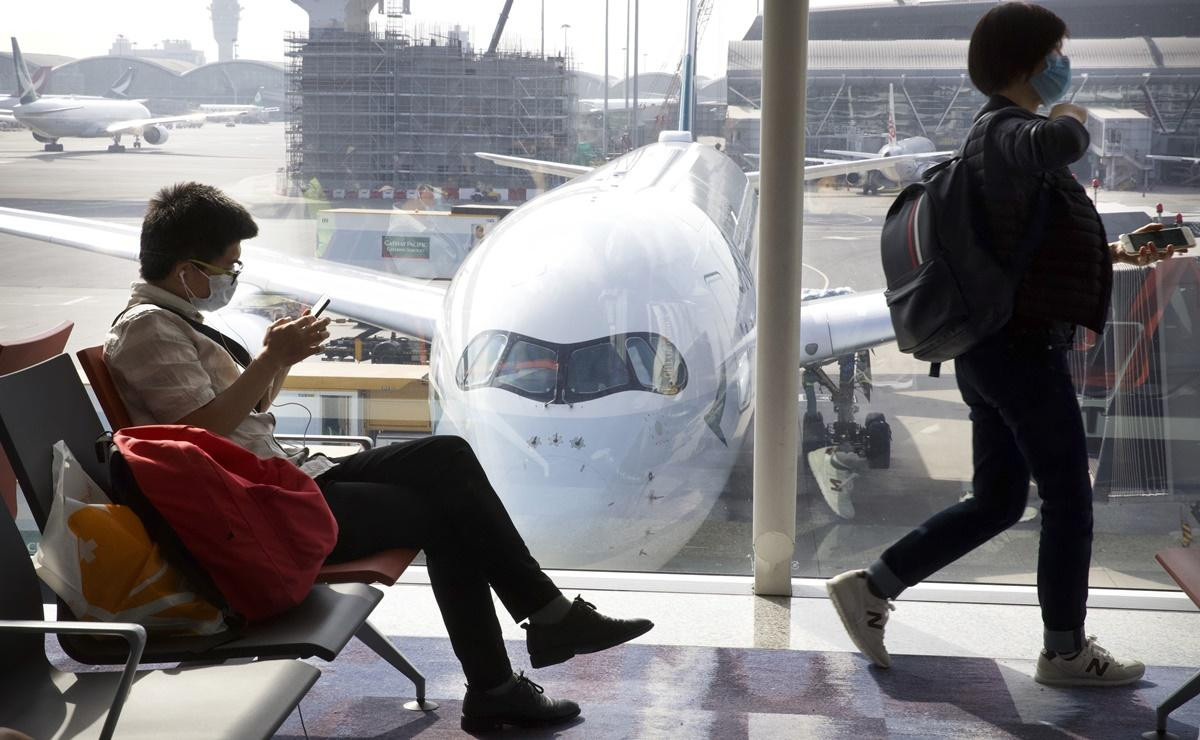 Más de una aerolínea admitió que una fuerte caída en la demanda provocó la mudanza, ya que los transportistas ofrecieron reembolsos gratuitos a las personas reacias a viajar a China, mientras que la prohibición de los grupos de viajes continentales estaba teniendo un impacto.
A fines del Miércoles 29/02, el enfoque se había desplazado a las aerolíneas que aún tenían que reducir los servicios o cancelar los vuelos de China directamente. La propagación del virus en China, en la peor amenaza desde que SARS está a punto de descarrilar el impulso del continente como uno de los mayores mercados de viajes aéreos, que ha contribuido enormemente al crecimiento desbocado de los viajes aéreos internacionales.
Entre el 23-27 Enero 2020, la cantidad de vuelos que no operaron ascendió a varios miles de vuelos de más de 75.000, según la compañía de datos de aviación Cirium, y esa cifra se expandirá significativamente después de las noticias del Miércoles 29/01. Hong Kong ha odenado todas las aerolíneas eliminar a la mitad de los vuelos hacia y desde el continente el Martes 28/02.
Más gobiernos extranjeros han recomendado todos los viajes, excepto los esenciales, a China, lo que llevó a algunas aerolíneas a actuar, mientras que otros admitieron que la propagación del virus había visto a los pasajeros reprogramar o cancelar el viaje, lo que condujo a aviones casi vacíos que volaban dentro y fuera del continente.
Ciencia vs epidemia
Los científicos se apresuran a desarrollar una vacuna contra el Coronavirus. Solo en los últimos cinco años, el mundo ha enfrentado brotes de Ébola, Zika, otro coronavirus llamado MERS (Síndrome Respiratorio del Medio Oriente), y ahora el virus simplemente conocido como «2019-nCoV». Pero a diferencia de muchos brotes anteriores, donde las vacunas para proteger a las personas han tardado años en desarrollarse, la investigación de una vacuna para ayudar a detener este brote se inició a las pocas horas de la identificación del virus.
Las autoridades chinas publicaron su código genético muy rápidamente. Esa información ayuda a los científicos a determinar de dónde proviene probablemente el virus, cómo podría mutar a medida que se desarrolla el brote y cómo proteger a las personas contra él.
Con los avances tecnológicos y un mayor compromiso de los gobiernos de todo el mundo para financiar la investigación sobre enfermedades emergentes, las instalaciones de investigación pudieron ponerse en acción rápidamente.
Velocidad sin precedentes
En el laboratorio de Inovio en San Diego, los científicos están utilizando un tipo relativamente nuevo de tecnología de ADN para desarrollar una vacuna potencial. «INO-4800», como se le llama actualmente, con planes para que ingrese a ensayos en humanos a principios del verano.
Kate Broderick, Vicepresidenta Senior de investigación y desarrollo de Inovio, dijo: «Una vez que China proporcionó la secuencia de ADN de este virus, pudimos ponerlo a través de la tecnología informática de nuestro laboratorio y diseñar una vacuna en tres horas. Nuestras vacunas de medicina de ADN son novedosas porque usan secuencias de ADN del virus para atacar partes específicas del patógeno que creemos que el cuerpo generará la respuesta más fuerte. Luego usamos las propias células del paciente para convertirnos en una fábrica de vacunas, fortaleciendo los mecanismos de respuesta natural del cuerpo».
Inovio dice que si los ensayos iniciales en humanos son un éxito, seguirían ensayos más grandes, idealmente en un contexto de brote en China para fin de año. Es imposible predecir si es probable que este brote haya terminado para entonces. Pero si el cronograma de Inovio va según lo planeado, la compañía dice que será la más rápida que se haya desarrollado y probado una nueva vacuna en una situación de brote. La última vez que surgió un virus similar, SARS, en 2002, China tardó en dejar que el mundo supiera lo que estaba sucediendo. Entonces, cuando el trabajo sobre una vacuna comenzó en serio, el brote casi había terminado.
Coronavirus
El virus Coronavirus pertenece a una cepa desconocida hasta ahora de coronavirus, denominado así por su foma de corona, una familia de patógenos que abarca desde resfriados comunes hasta el Síndrome Respiratorio Agudo Severo (SARS), que mató a 349 personas en China continental y a 299 en Hong Kong en 2002 y 2003.
Arnaud Fontanet, Jefe del Departamento de Epidemología en el Instituto Pasteur de París, explicó que la cepa del virus actual es en un 80% idéntico genéticamente al SARS.
Cómo se contagia
La Organización Mundial de la Salud (OMS) anunció ayer que cree que la fuente primaria del brote es de origen animal; probablemente tenga su origen en los murciélagos, por otro lado, las autoridades de Wuhan indicaron que el centro de la epidemia se encontraba en un mercado de pescado. El Gobierno de China confirmó que el virus se contagia entre humanos, sin que tenga que haber ningún contacto.
La doctora Nathalie MacDermott, del King's College de Londres, apuntó que el virus podría transmitirse por vía aérea cuando la persona infectada tose o estornuda. Según apuntó hoy un grupo de médicos de la Universidad de Hong Kong, habría habido unos 1.343 casos en Wuhan, una cifra similar a la proyección de 1.700 que hizo la semana pasada el Imperial College de Londres. Ambas estimaciones son mayores a las cifras oficiales.
Comparados con los del SARS, los síntomas de este nuevo virus parecen ser menos agresivos, y los expertos destacan que el balance de muertos es todavía relativamente bajo. Según las autoridades de Wuhan, veinticinco de más de 200 personas infectadas en la ciudad se curaron.
OMS
La OMS decidirá si el brote constituye una emergencia de salud pública internacional, denominación que el organismo internacional sólo utilizó unas pocas veces, como en el caso del virus H1N1, o fiebre porcina (2009); la epidemia del virus del Ébola (2014-2016) o el virus del Zika (2016). El gobierno chino le dio al brote la misma clasificación que al SARS, lo que comportará la cuarentena obligatoria para los diagnosticados y una posible instauración de restricciones para viajar.
La OMS dijo que su Comité de Emergencia se volvería a reunir el Jueves 30/01 para decidir si la propagación del nuevo coronavirus desde China constituye ahora una emergencia internacional de salud. «Estamos en una coyuntura importante en este evento. Creemos que estas cadenas de transmisión aún pueden interrumpirse», dijo Ryan, Director Ejecutivo del Programa de Emergencias de Salud de la OMS.
Increases alarm for Coronavirus
Governments, agencies, airlines extend measures for a global epidemic
The Republic of China is increasingly isolating itself as major airlines rushed to massively cancel flights, while the number of deaths from the coronavirus continues to grow. Official data confirm that more than 170 people died from the disease and the number of people infected in China has risen above 6,000, a figure higher than the Severe Acute Respiratory Syndrome (SARS) epidemic in 2003.
Airlines impact
Lufthansa, British Airways, Lion Air Group of Indonesia and Air Canada have canceled all flights to the mainland, while United Airlines, American Airlines, IndiGo, Finnair, Delta Air Lines, and Jetstar Asia have drastically reduced their services. Elsewhere, it is said that officials in the United States are considering whether to stop all flights between the United States and China.
Lufthansa Group, which includes its sister airlines Swiss International Air Lines and Austrian, and has more than 100 return flights per week, said it would stop all flights from mainland China until February 9, 2020. British Airways, which operates services newspapers to Beijing and Shanghai, said the cancellations were in effect until January 31, 2020, although its website seems to show that they will not take reservations for direct flights to the continent until March 1, 2020. The measure came after the Ministry of British Foreign Affairs warned against all the less essential trips to mainland China, while not advising all trips to Hubei Province. Air Canada said it would stop all flights to mainland China from Thursday through 02/29. For Lion Air, the decision affects dozens of flights on 15 routes. United Airlines, which has cut 24 flights, including Hong Kong, until February 8, admitted that it had suffered a significant decrease in demand for travel to China. Jetstar, which suspended three routes on the mainland, said it was hit by customers who chose not to travel and that a temporary ban was imposed on Chinese tourist groups. Delta Air Lines, which has a 5% stake in the state-owned China Eastern airline, said it would halve flights between the United States and China from 42 to 21, between 6/02 and 04/30. KLM and Air France of the Netherlands and France said they would not stop flights to China, but that changes in their schedules would last at least until 02/29. KLM said the flights from Chengdu, Hangzhou, and Xiamen were suspended. Shanghai and Beijing would be operated once a day each. Air France's Wuhan flights remain suspended. Spain's Iberia said it would not operate more Shanghai flights from Madrid in the foreseeable future after suspending ticket sales until early March 2020. In a new attempt to combat the spread of the disease, Cathay Pacific Airways said it would review its service in-flight to limit contact between staff and passengers on mainland China routes.
More than one airline admitted that a sharp drop in demand caused the move, as carriers offered free refunds to people reluctant to travel to China, while the ban on continental travel groups was having an impact.
At the end of Wednesday 29/02, the approach had shifted to airlines that still had to reduce services or cancel flights from China directly. The spread of the virus in China, in the worst threat since SARS, is about to derail the momentum of the continent as one of the largest air travel markets, which has contributed greatly to the unbridled growth of international air travel.
Between January 23-27, 2020, the number of flights that did not operate amounted to several thousand flights of more than 75,000, according to the aviation data company Cirium, and that figure will expand significantly after the news of Wednesday 29/01. Hong Kong has ordered all airlines to eliminate half of the flights to and from the mainland on Tuesday 28/02.
More foreign governments have recommended all trips, except essential ones, to China, which led some airlines to act, while others admitted that the spread of the virus had seen passengers reschedule or cancel the trip, which led to airplanes almost empty that flew in and out of the continent.
Science vs epidemic
Scientists rush to develop a vaccine against Coronavirus. In the past five years alone, the world has faced outbreaks of Ebola, Zika, another coronavirus called MERS (Middle East Respiratory Syndrome), and now the virus simply known as «2019-nCoV». But unlike many previous outbreaks, where vaccines to protect people have taken years to develop, research for a vaccine to help stop this outbreak began within a few hours of virus identification.
The Chinese authorities published their genetic code very quickly. That information helps scientists determine where the virus probably comes from, how it could mutate as the outbreak develops and how to protect people against it.
With technological advances and a greater commitment from governments around the world to fund research on emerging diseases, research facilities could be put into action quickly.
Unprecedented speed
At the Inovio lab in San Diego, scientists are using a relatively new type of DNA technology to develop a potential vaccine. «INO-4800», as it is currently called, with plans to enter human trials in early summer.
Kate Broderick, Senior Vice President of Research and Development at Inovio, said: «Once China provided the DNA sequence of this virus, we were able to put it through our lab's computer technology and design a vaccine in three hours. Our vaccines for DNA medicine are novel because they use DNA sequences from the virus to attack specific parts of the pathogen that we believe the body will generate the strongest response. Then we use the patient's own cells to become a vaccine factory, strengthening the natural response mechanisms of the body».
Inovio says that if initial trials in humans are a success, larger trials would follow, ideally in an outbreak context in China by the end of the year. It is impossible to predict whether this outbreak is likely to be over by then. But if Inovio's schedule goes according to plan, the company says it will be the fastest that has developed and tested a new vaccine in an outbreak situation. The last time a similar virus emerged, Sars, in 2002, China took a long time to let the world know what was happening. Then, when work on a vaccine began in earnest, the outbreak was almost over.
Coronavirus
The Coronavirus virus belongs to a strain hitherto unknown of coronavirus, named after its crown form, a family of pathogens that range from common colds to Severe Acute Respiratory Syndrome (SARS), which killed 349 people in mainland China and 299 in Hong Kong in 2002 and 2003.
Arnaud Fontanet, Head of the Department of Epidemiology at the Pasteur Institute in Paris, explained that the current virus strain is 80% genetically identical to SARS.
How is it spread?
The World Health Organization (WHO) announced yesterday that it believes that the primary source of the outbreak is of animal origin; It probably has its origin in bats, on the other hand, the Wuhan authorities indicated that the center of the epidemic was in a fish market. The Government of China confirmed that the virus is spread among humans, without any contact.
Dr. Nathalie MacDermott of King's College, London, said the virus could be transmitted by air when the infected person coughs or sneezes. As a group of doctors from the University of Hong Kong pointed out today, there would have been some 1,343 cases in Wuhan, a figure similar to the 1,700 projection made last week by Imperial College London. Both estimates are higher than the official figures.
Compared to those of SARS, the symptoms of this new virus appear to be less aggressive, and experts point out that the death toll is still relatively low. According to Wuhan authorities, twenty-five of more than 200 infected people in the city were cured.
WHO
WHO will decide whether the outbreak constitutes an international public health emergency, a name that the international organization only used a few times, as in the case of the H1N1 virus, or swine fever (2009); Ebola virus epidemic (2014-2016) or Zika virus (2016). The Chinese government gave the outbreak the same classification as the SARS, which will result in mandatory quarantine for those diagnosed and a possible establishment of travel restrictions.
WHO said its Emergency Committee would meet again on Thursday 30/01 to decide whether the spread of the new coronavirus from China now constitutes an international health emergency. «We are at an important juncture at this event. We believe that these transmission chains can still be interrupted», said Ryan, Executive Director of the WHO Health Emergency Program.
Ξ A I R G W A Y S Ξ
SOURCE: Airgways.com
DBk: Scmp.com / Infobae.com / Who.int / Bbc.com / Airgways.com / Aerotime.aero / Nikkei.com
AW-POST: 202001300820AR
A\W   A I R G W A Y S ®