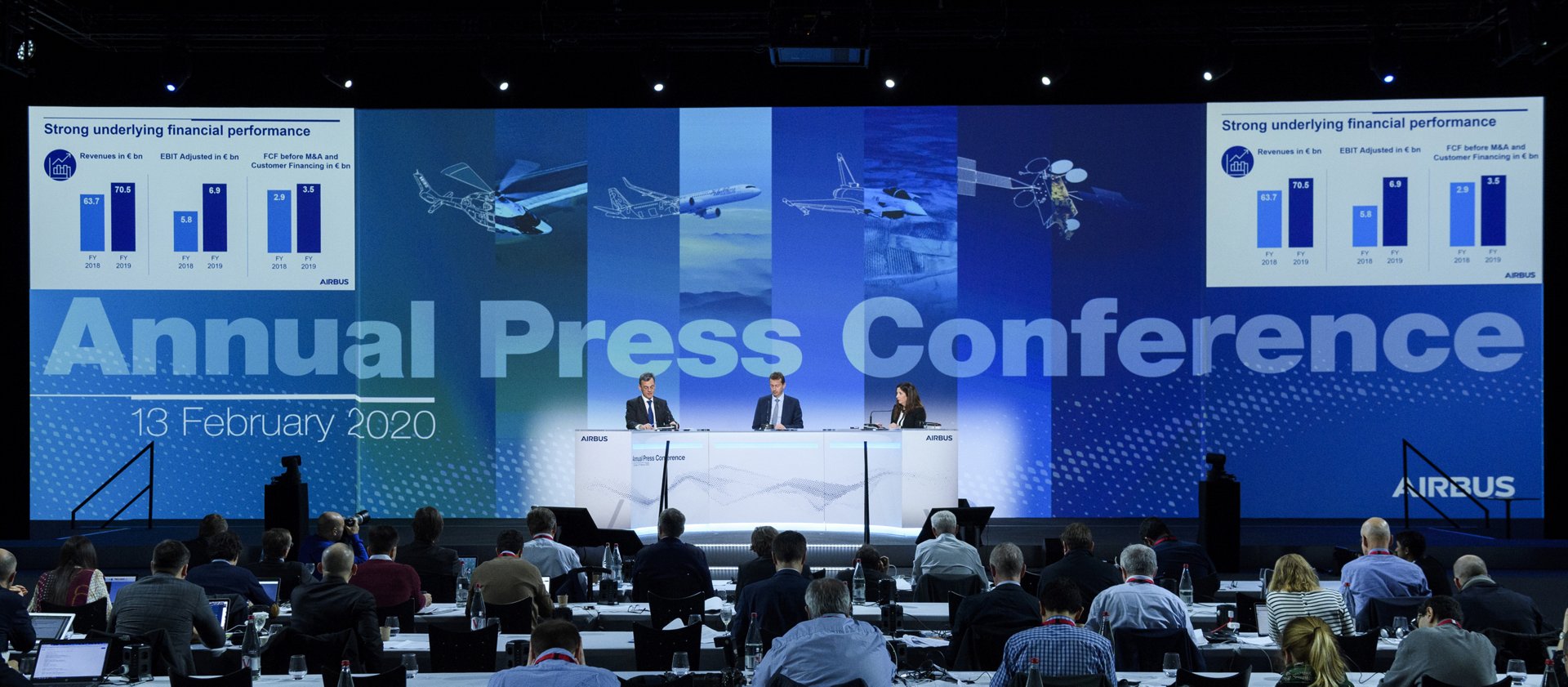 AW | 2020 02 14 20:42 | INDUSTRY
Airbus Group informa Report Anual 2019 con pérdida neta de € 1.362 mil millones
Airbus Group informó ha informado este 13/02 sus resultados financieros consolidados para el año completo 2019 y proporcionó orientación para 2020. En 2019, el fabricante ha realizado un nuevo récord en entregas de aviones comerciales. Los ingresos del grupo son de € 70.5 mil millones, con un EBIT ajustado a €
6.9 mil millones. Airbus se vio obligado a alcanzar un acuerdo de 3.600 millones de euros con las autoridades francesas, británicas y estadounidenses en una investigación sobre sobornos y corrupción. "Logramos mucho en 2019. Brindamos un sólido desempeño financiero subyacente impulsado principalmente por nuestras entregas de aviones comerciales. Los ingresos reportados también reflejan los acuerdos finales con las autoridades que resuelven las investigaciones de cumplimiento y un cargo relacionado con los supuestos de exportación revisados ​​para el A400M. El nivel de confianza en nuestra capacidad para continuar brindando un crecimiento sostenible en el futuro ha llevado a una propuesta de dividendos de € 1.80 por acción. Nuestro enfoque en 2020 será reforzar la cultura de nuestra compañía, mejorar operacionalmente y ajustar nuestra estructura de costos para fortalecer el desempeño financiero y prepararnos para el futuro", dijo el director ejecutivo de Airbus, Guillaume Faury.
Los pedidos netos de aviones comerciales aumentaron a 768 aviones (2018: 747 aviones), incluidos 32 A350 XWB, 89 A330 y 63 A220. A finales de 2019, la cartera de pedidos alcanzó los 7,482 aviones comerciales. Airbus Helicopters logró una relación de libro a factura por valor superior a 1 en un mercado difícil, registrando 310 pedidos netos en el año (2018: 381 unidades). Esto incluyó 25 helicópteros de la familia Super Puma, 23 NH90 y 10 H160. La toma de pedidos de Airbus Defence and Space por un valor de € 8,5 mil millones fue respaldada por contratos de servicios A400M y contratos clave ganados en Space Systems.
La entrada de pedidos consolidada en 2019 aumentó a € 81,2 mil millones (2018: € 55,5 mil millones) con la cartera de pedidos consolidada valorada en € 471 mil millones al 31 de diciembre de 2019 (finales de diciembre de 2018: € 460 mil millones). Los ingresos consolidados aumentaron a € 70.5 mil millones (2018: € 63.7 mil millones), principalmente debido a las mayores entregas de aviones comerciales y una mezcla favorable en Airbus, y en menor medida al desarrollo favorable del tipo de cambio. Se entregaron 863 aviones comerciales récord (2018: 800 aviones), que comprenden 48 A220, 642 A320 Family, 53 A330, 112 A350 y 8 A380. Airbus Helicopters registró ingresos estables respaldados por el crecimiento de los servicios, que compensaron las entregas más bajas de 332 helicópteros (2018: 356 unidades). Los ingresos en Airbus Defence and Space fueron ampliamente estables en comparación con el año anterior.
EBIT
Una medida de rendimiento alternativa e indicador clave que captura el margen comercial subyacente al excluir los cargos o ganancias materiales causados ​​por movimientos en las disposiciones relacionadas con programas, reestructuraciones o impactos cambiarios, así como ganancias/pérdidas de capital por la disposición y adquisición de negocios aumentó a 6.946 millones de euros (2018: 5.834 millones de euros), lo que refleja principalmente el rendimiento operativo de Airbus, parcialmente compensado por el rendimiento de Airbus Defence and Space y los costos adicionales de aumento. El EBIT ajustado de Airbus aumentó en un 32% a € 6,358 millones (2018: € 4,808 millones), impulsado en gran medida por la aceleración del A320 y la prima NEO, junto con un buen progreso en el A350.
En el programa A320, las entregas de aviones NEO aumentaron un 43% interanual a 551 aviones. La aceleración continuó para la versión Airbus Cabin Flex (ACF) del A321 con casi 100 entregas más que en 2018. Los equipos de Airbus se centran en asegurar la aceleración continua de ACF y mejorar el flujo industrial. Airbus está discutiendo un mayor potencial de aceleración para el programa A320 más allá de la tasa 63 por mes con la cadena de suministro, y ya ve un camino claro para aumentar aún más la tasa de producción mensual en 1 o 2 para cada uno de los 2 años posteriores a 2021. El punto de equilibrio El objetivo para el A350 se logró en 2019. Dada la demanda general de los clientes de aviones de fuselaje ancho, Airbus espera entregas del A330 de aproximadamente 40 aviones por año a partir de 2020 y el A350 se mantendrá entre una tasa mensual de 9 y 10 aviones.
El EBIT ajustado de Airbus Helicopters aumentó a € 422 millones (2018: € 380 millones), lo que refleja principalmente una mayor contribución de los servicios y menores costos de investigación y desarrollo. Esto se redujo por una mezcla de entrega menos favorable.
El EBIT ajustado en Airbus Defence and Space disminuyó a 565 millones de euros (2018: 935 millones de euros), lo que refleja principalmente el menor rendimiento en un entorno espacial competitivo y los esfuerzos para apoyar las campañas de ventas. La División está apuntando a un programa de reestructuración para abordar su estructura de costos y restaurar la rentabilidad a un alto margen de un solo dígito.
Durante 2019, se entregaron 14 aviones de transporte militar A400M de acuerdo con el último cronograma de entrega, lo que eleva la flota en servicio a 88 aviones al final del año. Se lograron varios hitos clave hacia la plena capacidad en el año, incluido el despliegue simultáneo de paracaidistas y helicópteros de reabastecimiento de combustible aire-aire. En 2020, las actividades de desarrollo continuarán hacia el logro de la hoja de ruta de capacidad revisada. Las actividades de actualización están progresando de acuerdo con el plan acordado por el cliente. Si bien se completó el replanteamiento del programa A400M y se han logrado avances significativos en las capacidades técnicas, las perspectivas son cada vez más desafiantes para las exportaciones durante la fase de lanzamiento del contrato, también a la luz de la prohibición de exportación alemana extendida repetidamente a Arabia Saudita. Como resultado,
Los gastos de I+D autofinanciados consolidados totalizaron € 3.358 millones (2018: € 3.217 millones). El EBIT consolidado (reportado) fue de € 1,339 millones (2018: € 5,048 millones), incluyendo ajustes por un total de € -5,607 millones. Estos ajustes comprendieron:
€ -3,598 millones relacionados con las sanciones;
€ -1,212 millones de euros relacionados con el cargo del A400M;
€ -221 millones de euros relacionados con la suspensión de las licencias de exportación de defensa a Arabia Saudita por parte del gobierno alemán, ahora prolongada hasta marzo de 2020;
€ -202 millones relacionados con el costo del programa A380;
€ -170 millones relacionados con el desajuste de pago previo a la entrega en dólares y la revaluación del balance;
€-103 millones de euros relacionados con el plan de reestructuración de Premium AEROTEC lanzado para mejorar su competitividad;
€ -101 millones de otros costos, incluidos los costos de cumplimiento parcialmente compensados ​​por ganancias de capital positivas de las desinversiones de Alestis Aerospace y PFW Aerospace.
La pérdida informada consolidada por acción de -1,75 € (ganancias por acción de 2018: € 3,94) incluye un impacto negativo del resultado financiero, principalmente debido a la revaluación de los instrumentos financieros. El resultado financiero fue de € -275 millones de euros (2018: € -763 millones de euros). La pérdida neta consolidada (1) fue de € -1,362 millones de euros (ingreso neto de 2018: € 3,054 millones de euros).
El flujo de caja libre consolidado antes de las fusiones y adquisiciones y la financiación de los clientes mejoraron en un 21% a € 3.509 millones (2018: € 2.912 millones), reflejando principalmente las entregas de aviones comerciales y el rendimiento de las ganancias. El flujo de caja libre consolidado fue de € 3,475 millones (2018: € 3,505 millones). La posición de efectivo neto consolidado era de 12.500 millones de euros al 31 de diciembre de 2019 (final de año 2018: € 13.300 millones de euros) después del pago de dividendos de 2018 de € 1.300 millones de euros y una contribución de pensiones de € 1.800 millones de euros. La posición de caja bruta al 31 de diciembre fue de € 22.7 mil millones (fin de año 2018: € 22.2 mil millones).
El Consejo de Administración propondrá el pago de un dividendo de 2019 de € 1,80 por acción a la Junta General Anual de 2020. Esto representa un aumento del 9% sobre el dividendo de 2018 de € 1.65 por acción. La fecha de pago es el 22 Abril 2020.
Airbus Annual Report 2019
Airbus Group reports Annual Report 2019 with a net loss of € 1,362 billion
Airbus Group reported that 13/02 reported its consolidated financial results for the full year 2019 and provided guidance for 2020. In 2019, the manufacturer has made a new record in commercial aircraft deliveries. The group's revenues are € 70.5 billion, with an EBIT adjusted to € 6.9 billion. Airbus was forced to reach a 3.6 billion euro agreement with the French, British and US authorities in an investigation of bribery and corruption. "We achieved a lot in 2019. We provide a solid underlying financial performance driven primarily by our commercial aircraft deliveries. Reported revenues also reflect the final agreements with the authorities that resolve compliance investigations and a charge related to the revised export assumptions for the A400M The level of confidence in our ability to continue providing sustainable growth in the future has led to a proposal of dividends of € 1.80 per share. Our focus in 2020 will be to strengthen our company's culture, improve operationally and adjust our cost structure to strengthen financial performance and prepare for the future", said Airbus executive director Guillaume Faury.
Net orders for commercial aircraft increased to 768 aircraft (2018: 747 aircraft), including 32 A350 XWB, 89 A330, and 63 A220. At the end of 2019, the order book reached 7,482 commercial aircraft. Airbus Helicopters achieved a book-to-bill ratio worth more than 1 in a difficult market, registering 310 net orders in the year (2018: 381 units). This included 25 helicopters of the Super Puma family, 23 NH90 and 10 H160. The ordering of Airbus Defense and Space worth € 8.5 billion was backed by A400M service contracts and key contracts won at Space Systems.
The consolidated order entry in 2019 increased to € 81.2 billion (2018: € 55.5 billion) with the consolidated order book valued at € 471 billion as of December 31, 2019 (end of December 2018: € 460 billion). Consolidated revenues increased to € 70.5 billion (2018: € 63.7 billion), mainly due to higher commercial aircraft deliveries and a favorable mix in Airbus, and to a lesser extent to the favorable development of the exchange rate. 863 record commercial aircraft (2018: 800 aircraft) were delivered, comprising 48 A220, 642 A320 Family, 53 A330, 112 A350, and 8 A380. Airbus Helicopters recorded stable revenues backed by the growth of services, which offset the lowest deliveries of 332 helicopters (2018: 356 units). Revenues in Airbus Defense and Space were widely stable compared to the previous year.
EBIT
An alternative performance measure and key indicator that captures the underlying commercial margin by excluding material charges or gains caused by movements in the provisions related to exchange programs, restructuring or impacts, as well as capital gains/losses on disposal and acquisition of business increased to € 6,946 million euros (2018: € 5,834 million euros), which mainly reflects the operational performance of Airbus, partially offset by the performance of Airbus Defense and Space and the additional costs of increase. The adjusted EBIT of Airbus increased by 32% to € 6,358 million (2018: € 4,808 million), largely driven by the acceleration of the A320 and the NEO premium, along with good progress in the A350.
In the A320 Program, NEO aircraft deliveries increased 43% year-on-year to 551 aircraft. The acceleration continued for the Airbus Cabin Flex (ACF) version of the A321 with almost 100 deliveries more than in 2018. Airbus teams focus on ensuring continuous ACF acceleration and improving industrial flow. Airbus is discussing greater acceleration potential for the A320 program beyond the 63 per month rate with the supply chain and already sees a clear path to further increase the monthly production rate by 1 or 2 for each of the 2 years after 2021. The breakeven point The objective for the A350 was achieved in 2019. Given the general demand of customers of wide-body aircraft, Airbus expects A330 deliveries of approximately 40 aircraft per year from 2020 and the A350 will remain between a monthly rate of 9 and 10 aircraft.
The adjusted EBIT of Airbus Helicopters increased to € 422 million (2018: € 380 million), which mainly reflects a greater contribution of services and lower research and development costs. This was reduced by a less favorable delivery mix.
Adjusted EBIT in Airbus Defense and Space decreased to € 565 million euros (2018: 935 million euros), which mainly reflects the lower performance in a competitive space environment and efforts to support sales campaigns. The Division is targeting a restructuring program to address its cost structure and restore profitability to a high single-digit margin.
During 2019, 14 A400M military transport aircraft were delivered according to the latest delivery schedule, which brings the fleet in service to 88 aircraft at the end of the year. Several key milestones were achieved towards full capacity during the year, including the simultaneous deployment of paratroopers and air-to-air refueling helicopters. In 2020, development activities will continue towards the achievement of the revised capacity roadmap. Update activities are progressing according to the plan agreed by the client. While the redesign of the A400M program was completed and significant advances in technical capabilities have been achieved, the outlook is increasingly challenging for exports during the contract launch phase, also in light of the repeatedly extended German export ban to Saudi Arabia. As a result,
Consolidated self-funded R&D expenses totaled € 3,358 million (2018: € 3,217 million). Consolidated (reported) EBIT was € 1,339 million (2018: € 5,048 million), including adjustments for a total of € -5,607 million. These adjustments included:
€ -3,598 million related to sanctions;
€ -1,212 million euros related to the A400M charge;
€ -221 million euros related to the suspension of defense export licenses to Saudi Arabia by the German government, now extended until March 2020;
€ -202 million related to the cost of the A380 program;
€ -170 million related to the payment mismatch prior to delivery in dollars and the revaluation of the balance;
€ -103 million euros related to the Premium AEROTEC restructuring plan launched to improve its competitiveness;
€ -101 million of other costs, including compliance costs partially offset by positive capital gains from the divestments of Alestis Aerospace and PFW Aerospace.
The consolidated reported loss per share of € -1.75 (2018 earnings per share: € 3.94) includes a negative impact of the financial result, mainly due to the revaluation of the financial instruments. The financial result was -275 million euros (2018: € -763 million euros). The consolidated net loss (1) was € -1,362 million euros (net income of 2018: € 3,054 million euros).
Consolidated free cash flow before mergers and acquisitions and customer financing improved by 21% to € 3,509 million (2018: € 2,912 million), mainly reflecting commercial aircraft deliveries and earnings performance. The consolidated free cash flow was € 3,475 million (2018: € 3,505 million). The consolidated net cash position was € 12,500 million euros as of December € 31, 2019 (end of the year 2018: € 13,300 million euros) after the 2018 dividend payment of € 1,300 million euros and a pension contribution of € 1,800 million euros. Euros The gross cash position at December 31 was € 22.7 billion (year-end 2018: € 22.2 billion).
The Board of Directors will propose the payment of a 2019 dividend of € 1.80 per share to the Annual General Meeting of 2020. This represents a 9% increase over the 2018 dividend of € 1.65 per share. The payment date is April 22, 2020.
Ξ A I R G W A Y S Ξ
SOURCE: Airgways.com
DBk: Airbus.com / Airgways.com
AW-POST: 202002142042AR
A\W   A I R G W A Y S ®