AW | 2020 02 14 21:24 | AIRSHOW / FAIR / CONGRESS
Los gigantes de la aviación salieron del Singapore Airshow el Viernes 14 Febrero 2020 con poco de qué presumir. Muchas compañías ni siquiera se presentaron debido a la preocupación por la epidemia del Coronavirus, que ha infectado a más de 60.000 personas y mató a 1.380, principalmente en China. La asistencia fue escasa y los ejecutivos que sí asistieron se dirigieron a la puerta poco después de terminar sus reuniones. Los organizadores aconsejaron a los asistentes que evitaran el contacto con las manos, lo que provocó saludos incómodos y golpes de codo.
Para el Jueves 13/02 por la tarde, el tercer día del espectáculo de Singapur, muchos puestos de la compañía estaban vacíos. Algunos habían cerrado la tienda después del primer día. Apenas había un alma en el área de visualización estática. Incluso los pilotos, que tienden a mostrar con entusiasmo los jets privados a los ultra ricos en espectáculos aéreos, no se encontraban en ninguna parte. Al menos una compañía dijo que los ejecutivos que vinieron al evento desde el extranjero tendrán que pasar por la cuarentena a su regreso. Los organizadores del Singapore Airshow no respondieron de inmediato a las solicitudes de comentarios sobre el evento.
AIRBUS GROUP
Sin competidores, se espera que Airbus Group continúe acumulando pedidos para el A321XLR, incluso si su entrada en servicio solo está programada para 2023. Airbus no se ha lucido más allá de su unidad de helicópteros vendiendo algunos aviones de entrenamiento al ejército tailandés. Un punto destacado del espectáculo fue PNG Air que ordenó tres aviones ATR 42-600S.
COMAC AIRCRAFT
El avión insignia de la Corporación de Aeronaves Comerciales de China (COMAC) se ha retrasado al menos cinco años y los analistas creen que es probable que pierda su horario de 2021 para la primera entrega del avión a un cliente. El C919 de pasillo único está diseñado para competir con el Boeing 737 y el Airbus A320, el caballo de batalla favorito de los transportistas de bajo presupuesto. El fabricante dice que hay 815 de los aviones en orden, principalmente de transportistas nacionales. Pero enfrentará desafíos particulares para obtener la aprobación de los reguladores de Estados Unidos y Europa para operar internacionalmente, y obtener la aceptación del público fuera de su mercado local, dijo Shukor de Endau Analytics.
EMBRAER 
El constructor aeronáutico Embraer podría tomar la decisión este año 2020 de proyectar el Programa E3 Turboprop. El CEO de Embraer Commercial Aircraft, John Slattery, ha comunicado en la actual feria Singapore Airshow 2020 que la compañía estaba evaluando la posibilidad de iniciar las actualizaciones de los programas turbohélices bajo una plataforma diferente a la línea EMB-120. El CEO ha remarcado que existe una demanda de 290 unidades para un mercado atrayente en el segmento de entre 40-80 pasajeros a una proyección hacia los próximos veinte años. La Junta de Embraer podría estar tomando la decisión del lanzamiento del Programam E3 para finales del 4Q2020.
MITSUBISHI AIRCRAFT
Los fabricantes de aviones asiáticos han arrojado grandes sumas en la construcción de aviones, pero los proyectos emblemáticos han sufrido repetidos contratiempos y se enfrentan a dificultades para ingresar en un mercado dominado por jugadores establecidos. La región de Asia y el Pacífico es el mercado de aviación más grande del mundo para aviones comerciales y las empresas japonesas y chinas se han embarcado en programas para construir  sus propios aviones. Las dos economías más grandes de Asia albergan innumerables compañías que fabrican productos de alta tecnología, desde automóviles hasta teléfonos inteligentes, que en muchos casos han logrado rivalizar con las empresas occidentales. Las compañías a la vanguardia del impulso asiático, Mitsubishi de Japón y el fabricante estatal chino COMAC, han visto retrasados ​​sus proyectos emblemáticos durante años.
Mitsubishi Aircraft Corporation estaba mostrando una maqueta del interior de su SpaceJet, cuya primera versión originalmente debía lanzarse comercialmente en 2013. Después de repetidos retrasos, el transportista japonés All Nippon Airways finalmente recibió el primero de los aviones SpaceJet M90 a mediados de este año. Pero el modelo sufrió su sexta demora este mes, y la primera entrega ahora se espera como máximo el año próximo. Los contratiempos, debido principalmente a problemas técnicos, han elevado el costo de desarrollo del avión a un estimado de 800 mil millones de yenes (US$ 7,3 mil millones).
Steve Haro, Vicepresidente y Jefe de Marketing y Estrategia Global de Mitsubishi Aircraft Corporation, dijo que se habían realizado más de 900 cambios en el diseño original de la aeronave. Pero agregó que se alcanzó un hito ya que la última versión estaba lista para ser certificada por los reguladores. «Realmente estamos en el lugar donde estamos cruzando la línea de meta de una carrera muy larga», expresó Steve Haro.
THE BOEING COMPANY
Boeing 737 MAX
The Boeing Company que está engañada por la conexión a tierra del Boeing 737 MAX y no pudo firmar ningún pedido en Enero 2020, no anunció ningún acuerdo en la feria aeronáutica de Singapore Airshow en esta quinta edición.
De los eventos que tuvieron lugar, el 737 MAX de Boeing dominó las conversaciones. La conexión a tierra global del avión de pasillo único después de dos accidentes le ha costado al fabricante de aviones de los Estados Unidos un estimado de US$ 18,6 mil millones. Todavía no hay una verdadera claridad sobre cuándo volverá a volar, y eso está perjudicando a proveedores como United Technologies Corp. y Spirit AeroSystems Holdings Inc., que redujo su dividendo y despidió a 2.800 empleados. Boeing dijo que tomará varios trimestres devolver el 737 MAX a los cielos a nivel mundial, lo que significa que alrededor de 700 de los aviones están atrapados en la pista. La compañía planea reanudar la producción de la aeronave antes de que los reguladores le den luz verde para volver al aire. El transportista de presupuesto SpiceJet Ltd. dijo en el show aéreo que Boeing correrá con los gastos de instalar un simulador en India.
Uno de los mayores beneficiarios de la crisis de 737 MAX, al menos en papel, es Airbus. El fabricante de aviones europeo dijo que espera 1.000 pedidos en los próximos diez años para su jet A321XLR, el modelo más nuevo y de mayor alcance de su familia A320 más vendida. Boeing está considerando un nuevo avión que potencialmente pueda competir con el último Airbus.
Boeing-Brasil
Algunos de los compradores de aviones más grandes del mundo están instando a la Unión Europea a despejar el vínculo de Boeing con Embraer, temiendo que el negocio de aviación comercial de Embraer tenga dificultades por sí solo ahora que Airbus se ha tragado a su principal competidor en aviones regionales. Los reguladores europeos de la EASA continúan sus evaluaciones para establecer que la nueva alianza Boeing-Embraer no viole ningunas de las reglas económicas ni posición dominante de mercado.
SINGAPORE AIRSHOW 2019 | DAY 4
Aviation giants left Singapore Airshow on Friday, February 14, 2020, with little to show off. Many companies did not even show up due to concerns about the Coronavirus epidemic, which has infected more than 60,000 people and killed 1,380, mainly in China. Attendance was low and executives who did attend headed for the door shortly after finishing their meetings. The organizers advised the attendees to avoid contact with their hands, which caused uncomfortable greetings and elbow bumps.
By Thursday 13/02 in the afternoon, the third day of the Singapore show, many of the company's seats was empty. Some had closed the store after the first day. There was barely a soul in the static display area. Even the pilots, who tend to enthusiastically show private jets to ultra-rich air shows, were nowhere to be found. At least one company said executives who came to the event from abroad will have to go through the quarantine on their return. The organizers of the Singapore Airshow did not immediately respond to requests for comments about the event.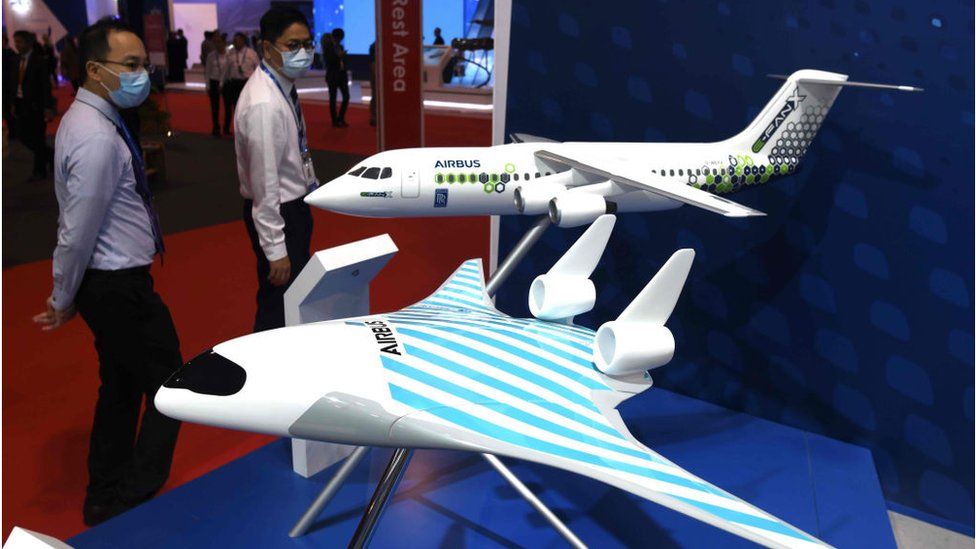 AIRBUS GROUP
Without competitors, Airbus Group is expected to continue to accumulate orders for the A321XLR, even if its entry into service is only scheduled for 2023. Airbus has not shone beyond its helicopter unit selling some training aircraft to the Thai army. A highlight of the show was PNG Air that ordered three ATR 42-600S aircraft.
COMAC AIRCRAFT
The flagship aircraft of the China Commercial Aircraft Corporation (COMAC) has been delayed at least five years and analysts believe it is likely that it will lose its 2021 schedule for the first delivery of the plane to a customer. The single-aisle C919 is designed to compete with the Boeing 737 and the Airbus A320, the favorite workhorse of low-budget carriers. The manufacturer says there are 815 of the planes in order, mainly from domestic carriers. But it will face particular challenges in obtaining the approval of US regulators and Europe to operate internationally, and gain public acceptance outside its local market, said Shukor of Endau Analytics.
EMBRAER
The aeronautical constructor Embraer could make the decision this year 2020 to project the E3 Turboprop Program. The CEO of Embraer Commercial Aircraft, John Slattery, has announced at the current Singapore Airshow 2020 fair that the company was evaluating the possibility of initiating updates of the turboprop programs under a platform other than the EMB-120 line. The CEO has stressed that there is a demand for 290 units for an attractive market in the segment of 40-80 passengers at a projection towards the next twenty years. The Embraer Board may be making the decision to launch the E3 Program by the end of 4Q2020.
MITSUBISHI AIRCRAFT
The manufacturers of Asian planes have thrown large sums in the construction of airplanes, but the emblematic projects have suffered repeated setbacks and face difficulties in entering a market dominated by established players. The Asia-Pacific region is the world's largest aviation market for commercial airplanes and Japanese and Chinese companies have embarked on programs to build your own planes. The two largest economies in Asia are home to countless companies that manufacture high-tech products, from cars to smartphones, which in many cases have managed to rival Western companies. Companies at the forefront of Asian momentum, Mitsubishi of Japan and Chinese state manufacturer COMAC, have been delaying their flagship projects for years.
Mitsubishi Aircraft Corporation was displaying a mock-up of the interior of its SpaceJet, whose first version was originally due to be launched commercially in 2013. After repeated delays, the Japanese carrier All Nippon Airways finally received the first of the SpaceJet M90 aircraft in the middle of this year. But the model suffered its sixth delay this month, and the first installment is now expected at most next year. The setbacks, mainly due to technical problems, have raised the cost of developing the aircraft to an estimated 800 billion yen (US$ 7.3 billion).
Steve Haro, Vice President and Head of Global Marketing and Strategy at Mitsubishi Aircraft Corporation, said more than 900 changes had been made to the original design of the aircraft. But he added that a milestone was reached since the latest version was ready to be certified by regulators. «We are really at the place where we are crossing the finish line of a very long race», said Steve Haro.
THE BOEING COMPANY
Boeing 737 MAX
The Boeing Company that is deceived by the grounding of the Boeing 737 MAX and was unable to sign any orders in January 2020, announced no agreement at the Singapore Airshow air show in this fifth edition.
Of the events that took place, Boeing 737 MAX dominated the talks. The global grounding of the single-aisle aircraft after two accidents has cost the US aircraft manufacturer an estimated US$ 18.6 billion. There is still no real clarity about when it will fly again, and that is hurting suppliers such as United Technologies Corp. and Spirit AeroSystems Holdings Inc., which reduced its dividend and laid off 2,800 employees. Boeing said it will take several quarters to return the 737 MAX to the heavens worldwide, which means that around 700 of the planes are trapped on the runway. The company plans to resume production of the aircraft before the regulators give it the green light to return to the air. The budget carrier SpiceJet Ltd. said at the air show that Boeing will bear the costs of installing a simulator in India.
One of the biggest beneficiaries of the 737 MAX crisis, at least on paper, is Airbus. The European aircraft manufacturer said it expects 1,000 orders in the next ten years for its A321XLR jet, the newest and most powerful model of its best-selling A320 family. Boeing is considering a new plane that can potentially compete with the latest Airbus.
Boeing-Brazil
Some of the world's largest aircraft buyers are urging the European Union to clear Boeing's link with Embraer, fearing that Embraer's commercial aviation business will have difficulties on its own now that Airbus has swallowed its main competitor in regional aircraft
The European EASA regulators continue their evaluations to establish that the new Boeing-Embraer alliance does not violate any of the economic rules or dominant market position.
Ξ A I R G W A Y S Ξ
SOURCE: Airgways.com
DBk: Singaporeairshow.com / Bbc.com / Airbus.com / Embraer.com / Mitsubishiaircraft.com / Boeing.com / Airgways.com
AW-POST: 202002142124AR
A\W   A I R G W A Y S ®