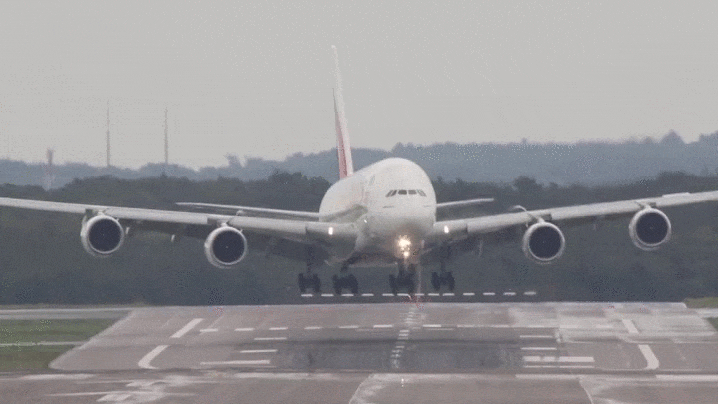 AW | 2020 03 22 12:10 | AVIATION SAFETY / AIRLINES MARKET / INDUSTRY / GOVERNMENT
Las aerolíneas enfrentan el mayor impacto después del 11-S
La industria de la aviación mundial está atravesando la pandemia del Coronavirus (COVID-19) como el mayor golpe de crisis mundial. El alcance del impacto ha traspasado las fronteras territoriales. El turismo, la hotelería, entre muchas industrias han caído presa de la situación global. Pero, hasta la actualidad pocos grupos se han visto tan afectados como la industria de las aerolíneas.
El panorama a corto plazo ha traído eco de la Asociación de Viajes de Estados Unidos que predijo que ese país podría perder 4,6 millones de empleos relacionados con viajes este año, lo que infligiría un golpe de US$ 809 mil millones en la economía de Estados Unidos. La Asociación Internacional de Transporte Aéreo (IATA) advirtió que las pérdidas en los ingresos de las aerolíneas mundiales debido a la pandemia superarían su estimación anterior de US$ 113 mil millones.
Impactos
Los ataques terroristas del 11 Septiembre 2001 han traído fuertes impactos cuando el espacio aéreo de Estados Unidos estuvo cerrado durante cuatro días, crearon una situación diferente a la planteada por la pandemia COVID-19, dice Robert Crandall, quien se desempeñó como CEO de American Airlines (AMR Corp.), de 1985-1998. Después del 11-S, "la industria de las aerolíneas pudo persuadir a las personas con bastante rapidez de que las nuevas medidas de seguridad hacían que viajar fuera seguro", dice Robert Crandall. Las nuevas normativas profundizaron la seguridad en la aviación que en cuestión de meses la industria ha ido recuperándose paulatinamente. A diferencia de la pandemia de COVID-19, la epidemia de SARS estaba geográficamente contenida en Asia, lo que limitaba su impacto en los transportistas estadounidenses y europeos, muchos de los cuales no tenían un servicio extenso en la región en ese momento.
"El crecimiento fenomenal en vuelos internacionales de larga distancia en los últimos veinte años ha hecho que la industria de las aerolíneas sea más vulnerable a las repercusiones del Coronavirus", dice Henry Hartevelt, analista de viajes de Atmosphere Research. "Los eventos regionales como el 11 Septiembre 2001 y el brote de SARS difieren del fenómeno global continuo de la pandemia COVID-10", explica Michael Premo, Presidente y CEO de Airlines Reporting Corp., que proporciona servicios de liquidación financiera entre agencias de viajes y aerolíneas. "El colapso de los mercados financieros mundiales deprime los viajes durante esta última crisis", dice el consultor Gregg Saretsky, ex CEO de WestJet y ex Ejecutivo Senior de Alaska Airlines y Canadian Airlines.
La presión a la baja sobre la propensión de las personas a viajar será una recuperación muy problemática y tomará más tiempo que en el pasado debido a los múltiples niveles de problemas. El plazo hasta cierto punto dependerá de cuán rápido se desarrolle COVID-19. Las aerolíneas estadounidenses hoy están en una mejor situación financiera que después del 11-S.
Michael Derchin, un veterano analista de aerolíneas que trabajó para Pan American World Airways y American antes de ir a Wall Street en 1979, dice que los transportistas estadounidenses tuvieron dificultades a partir de los acontecimientos del 11 Septiembre 2001, que se produjo 23 años después de que la industria estadounidense fuera desregulada en 1978. "Las cosas no se resolvieron en ese momento en términos de reestructuración de la industria", explica. Derchin llama al 11-S un catalizador para una consolidación importante entre las aerolíneas estadounidenses. Posteriormente, los transportistas se declararon en bancarrota, reestructuraron las operaciones y los balances, redujeron los costos y se fusionaron, lo que según el gobierno permitió para que pudieran recuperarse. "Afortunadamente, las aerolíneas estadounidenses están ahora en una mejor situación financiera por un margen enorme que después del 11 Septiembre. Han sido rentables durante 10 años seguidos, y también durante los últimos 10 años han generado la mitad de las ganancias de la industria aérea global. Las aerolíneas estadounidenses tienen balances mucho mejores, mucho efectivo disponible y activos no gravados contra los cuales podrían tomar prestado, lo cual es necesario ya que los saldos de efectivo caen precipitadamente, debido a la caída sin precedentes en la demanda de viajes aéreos, y las aerolíneas buscan ayuda financiera de que el gobierno capee la tormenta COVID-19", dice Michael Derchin.
Piloteando la pandemia
Aunque el mercado está más consolidado, la vulnerabilidad de las compañías aéreas continúa poniéndose en jaque sus finanzas. El tiempo que transcurra la crisis pandémica pondrá de manifiesto las acciones gobierno-aerolíneas para superarlas, aunque muchas están muriendo en el intento como por ejemplo Flybe (Reino Unido), Compass Airlines, Trans States Airlines (Estados Unidos). La aerolínea italiana Alitalia cuya renacionalización fue anunciada por el gobierno italiano a principios de esta semana de Marzo 2020 permitirá establecer qué acciones el Gobierno de Italia tomará frente al panorama sombrío de su país.
La consolidación del mercado aéreo por sobre todo en Europa ha permitido observar que muchas compañías en estos últimos tiempos han tenido dificultades financieras que las han llevado a la quiebra de un día para el otro como por ejemplo Monarch Airlines, Flybe, Air Italy, Flybmi, WowAir, entre otras. Pero muchas muestran actualmente problemas económicos como la aerolínea Norwegian Air Shuttle ASA, aún continúa incierto. La salud financiera de Virgin Atlantic Airways también ha mostrado ciertas dificultades. En el Continente asiático, Cathay Pacific está luchando por sobrevivir, ya que su negocio comenzó a declinar cuando comenzaron las protestas políticas en Hong Kong, y luego se desplomó aún más cuando la actual pandemia se extendió por Asia.
Craig Jenks, quien dirige la consultora Airline/Aircraft Projects Inc. (AAP), con sede en Nueva York, señala que los transportistas en los Estados Unidos y el Reino Unido buscan ayuda estatal equivalente a aproximadamente el 25% de los ingresos de 2019, y que IATA está buscando un porcentaje objetivo similar para la industria a nivel mundial. Pero sugiere que muchos transportistas pueden no obtener rescates del gobierno. Estos incluyen aerolíneas en el HNA Group con sede en China, como su aerolínea insignia Hainan Airlines; Asiana Airlines en Corea del Sur; aerolíneas de bajo costo del sudeste asiático como Bamboo Airways y VietJet (VietJet) en Vietnam y Nok Air (Nok Air) en Tailandia; South African Airways, y el legado de Europa del Este y las compañías estatales como Croatia Airlines y TAROM de Rumania. Además de las posibles bajas entre las filas de las aerolíneas, los ejecutivos y analistas no están de acuerdo sobre cuánto tiempo podría tomar una recuperación para aquellos que sobreviven.
Recuperando tráfico
IATA ha comunicado a fines de Febrero 2020 que había más ventas de boletos aéreos en China que de reembolsos, algo que no habían observado en las últimas seis u ocho semanas: "Ese es un indicador bastante bueno de las aerolíneas chinas estaban en la parte inferior y ahora están subiendo. Los transportistas estadounidenses todavía están en una trayectoria descendente". Henry Harteveldt predice que el tráfico y los ingresos de las aerolíneas volverán a "niveles normales de tres a seis meses después de un retorno a un estado de salud normal". Sin embargo, advierte que "con la economía que se desintegra aún más día a día, existe un riesgo creíble de una recesión económica. Si vemos una gran cantidad de despidos, un aumento sustancial en las tasas de desempleo, un retorno brusco de los viajeros de negocios y un lento ritmo de contratación a medida que nos recuperamos de la crisis, la industria podría demorar entre un año y 18 meses en alcanzar niveles de precrisis de tanto tráfico como ingresos".
Gripe Aviar
Actualmente, una nueva variante de la gripe Aviar (H5N6) ha rebrotado en Oriente. Filipinas ha anunciado brote de gripe aviar en medio de la pandemia de coronavirus. El Secretario del Departamento de Agricultura de Filipinas anunció que se registró un brote de gripe aviar causado por la cepa de virus H5N6 en una granja de codornices de la Provincia de Nueva Écija, a 123 km al norte de la capital, Manila.
Perspectivas aviación
La crisis de COVID-19 está sacudiendo actualmente la economía de los Estados Unidos y otras naciones, y no se sabe cuánto tiempo persistirá. Pero cuando la crisis sanitaria continúe decreciendo, la aviación podría volver a restablecerse paulatinamente. La pandemia obligará a las compañías a repensar la forma en que realizan negocios en el futuro, las nuevas normativas en seguridad, como así también las nuevas perspectivas financieras que envuelven las estructuraciones de las aerolíneas. Los nuevos desafíos globales marcarán hacia el futuro nuevas normativas de los gobiernos, la industria y las aerolíneas que permitirán continuar sobrevolando las crisis futuras.
The COVID-19 impact in the world
Airlines face the biggest impact after 9/11
The global aviation industry is experiencing the Coronavirus pandemic (COVID-19) as the world's biggest crisis hit. The scope of the impact has crossed territorial borders. Tourism, hospitality, among many industries have fallen prey to the global situation. But so far few groups have been as affected as the airline industry.
The short-term picture has echoed the United States Travel Association, which predicted that the country could lose 4.6 million travel-related jobs this year, inflicting a US$ 809 billion hit on the economy of U.S. The International Air Transport Association (IATA) warned that losses in global airline revenue due to the pandemic would exceed its previous estimate of US$ 113 billion.
Impacts
The terrorist attacks of September 11, 2001, have had strong impacts when the United States' airspace was closed for four days, creating a different situation than that posed by the COVID-19 pandemic, says Robert Crandall, who served as CEO of American Airlines (AMR Corp.), from 1985-1998. After 9/11, "the airline industry was able to persuade people fairly quickly that new security measures made traveling safe", says Robert Crandall. The new regulations deepened aviation security as the industry has been gradually recovering in a matter of months. Unlike the COVID-19 pandemic, the SARS epidemic was geographically contained in Asia, limiting its impact on American and European carriers, many of whom did not have extensive service in the region at the time.
"The phenomenal growth in international long-haul flights over the past twenty years has made the airline industry more vulnerable to the repercussions of the Coronavirus", says Henry Hartevelt, a travel analyst at Atmosphere Research. "Regional events like September 11, 2001, and the SARS outbreak differ from the ongoing global phenomenon of the COVID-10 pandemic", explains Michael Premo, President, and CEO of Airlines Reporting Corp., which provides financial settlement services between travel agencies. and airlines. "The collapse of global financial markets depresses travel during this latest crisis", says consultant Gregg Saretsky, former WestJet CEO and former Senior Executive for Alaska Airlines and Canadian Airlines.
The downward pressure on people's propensity to travel will be a very troublesome recovery and will take longer than in the past due to multiple levels of problems. The time frame to some extent will depend on how fast COVID-19 develops. American airlines are in a better financial position today than after 9/11.
Michael Derchin, a veteran airline analyst who worked for Pan American World Airways and American before going to Wall Street in 1979, says that American carriers struggled after the events of September 11, 2001, which occurred 23 years after that US industry was deregulated in 1978. "Things were not resolved at the time in terms of restructuring the industry," he explains. Derchin calls 9/11 a catalyst for significant consolidation among American airlines. Subsequently, the carriers filed for bankruptcy, restructured operations and balance sheets, cut costs and merged, which the government says allowed them to recover. Fortunately, American airlines are now in a better financial position by a huge margin than after 9/11. They have been profitable for 10 years in a row, and also for the past 10 years they have generated half of the profits of the global airline industry. US airlines have much better balance sheets, plenty of available cash, and untaxed assets against which they could borrow, which is necessary as cash balances drop precipitously, due to the unprecedented drop in air travel demand, and Airlines are seeking financial help from the government to weather storm COVID-19", says Michael Derchin.
Piloting the pandemic
Although the market is more consolidated, the vulnerability of airlines continues to jeopardize their finances. The time of the pandemic crisis will reveal the government-airline actions to overcome them, although many are dying in the attempt such as Flybe (United Kingdom), Compass Airlines, Trans States Airlines (United States). The Italian airline Alitalia whose re-nationalization was announced by the Italian government earlier this week of March 2020 will allow establishing what actions the Government of Italy will take in the face of the bleak outlook for its country.
The consolidation of the air market, especially in Europe, has allowed us to observe that many companies in recent times have had financial difficulties that have led them to bankruptcy overnight, such as Monarch Airlines, Flybe, Air Italy, Flybmi, WowAir, among others. But many currently show economic problems, as the Norwegian Air Shuttle ASA airline, remains uncertain. Virgin Atlantic Airways' financial health has also shown some difficulties. On the Asian continent, Cathay Pacific is struggling to survive, as its business began to decline when political protests began in Hong Kong, and then plummeted further as the current pandemic spread across Asia.
Craig Jenks, who heads New York-based consultancy Airline/Aircraft Projects Inc. (AAP), notes that carriers in the United States and the United Kingdom are seeking state aid equivalent to about 25% of 2019 revenue and that IATA is seeking a similar target percentage for the industry globally. But it suggests that many carriers may not get bailouts from the government. These include airlines in the China-based HNA Group, such as its flagship airline Hainan Airlines; Asiana Airlines in South Korea; Southeast Asian low-cost airlines such as Bamboo Airways and VietJet (VietJet) in Vietnam and Nok Air (Nok Air) in Thailand; South African Airways, and the legacy of Eastern Europe and state companies such as Croatia Airlines and TAROM from Romania. In addition to possible casualties among the airline ranks, executives and analysts disagree on how long recovery could take for those who survive.
Retrieving traffic
IATA reported in late February 2020 that there were more sales of air tickets in China than reimbursements, something they had not observed in the past six or eight weeks: "That is a pretty good indicator that Chinese airlines were at the bottom and are now going up. American carriers are still on a downward trajectory". Henry Harteveldt predicts that airline traffic and revenue will return to "normal levels three to six months after a return to normal health". However, he warns that "with the economy disintegrating even more day by day, there is a credible risk of an economic recession. If we see a large number of layoffs, a substantial increase in unemployment rates, a sharp return of business travelers, and a slow pace of hiring as we recover from the crisis, the industry could take anywhere from a year to 18 months. in reaching pre-crisis levels of both traffic and revenue".
Avian influenza
Currently, a new variant of Avian influenza (H5N6) has re-emerged in the East. The Philippines has announced an outbreak of avian influenza amid the coronavirus pandemic. The secretary of the Philippine Department of Agriculture announced that an outbreak of avian influenza caused by the H5N6 virus strain was recorded at a quail farm in Nueva Ecija province, 123 km north of the capital Manila.
Aviation prospects
The COVID-19 crisis is currently shaking the economy of the United States and other nations, and it is unknown how long it will persist. But as the health crisis continues to subside, aviation could gradually re-establish itself. The pandemic will compel companies to rethink the way they do business in the future, the new safety regulations, as well as the new financial perspectives that surround airline structures. The new global challenges will set new regulations for governments, industry, and airlines in the future that will allow us to continue flying over future crises.
Ξ A I R G W A Y S Ξ
SOURCE: Airgways.com
DBk: Airgways.com / Dailytimes.com.pk / Theverge.com / Thepointsguy.com
AW-POST: 202003221210AR
A\W   A I R G W A Y S ®