AW | 2020 10 29 21:24 | AIRLINES / INDUSTRY
Kuwait Airways recibe primer Airbus A330-800NEO
Airbus Group ha entregado dos A330-800NEO para lanzar al cliente Kuwait Airways como primer operador que introduce este modelo de aeronave. Los dos aviones con espacio para 235 pasajeros cada uno, fueron volados desde el centro de producción de Airbus en Toulouse, Francia, a la ciudad de Kuwait el Jueves 29/10. Kuwait Airways tiene un total de ocho órdenes de A330-800NEO, que lo convierte en el mayor cliente de la variante de la familia A330NEO, como así también ha solicitado cinco A350-900, el modelo mas grande.
El A330-800 es el más pequeño de la familia A330NEO que ha realizado el primer vuelo en Noviembre de 2018 y fue certificado por la EASA y la FAA en Febrero 2020. Airbus ha luchado por encontrar una cantidad razonable de pedidos para el modelo mas pequeño, ya que la mayoría de las aerolíneas han optado hasta ahora por el A330-900 ligeramente más grande, que ha ganado un total de 318 pedidos a partir de Septiembre 2020, en comparación con sólo 14 para la variante 800.
Kuwait Airways ofrecerá servicios internacionales con el ingreso de este nuevo modelo A330-800NEO uniéndo a la flota existente de Airbus A320, A320NEO, A330-200 y Boeing 777-300ER.
Kuwait receives 1st A330-800NEO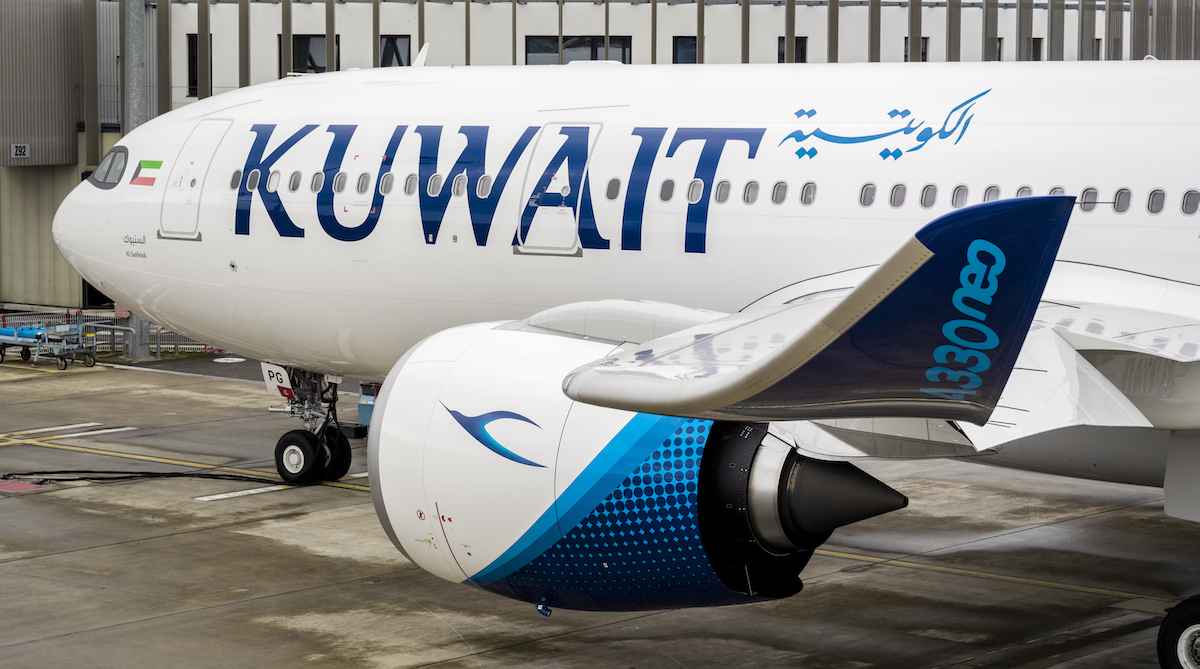 Kuwait Airways receives first Airbus A330-800NEO
Airbus Group has delivered two A330-800NEOs to launch customer Kuwait Airways as the first operator to introduce this aircraft model. The two planes with room for 235 passengers each were flown from Airbus' production center in Toulouse, France, to Kuwait City on Thursday 10/29. Kuwait Airways has a total of eight orders for A330-800NEOs, making it the largest customer for the variant of the A330NEO family, as well as five A350-900s, the largest model.
The A330-800 is the smallest of the A330NEO family that made the first flight in November 2018 and was certified by the EASA and the FAA in February 2020. Airbus has struggled to find a reasonable number of orders for the smaller model. As most airlines have so far opted for the slightly larger A330-900, which has won a total of 318 orders as of September 2020, compared to just 14 for the 800 variant.
Kuwait Airways will offer international services with the entry of this new A330-800NEO model, joining the existing fleet of Airbus A320, A320NEO, A330-200 and Boeing 777-300ER.
الكويت تستقبل أول طائرة A330-800NEO
الخطوط الجوية الكويتية تستقبل أول طائرة إيرباص A330-800NEO
قامت مجموعة إيرباص بتسليم طائرتين من طراز A330-800NEOs لإطلاق شركة الخطوط الجوية الكويتية كأول مشغل يقدم طراز الطائرة هذا. تم نقل الطائرتين اللتين تتسع كل منهما لـ 235 راكبًا من مركز إنتاج شركة إيرباص في تولوز بفرنسا إلى مدينة الكويت يوم الخميس 10/29. لدى الخطوط الجوية الكويتية ما مجموعه ثمانية طلبات شراء لطائرة A330-800NEO ، مما يجعلها أكبر عميل لطائرة A330NEO ، بالإضافة إلى خمس طائرات A350-900 ، أكبر طراز.
طائرة A330-800 هي الأصغر في عائلة A330NEO التي قامت بالرحلة الأولى في نوفمبر 2018 وتم اعتمادها من قبل EASA و FAA في فبراير 2020. كافحت شركة Airbus للعثور على عدد معقول من الطلبات للطراز الأصغر. نظرًا لأن معظم شركات الطيران قد اختارت حتى الآن طائرة A330-900 الأكبر قليلاً ، والتي فازت بما مجموعه 318 طلبًا اعتبارًا من سبتمبر 2020 ، مقارنة بـ 14 فقط لمتغير 800.
ستقدم الخطوط الجوية الكويتية خدمات دولية مع دخول طراز A330-800NEO الجديد ، لتنضم إلى الأسطول الحالي من طائرات إيرباص A320 و A320NEO و A330-200 وبوينغ 777-300ER.

PUBLISHER: Airgways.com
DBk: Airbus.com / Kuwaitairways.com / Airgways.com
AW-POST: 202010292124AR
A\W A I R G W A Y S ®