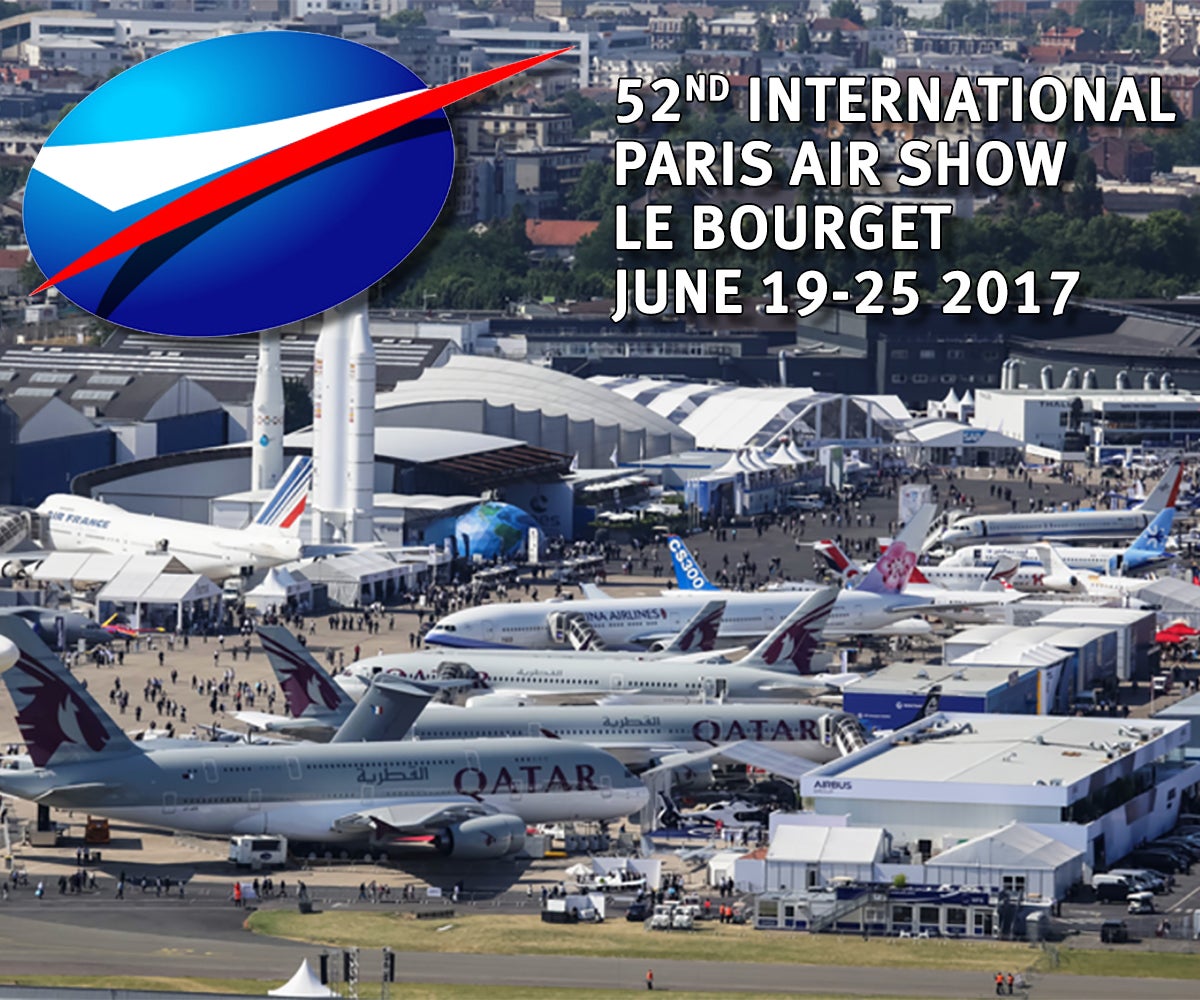 AW | 2017 06 17 11:13 | AIR SHOW
El circo volador vuelve, Paris Air Show 2017
Cada dos años el mundo aeroespacial desciende en el aeropuerto de París-Le Bourget para mostrar su destreza tecnológica, poder industrial e incluso conocimientos políticos. La 52ª Exposición Aérea de París arranca el domingo.
Jefes de Estado, jefes militares, políticos y ejecutivos se mezclan. Las reuniones se llevarán a cabo bajo el rugido del ruido de los chorros. Más de 350.000 personas visitaron la feria en 2015 y 91 países estuvieron representados. La reunión se lleva a cabo en un momento de incertidumbre global. En la era de Trump, el comercio está hacia fuera y el populismo está adentro. Un bloqueo de Medio Oriente de Qatar ha interrumpido el espacio aéreo. Y Brexit se acerca al futuro de la Unión Europea.
La seguridad en el evento se espera que sea más estricta que nunca. Un grupo de asistentes examinará la expansiva exhibición de aviones de combate, aviones de combate, cohetes y helicópteros, mientras que los VIP comerán canapés y tomarán espresso en edificios temporales conocidos como chalets.
El nuevo avión MRJ de Japón sube al escenario
La reunión pondrá un foco en un nuevo avión que tomará el escenario internacional por primera vez: Japón Mitsubishi Regional Jet, o MRJ para abreviar. La próxima generación de aviones de 92 asientos ofrece mayor comodidad para vuelos regionales cortos y un 20% de aumento en la eficiencia de las aerolíneas. Es el primer avión comercial japonés nuevo desde 1962. El MRJ marca el ascenso de Japón como un fabricante de aviones de pleno derecho. Pero el proyecto ha sido asediado por desafíos. El MRJ está programado para volar comercialmente en 2020.
Airbus & Boeing
Airbus y Boeing vuelven a luchar Una de las mayores rivalidades de la industria será la delantera y el centro: Airbus de Europa vs. Boeing.Wall Street de Estados Unidos espera que Boeing anuncie sus primeras ofertas para el 737-10 MAX, el más reciente miembro de su single 737 MAX familia. United Airlines puede ser la primera en la línea, dicen analistas y ejecutivos de la industria. Boeing está tratando de frustrar el éxito de Airbus rival A321NEO, que está haciendo su propio debut en el show.
El nuevo Airbus A350-1000 de doble pasillo de largo alcance y el 787-10 de Boeing también se exhibirán por primera vez. Boeing también revelará los primeros detalles importantes de su tan esperado nuevo avión, que se espera sea el 797. No se espera que esté listo hasta mediados de la próxima década.
Otros Fabricantes
Los recién llegados ascendentes de Rusia y China también estarán disponibles para promover el progreso de los nuevos aviones que desafiarán a Boeing y Airbus. La brasileña Embraer está llevando a París por primera vez su avión comercial más grande, el E195-E2 de 140 asientos, y la canadiense Bombardier está buscando mostrar su avión de la serie C, que está en una disputa comercial con Boeing.
Aunque Lockheed es conocida por sus aviones de combate, el show también marca el regreso de la compañía de defensa como un fabricante comercial. Su venerable transporte militar C-130J ahora se está vendiendo para el transporte comercial de carga. Lockheed está empujando su LM-100J impulsado por hélice como un transporte robusto que puede aterrizar y despegar en pistas remotas y no pavimentadas que no son adecuadas para chorros. En todo el mundo, más personas están volando que nunca debido a los precios más bajos del petróleo y tarifas baratas. Y los fabricantes y proveedores de aviones se encuentran en medio de la más ambiciosa rampa industrial en tiempos de paz desde la Segunda Guerra Mundial, trayendo puestos de trabajo, pero también una nueva automatización para la manufactura.
Exposición de vuelos
Dentro de las habilidades aéreas, la industria se verá como un número de aviones, como A321NEO, A350-1000, A380-800, BOEING 737-9 MAX, EMBRAER E195 E2 entre muchos otros.
Esa es la razón del optimismo de la industria. Pero después de una borrachera de la orden de registro para los nuevos aviones, el dealmaking de París se espera sea más sometido. Sin embargo, no espere que para detener a las empresas de duking por los derechos de jactarse de la que termina la semana con más ofertas. 
PARIS AIR SHOW LE BOURGET 2017
The flying circus is back, Paris Air Show 2017
Every two years the aerospace world descends on Paris-Le Bourget Airport to display its technological prowess, industrial might and even political savvy. The 52nd Paris Air Show kicks off Sunday.
Heads of state, military brass, politicians and executives will mingle. Meetings will be held underneath the roar of jet noise overhead. More than 350,000 people visited the show in 2015 and 91 countries were represented. The gathering is taking place at a time of global uncertainty. In the Trump era, trade is out and populism is in. A Middle Eastern blockade of Qatar has disrupted airspace. And Brexit looms over the future of the European Union.
Security at the event is expected to be tighter than ever. Throngs of attendees will peruse the expansive display of jetliners, fighter jets, rockets and helicopters, while VIPs will eat canapés and sip espresso in temporary buildings known as 'chalets'.
Japan's new jet MRJ takes the stage
The gathering will put a spotlight on a new plane that will take the international stage for the first time: Japan's Mitsubishi Regional Jet, or MRJ for short. The next generation 92-seat jet offers increased comfort for short regional flying and a 20% boost in efficiency for airlines. It's the first new Japanese commercial aircraft since 1962. The MRJ marks the ascent of Japan as a full-fledged airplane maker. But the project has been beset by challenges. The MRJ is slated to fly commercially in 2020.
Airbus & Boeing
Airbus and Boeing battle again One of the industry's biggest rivalries will be front and center: Europe's Airbus vs. America's Boeing.Wall Street expects Boeing to announce its first deals for the 737-10 MAX, the newest member of its single-aisle 737 MAX family. United Airlines may be first in line, say analysts and industry executives. Boeing is trying to blunt the success of Airbus rival A321NEO, which is making its own debut at the show.
The new long-range twin-aisle Airbus A350-1000 and Boeing's 787-10 will also be on display for the first time. Boeing will also reveal the first major details of its hotly anticipated all-new airliner, expected to become the 797. It isn't expected to be ready until the middle of next decade.
Other Manufacturers
Ascending newcomers from Russia and China will also be on hand to tout progress on new airliners that will challenge Boeing and Airbus. Brazil's Embraer is bringing its largest commercial airliner yet, the 140-seat E195-E2, to Paris for the first time and Canada's Bombardier is looking to show off its C Series airliner, which is in a brewing trade spat with Boeing.
While Lockheed is known for its fighter jets, the show also marks the return of the defense company as a commercial manufacturer. Its venerable C-130J military transport is now being sold for commercial cargo hauling. Lockheed is pushing its propeller-driven LM-100J as a rugged transport that can land and take off on remote, unpaved runways that are unsuitable for jets. Across the globe, more people are flying than ever because of lower oil prices and cheap fares. And plane makers and suppliers are in the middle of the most ambitious peacetime industrial ramp up since World War II, bringing jobs, but also new automation to manufacturing.
Flight exhibition
Within the aerial skills, the industry will look like a number of aircraft, such as A321NEO, A350-1000, A380-800, BOEING 737-9 MAX, EMBRAER E195 E2 among many others.
That's reason for industry optimism. But after a record order binge for new airplanes, Paris dealmaking is expected be more subdued. Still, don't expect that to stop companies from duking it out for bragging rights to the one that ends the week with the most deals. A \ W
Ξ A I R G W A Y S Ξ
SOURCE:  Cnn.com / Airgways.com / Siae.fr
DBk:  Siae.fr
AW-POST: 201706171113AR
A\W   A I R G W A Y S ®