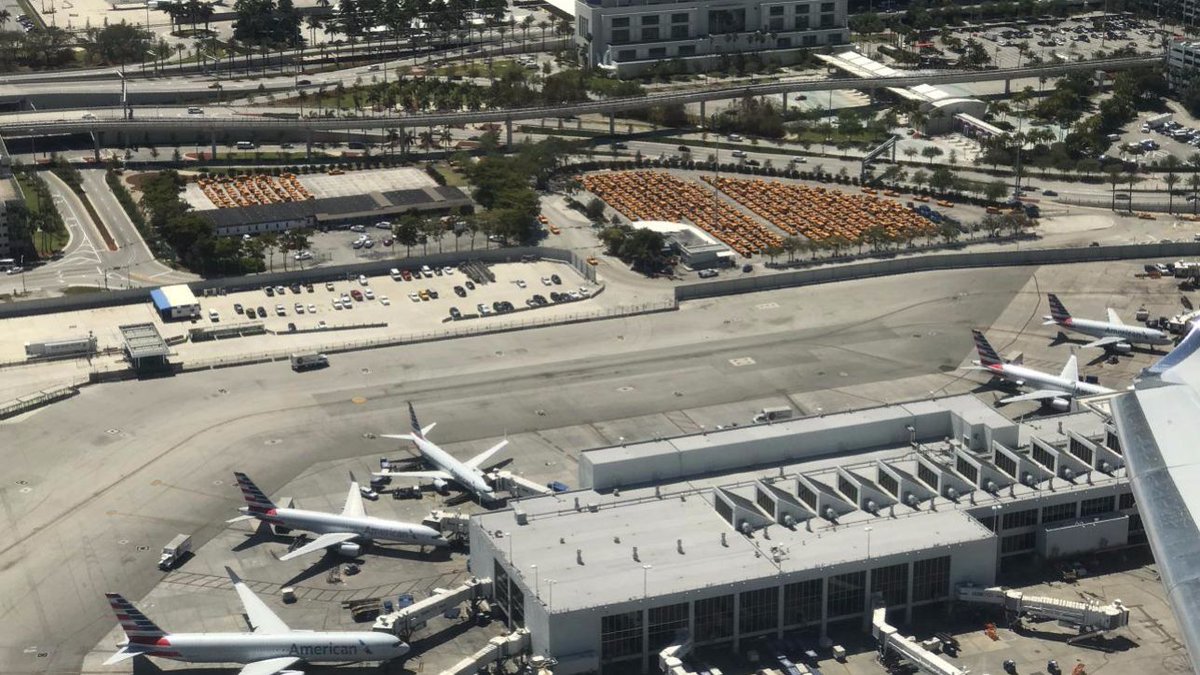 AW | 2017 09 10 15:51 | AIR TRAFFIC / SAFETY / SECURITY
Las aerolíneas de cuatro continentes cancelaron los vuelos desde y hacia la Florida
El masivo Huracán Irma de Categoría 4 azotó los Cayos de Florida el domingo por la mañana, y está golpeando recientemente la costa oeste de de Florida. Los intensos vientos están azotando la ciudad de Miami trayendo vientos máximos sostenidos de 130 mph.
Las aerolíneas han cancelado por lo menos 10.700 vuelos, incluyendo 7.400 sólo en Florida, debido al impacto del Huracán Irma, según el rastreador de vuelos Flight Aware. Esa cifra se espera que aumente, pero aún el poderoso Huracán Irma, se dirige al norte cerca de Atlanta, un centro de Delta Air Lines y el Aeropuerto más activo del mundo. Se podría esperar más cancelaciones si el huracán llega al Aeropuerto de Atlanta-Hartfield, en el Estado de Georgia.
American Airlines, que opera un hub fuera del Aeropuerto Internacional de Miami, ha suspendido vuelos a la ciudad y otros aeropuertos de la Florida que sirve en el camino de Irma, y ​​los competidores Delta Air Lines, United Airlines, JetBlue Airways y Spirit Airlines han tomado la misma decisión.
El Huracán Irma también está interrumpiendo los vuelos de las aerolíneas extranjeras que llegan a la región. British Airways canceló su vuelo dos veces al día de Londres a Miami el domingo, mientras que Qatar Airways dijo que no volará su ruta de ida y vuelta a Doha el lunes.
El sur de la Florida no es sólo un centro de operaciones de American Airlines, sino una serie de otras aerolíneas que prestan servicio a América Latina y el Caribe. Grandes carriers regionales como el chileno Latam, con sede en Colombia Avianca y el portavoz panameño Copa también cancelaron vuelos a Florida este fin de semana. El impacto de Irma no sólo afectará a los viajeros. Los paquetes también se retrasarán a medida que FedEx, UPS y el Servicio Postal de los Estados Unidos suspendan pastillas y entregas en cientos de ciudades del sur. Todas estas aerolíneas dijeron que renunciarían, cambiarían o cancelarían las tarifas debido a la tormenta.
La Administración Nacional Oceánica y Atmosférica prevé que Irma se debilitará a una depresión tropical durante la semana, y podría llegar cerca de Memphis, el centro de FedEx, a mitad de semana. 
More than 10,000 flights canceled in the US by Hurricane Irma
Airlines on four continents canceled flights to and from Florida
Massive Category 4 hurricane Irma struck the Florida Keys on Sunday morning, and is recently hitting the west coast of Florida. The intense winds are blowing the city of Miami bringing maximum sustained winds of 130 mph.
The airlines have canceled at least 10,700 flights, including 7,400 in Florida alone, due to the impact of Hurricane Irma, according to flight tracker Flight Aware. That figure is expected to increase, but even the mighty Hurricane Irma heads north near Atlanta, a center for Delta Air Lines and the busiest Airport in the world. More cancellations could be expected if the hurricane arrives at the Atlanta-Hartfield Airport in the State of Georgia.
American Airlines, which operates a hub outside Miami International Airport, has suspended flights to the city and other airports in Florida serving on the Irma Road, and competitors Delta Air Lines, United Airlines, JetBlue Airways and Spirit Airlines have made the same decision.
Hurricane Irma is also disrupting flights from foreign airlines arriving in the region. British Airways canceled its twice-daily flight from London to Miami on Sunday, while Qatar Airways said it will not fly its route to and from Doha on Monday.
South Florida is not just an American Airlines hub, but a host of other airlines serving Latin America and the Caribbean. Large regional carriers such as Chilean-based Latam, based in Colombia Avianca and Panamanian spokesman Copa also canceled flights to Florida this weekend. The impact of Irma will not only affect travelers. Packages will also be delayed as FedEx, UPS and the US Postal Service suspend pills and deliveries in hundreds of cities in the south. All of these airlines said they would waive, change or cancel rates due to the storm.
The National Oceanic and Atmospheric Administration expects Irma to weaken to a tropical depression during the week, and could arrive near Memphis, the FedEx center, midweek. A \ W
Ξ A I R G W A Y S Ξ
SOURCE:  Airgways.com
DBk:  Twimg.com / Latimes.com
AW-POST: 201709101551AR
A\W   A I R G W A Y S ®