AW | 2018 01 01 15:47 | INDUSTRY
Los colosos del aire, el Boeing 747 apodado «Jumbo» o «Reina de los Cielos» junto con el Airbus A380 «Superjumbo» podrían cesar su fabricación

El fin de la era de los colosos del aire parece llegar a su fin, debido a la baja cartera de pedidos que están recibiendo tanto Airbus como Boeing, a pesar de las mejoras y avances tecnológicos.
El Boeing 747 «Jumbo»
Tras casi 50 años después de su primer vuelo, el Boeing 747 parece decir adiós. El afamado B747 de la The Boeing Co., también conocido como Jumbo, se retira de los vuelos comerciales estadounidenses, donde ha sido el rey durante décadas. Uno de los aviones de pasajeros más recordados de la historia se retira para dejar paso a aeronaves mucho más eficientes y modernas.
El mundo de la aviación ha quedado fascinado con este símbolo de una época marcando innumerables hitos en las aerolíneas del mundo entero. Realizó más de 1.500 entregas de cuatrimotor en sus diferentes configuraciones.
El último vuelo, realizado por Delta Air Lines entre Dallas y Seattle. British Airways lo seguirá utilizando para sus vuelos a Estados Unidos. United Airlines finalmente también ha retirado el afamado Jumbo después de casi 40 años en servicio para la aerolínea. El Presidente de Estados Unidos seguirá confiando en el Air Force One (Boeing 747-400) al menos hasta 2024.
La Reina de los Cielos cambió el mundo para siempre desde su primer vuelo en 1969. Su configuración con capacidad para alrededor de 500 pasajeros, mucho más que cualquier otro avión de pasajeros para esa época, abarató los viajes en avión e hizo posible el turismo masivo. Su versión de carga nos trajo la era de Amazon y transportó de todo, desde jefes de Estado hasta telescopios gigantes y el transbordador espacial. Desde que entró en servicio con PanAm en 1970, Boeing ha construido más de 1,500 aviones 747 en una amplia gama de modelos estándar y especiales.
Desde el nacimiento del Boeing 747, ningún avión comercial había despertado mayor curiosodad, admiración y respeto por una máquina colosal que podría surcar los cielos del mundo. El glorioso perfil curvilíneo lo convirtió en el avión de pasajeros más reconocible de la historia. El puente superior sigue siendo el mejor lugar para viajar por
avión, un entorno sin ruido e íntimo. Si tienes la oportunidad de viajar cerca de la nariz, zona por lo general reservada para primera clase, casi parece que estás en tu propia casa en los cielos. Incluso la clase económica era cómoda debido al techo elevado y la cabina ancha.
Delta Airlines es la última aerolínea estadounidense que retiró el Boeing 747-400. En la actualidad el Boeing 747 seguirá volando en EEUU en las vesiones de cargo. Aerolíneas como British Airways, Virgin Atlantic, Thai Airways, KLM, Qantas y Lufthansa, seguirán usando sus Boeing 747-400 hasta por lo menos el 2020.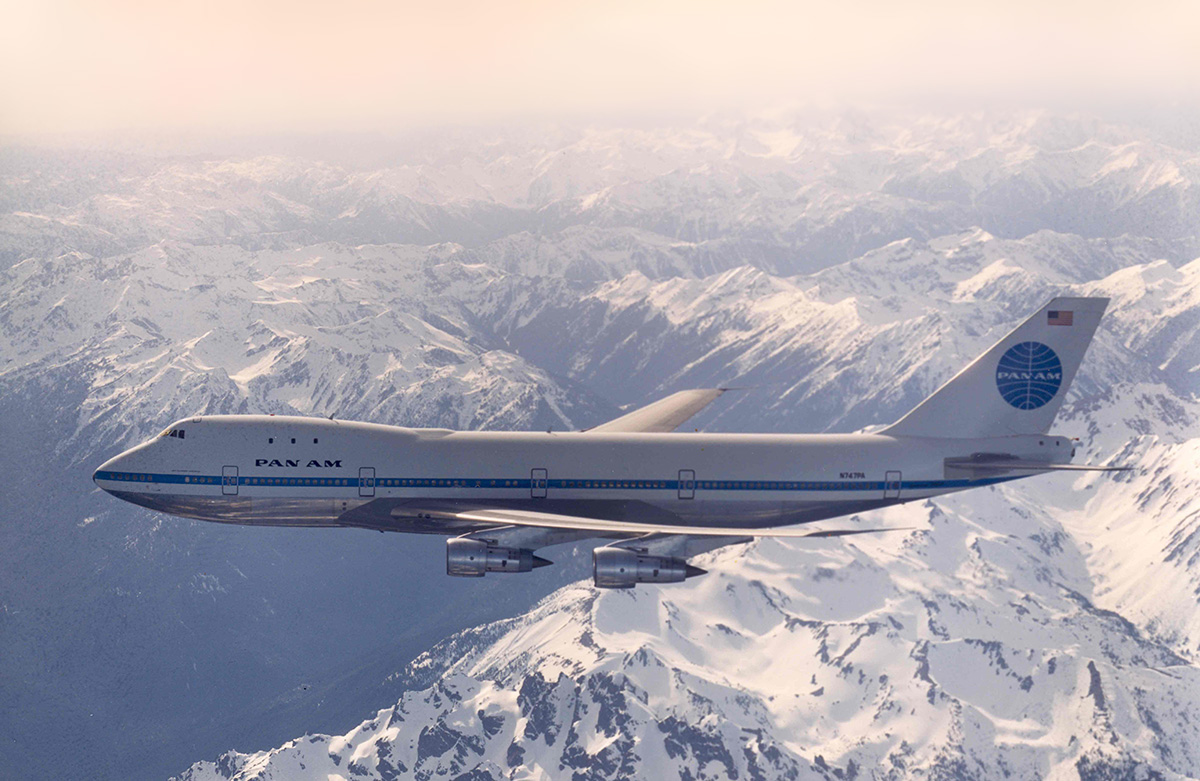 EL BOEING 747-100 ENTRÓ EN SERVICIO CON PAN AM EN 1970
Desafortunadamente, las perspectivas de la última versión del 747 no son muy halagadoras. Aunque Boeing todavía construye el 747-8 Intercontinental, las ventas menores de lo esperado han llevado a la empresa a informar que pudiera cerrar la línea de producción completamente. Así que si desean experimentar un vuelo en el Boeing 747-8, podrás comprar un boleto en Lufthansa, Air China o Korean Air.
El «Superjumbo» declina sus ventas
Airbus, a punto de dejar de fabricar el A380 por falta de ventas. Airbus estaría dispuesta a cerrar la línea de producción, apenas 10 años después de que el primer avión de este modelo comenzara a volar.
Airbus, el consorcio europeo fabricante de aviones, está considerando el cierre definitivo de la línea de producción del A380, el avión de pasajeros más grande del mundo, cuyas ventas prácticamente se han paralizado. La decisión, según los medios mejor informados, se ha venido posponiendo porque aún existía una cierta posibilidad de que Emirates, la aerolínea que más aviones ha comprado de este modelo, hiciera un pedido adicional de otros 36 aviones. Como este pedido no llega, Airbus estaría dispuesta a cerrar la línea de producción, apenas 10 años después de que el primer avión de este modelo comenzara a volar.
DESPEGUE DE UN AIRBUS A380-800 DE LA AEROLÍNEA SINGAPORE AIRLINES
Estamos hablando de la historia de un fracaso. De hecho, desde hace ya cuatro años nadie compra estos aviones salvo Emirates, que hoy está volando más de cien y que tiene aún unos 30 aviones comprometidos y no entregados. Las demás aerolíneas apenas tienen este modelo, muy complicado de operar porque sólo puede operar en líneas con mucha demanda.
Los rivales no paran de cuestionar la oportunidad de este avión, pero Airbus oficialmente se ha mantenido en que ha sido un acierto. De hecho, Airbus cree que este modelo, con gran capacidad, tiene futuro en la medida en que pronto serán necesarios menos aviones de más capacidad en las rutas aéreas más saturadas del mundo. Pero, la teoría es una cosa y las ventas son otras. Mientras los A330 y A350 se venden estupendamente, el A380 no tiene más que un cliente.
Con Emirates Airlines ha habido una disputa que dura ya meses. En la última feria aérea de Dubai se estuvo a punto de firmar un acuerdo para la compra de más aviones. Emirates sigue interesada en ellos. Primero exigió una remodelación del avión para hacerlo más económico, pero Airbus no tiene mucha disposición a ello porque no hay clientes y la inversión sería muy elevada; después Emirates exigió un compromiso por parte de Airbus de no cerrar la línea de producción. Cuando un avión se deja de fabricar, rápidamente pierde valor en el mercado, lo cual no interesa a Emirates. Por todo esto, en Dubai no hubo acuerdo. Pero han pasado cuatro meses y sigue sin haber acuerdo.
Mientras, el legendario «Jumbo» se va retirando de las flotas aéreas estadounidenses y mundiales, el «Superjumbo» parece tener el mismo destino, el final de la producción en serie. Los dos colosos del aire parecen que irán desactivándose de las aerolíneas mundiales para formar parte de una selecta flota de aviones convertidos a cargueros, o morir definitivamente en algún cementerio de aviones.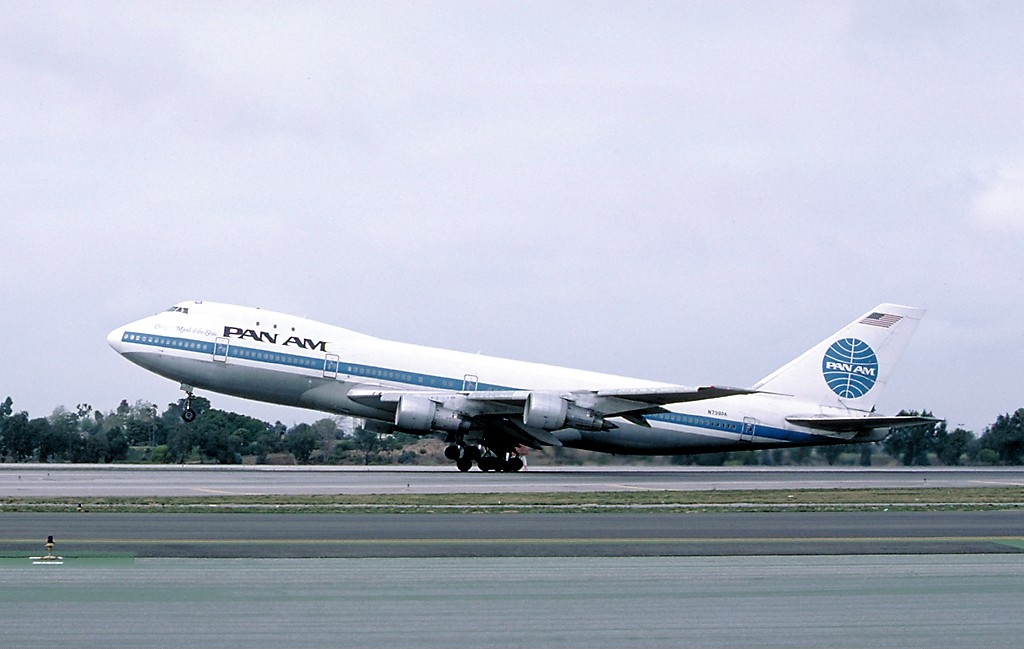 The sunset of the giants of the heavens
The giants of the air, the Boeing 747 nicknamed «Jumbo» or «Queen of the Skies» along with the Airbus A380 «Superjumbo» could cease its manufacture
The end of the era of the colossus of the air seems to come to an end, due to the low order backlog that both Airbus and Boeing are receiving, despite the improvements and technological advances.
The Boeing 747 «Jumbo»
After almost 50 years after its first flight, the Boeing 747 seems to say goodbye. The famed B747 of The Boeing Co., also known as Jumbo, retires from American commercial flights, where it has been king for decades. One of the most memorable passenger planes in history is removed to make way for much more efficient and modern aircraft.
The world of aviation has been fascinated by this symbol of an era marking innumerable milestones in airlines around the world. He made more than 1,500 deliveries of four-engine in its different configurations.
The last flight, made by Delta Air Lines between Dallas and Seattle. British Airways will continue to use it for its flights to the United States. United Airlines has also finally withdrawn the famed Jumbo after almost 40 years in service for the airline. The President of the United States will continue to rely on Air Force One (Boeing 747-400) at least until 2024.
The Queen of the Heavens changed the world forever from its first flight in 1969. Its configuration with capacity for around 500 passengers, much more than any other passenger plane for that time, cheapened air travel and made mass tourism possible. Its cargo version brought us the era of Amazon and transported everything from heads of state to giant telescopes and the space shuttle. Since entering service with Pan Am in 1970, Boeing has built more than 1,500 747 aircraft in a wide range of standard and special models.
THE BOEING 747-100 CAME INTO SERVICE WITH PAN AM IN 1970
Since the birth of the Boeing 747, no commercial aircraft had aroused greater curiosity, admiration and respect for a colossal machine that could sail the skies of the world. The glorious curvilinear profile made it the most recognizable passenger plane in history. The upper bridge is still the best place to travel by plane, a quiet and intimate environment. If you have the opportunity to travel close to your nose, an area usually reserved for first class, it almost seems that you are in your own home in the heavens. Even the economy class was comfortable due to the high ceiling and the wide cabin.
Delta Airlines is the last US airline that withdrew the Boeing 747-400. At present, the Boeing 747 will continue flying in the USA in cargo versions. Airlines such as British Airways, Virgin Atlantic, Thai Airways, KLM, Qantas and Lufthansa will continue using their Boeing 747-400 until at least 2020.
BOEING 747-8I
Unfortunately, the prospects for the latest version of the 747 are not very flattering. Although Boeing still builds the 747-8 Intercontinental, lower than expected sales have led the company to report that it could close the production line completely. So if you want to experience a flight on the Boeing 747-8, you can buy a ticket at Lufthansa, Air China or Korean Air.
The «Superjumbo» declines its sales
Airbus, about to stop manufacturing the A380 due to lack of sales. Airbus would be willing to close the production line, just 10 years after the first airplane of this model began to fly.
Airbus, the European aircraft manufacturer consortium, is considering the final closure of the A380 production line, the world's largest passenger aircraft, whose sales have virtually come to a standstill. The decision, according to the best informed media, has been postponed because there was still a certain possibility that Emirates, the airline that has bought the most aircraft of this model, placed an additional order for another 36 aircraft. As this order does not arrive, Airbus would be willing to close the production line, just 10 years after the first airplane of this model began to fly.
LANDING OF AN A380 OF EMIRATES AIRLINES
We are talking about the history of a failure. In fact, for four years nobody has bought these planes except for Emirates, which today is flying more than a hundred and still has about 30 committed and undelivered airplanes. The other airlines hardly have this model, which is very complicated to operate because it can only operate on lines with high demand.
The rivals do not stop questioning the opportunity of this plane, but Airbus has officially maintained that it has been a success. In fact, Airbus believes that this model, with great capacity, has a future to the extent that soon more aircraft with more capacity will be needed in the most saturated air routes in the world. But, the theory is one thing and sales are different. While the A330 and A350 sell superbly, the A380 has only one customer.
With Emirates Airlines there has been a dispute that lasts for months. At the last air show in Dubai was about to sign an agreement for the purchase of more aircraft. Emirates remains interested in them. First he demanded a remodeling of the plane to make it cheaper, but Airbus does not have much disposition to do so because there are no customers and the investment would be very high; then Emirates demanded a commitment from Airbus not to close the production line. When an airplane stops manufacturing, it quickly loses market value, which is of no interest to Emirates. For all this, in Dubai there was no agreement. But four months have passed and there is still no agreement.
Meanwhile, the legendary «Jumbo» is retiring from the US and global air fleets, the «Superjumbo» seems to have the same destiny, the end of serial production. The two giants of the air seem to be deactivating the world airlines to be part of a select fleet of airplanes converted to freighters, or to finally die in an aircraft cemetery. A \ W
Ξ A I R G W A Y S Ξ
SOURCE:  Airgways.com
DBk: Boeing.com / Airbus.com / Airgways.com / Worksthatwork.com / Kent Rose / Thisdayinaviation.com
AW-POST: 201801011547AR
A\W   A I R G W A Y S ®