AW | 2018 01 06 13:27 | INDUSTRY
Ensamblaje del primer A32NEO ACF (Airbus Cabin Flex) se completó en Hamburgo, Alemania
El fabricante europeo Airbus ha completado el montaje del primer A321NEO ACF (Airbus Cabin Flex) en su sede de Hamburgo. El primer vuelo está planeado en las próximas semanas.
El A321NEO ACF es el miembro más reciente de la familia A320. Las modificaciones en el fuselaje permiten al ACF proporcionar configuraciones de cabina más flexibles para los 240 pasajeros. En comparación con la variante A321 anterior, los cambios más visibles son un nuevo área trasera y una configuración de puerta modificada que quita la puerta en frente del ala e introduce nuevas salidas de emergencia de nivel medio.
El A321NEO ACF es la base para una variante de mayor alcance conocida como A321LR. El A321LR tiene un MTW (peso máximo de despegue) incrementado de 97Tn e incorpora un tercer tanque adicional de combustible que permite a las aerolíneas aumentar su alcance a 4.000 nm para vuelos intercontinentales. El narrowdody estará impulsado por dso motores CFM International Leap-1A que se someterán a pruebas en tierra antes de su primer vuelo programado en las próximas semanas, informa Airbus. Las salidas de la variante se colocan inmediatamente detrás del ala y se pueden quitar para permitir una capacidad de asiento de mayor densidad. En un diseño de clase única de alta densidad, con una galera de popa que ahorra espacio instalada, el avión puede acomodar hasta 240 pasajeros. Este total se logra ubicando 102 asientos por delante de las salidas de sobrecarga, seis en las propias salidas, con 59 en la cabina entre las salidas de popa y las salidas de popa, y 73 en la sección más retrasada.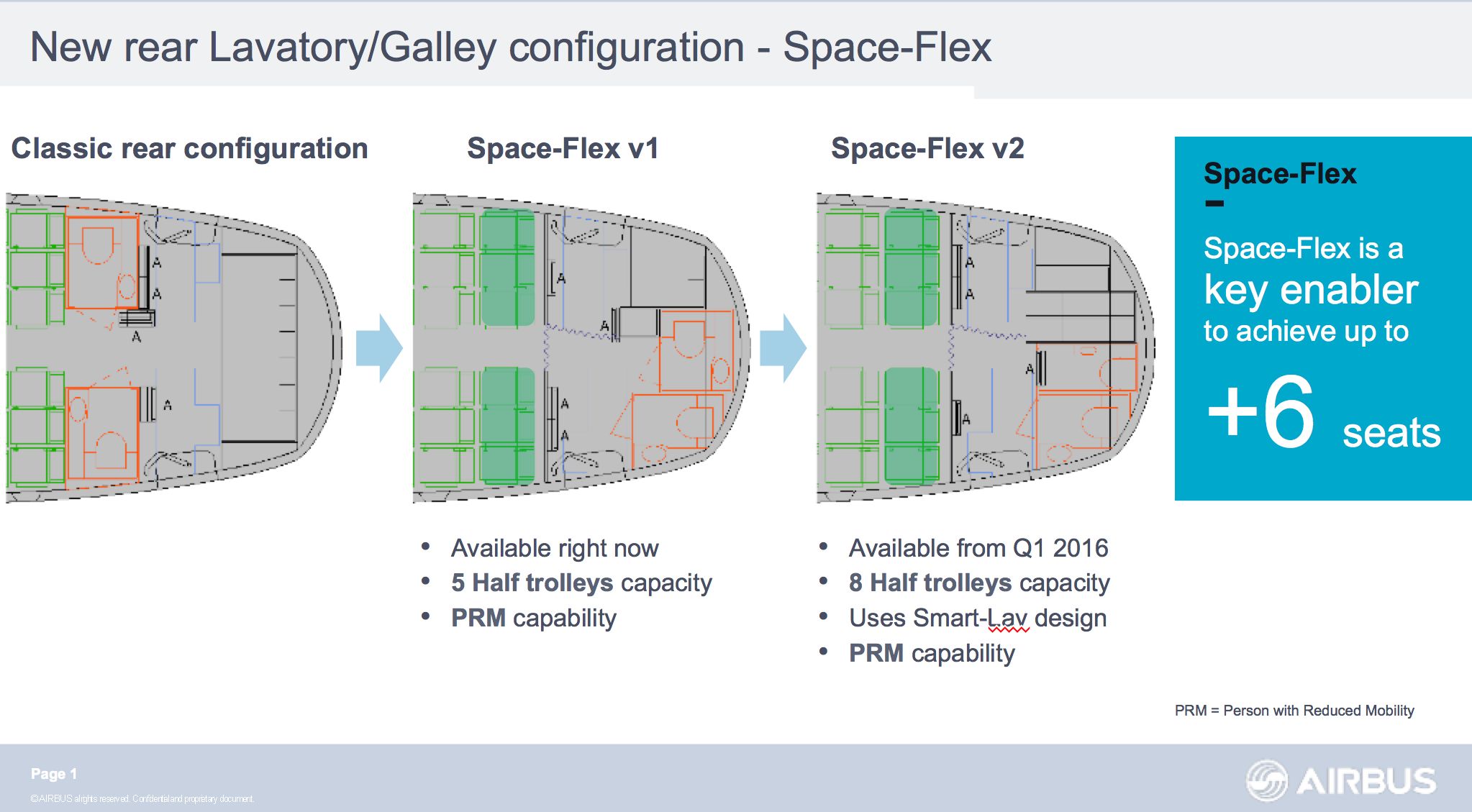 Mientras que la capacidad original de A321 se limitó a 220 pasajeros, una modificación de las dos salidas hacia adelante y hacia atrás de dos tipo I, que la Agencia Europea de Seguridad Aérea describe como "con un rendimiento excesivo", permite que esto se incremente a 230 pasajeros. La primera entrega del A321LR ACF está programada para el 4Q2018.
Nuevos operadores para A321NEO ACF
La lista de nuevos operadores incluyen a Wizz Air, Pegasus, Qatar Airways y VietJet tienen la intención de tomar el A321NEO ACF. La opción del Airbus A321NEO ACF se convertirá en estándar para todos los A321NEO's en torno al 2020, dice Airbus, y es la base de la variante de mayor alcance, la A321LR.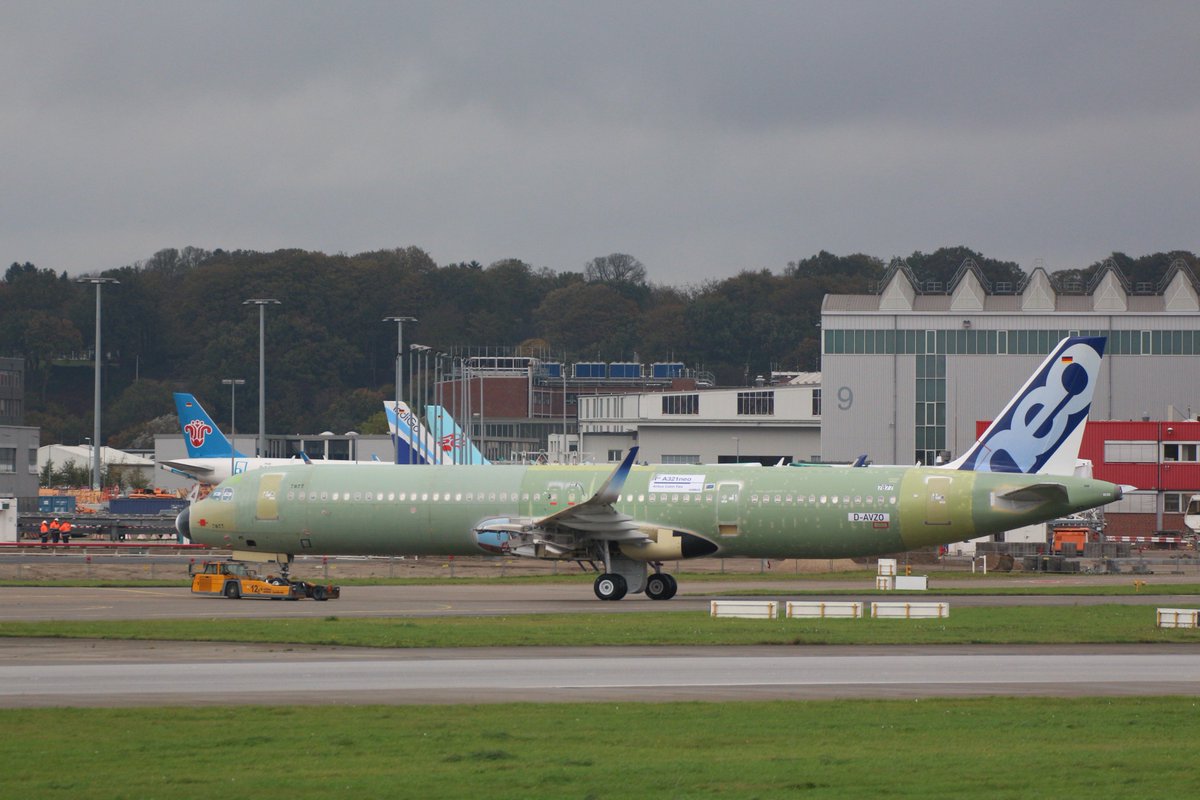 Roll out Airbus A321NEO ACF
Assembly of the first A32NEO ACF (Airbus Cabin Flex) was completed in Hamburg, Germany
The European manufacturer Airbus has completed the assembly of the first A321NEO ACF (Airbus Cabin Flex) at its headquarters in Hamburg. The first flight is planned in the coming weeks.
The A321NEO ACF is the newest member of the A320 family. The modifications in the fuselage allow the ACF to provide more flexible cabin configurations for the 240 passengers. Compared to the previous A321 variant, the most visible changes are a new rear area and a modified door configuration that removes the door in front of the wing and introduces new mid-level emergency exits.
ASSEMBLY OF THE FIRST AIRBUS A321NEO ACF (AIRBUS CABIN FLEX)
The A321NEO ACF is the basis for a longer range variant known as A321LR. The A321LR has an MTW (maximum takeoff weight) increased by 97Tn and incorporates a third additional fuel tank that allows airlines to increase their range to 4,000 nm for intercontinental flights. The narrowdody will be powered by CFM International Leap-1A engines that will be tested on the ground before its first scheduled flight in the coming weeks, Airbus reports. The outputs of the variant are placed immediately behind the wing and can be removed to allow a higher density seat capacity. In a unique high-density design, with an aft galley that saves installed space, the aircraft can accommodate up to 240 passengers. This total is achieved by placing 102 seats in front of the overload exits, six in the exits, with 59 in the cabin between the aft exits and the aft exits, and 73 in the most delayed section.
While the original capacity of A321 was limited to 220 passengers, a modification of the two exits back and forth of two type I, which the European Aviation Safety Agency describes as "with excessive performance", allows this to increase to 230 passengers. The first delivery of the A321LR ACF is scheduled for 4Q2018.
New operators for A321NEO ACF
The list of new operators include Wizz Air, Pegasus, Qatar Airways and VietJet intend to take the A321NEO ACF. The Airbus A321NEO ACF option will become standard for all A321NEO's around 2020, says Airbus, and is the basis of the longer-range variant, the A321LR. A \ W
Ξ A I R G W A Y S Ξ
SOURCE:  Airgways.com
DBk: Airbus.com / Airgways.com
AW-POST: 201801061327AR
A\W   A I R G W A Y S ®