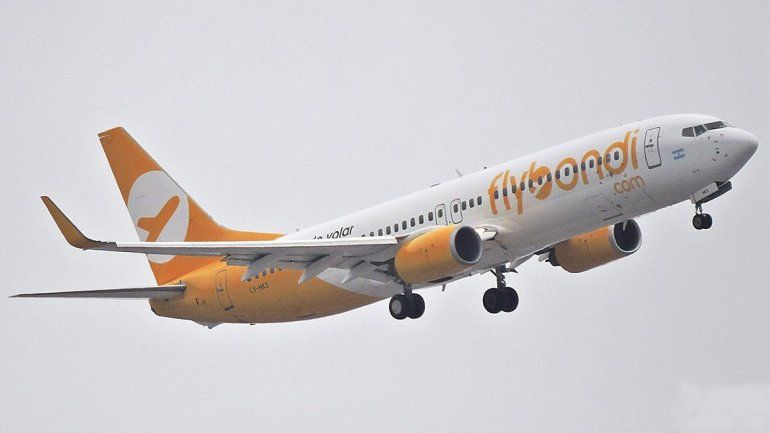 AW | 2018 01 24 05:45 | AVIATION SAFETY
Incidente vuelo FO 2710 de Flybondi Líneas Aéreas
El incidente aéreo ocurrió en el Aeropuerto Internacional Córdoba Ambrosio Taravella, donde el vuelo FO 2710 de Flybondi debía despegar a las 11:00 hs de la mañana. Según los registros del aeropuerto, el avión despegó a las 11:23 hs y el vuelo duró solo 11 minutos.
Desde la aerolínea explicaron que no se trataba de un vuelo inaugural, sino de prueba antes de comenzar a operar los vuelos comerciales. Flybondi comenzará sus operaciones el día viernes desde Córdoba hasta Iguazú.
"El vuelo fue ejecutado con éxito, y en el mismo certificamos la completa aptitud de nuestra aeronave, Nelson, para volar, sin ningún detalle técnico", dijeron. También presentaron un video.
Tras la polémica por el fallido vuelo inaugural con tripulación y familiares, Flybondi emitió un comunicado en las redes sociales en el que volvió a desmentir que hayan tenido inconvenientes y destacaron que una segunda prueba se realizó correctamente. Incluso difundieron el video de su único avión despegando y aterrizando del Aeropuerto de Córdoba.
"Nunca hubo un aterrizaje de emergencia ni tampoco fallas en los motores", dijo en sus redes sociales la primera línea aérea low cost de Argentina. Así desmienten incluso a su propio piloto quien en un video que se viralizó detalló que "tenía ilusiones de hacer un lindo vuelo pero las circunstancias fueron otras y la seguridad prima. Les pido disculpas por el corto vuelito".
Para Flybondi ese "fue un inconveniente técnico menor, tratado por nuestro comandante con absoluto profesionalismo. Se siguió el protocolo establecido para estos casos, que garantiza la seguridad de nuestros pasajeros y tripulación. Por esta razón, el vuelo de prueba pautado para tener una duración de 20 minutos, modificó su extensión a 12".
La línea área que próximamente iniciará operaciones comerciales, informó que este martes "se realizó otro vuelo de prueba para asegurarnos que la falla estuviese solucionada. El vuelo fue ejecutado con éxito, y en el mismo certificamos la completa aptitud de nuestra aeronave, Nelson, para volar, sin ningún detalle técnico". Junto al comunicado presentaron un video de menos de un minuto con el Boeing 737-800 despegando y aterrizando en el Aeropuerto Ingeniero Aeronáutico Ambrosio Taravella de Cordoba. Este viernes, la empresa tiene previsto realizar su primer vuelo con pasajeros. Será entre Córdoba y Puerto Iguazú.  
Flybondi flight incident
Flight incident FO 2710 of Flybondi Líneas Aéreas
The air incident occurred at the Ambrosio Taravella Córdoba International Airport, where the flight FO 2710 of Flybondi had to take off at 11:00 a.m. in the morning. According to airport records, the plane took off at 11:23 am and the flight lasted only 11 minutes.
From the airline explained that it was not an inaugural flight, but test before starting to operate commercial flights. Flybondi will start operations on Friday from Cordoba to Iguazú.
"The flight was executed successfully, and in the same we certify the complete aptitude of our aircraft, Nelson, to fly, without any technical details", they said. They also presented a video.
After the controversy over the failed inaugural flight with crew and family, Flybondi issued a statement on social networks in which again denied that they have had problems and stressed that a second test was performed correctly. They even broadcast the video of their only plane taking off and landing from the Córdoba Airport.
"There was never an emergency landing or engine failures", the first low cost airline in Argentina said on its social networks. So even deny their own pilot who in a video that went viral detailed that "had illusions to make a nice flight but the circumstances were different and the security premium. I apologize for the short turn".
For Flybondi that "was a minor technical inconvenience, treated by our commander with absolute professionalism. The protocol established for these cases was followed, which guarantees the safety of our passengers and crew. For this reason, the test flight scheduled to have a duration of 20 minutes, modified its extension to 12".
The airline that will soon start commercial operations, reported that this Tuesday "another test flight was made to make sure that the fault was solved. The flight was executed successfully, and in the same we certify the complete aptitude of our aircraft, Nelson, to fly, without any technical detail". Along with the statement they presented a video of less than a minute with the Boeing 737-800 taking off and landing at the Ambrosio Taravella Aerodrome Engineer Airport in Cordoba. This Friday, the company plans to make its first flight with passengers. It will be between Córdoba and Puerto Iguazú. A \ W
VIDEO > FLIGHT FO-2710  https://youtu.be/scwlsmg3lEA
Ξ A I R G W A Y S Ξ
SOURCE:  Airgways.com
DBk: Flybondi.com
AW-POST: 201801240545AR
A\W   A I R G W A Y S ®