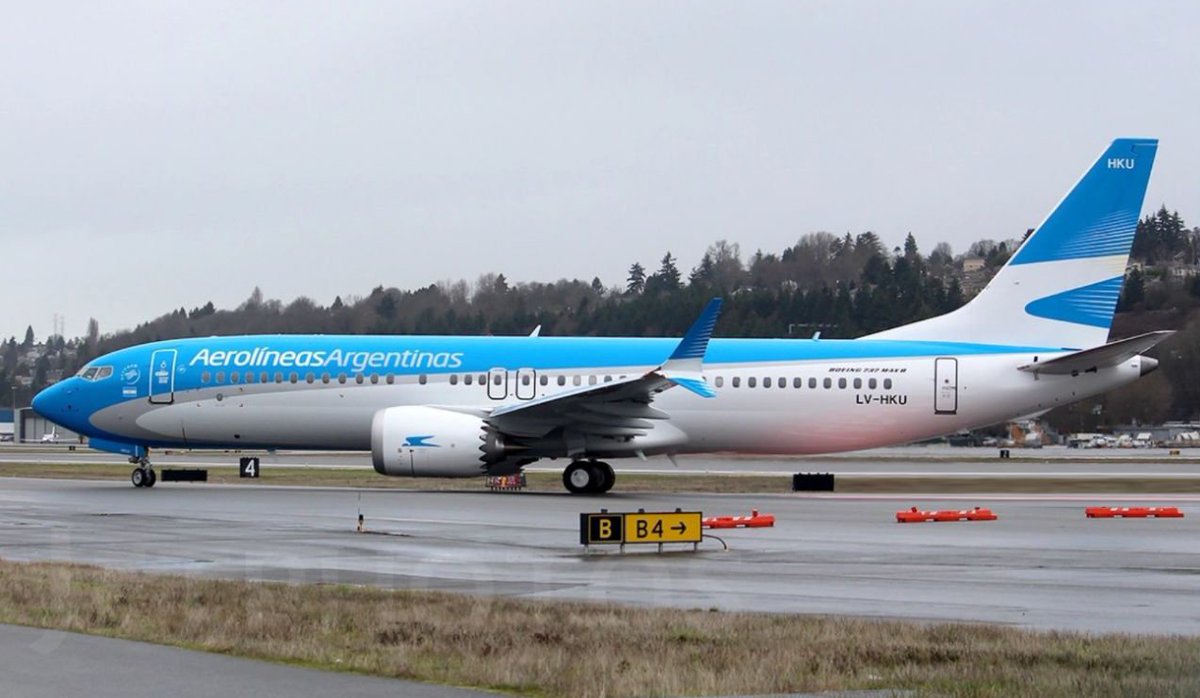 AW | 2018 01 25 16:21 | AIRLINES
Aviation Capital Group entregará su primer Boeing 737-8 MAX a Aerolíneas Argentinas
El próximo lunes 5 de febrero a las 09:55 hs. realizarán una ceremonia de bautismo en el Aeropuerto Presidente Perón de la Provincia de Neuquén la tercer aeronave Boeing 737-8 MAX, LV-HKV (msn 44294/ 6807), una de las cinco aeronaves que adquirió Aerolíneas Argentinas a este lessor.
"Se trata de un Boeing 737-8 MAX, es un modelo nuevo en el mundo, que es el tercero que llega al país de los cinco que ha comprado la aerolínea. El primero hizo el vuelo de a Jujuy a Ushuaia, el segundo de Mar del Plata a Rosario y el tercero, será el de Buenos Aires a Neuquén", expresó el Secretario de Gobierno y Planificación del Municipio de Neuquén, Marcelo Bermúdez.
Aviation Capital Group LLC (ACG) anunció hoy que recibió su primer Boeing 737 MAX en Seattle, Washington. La aeronave Boeing 737-8 MAX, tiene un contrato de arrendamiento a largo plazo con Aerolíneas Argentinas, la aerolínea con bandera de Argentina, siendo la primera de tres aeronaves Boeing 737-8 MAX entregadas desde el libro de pedidos de ACG a Aerolíneas Argentinas. ACG ha ordenado un total de 80 aviones 737 MAX de Boeing.
"Estamos encantados con la entrega de nuestro primer 737 MAX. La familia de aviones 737 MAX ofrece altos niveles de confort para los pasajeros, un consumo de combustible significativamente reducido y una capacidad de mayor alcance, todo lo cual proporciona un enorme valor a nuestros clientes de aerolíneas", dijo Steven Udvar-Hazy, Vicepresidente Senior de Relaciones OEM y Desarrollo de Mercado en ACG.
En cuanto a The Boeing Co., Jeremy Griffin, Vicepresidente Senior de Global Leasing Sales de Boeing Commercial Airplanes expresó: "Boeing se enorgullece de continuar entregando los mejores aviones en el mercado hoy en día. Nos complace que clientes como ACG aprecien el rendimiento excepcional, la flexibilidad y la eficiencia que ofrece toda la familia MAX". Se han ordenado más de 14,500 aviones Boeing 737, incluidos más de 4,300 para la familia 737 MAX.  
Aerolíneas will receive its third Boeing 737 MAX
Aviation Capital Group will deliver its first Boeing 737-8 MAX to Aerolíneas Argentinas
Next Monday, February 5 at 09:55 hs. The third Boeing 737-8 MAX aircraft LV-HKV (msn 44294/ 6807), one of the five aircraft purchased by Aerolíneas Argentinas from this lessor, will perform a baptism ceremony at the Presidente Perón Airport of the Province of Neuquén.
"This is a Boeing 737-8 MAX, it is a new model in the world, which is the third that arrives in the country of the five that the airline has bought, the first made the flight from Jujuy to Ushuaia, the second from Mar del Plata to Rosario and the third will be the one from Buenos Aires to Neuquén", said the Secretary of Government and Planning of the Municipality of Neuquén, Marcelo Bermúdez.
Aviation Capital Group LLC (ACG) announced today that it received its first Boeing 737 MAX in Seattle, Washington. The Boeing 737-8 MAX aircraft has a long-term lease with Aerolíneas Argentinas, the airline with the flag of Argentina, being the first of three Boeing 737-8 MAX aircraft delivered from the ACG order book to Aerolíneas Argentinas. ACG has ordered a total of 80 Boeing 737 MAX aircraft.
"We are delighted with the delivery of our first 737 MAX, the 737 MAX family of aircraft offers high levels of passenger comfort, significantly reduced fuel consumption and greater reach, all of which provide tremendous value to our customers of airlines", said Steven Udvar-Hazy, Senior Vice President of OEM Relations and Market Development at ACG.
As for The Boeing Co., Jeremy Griffin, Senior Vice President of Global Leasing Sales at Boeing Commercial Airplanes, said: "Boeing is proud to continue delivering the best aircraft on the market today, and we are pleased that customers like ACG appreciate exceptional performance, the flexibility and efficiency offered by the entire MAX family". More than 14,500 Boeing 737 aircraft have been ordered, including more than 4,300 for the 737 MAX family. A \ W
Ξ A I R G W A Y S Ξ
SOURCE:  Airgways.com
DBk: Boeing.com / Aerolineas.com / Airgways.com / Huy Do
AW-POST: 201801251621AR
A\W   A I R G W A Y S ®