AW | 2018 01 30 20:53 | AIRLINES
TUIfly Belgium recibe su primer Boeing 737-8 MAX
El primer Boeing 737-8 MAX fue incorporado a la flota de TUIfly Belgium el 29 de Enero 2018. La aerolínea adquirirá nueve aviones adicionales en el transcurso del año.
TUI ordenó 70 Boeing 737 MAX , entre ellos 52 Boeing 737-8 MAX y 18 Boeing 737-10 MAX. Los primeros nueve aviones serán tomados por las aerolíneas afiliadas del grupo en Bélgica, Suecia, Reino Unido y Países Bajos. TUIfly Alemania recibirá su primer 737-8 MAX a principios de 2019. TUI Group posee seis líneas aéreas con una flota de alrededor de 150 aviones.
Boeing informó este martes que está celebrando con TUI Group, el mayor operador de turismo del mundo, la entrega del primer modelo 737-8 MAX como nuevo operador de esta nueva aeronave comecial.
Las mejoras tecnológicas han hecho que el modelo Boeing 737 MAX sea el avión más vendido en la historia de Boeing, con más de 4,300 pedidos hasta la fecha de 92 clientes en todo el mundo, dijo el líder aeroespacial estadounidense.
«El 737 MAX encaja perfectamente con TUI Group, con un 14 por ciento menos de emisiones de carbono y un 40 por ciento menor de ruido que respalda el compromiso de las aerolíneas con la sostenibilidad», dijo Monty Oliver, vicepresidente de Ventas Europeas de Boeing Commercial Airplanes.
TUI Group, con sede en Hannover y Berlín, Alemania, tiene 51 pedidos adicionales de los 737 MAX 8 y cuatro 787 Dreamliners. El grupo, que también tiene 18 pedidos sin completar para el 737 MAX 10, es el primer operador europeo en seleccionar al último y más grande miembro de la familia de aviones 737 MAX. El gigante del turismo alemán con 67,000 empleados opera seis líneas aéreas en Europa y aproximadamente 150 aviones de mediano y largo recorrido, que atienden a más de 20 millones de clientes en 180 destinos en todo el mundo.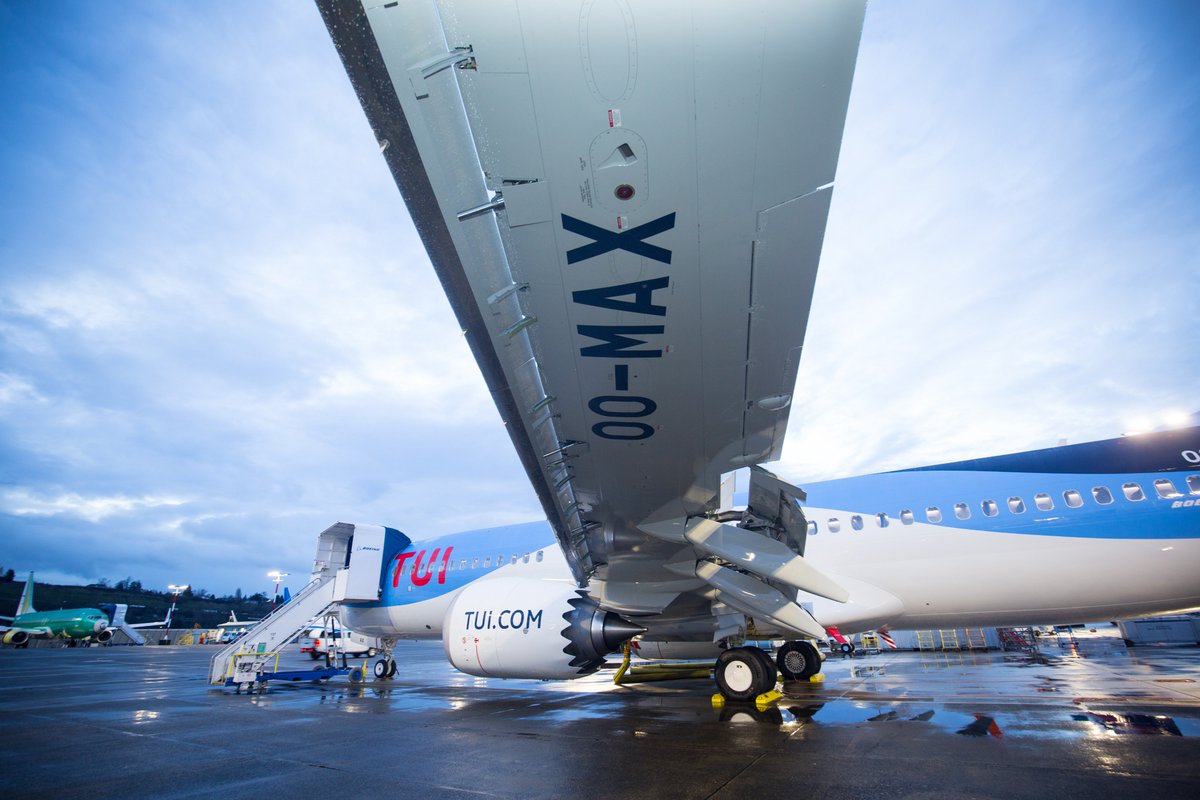 TUIfly Belgium receives the first Boeing 737-8 MAX
TUIfly Belgium receives its first Boeing 737-8 MAX
The first Boeing 737-8 MAX was added to the fleet of TUIfly Belgium on January 29, 2018. The airline will acquire nine additional aircraft during the course of the year.
TUI ordered 70 Boeing 737 MAX, including 52 Boeing 737-8 MAX and 18 Boeing 737-10 MAX. The first nine aircraft will be taken by the group's affiliated airlines in Belgium, Sweden, the United Kingdom and the Netherlands. TUIfly Germany will receive its first 737-8 MAX at the beginning of 2019. TUI Group has six airlines with a fleet of around 150 aircraft.
Boeing reported Tuesday that it is celebrating with the TUI Group, the world's largest tour operator, the delivery of the first 737-8 MAX model as the new operator of this new commercial aircraft.
Technological improvements have made the Boeing 737 MAX the best-selling aircraft in Boeing's history, with more than 4,300 orders to date from 92 customers worldwide, the US aerospace leader said.
«The 737 MAX fits in perfectly with the TUI Group, with 14 percent less carbon emissions and 40 percent less noise that supports the airlines' commitment to sustainability», said Monty Oliver, vice president of European Sales for Boeing. Commercial Airplanes.
TUI Group, based in Hannover and Berlin, Germany, has 51 additional orders of the 737 MAX 8 and four 787 Dreamliners. The group, which also has 18 unfilled orders for the 737 MAX 10, is the first European operator to select the last and largest member of the 737 MAX family of aircraft. The German tourism giant with 67,000 employees operates six airlines in Europe and approximately 150 medium and long-haul aircraft, serving more than 20 million customers in 180 destinations around the world. A \ W
Ξ A I R G W A Y S Ξ
SOURCE:  Airgways.com
DBk: Boeing.com / Tuigroup.com / Pilootenvliegtuig.nl
AW-POST: 201801302053AR
A\W   A I R G W A Y S ®