AW | 2018 03 30 15:40 | INDUSTRY
El Airbus A321NEO LR cubrió el trayecto entre las Islas Seychelles y Tolouse, Francia en casi once horas
Un avión Airbus del tipo A321NEO LR recorrió una distancia récord de 4.109 millas náuticas (7.610 kilómetros) entre las Islas Seychelles (África) y Toulouse (Francia), donde aterrizó en la madrugada de Francia tras casi once horas de vuelo.
Este A321NEO LR, el único aparato de pruebas de esta versión, tocó tierra en el Aeropuerto de Toulouse, junto a la sede de Airbus, a las 06:00 hs locales (4.00 GMT), explicó un portavoz del fabricante europeo. Fue el décimo quinto vuelo de la aeronave, que se espera que consiga su certificación antes del verano con vistas a la entrega de la primera unidad a finales de año a un cliente no identificado.
Vuelo Seychelles-Toulouse
A bordo iban once técnicos y cinco pilotos e ingenieros de pruebas para validar la cabina, en la que se ha modificado la ubicación de las puertas, y los tres depósitos de carburante suplementarios que son los que permiten aumentar el radio de acción con respecto al A321NEO estándar.
Airbus ha recibido por ahora encargos para más de un centenar de unidades del A321NEO LR, un aparato concebido para trayectos de hasta 4.000 millas náuticas (unos 7.400 kilómetros) con capacidad para transportar hasta 240 pasajeros, los mismos que en la versión estándar.
En la próxima fase de vuelos de prueba, que se desarrollará en Suecia, se pretende certificar su despegue con un peso máximo de 97 toneladas, para lo cual el avión ha sido reforzado en algunos puntos. El objetivo del fabricante europeo al lanzar este programa de su primer avión de pasillo único adaptado a vuelos intercontinentales es capturar el mercado del reemplazo de los Boeing 757 y en parte del 767, y aprovechar el esperado tirón de las líneas de larga distancia, sobre todo de la mano de las compañías de bajo coste.
Unas aerolíneas susceptibles de utilizar aviones de menos de 250 plazas, más fáciles de llenar -y por tanto de rentabilizar-, bien para corredores intercontinentales con mucho tráfico y mucha competencia entre grandes metrópolis, bien para abrir nuevas líneas de largo recorrido entre ciudades de tamaño medio.   
Airbus A321NEO LR breaks records
The Airbus A321NEO LR covered the journey between the Seychelles and Toulouse, France in almost eleven hours
An Airbus aircraft of type A321NEO LR traveled a record distance of 4,109 nautical miles (7,610 kilometers) between the Seychelles Islands (Africa) and Toulouse (France), where it landed in the early hours of France after almost eleven hours of flight.
This A321NEO LR, the only test device of this version, made landfall at Toulouse Airport, next to the headquarters of Airbus, at 06:00 local time (4.00 GMT), explained a spokesman for the European manufacturer. It was the 15th flight of the aircraft, which is expected to get its certification before the summer with a view to the delivery of the first unit at the end of the year to an unidentified customer.
Flight Seychelles-Toulouse
On board were eleven technicians and five pilots and test engineers to validate the cabin, in which the location of the doors has been modified, and the three supplementary fuel tanks that allow increasing the radius of action with respect to the A321NEO standard.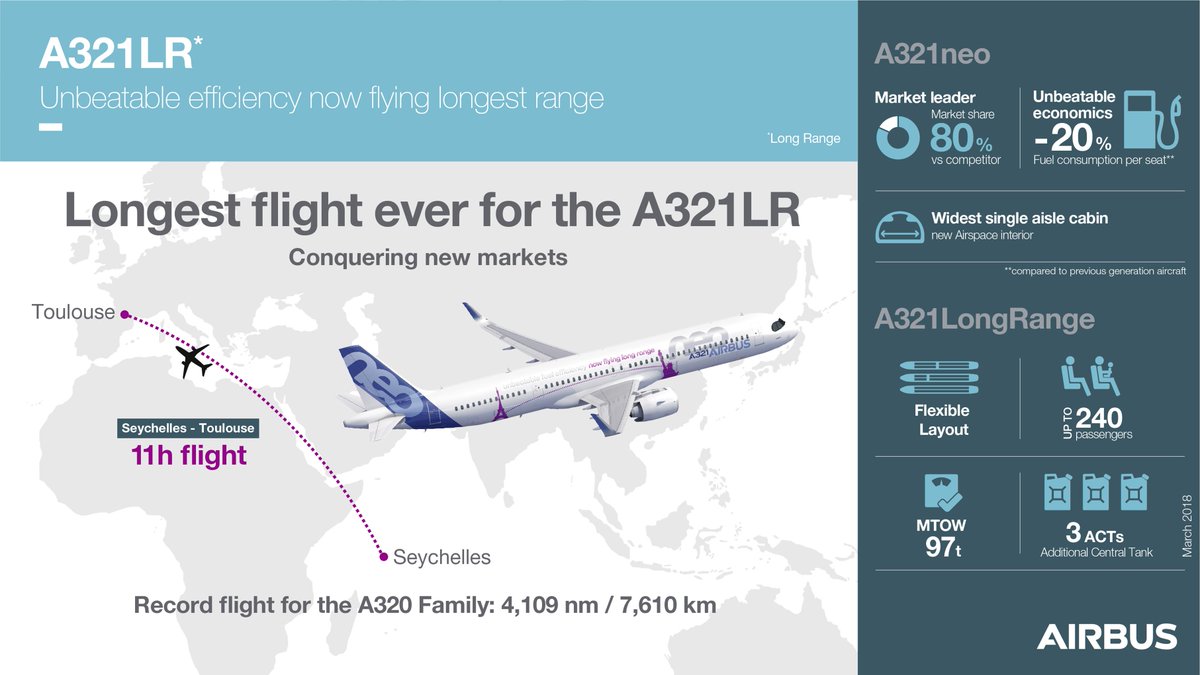 Airbus has received orders for more than a hundred units of the A321NEO LR, a device designed for trips of up to 4,000 nautical miles (about 7,400 kilometers) with capacity to carry up to 240 passengers, the same as in the standard version.
In the next phase of test flights, which will be developed in Sweden, it is intended to certify its takeoff with a maximum weight of 97 tons, for which the aircraft has been reinforced in some points. The objective of the European manufacturer to launch this program of its first single-aisle aircraft adapted to intercontinental flights is to capture the market for the replacement of the Boeing 757 and part of the 767, and take advantage of the expected pull of long-distance lines, especially hand in hand with low cost companies.
Airlines that can use airplanes of less than 250 seats, easier to fill -and therefore profitable-, either for intercontinental corridors with a lot of traffic and a lot of competition between large metropolises, or to open new long-distance routes between cities of size medium. A \ W
Airbus A321NEO LR bat des records
L'Airbus A321NEO LR a couvert le voyage entre les Seychelles et Toulouse, France en près de onze heures
Un avion Airbus de type A321NEO LR a parcouru une distance record de 4.109 milles marins (7.610 kilomètres) entre les Seychelles (Afrique) et Toulouse (France), où il a atterri aux premières heures de la France après presque onze heures de vol.
Ce A321NEO LR, seul appareil de test de cette version, a atterri à l'aéroport de Toulouse, à côté du siège d'Airbus, à 06h00 locales (04h00 GMT), a expliqué un porte-parole du constructeur européen. C'était le 15ème vol de l'avion, qui devrait obtenir sa certification avant l'été en vue de la livraison de la première unité à la fin de l'année à un client non identifié.
Vol Seychelles-Toulouse
Onze techniciens et cinq pilotes et ingénieurs de test ont été à bord pour valider la cabine, dans laquelle l'emplacement des portes a été modifié, et les trois réservoirs de carburant supplémentaires qui permettent d'augmenter le rayon d'action par rapport à la norme A321NEO.
L'ÉQUIPE DES CONDUCTEURS ET DES INGÉNIEURS D'ESSAI À TOULOUSE-BLAGNAC DU VOL PARIS-NEW YORK
Airbus a reçu des commandes de plus d'une centaine d'unités de l'A321NEO LR, un appareil conçu pour des trajets allant jusqu'à 4 000 milles marins (environ 7 400 kilomètres) et pouvant transporter jusqu'à 240 passagers, comme dans la version standard.
Dans la prochaine phase de vols d'essai, qui sera développée en Suède, il est prévu de certifier son décollage avec un poids maximum de 97 tonnes, pour lequel l'avion a été renforcé sur certains points. L'objectif du constructeur européen de lancer ce programme de son premier avion monocouloir adapté aux vols intercontinentaux est de capter le marché du remplacement du Boeing 757 et d'une partie du 767, et de profiter de la traction attendue de longue distance lignes, en particulier main dans la main avec des entreprises à faible coût.
Compagnies aériennes pouvant utiliser des avions de moins de 250 places, plus faciles à remplir – et donc rentables – soit pour les corridors intercontinentaux avec beaucoup de trafic et de concurrence entre les grandes métropoles, soit pour ouvrir de nouvelles routes interurbaines entre les villes de taille moyen. A \ W
Ξ A I R G W A Y S Ξ
SOURCE:  Airgways.com
DBk: Airbus.com / Airgways.com
AW-POST: 201803301540AR
A\W   A I R G W A Y S ®